What's Inside a Nectar Memory Foam Mattress?
It's no secret that not all foam mattresses are created equal – but what is a secret is that many foam mattresses in the top mattress contenders only use two layers of memory foam. After 15 years of testing the optimal number of foam mattress layers and types of memory foam used in foam mattresses, Nectar mattresses has found that the best foam mattresses use four layers. Why did we decide that you needed four layers, which is double what average mattresses providers offer? In this post, we break down the science behind the Nectar mattress, and why our community calls our foam mattresses are the most comfortable mattress – which helps with everything from improving back pain to better focus at work. 
Nectar mattress top layer and cover  to provide comfort & cooling.  The first layer is a 1″ of gel memory foam. After quilted it's compacted into the cover so that you get all the comfort without the added bulk. This top layer not only provides comfort, but a cooling system that has been designed to provide the cooling and initial comfort for the sleeper. Leveraging the best of foam mattress science, Nectar mattress uses a gel memory foam that pulls heat away from the sleeper – making Nectar mattresses sleepers cooler than ever before. The memory foam also has a pressure-relieving, softer top layer to provide an added layer of comfort while regulating your body temperature.
Nectar mattress second layer to provide custom contour.  The second layer of gel memory foam is 3″ of premiere memory foam. This layer is strategically placed in the middle of the Nectar mattress. It's purpose in the center is to provide support and contour for the sleeper. As sleepers sink through the top memory foam layer, they will interact with this layer, which will conform to their body and provide support to the sleeper before they hit the denser base layer. The middle layer also provides a degree of comfort for the sleeper. This layer has a density of 3.5 PCF.
Nectar mattress third layer to provide perfect support.  The third layer of the Nectar mattress is 1.75″ of  a specialized memory foam. By placing a this supportive layer of memory foam near the bottom of the mattress, the Nectar mattress is able to provide the perfect balance between softness and firmness. Sleepers are able to receive perfect support through the memory foam and better pressure relief and support before interacting with the more dense base foam.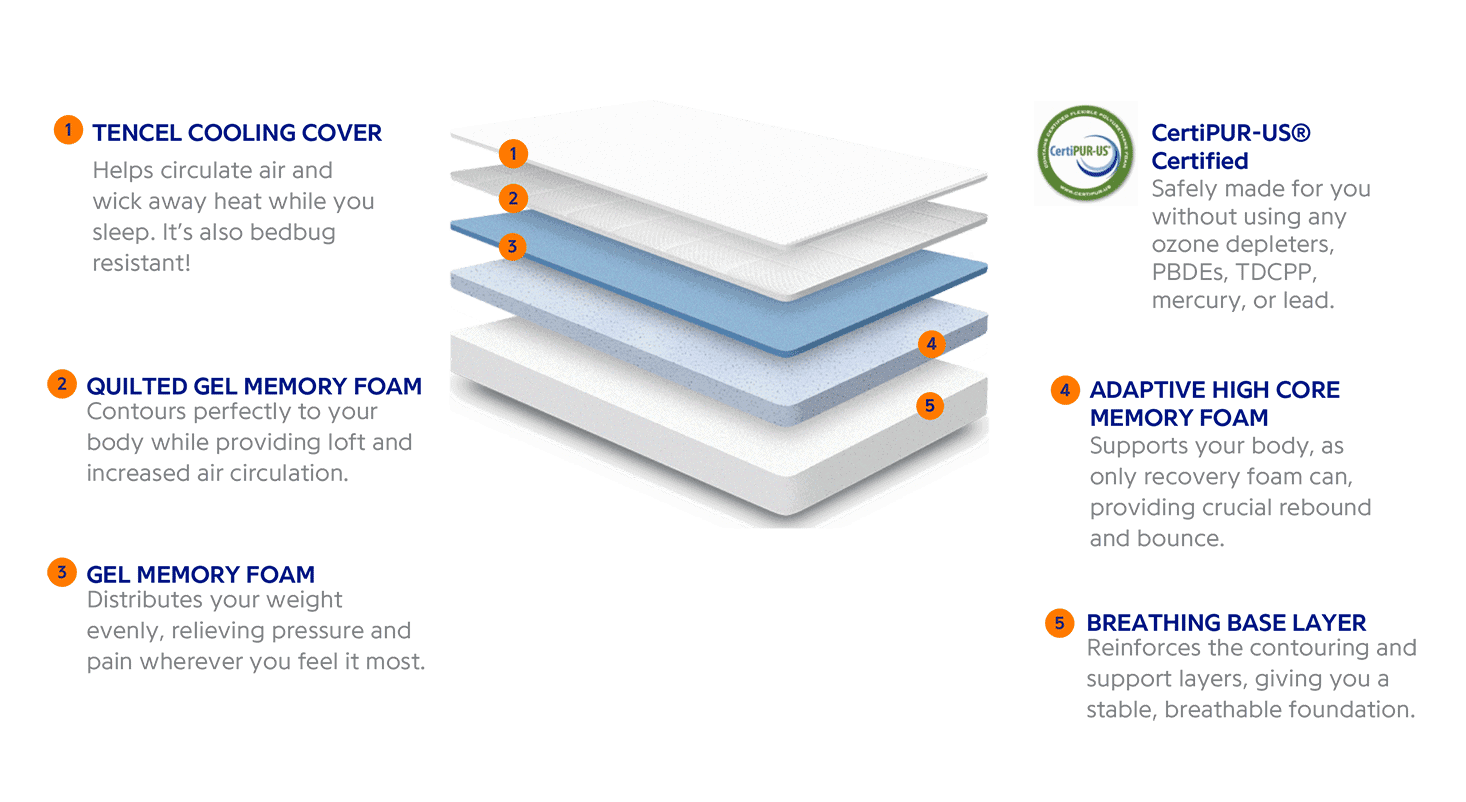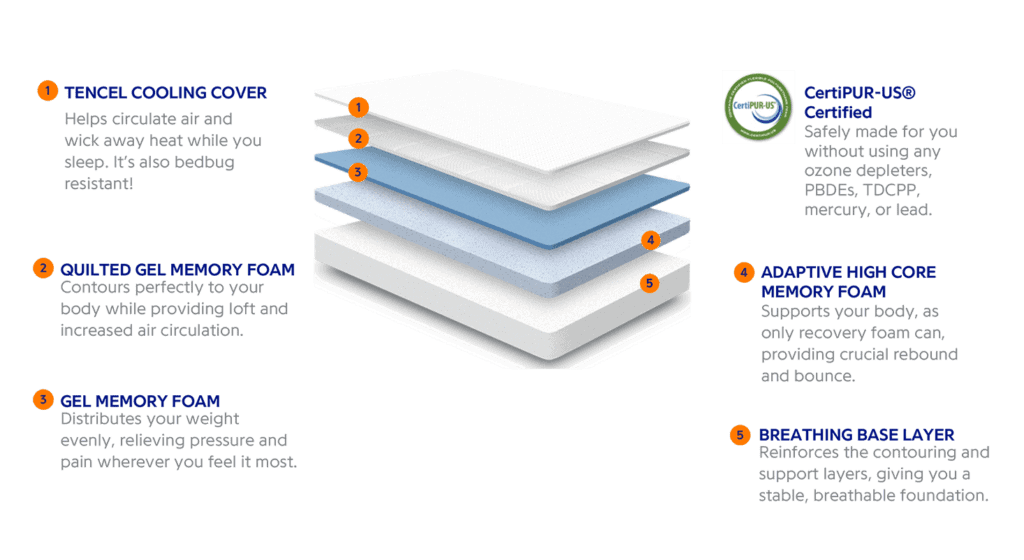 Nectar mattress bottom layer to provide strong foundation. This is the thickest layer of memory foam in the Nectar mattress. With  5.25″ of high-density support foam, this bottom layer of the Nectar mattress acts as the strong foundation and supportive base of the whole mattress. It's depth allows it to provide deep compression for sleepers while they sleep. Finally, it ensures that the mattress stays supportive and will last a lifetime – a thick base is the perfect component to a strong mattress.
Nectar mattress wrapped in a convenient mattress cover.  We also believe that you should have a mattress that lasts a lifetime. And that sometimes kids, pets, and breakfast in bed gets in the way. With this in mind, Nectar designed our memory foam mattresses with a mattress cover that can be fully unzipped and spot cleaned. Join our community of fans that love Nectar mattress. Try it for yourself today. Not all memory foam is created equal, and it's the combination of premium memory foam with the right layers that allows the Nectar mattress to hit a 5.5-6 out of 10 on the firmness scale – placing it almost smack-dab in the middle. Since the average sleeper prefers a firmness level between 5-7 out of 10, creating a mattress of this firmness ensures we can help the most number of people sleep better on the most comfortable foam mattresses.
Now that you know how quality and comfort are made, why not upgrade? Get a Nectar Memory Foam Mattress today!