Pillow Top vs Euro Top Mattress: Differences and Similarities
Pillow top and euro top mattresses were both developed to provide a plush, soft sleeping surface and additional support on top of a mattress. While both cushion tops rest on a base, the main difference between a euro top and a pillow top is in how they are sewn onto this base.
This piece will highlight the pros and cons of pillow top and euro top mattresses, things to consider before buying, and a verdict to help you choose a suitable variant for your home.
What is a Euro Top Mattress?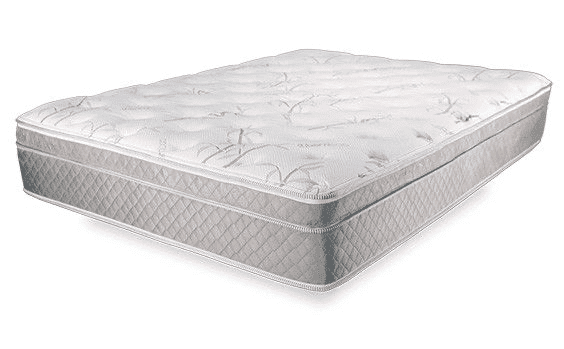 Euro tops are luxurious mattresses made of an additional layer of padding to increase comfort. This extra layer of padding is stitched beneath the mattress cover to give a plush combination of soft and supportive material.
Compared to a pillow top, euro top mattresses provide better support around the edges and have a cleaner look. These mattress variants are commonly found in hotels for the luxurious feel and look they have.
There are no gaps in euro top mattress materials which leaves no room for shrinkage. However, due to the premium quality they offer, euro top mattresses are more expensive pillow-top mattresses of the same size.
Pros and Cons
Pros
Suitable for individuals struggling with back or neck pain.
Provides support towards the edges.
Euro tops are better supported by the bottom layers of the mattress.
No gap or v-shaped indentation to sink further into.
Protected by the mattress cover, enhancing durability.
Cons
It does not contour as effectively as the pillow tops.
More expensive than pillow tops.
What Is a Pillow Top Mattress?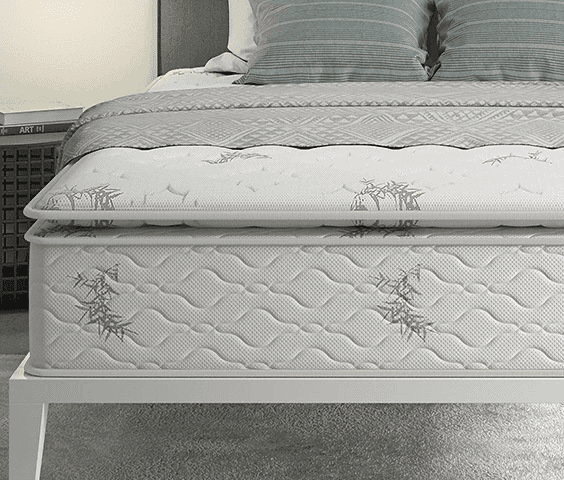 Pillow top mattresses come with an extra layer of padding sewn directly to the mattress top. These budget-friendly mattresses are popularly found in homes because of their improved softness and contouring abilities.
Unlike euro box top spring mattresses, pillow-top mattresses are suitable for beds with naturally firm support. To better understand what it would feel like to have a pillow top mattress in your space, picture in your mind a giant pillow resting on your bed.
This giant pillow top brings support to your neck and back. Pillow top mattresses are known to be beautiful and more viable on innerspring coils.
You might want to bear in mind that the edges of most pillow-top mattresses are not perfectly aligned with the edges of the actual bed.
Pros and Cons
Pros
Improved softness and contouring abilities.
Reduces motion transfer.
Cushions and relieves pressure point.
Distributes body weight evenly to prevent and decrease back pain.
Known to be breathable.
Cons
Can cause decreased airflow in an innerspring mattress.
Bears the brunt of regular movement and can start to sag.
You know the primary difference between a pillow top and a euro top mattress. But making the final decision can depend on several other factors. Let's look at things you need to consider when buying deciding between a euro top mattress vs a pillow top mattress.
Euro Top and Pillow Top Materials
Pillow top mattresses are all about bringing balance to comfort and value. Luckily, you will find multiple pillow-top mattresses designed with different materials. Pillow top mattresses are generally crafted from softer materials, like memory foam, latex foam, wool, or fiberfill.
Euro top mattresses will generally have denser and better quality material compared to pillow tops. You can find foam or fiberfill options that will cost a little more than pillow-top mattresses.
How to Choose Between a Euro Top or a Pillow Top Mattress
Durability
Euro tops are sewn under the mattress cover and are protected from the wear and tear that pillow tops undergo. This increases their durability and makes euro tops the better choice for a long-term investment.
The durability of a full-size euro-top mattress is also dependent on the material used to design it. Memory foam tends to retain its shape and contours perfectly with the body.
Support and Comfort
Pillow tops are known for providing enhanced support and comfort to the spine and the neck. The gap allows the body to sink further than other mattresses.
While a euro top doesn't feel as plush, it provides a harder surface for individuals who need that. Consider medical issues and personal preferences before choosing between the two.
Aesthetics and Ease of Use
The gap between a pillow top and the mattress can cause sagging on the sides and is harder to use bed covers with. Best euro top mattress because of its design looks much sleeker and is easier to use than a pillow top mattress.
Still confused? Check out this mattress buying guide that will tell you how to pick the right mattress.
Conclusion
Euro and pillow-top mattresses both possess remarkable features meant for specific uses. The best way to select between a euro-top mattress and a pillow-top mattress is to understand what works for you. We hope this guide helps.
FAQs
Are euro top mattresses good?
If you're looking for a luxury hotel experience, a Euro-top king mattress is a perfect choice for you. Euro top mattresses are a plush combination of soft and supportive material, and they are also excellent for those who struggle with back or neck pain.
Can you flip the euro-top mattress?
No. The cushion is sewn only on one side of a euro top firm mattress which means you cannot flip the mattress. You can, however, rotate the mattress 180 degrees every few months so that the mattress pressure points on the mattress changes.
Is a euro-top mattress better than a pillow top?
Twin euro top mattresses are more durable than sewn-on pillow tops because they are stitched beneath the cover, making them align with the edges of the mattress and, thus, flatten, sag, or shift less than pillow tops.
Are pillow top mattress bad for your back?
Standard pillow-top mattresses are designed for full-body support, even for side sleepers. However, pillow-top mattresses will sag more compared to euro-top queen mattresses. Check the material and quality of the mattress before deciding the kind of support you need.
What kind of mattress lasts long?
Latex mattresses tend to last the longest, followed by beds made using high-density memory foams or polyfoams. Read more about different mattresses here.
Can mattress toppers be used as a mattress?
No, a foam topper is not the same as a mattress; they are more like additional cushioning or extra padding for a mattress. Sleeping on a topper placed on a hard floor will not be comfortable for people who are used to sleeping on mattresses.
What kind of sleepers should use a pillow-top mattress and a euro top?
Back sleepers are the number one benefactors of supportive mattresses such as euro tops or pillow tops.
How thick is a pillow-top mattress?
About 2 to 4 inches thick.
How long can a pillow-top mattress last?
The average pillow-top mattress can last between four to seven years. Pillow top mattresses usually need replacing as their coils wear out or as the tops grow flat.