What Is a Hybrid Mattress? – A Complete Guide
What is a hybrid mattress? – Hybrid mattresses are simply memory foam and innerspring systems combined in one mattress. A combination of natural and synthetic materials, they bring together the comfort and the advantages of both types of mattresses.
This innovation is an amalgamation of memory foam, latex, or gel along with an innerspring system. It is an assembly of the perfect sturdiness and softness where you can experience both, relief in pressure points and relaxation. Let's understand what's making hybrids an increasingly popular mattress choice.
Inside Hybrid Mattresses
A hybrid mattress is a combination of two distinct mattress types. They will usually have comfort foam, memory foam, a transition layer with zoned support, and pocketed coils.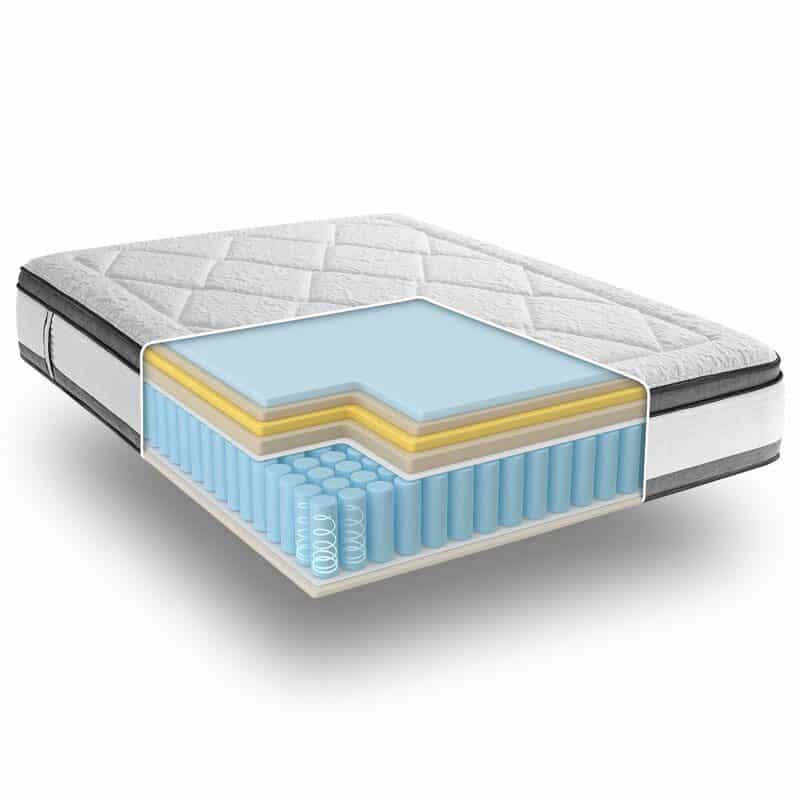 What is a Hybrid Mattress made of?
Hybrid Beds are made of multiple layers. Take a look at the list of the layers used in most hybrids.
The Comfort Layer: This is the topmost layer of a hybrid bed and the sheet you lie on. It is made of cushioned materials like memory foam, latex, and cool-inducing gel. 3 to 4 inches of body-hugging material provides comfortable cushioning to the body and helps with spine alignment.
Support core: Around 7 to 8 inches in height, the support core makes up the majority of the mattress height. It contains a coil system of pocket-wrapped coils and springs that support the spine and restrict motion transfer.
The Base Layer: A 2 inch layer at the bottom is usually made of memory foam and provides padding, sturdiness, and stability.
Hybrid Mattresses Versus Other Mattresses
Let's take a look at how hybrid mattresses are different from other mattresses:
Memory Foam Vs Hybrid Mattress
Memory foam has recently gained popularity for its use in high-end mattresses. It provides a new level of comfort for your body, assisting in spinal alignment through the shoulder and the hip. It hugs your body in every sleep position.
Hybrid mattresses combine the benefits of both types of mattresses- memory foam and spring mattresses. It aims to blend old and new technology, such as foam layers and traditional innersprings, to give you a good night's sleep.
Gel Memory Foam vs Hybrid mattress
Gel is a pretty modern mattress material. It's used as a standalone layer as well as in combination with foam. Gel is a polymer formed by combining plastics and other chemicals, similar to foam. Gel is usually contained in the top layer of the mattress under the cover because of its heat-diffusing properties.
A hybrid mattress can have gel in it, but it also has foam and springs for better support.
Innerspring vs Hybrid Mattress
An interconnected "grid" of coils is protected by a sheet of wool or padding in traditional innerspring beds. A coil system serves as the foundation for both hybrids and innersprings. Innersprings have a thinner comfort layer of cotton, polyurethane, or memory foam.
Hybrid mattresses combine coil mattresses' sensitive support with memory foam's comfortable sinking feel.
Wondering what size you need? Check out this size guide for standard mattress sizes.
Hybrid Mattresses Pros and Cons
Pros
Better contouring than innerspring mattresses
A distinct feel that makes it comfortable for all kinds of sleepers, including stomach sleepers
Improved motion separation that restricts motion transfer from one sleeper to another
Great option for side sleepers as it allows for pressure relief
Is usually combined with reasonable warranties and sleep trial periods
Cons
Since hybrid mattresses are denser than latex or innerspring mattresses, shifting them can be difficult
Chemical odour is a concern. Many hybrids are likely to off-gas, which is a term for the smell of chemicals.
A longer break-in period is needed for getting used to the mattress. Hybrids typically have longer break-in times than other mattresses.
What is the Lifespan of a Hybrid Mattress?
Hybrid mattresses can last you for 7 years or more depending on the material used and how it is maintained. Most mattresses will come with a warranty and a long trial period.
Maintenance is a crucial factor in how long the mattress will last. Tears, bumps, and lumps are some early signs of wear and tear. Resting on an aged, saggy mattress can be uncomfortable and sometimes unhealthy for your spine. It can contribute to pain and increased stress when you wake up in the morning.
How much do Hybrid Mattresses cost?
The number of layers in the mattress affect the cost of a hybrid bed. Beds with more layers need more resources and a more intricate manufacturing process and are likely to be more expensive. Hybrids cost between $1,200 and $2,000, depending on the brand. Keep an eye out for the latest deals to get the best offers!
Do hybrid mattresses need a boxspring?
Hybrids, unlike conventional mattresses, do not need a box spring and can be used on slatted platform beds. If you want more height, you can place a hybrid mattress in a box spring to support the mattress. Adjustable bed frames can also be used to adjust your head and feet to where they are most comfortable.
How to break in a hybrid mattress?
Shoes aren't the only things that need breaking in. Breaking in is needed even for mattresses.
It takes some time to adapt to a fresh, stiff surface when you lie down on it.
Allow Your Mattress to Breathe. Sleeping on it too soon may make you feel like the mattress is deflated and that it's not as good as it can be.
Put some pressure on it. Consider walking on your brand new mattress. On latex and memory foam surfaces, this technique works well.
Be Patient. If you don't like the way your new bed feels right away, don't get discouraged. Your new mattress can take thirty or even sixty days to feel like home.
To explore other mattress types, read this guide.
Don't you think you are worthy of quality and deep sleep? Hybrid mattresses are the way to go for your overall health and well-being. Buy a hybrid mattress and kiss your sleep woes away!
Other Types of Mattresses
FAQs
Is it true that hybrid mattresses are good?
A hybrid mattress is ideal for those who want the benefits of two separate mattress technologies in one mattress.
Which hybrid mattress is the best?
There is no one solution to this question. It all depends on the features that a brand can offer you, as well as what you want. There are many options such as gel hybrid mattress, latex hybrid mattress and others. The best way to arrive at the best choice for you is to read hybrid mattress comparison guides.
Is it true that hybrid mattresses are good for your back?
Hybrid mattresses are a great option because they have both foam or latex support and micro coil bounce. However, we believe that a chiropractor's prescription is the highest.
Is it possible to flip a hybrid mattress?
Flipping the hybrid mattress over is not a good idea because it has distinct layers. We recommend that you clean your mattress on a regular basis rather than flipping it.