If you search for oversized mattresses, your top choices may hover over Wyoming King, Alaskan King, or Texas King. 
But which one to pick out of these three? Let's explore the pros and cons of the same below:
1. Wyoming King Bed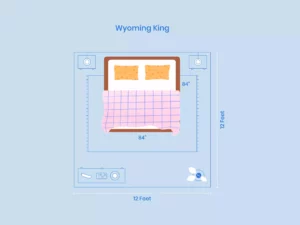 Wyoming King is the smallest available option in the oversized mattresses segment. The Wyoming King mattress has the same length as California King size mattress, i.e., 84 inches. But, Wyoming King is 12 inches wider than California King, providing more space for combination sleepers. Not just that, one can even accommodate a child or an extra sleeper without being cramped up in this width. 
Pros:
Spacious for couples and combination sleepers

Perfect size for co-sleeping

Ideal for accommodating an extra sleeper

Easily available in the market

Easy to move 

The accessories are easy to find
Cons:
Not suitable if you want to sleep with more than one child

Not ideal for a small room

Expensive than standard-sized beds
2. Texas King Bed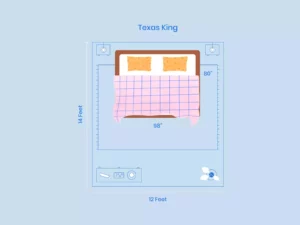 Texas king bed is the second-largest oversized mattress. Did you know it is named after the second-largest state in America?  Also known as the eastern king in some regions, the Texas king mattress is 4 inches narrower than the Wyoming King. It is also known as a rectangular-shaped oversized bed.
It is recommended for tall people who prefer extra legroom. A 6.5 feet tall person can comfortably sleep on this long mattress. 
Texas King is 10 inches shorter and 28 inches narrower than an Alaskan king mattress. Due to its narrowness, it can easily fit into compact bedrooms. Tall people who do not have a large room to fit Alaskan King can use the Texas King bed measurements. 
Pros: 
Great for tall people with narrow bedrooms.

It can accommodate two adults and two children.

Less costly than Alaskan King.

These mattresses are easy to move.

Finding these mattresses is not that difficult.

The bed accessories are readily available. 
Cons:
Narrowest mattress.

Sleeping with more than two children may be uncomfortable.

Cannot accommodate your kids and pets together.
3. Alaskan King Bed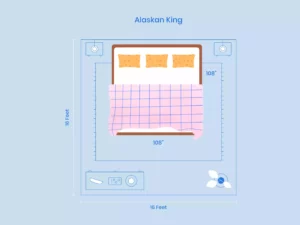 The largest state in the USA is Alaska, hence the name of the largest oversized mattress. This square-shaped mattress provides plenty of space even for people around 7 feet tall. They are also known as the largest square-shaped oversized beds.
If you have a large family and co-sleep with more than two children or large pets, you don't have to worry about falling. It has enough space to handle more than two children. 
Pros:
Tall people can sleep comfortably.

These make excellent family beds ideal for large families with more than two children or large pets.
Cons:
Most expensive oversized mattress.

It can only fit in a large master bedroom.

The mattresses are not easy to move. 

These mattresses are not easily available in the market.

Finding their accessories can be difficult.