What Is a Comforter?: Everything You Need to Know
A roaring success since their introduction in the 20th century, comforters are used by 58.3% of Americans today. Inaccurately called duvets in some countries, they were discovered to be in use in Sweden around the mid 20th century and were sold soon after in Britain and the rest of the world.
One of the warmest top covers available, comforters work well in cold weather and for sleepers who feel cold at night. In this guide, we take you through what they are made of, the different sizes available, and the difference between a comforter and a duvet.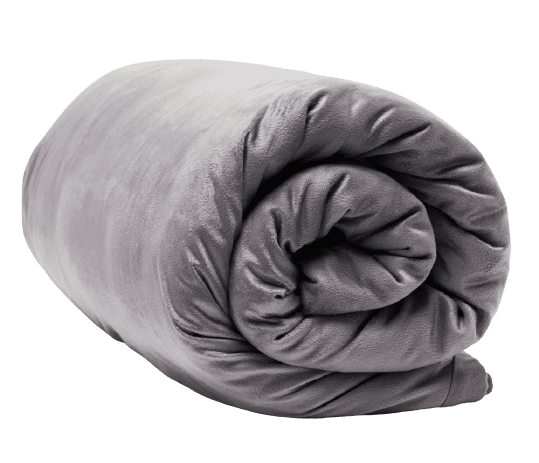 Check out the Nectar Blanket
Designed for relaxation, our blanket hugs your body with a cozy, calming feel
What is a Comforter?
A comforter is two pieces of fabric sewn together to form a pouch that is stuffed with soft filling like wool, cotton, silk, or synthetic fibers like polyester. It is a quilted blanket that is used as a top sheet and forms part of a complete bedding set. Comforters are generally fluffier compared to a duvet. Duvets are traditionally filled with down or down alternatives and have a duvet insert that is used with a cover.
You can notice the difference between most blankets by the number of layers. A comforter, with at least three layers, is heavier than a blanket which is generally a single layer of fabric. This makes them warmer than blankets but also a tough option to carry on trips or picnics.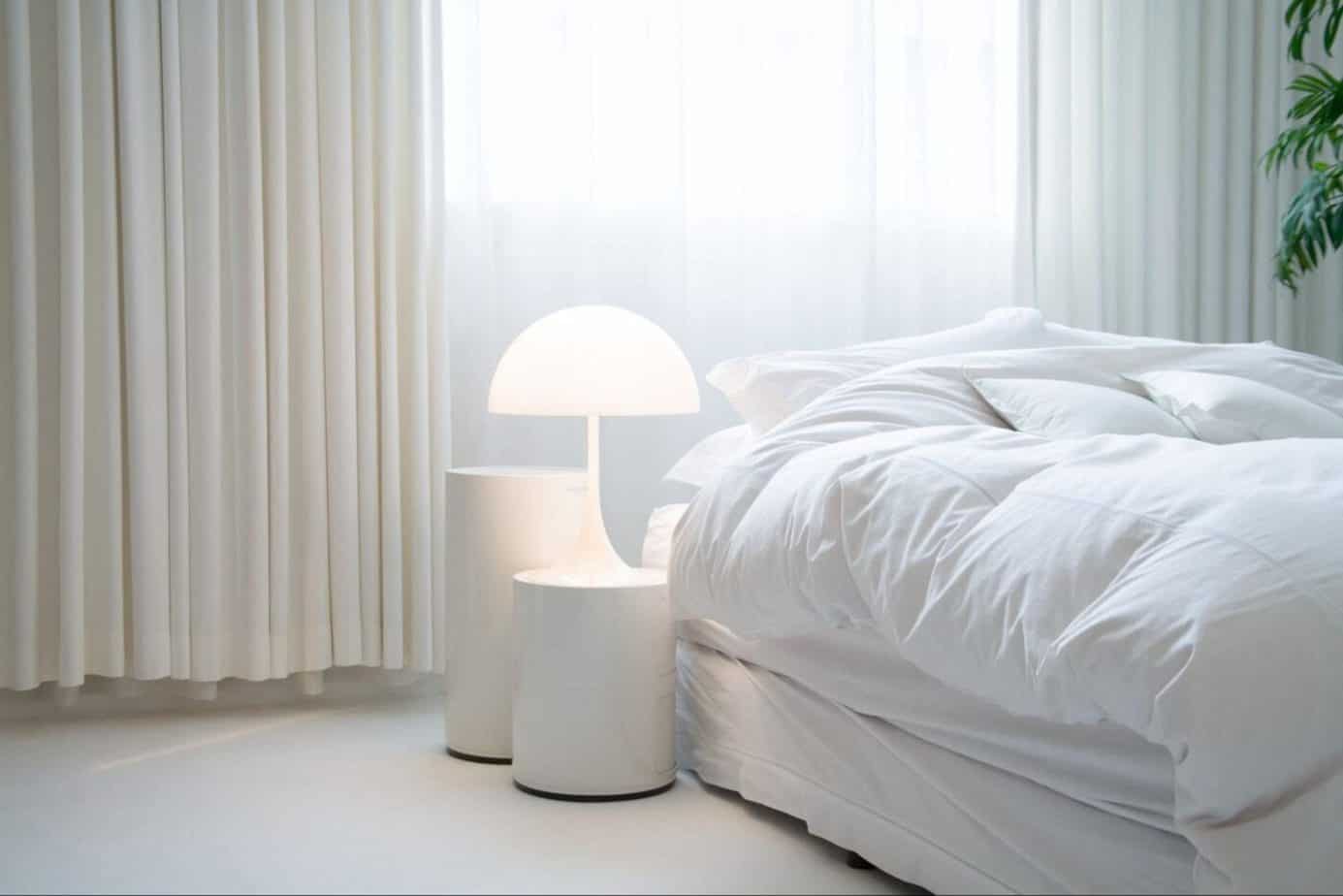 What is the difference between a Duvet vs Comforter?
A comforter is a single piece of bedding whereas a duvet has a cover inside which it is slid. Duvets are easier to clean because you only wash the duvet cover instead of the whole set. The cover also protects the duvet for greater product longevity.
Duvets often have clean and simple designs while a comforter can be more vibrant and change the look of your bed. A key difference that would make people choose duvets would be the fact that duvets do not hang from the side of the beds due to the specific size of the cover. Also, the covers are machine washable making duvets slightly easier to maintain.
Comforter Sizes Chart
The best comforter brands will have comforters in almost all bed sizes including king, queen, full, or twin. However, sizes are not standardized and it may add to the overall size confusion.
Unlike mattress sizes that are standardized, comforters can differ greatly in size from one manufacturer to another. This can add to the overall confusion and lead to unwanted and frustrating trips to the store, online or offline.
This size chart below shows you a range of comforter sizes you can get for each bed size.
| Size | Width (inches) | Length (inches) |
| --- | --- | --- |
| Crib | 28 to 36 | 48 to 52 |
| Twin | 66 to 68 | 86 to 88 |
| Twin Xl | 68 | 90 |
| Full | 81 to 84 | 86 to 88 |
| Queen | 86 to 88 | 96 to 100 |
| King | 102 | 86 to 88 |
| California King | 107 to 110 | 96 to 98 |
Comforter Fillers
The filling of a comforter is usually made of cotton, wool, polyester, down, or a down alternative. The fillers act as an insulating material, their primary purpose being to keep you warm. These fluffy blankets are usually quilted to keep the stuffing evenly distributed and the stitch prevents the filling from clumping together.
A cotton-filled comforter is the ultimate lightweight option for summers and warmer weather. Cotton is soft, breathable, highly absorbent, and hypoallergenic, meaning it won't irritate the skin. It's a perfect all-around option, fluffy but not as much as wool, down, or synthetic counterparts, and is 100% vegan.
A down feather comforter is among the higher-end of your possible options. Down is fluffier and lighter than wool but provides similar warmth. Down filling is a natural product derived from white goose feathers; it cannot be machine washed and must instead be dry cleaned making it expensive to maintain.
A wool-filled comforter offers unmatched warmth and has the added benefit of being naturally moisture-wicking. Derived from sheep, wool is thicker and heavier than other fillers and is a great choice for cold climates or for those who prefer maximum insulation.
A silk-filled comforter boasts of luxury and opulence. Mulberry silk keeps you warm, is highly breathable, and has antibacterial properties, which makes it a top-tier choice for a top cover.
Pros and Cons of a Comforter
Pros
Plenty of patterns and style options
You don't have to wash them as often as blankets
One of the warmest options available as a top cover
Cons
Some aren't machine washable
They usually flatten over time
Some have to be dry-cleaned, especially down-filled
How Do You Choose the Right Comforter for you?
Before buying the best bed covering for you, there are some factors that should be considered:
Stuffing Material and Local Weather
Lighter fillings like cotton or silk are ideal for summers, while heavier fillings like wool or down comforters work better for winters. You should consider the weather in your city and the average temperature before you choose the material you would like to buy.
The fill power, thickness, weight, and stuffing material altogether determine the warmth of the comforter. The higher the fill power, the greater the insulation. If you live in a particularly cold region, you may choose comforters with high fill powers.
Thread Count
The number of threads per square inch determines the thread count of the blanket. The higher the thread count, the softer the fabric. An ideal thread count is between 300-500. Check the label or the product description to find out the thread count of the product you are looking at.
Size
You can measure your bed to know the exact size you need. A comforter should measure 12 to 15 inches longer than your bed size. Remember that the sizes vary and to look at the label before making the final choice.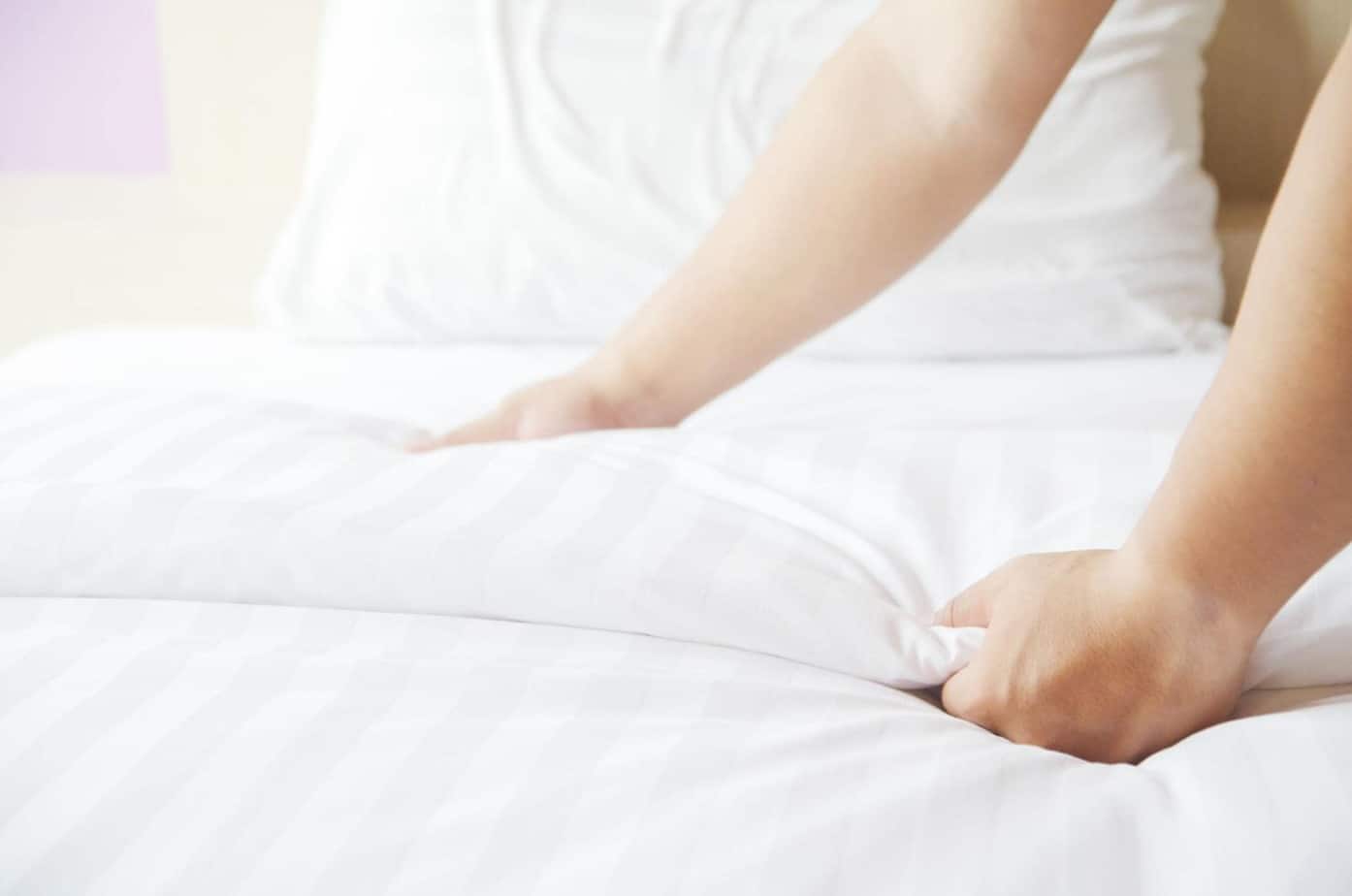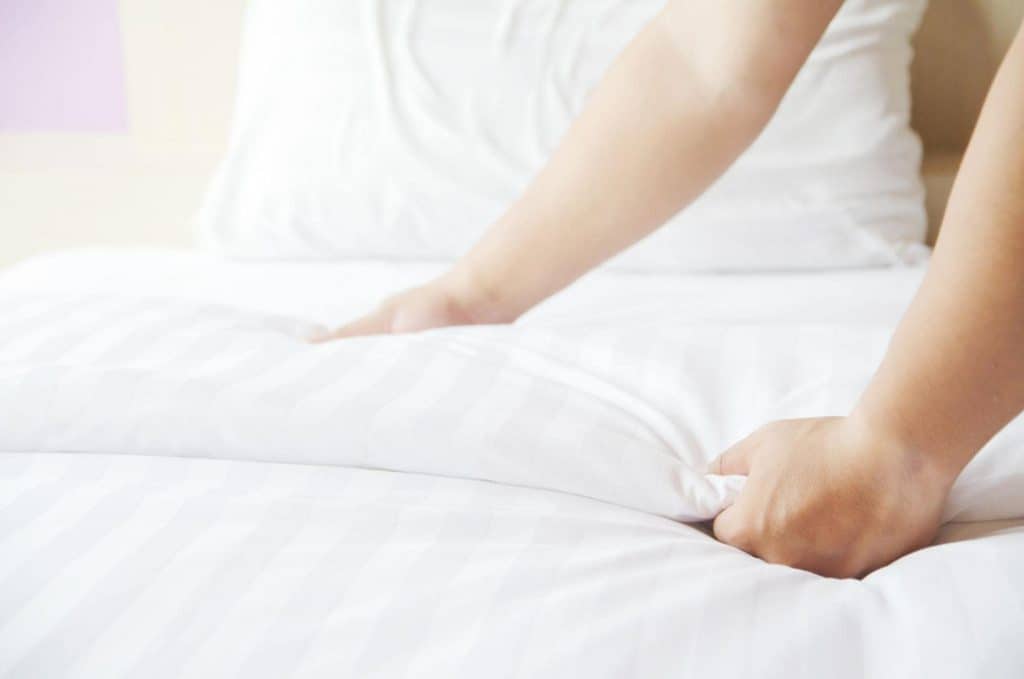 Summing It Up
Even though comforters and duvets are often confused with each other, they are slightly different and these differences can affect how well you sleep at night. Both are great options for cold weather and can be found in multiple sizes and fillings and several price points.
FAQs
Are down comforters and duvet the same?
A down comforter is made from a single piece of bedding with a down (goose feather) filling, but a duvet is made up of a blanket and a removable sleeve. They may look alike but they aren't the same.
What is a comforter set?
It is decorative and comes with coordinating pieces like decorative pillows, bedsheets, bed skirt, and matching curtains. Buying a set makes it easy to style your room.
What is a comforter vs blanket?
A comforter is quilted, made up of two outer layers of fabric and pockets of evenly distributed insulating fillings, while a blanket is made up of a single layer. A blanket's use can be more versatile, such as using it outdoors.
What is better; a duvet or a comforter?
It depends on what you're looking for. Both provide warmth and are ideal for the bedroom. However, It is much easier to clean and maintain a duvet. While duvets come with ducks and geese down filling they also be found with an alternative fill or a synthetic fill.
Why is it called a down comforter?
These types are filled with down feathers that come from beneath the goose or bird feathers. A down option can also be found with synthetic materials that mimic down
What is a good thread count for a comforter?
The ideal thread count is between 300 – 500 threads.
What size is a twin comforter?
They can range from 66 to 68 inches in width and 86 to 88 inches in length.
What size is a queen comforter?
Down comforter queens can range from 86 to 88 inches in width and 96 to 100 inches in length.
What size is a full comforter?
It can range from 81 to 84 inches in width and 86 to 88 inches in length.