What Are the Layers of a Nectar Mattress?
The three layers of a Nectar Mattress are
a tencel cooling cover
three layers of memory foam
and a breathable baselayer
Nectar mattresses use these to give you the support and comfort that you're going to need to get a great sleep. Those parts are also what make a Nectar durable and supportive, which means you're going to sleep as well on the thousandth night of a Nectar as you do on the first.
How does the comfiest mattress get to be so supportive? Through superior materials and design. Nectar knows you've seen different mattresses online, and probably are aware of how memory foam works (at least on a basic level), but what you may not know is how these layers interact to create a totally unique sleeping environment for you. 
The Tencel Cooling Cover is Where Everything Starts
Nectar uses a custom-milled tencel cooling cover on every single one of our mattresses. Haven't heard of tencel? That's probably because it's brand new. It's a luxury microfiber that has unique properties that make it easily wick heat from your skin and the mattress. While other memory foam mattresses sometimes have a tendency to heat as you sleep, a tencel cooling cover makes sure that you're sleeping cool and comfortable all night.
Tencel also has the benefit of being a totally sustainable resource. Made from wood pulp, and constructed using cutting-edge technology, tencel is an extremely eco-friendly material. That's a goal that Nectar has committed to, not to just make mattresses that are good, but mattresses that are also good for the earth.
The Nectar Mattress Uses Three Different Types of Memory Foam
While some mattresses might be content to use one type of memory foam, Nectar uses three. It's because each layer of foam gives a unique benefit, and when paired together equal an extremely satisfying and rich sleep. First, is the quilted gel memory foam, it's goal is to provide supreme loft and comfort, that's the comfy side of a Nectar. It's made through a premium technique that until recently was considered unaffordable for most mattress companies.
The next layer is gel-memory foam. This is a more traditional type of foam, there for back and neck support. It's what's known as "semi-lush" which places our mattress on the semi-firm scale. Semi-firm is the most popular type of mattress and was recently featured in Sports Illustrated as the best way for athletes to recover from injury.
Finally, there's adaptive high-core memory foam. This is the heavy duty stuff, that's meant to act as a support for your entire body. It's also got a way of uniquely contouring to your pressure points. This can encourage circulation, another advantage of the semi-firm mattress.
The Breathable Base Layer Creates a Foundation for Sleep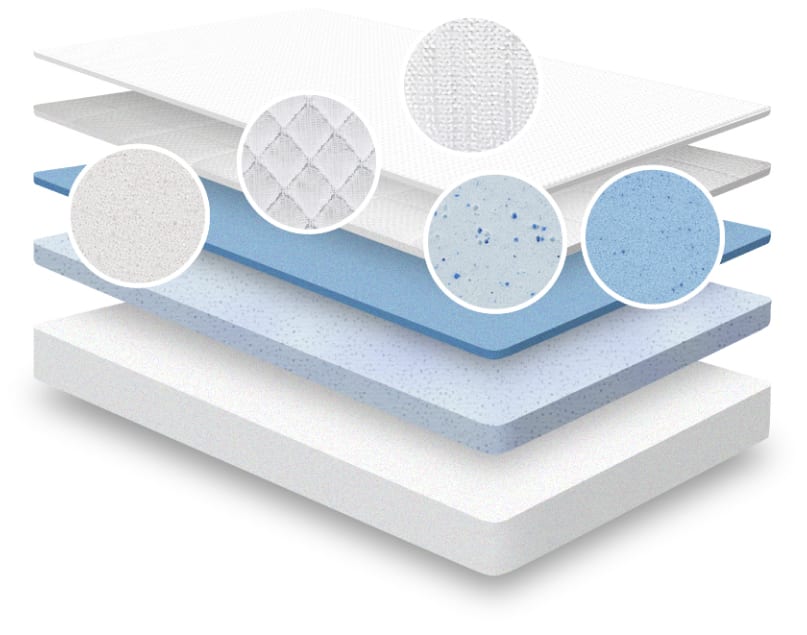 Like a good marriage or a strong house, a great bed needs a solid foundation. The Nectar mattress uses a breathable base layer with a 2.2 ILD rating. That's basically a fancy way of saying that it's thick and dense. It doesn't sacrifice breathability though, it's specifically designed to allow great airflow, drawing in fresh air through it's molded channels. That's just another way that Nectar's components work together to give you the coolest, softest sleep, while still supporting you where you need it.
It's comforting to know that Nectar is built from the ground up with your sleep in mind. From it's tencel cooling cover, to its memory foam, all the way to its breathable base, Nectar is about comfort, sustainability, and sleepability.
Now that you've read about how those layers work together to create a balanced sleep, try one and feel the difference for yourself.