The Ultimate Guide to Waterbeds
With more than 20% users, waterbeds became a popular consumer item in the United States in the 1980s. Also called "pleasure pits" reports through the 19th century suggest that waterbeds served as medical aid and enhanced the overall bedroom experience. Waterbeds started to lose their popularity in the early 2000s and people started to avoid them since they were bulky, hard to move, and leak-prone.
What Is a Waterbed?
A waterbed, also known as a flotation mattress, is a vinyl mattress filled with water. Waterbeds consist of water tubes called bladders and are either one large bag or a group of tiny tubes. Modern-day waterbeds support themselves, eliminating the need for a separate frame. Some waterbeds have temperature-control devices to make the water warm so that you can stay warm at night.
History of Waterbeds
In 3600 BCE, the Persians used goat-skin mattresses filled with water. In the 18th century, many experts and scientists made efforts to invent a patented waterbed. In the early 19th century: hospitals used waterbeds made of rubber.
In 1968, a design student named Charles Hall invented a patented vinyl waterbed as a part of his master's project. Although waterbeds gained a lot of popularity in the 1990s, they soon failed to make it into people's bedrooms because of their impracticality.
Types of Waterbeds
Few varieties of waterbeds are available in the market, but waterbeds broadly come in two main categories, hardside and softside.
1. Hardside Waterbed
A hard-side waterbed holds its shape with an external wooden frame. Traditionally, hard-side waterbeds are rectangular wooden boxes with a vinyl bladder inserted in them. Fabric is coated over the vinyl shell to give it padding. Hardside waterbed frames come in unique sizes making it difficult to find accessorize them. They also come with a waterbed headboard and footboard, eliminating the need to buy one.
2. Softside Waterbed
A Softside waterbed maintains its shape with foam bolsters and a fabric casing covers these foam bolsters with a padded top. The foam frames present a level surface and more comfortable side support compared to wood frames. They are thinner yet last longer than the traditional hardside waterbed.
Waterbed: Pros and Cons
The waterbed can be beneficial and comfortable for a few but it is definitely not meant for everyone. Let's evaluate the pros and cons of a waterbed.
Pros
Waterbed removes pressure from the spine and can provide relief to those with back pain.
Waterbeds are helpful for people suffering from paralytic conditions, thanks to the even distribution of weight.
It is easy to clean a waterbed and the dust particles can be wiped away periodically with a cloth and vinyl cleaner.
Regular cleaning of the waterbed eliminates the chances of dust mites in the bed.
Cons
Waterbeds do not come in standard sizes like a regular mattress.
Moving in a waterbed is difficult compared to a regular bed.
Depending on the climate: the water inside a waterbed needs to be heated, which increases the maintenance cost.
Waterbeds may occasionally leak.
Emptying, repairing, refilling, and reheating the bed can be an inconvenience.
Waterbeds are heavy and are difficult to transport from one place to another.
Maintenance Required for a Waterbed
Maintenance is one of the most important reasons for the downfall of waterbeds. Below are some of the reasons for the continuous requirement of maintenance to a waterbed.
You have to refill your waterbed. A king-size waterbed holds around 235 gallons of water, which means you are moving a garden hose into your bedroom.
You need to add a waterbed conditioner yearly to prevent the vinyl from becoming brittle.
You may have to fix leaks from time to time. You can use a waterbed repair kit to repair the leaks. Typically a waterbed repair kit includes liquid cement and a vinyl repair patch.
If you are moving your waterbed, you will have to drain the waterbed frame. You can drain this with the help of a garden hose. Draining a California king waterbed weighted around 2000 kg can be physically draining.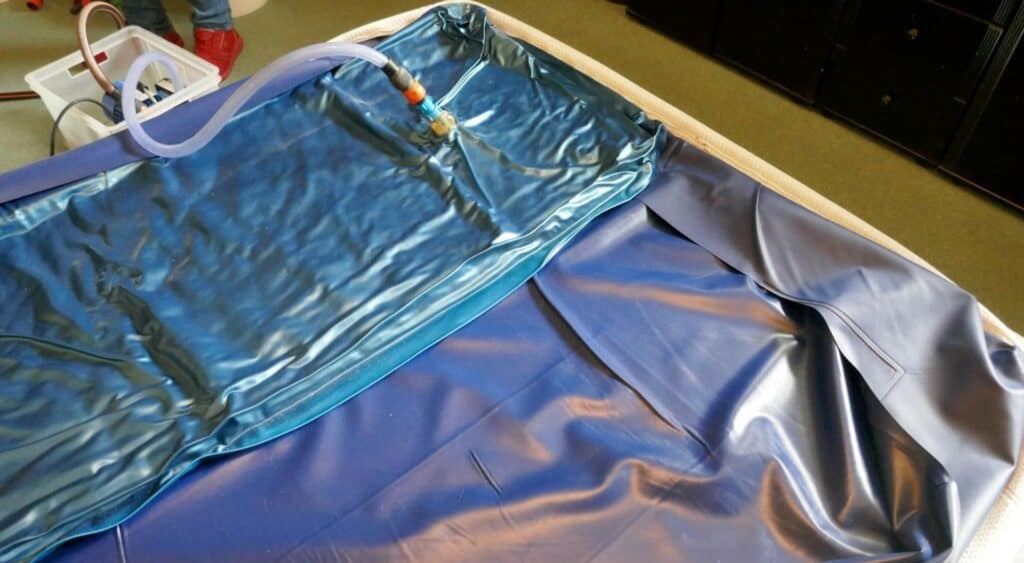 How Much Does a Waterbed Cost?
Waterbed price depends on the size, brand and features added.
Entry Level Waterbeds
These are free-flow waterbeds and do not come with a frame. You have to buy a liner, frame, waterbed heater, and pump separately, and hence the total cost goes up. The price of these waterbeds ranges between $50 and $150.
Mid-Range Waterbeds
These are hardside waterbeds that come with waterbed heaters and pillow tops. The price ranges from $150 to $300. Occasionally you may get a self-supporting softside waterbed in this price range. These waterbeds may have semi-waveless or waveless motion baffles. You can get full-wave mattresses and hardside wooden frames, along with heaters and pillow tops in this range.
High-End Waterbeds
These waterbeds come with all the accessories you need for a comfortable sleep. The accessories include a portable heater, waterbed conditioner, electric pump, and vinyl repair kit, and the price ranges from $300 to $2000. They also have outside frames and a pillow top for extra padding. If you are comfortable with a larger waterbed, you need to add $500 or more for California King and Queen size waterbeds.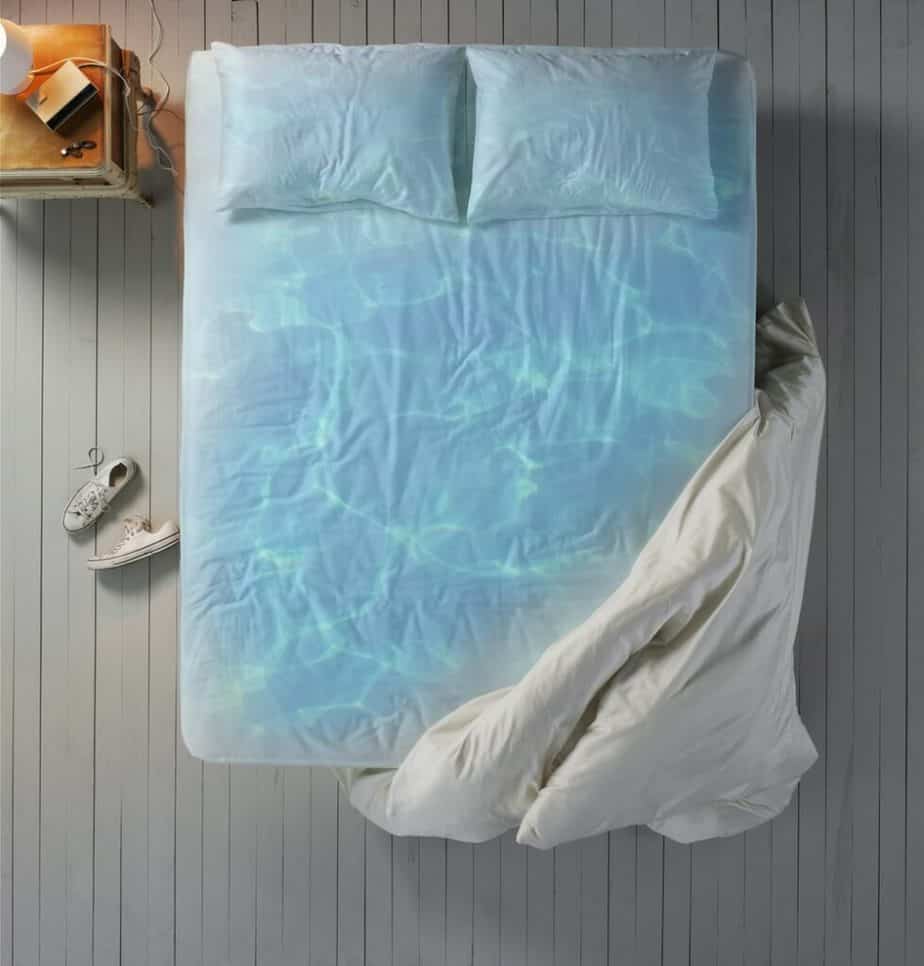 The Final Word
Waterbeds might benefit people with back pain and some hospital patients, but they are not always worth the price, especially with the high maintenance associated with them. NectarSleep's memory foam mattress provides the same support and pressure relief without any extra effort at an affordable price. What are you waiting for then? Your next foam mattress is just a click away.
FAQs
Are waterbeds good for your back?
Yes, Waterbeds naturally contour to the body and evenly distribute pressure over your entire body. It leads to reduced stress on your joints and spinal cord.
How long does a waterbed last?
Generally, a vinyl waterbed mattress lasts about 10-15 years. After using continuously for years, vinyl dries off, becomes brittle, and produces too many leaks.
Why were waterbeds discontinued?
Waterbeds need excessive maintenance and are prone to leaking. They are heavy to move from one place to another, and you need to buy lots of accessories. People started getting cheaper, lesser maintenance alternatives that led to the downfall of waterbeds from the markets.
Do waterbeds get moldy?
Yes, due to warm and moist conditions, the inside of a waterbed grows mold. You can use a waterbed conditioner with water to prevent the waterbed from getting moldy.