13 Types of Bed Frames and Styles Explained
Our ancestors have used some sort of framework to hold their bedding since the Stone Age. Digging the ground or creating a raised platform with stones were common.
Gradually wooden frames came into existence. And, today, you have more types of bed frames than you can imagine.
But how do you choose one?
We will walk you through the different types of bed frames along with their pros and cons.
What Is a Bed Frame?
A bed frame is a structure on which you rest your mattress. Frames can either be made of metal or wood.
A frame consists of the head, foot, and side rails and can have legs or not, depending on the style you choose.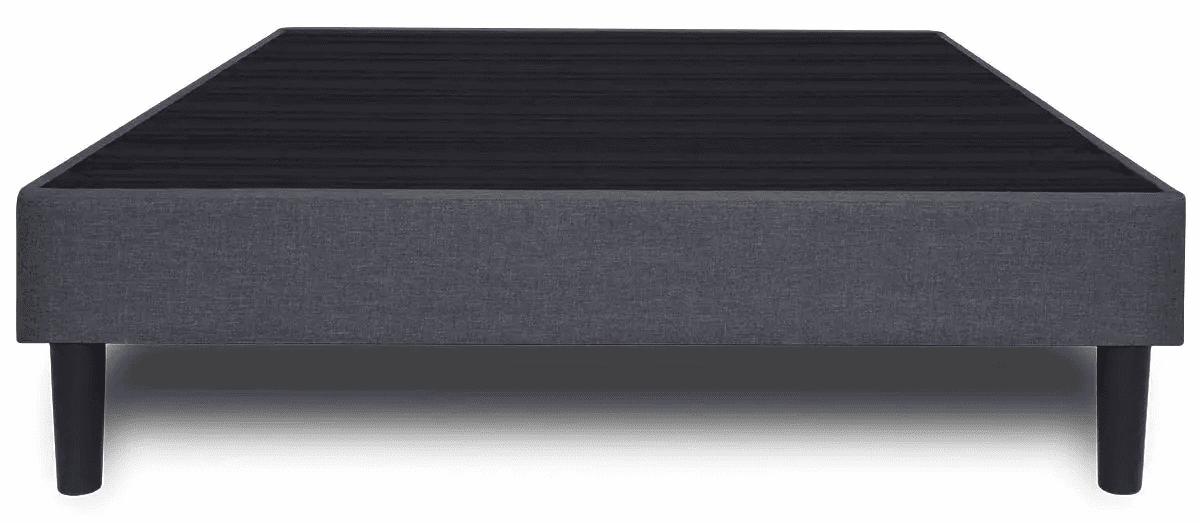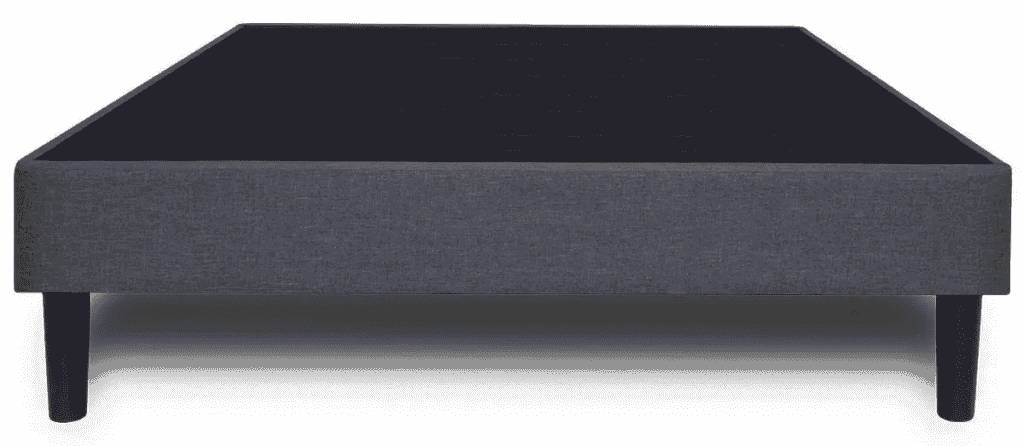 Types of Bed Frames
Let us take a look at the various traditional and modern bed frames that can blow your mind.
1. Platform Bed Frame
A platform bed is a traditional frame that stands on four legs. So, it gets elevated from the ground. If you are looking for a minimalist bed frame, then this is it. The latest innovation in this style is called a floating platform bed which is installed in such a way that it looks suspended mid air.

Pros
You do not need to buy a box spring. A plain mattress will work saving you a few bucks. Its simple design takes up less floor space.
A platform bed can be used with any mattress.
Cons
Since the mattress sits on top of a wooden platform, the bed tends to be firmer. Side sleepers might find it uncomfortable
These beds are relatively low compared to other designs.
Who should buy Platform Beds?
If you have a space crunch, platform beds are one of the best types of bed frames. Their sleek design can easily make them fit in your small room. Moreover, they won't make your bedroom look cluttered.
2. Divan Bed Frame
They are an excellent option if you like to store things under your bed. Divan bed frames come equipped with one or more drawers to help you stash away your beeding and accessories.
Pros
It is a multipurpose bed frame. You can use it to store clothes, utensils, books, bedding, etc. It can save your space and money as you don't have to buy a separatre storage unit.
Their solid structure also makes them quite sturdy.
Cons
Storage beds are expensive. They are multifunctional but can dig a large hole in your pockets.
Moving them is quite a task. You will face troubles while shifting to a new house.
Who should buy a Divan Bed Frame?
A bed frame with drawers is best for modern-day apartments. Your room might be too small to accommodate a wardrobe or a cupboard. Why worry? Your divan bed will serve all the purposes together.
3. Trundle Bed Frame
Have you heard of a bed within another bed? Well, a trundle bed frame is what we are talking about. These bed frames have an attached bed hidden beneath the main one.
Pros
They help accommodate two children without taking away extra playing space
Great option to have if you have spontaneous sleepovers.
Cons
They might not be strong enough. The attachment might break lose under too much pressure.
You can't sleep with the same comfort on the attached bed.
Who should buy a Trundle Bed Frame?
You can call it a kid's bed frame. They can get all the space they want during the day. Then, at night, they can pull out the attached bed to sleep in.
4. Sleigh Bed Frame
Yes, you heard that right! It is a bed frame that looks like a sleigh. Its high footboard and headboard give it a unique style statement. They have been popular for quite some time with brand new designs coming up every day.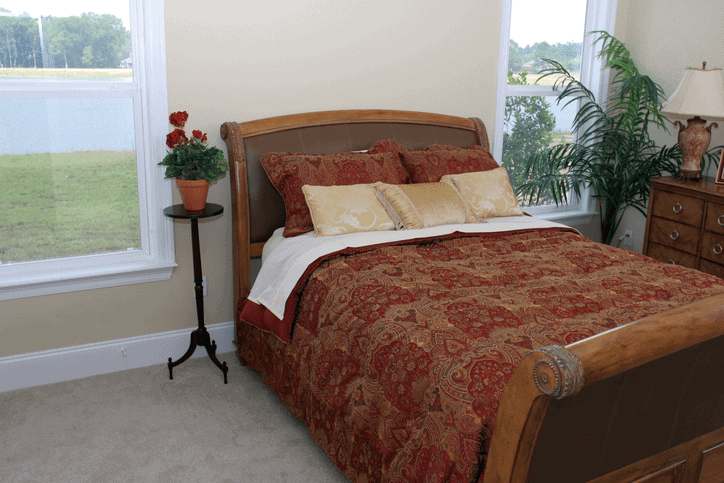 Pros
You can rest your head on either side without worrying about falling off
A sleigh bed with an eye-catching design can set your room apart
Cons
Moving them might not be an easy task.
If you are tall, you might face trouble fitting in a sleigh bed
It will cost you quite a few bucks
Who should buy a Sleigh Bed Frame?
Go for sleigh bed frames if you have a lot of space in your room. Moreover, it is also a great choice if you have ornate interiors. Some sleigh beds come with beautiful designs carved on their head and footboards.
5. Loft Bed Frame
Are you looking for a high bed frame? What if we say you can fit your sofa, table, and chairs, all under your sleeping space? Well, that is a loft bed frame for you. It is a frame with very high legs. So, you can fit anything under it.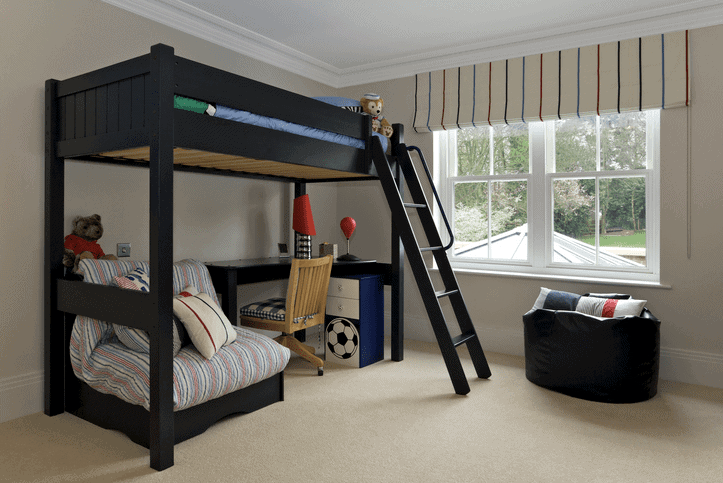 Pros
It is an asset in space-crunched apartments.
Climbing the stairs to reach the bed can be fun for kids.
Cons
A loft bed is not for you if your room has a low ceiling.
Climbing the stairs might be troublesome if you have knee problems.
It is not safe for small kids as they might fall off the bed.
Who should buy a Loft Bed?
Do you have too much furniture crammed in a small space? Then, a loft bed can be your savior. Besides, it is also excellent if you often have guests in your place.
6. Wrought Iron Bed Frames
Wrought iron beds are stealing the show these days. They are one of the best types of metal bed frames. Furthermore, their sleek design makes them popular among the new generations.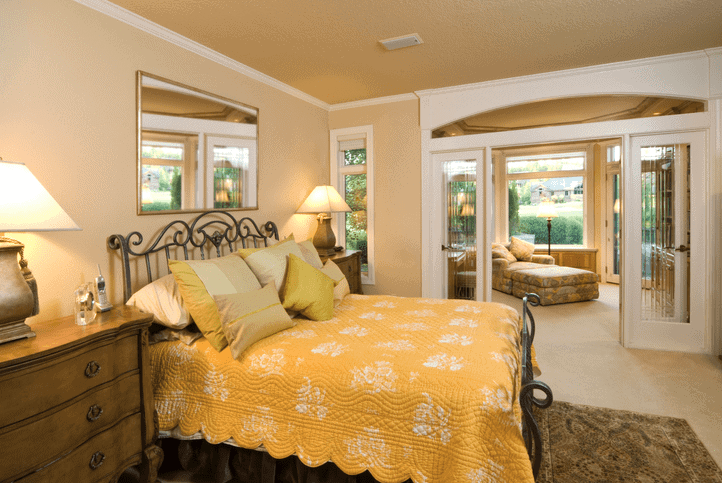 Pros
Their durability makes wrought iron bed frames the champion. These frames can easily last for years.
You do not need to take efforts for maintenance. That's an added advantage over the different types of wooden bed frames.
They are light. So, you can move these frames with ease.
Cons
Wrought iron beds can be expensive.
Who should buy a Wrought Iron Bed Frame?
Wrought iron beds can serve you well especially if you change apartments frequently. It will be easier to transport without damage. Moreover, it is also perfect if you do not have time to clean your bed frame.
7. TV Bed Frame
The name must have caught your attention. Yes, you guessed it right. These beds have a real flat-screen TV attached to them. You will find it on the footboard of the frame.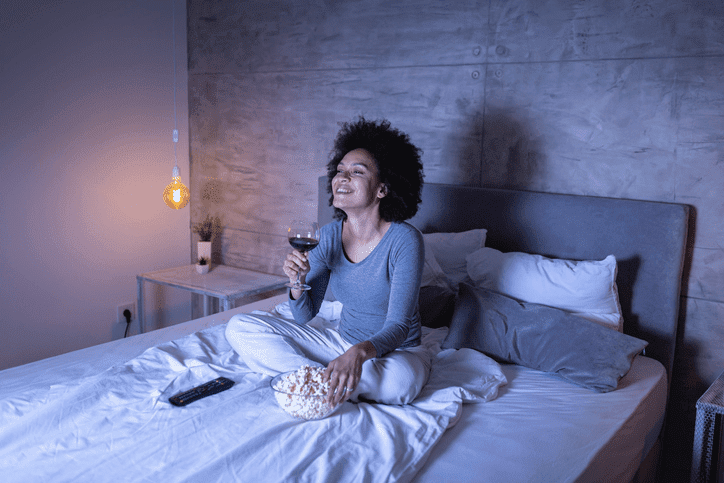 Pros
The headboard is upholstered. So, you get a soft and cushiony feeling when you lean against it.
You don't have to buy a separate TV.
You can adjust the height of the TV with the press of a button.
Cons
Electronic devices are unpredictable. So, the TV might start malfunctioning. You will have trouble repairing it.
Who should buy a TV Bed Frame?
Do you love to watch your favorite TV show lying on your bed? Then a TV bed frame is the perfect match for you. Moreover, it can also be a prized possession if you are fascinated by technology.
8. Ottoman Bed Frame
It is pretty similar to the divan bed frame. However, you have to access the storage space differently. You don't have to pull out any drawer. The storage space is safely hidden beneath your mattress.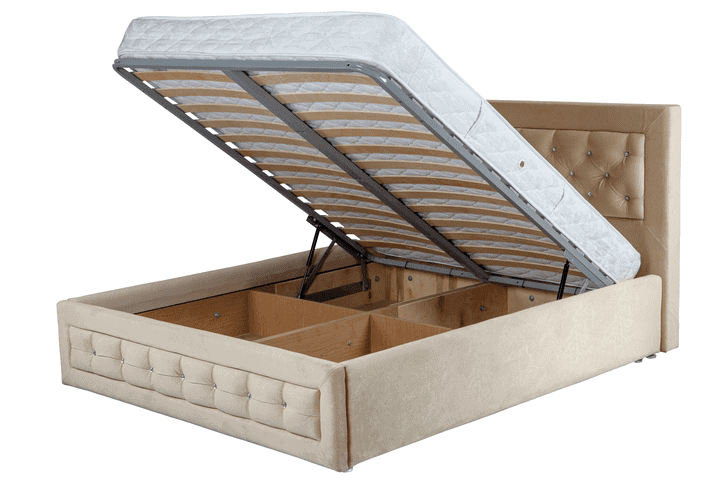 Pros
It is fit for small rooms where you might not have the space to pull out the storage space.
It often comes with an upholstered headboard. So, you can lean against it and read your favorite book.
Cons
If someone is sleeping on the bed, you cannot access the storage space.
The hinges might come off and put you in a fix.
Who should buy an Ottoman Bed Frame?
You might have innumerable things to store. But, there is no storeroom. Don't worry. An Ottoman bed frame will have your back. It effectively hides all your belongings from the eyes of your guests.
9. Canopy Bed Frame
It is a high bed frame with four posts. It has been around for a while. However, new styles and designs of wooden canopy frames are emerging every day.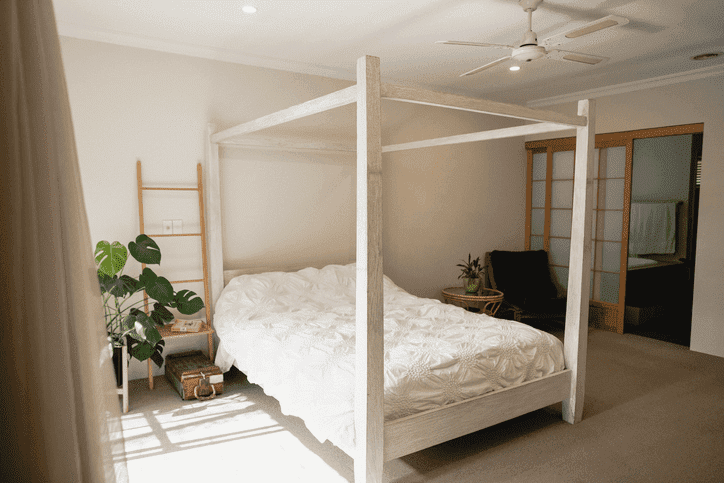 Pros
Its classic design can add a regal touch to your bedroom.
It can give you a soft and cozy feeling because of the enclosure like structure.
Cons
Dust will accumulate at the top of the frame. So, there is no escape from cleaning it regularly.
It will not fit in small rooms with low ceilings.
Moving it can be a huge task. You might face trouble while shifting to a new place.
Who should buy a Canopy Bed Frame?
Canopy bed frames might find a perfect place in your master bedroom. It can give a unique touch to your large and airy bedroom. Moreover, the posts can help you hang your mosquito net with ease.
10. Day Bed Frame
It is the best option between the different types of twin bed frames. Guess why? A day bed frame can play a dual role in your room. You can use it both as a sofa and a comfortable bed.
Pros
It is a super space saver. If you live in a tiny apartment, what can be better than your furniture playing a dual role.
It can help you make a unique style statement. It is more fashionable and attractive than a regular twin bed.
It can provide an excellent way to accommodate an extra guest.
Cons
Since it is a twin-sized frame, it can hardly accommodate more than one person.
Though they are twin-sized, these frames tend to be heavier. So, moving them into an office space or guest room might be a difficult task.
11. Mid-Century Modern Bed Frame
If you have been looking for types of wooden frames that are trendy, stop your search here. A mid-century frame has a simple design but can lend that classy look to your bedroom. It is made of polished wood with a beautiful finish.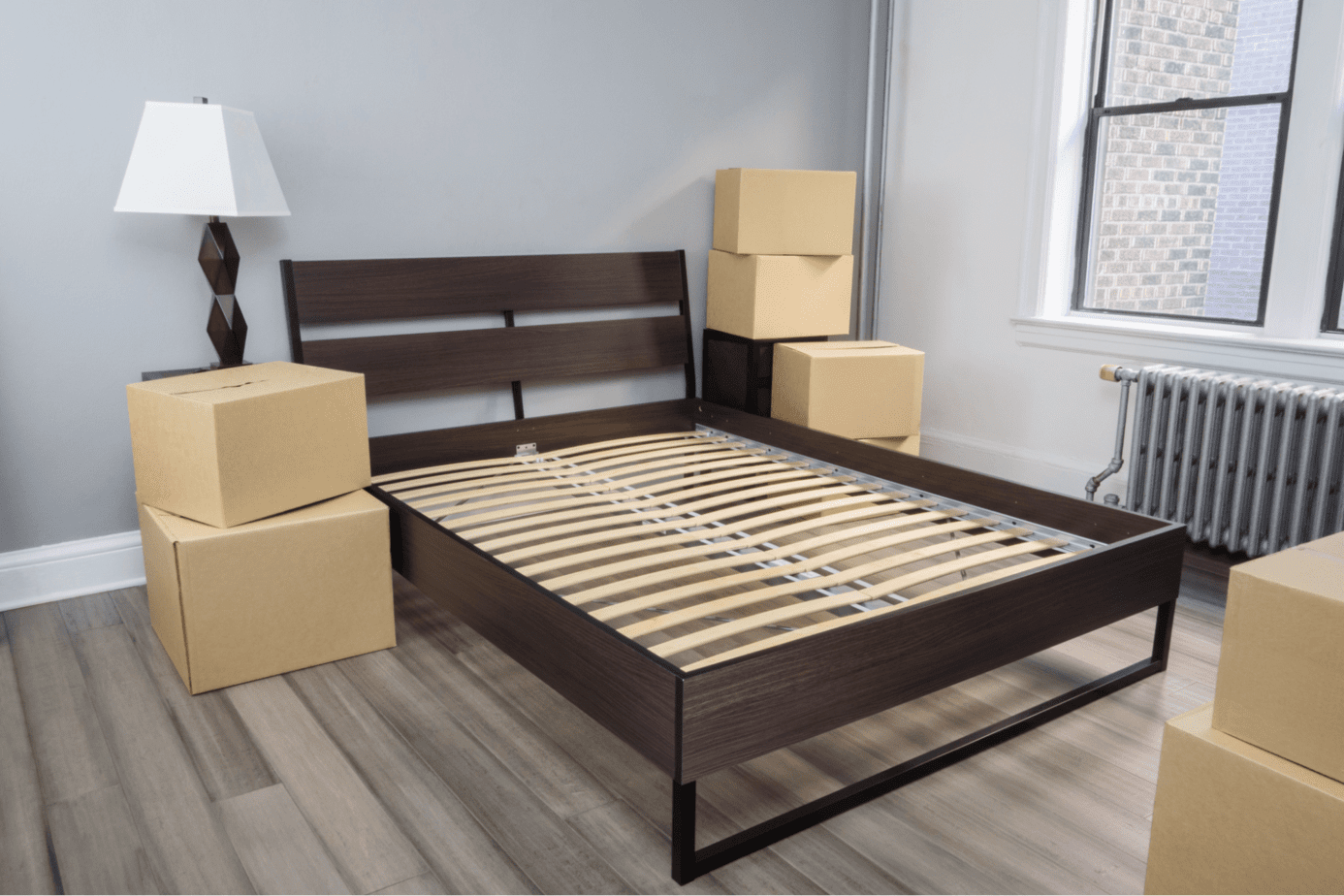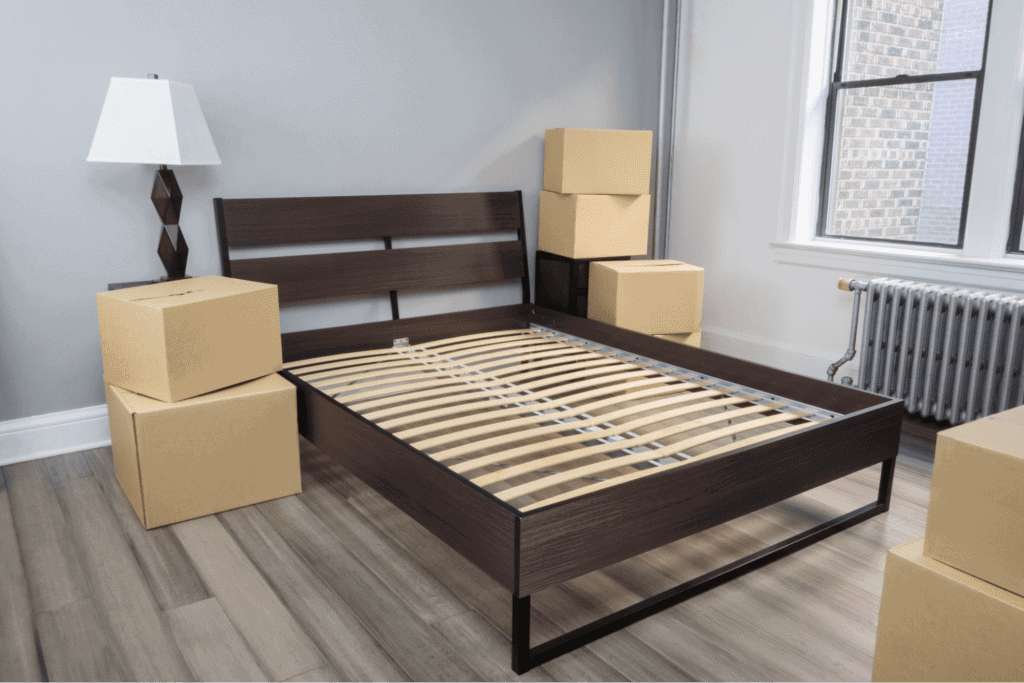 Pros
It is one of those modern bed frames that can brighten up your room with its simple yet stylish design. The polished wood can add that majestic touch to your bedroom.
Though it is fashionable, it does not add to visual clutter in your bedroom.
You do not need to put effort into maintenance.
Cons
Mid-century frames can cost you a lot. Solid wood is more expensive than other materials.
Who should buy a Mid-Century Modern Bed Frame?
They are a good fit in sleek, modern apartments. You can go for these wooden frames if you have a high budget.
12. Futon Bed Frame
The Futon bed originated in Japan. It did not have any frame in its original form. There was just a thin mattress on the floor that could be rolled up. So, it was a floor bed frame.
The Western adaptation of the futon bed does have a bed frame. However, it is nothing more than a slightly raised platform that elevates your mattress from the ground.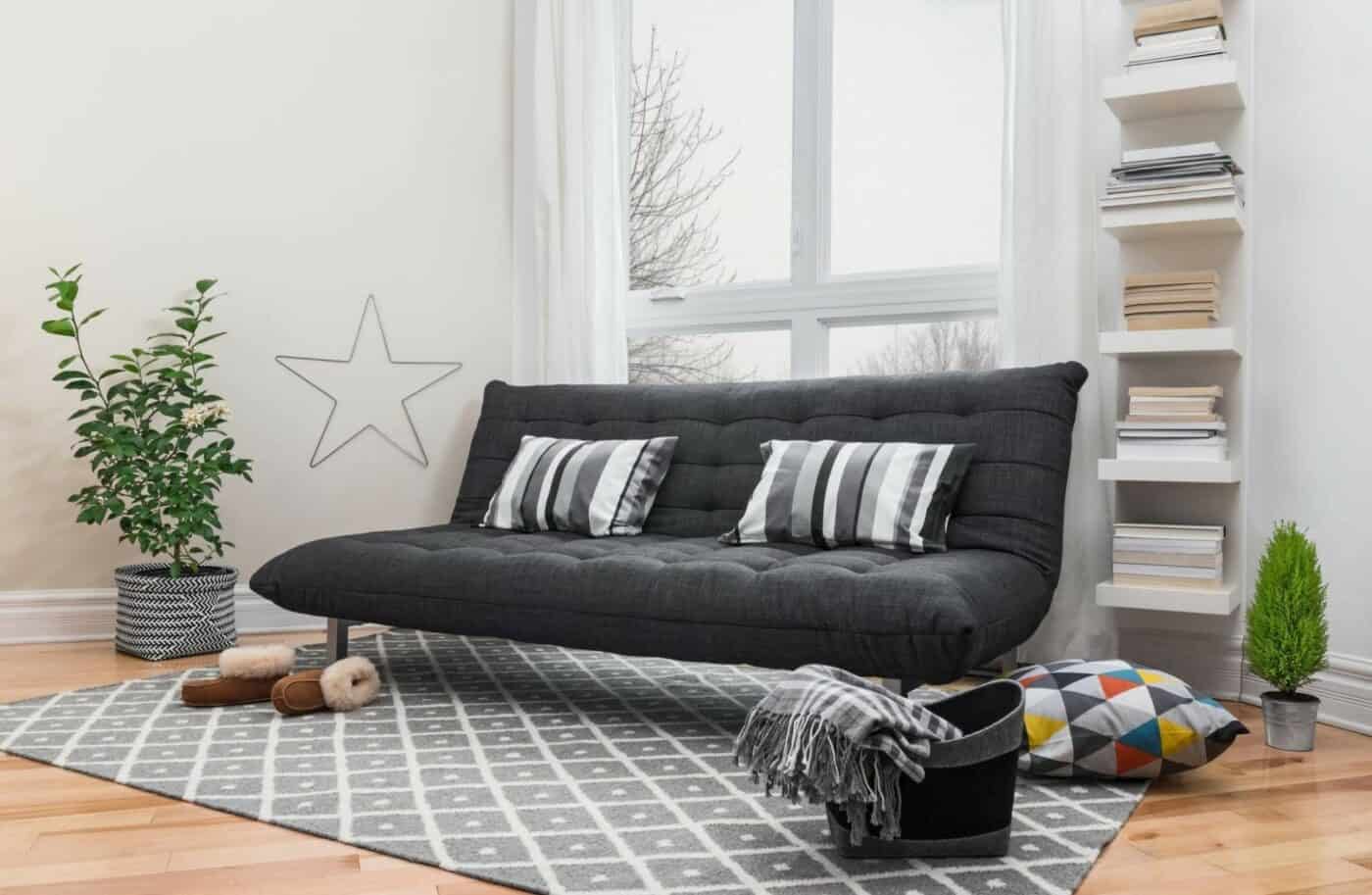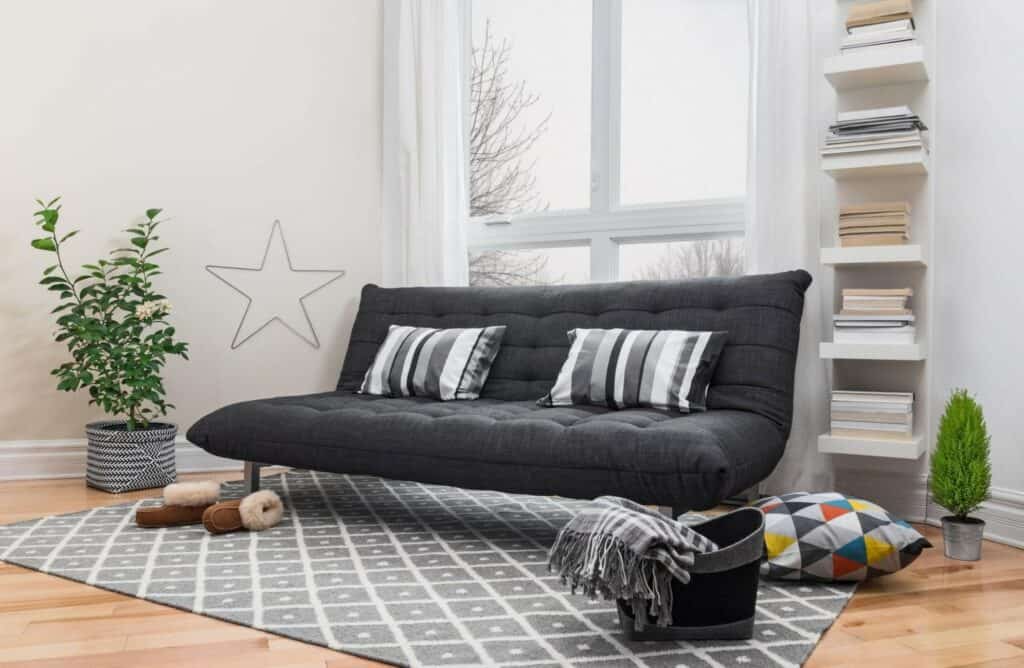 Pros
It is a minimalistic bed frame.
It doesn't occupy much space.
Maintaining a futon bed is not much of an effort.
Cons
They might not be comfortable like the other types of bed frames.
Who should buy a Futon Bed?
A futon bed frame can find its place in a bachelors' mess where they like to have minimum furniture. You can also choose a futon if you want to sleep on the floor.
13. Pull Out Sofa
It is super convenient if you get sudden guests. Just pull out your sofa, and it will magically transform into a cozy bed.
Pros
It is cost-efficient since you do not have to buy a separate sofa
You can even do without a mattress. The sofa cushions are comfortable enough to sleep on.
You can get them in several attractive designs
Cons
These frames might not be strong and durable enough.considerable
Who should buy a Pull-Out Sofa?
It can be a good choice in one-room apartments where you have minimum space for furniture. It can also help you out when you do not have a guest room.
Different bed frames by nectar
Nectar brings you some fascinating bed frames that will take care of comfort and style. Let us look at the different bed frames at Nectar.
Foundation
Rethinking the traditional box spring, the Nectar Mattress Foundation will support you and your family for decades. You'll find it easy to put together, take apart and move wherever life takes you.
Nectar Mattress Foundation is made from naturally-sourced, long-lasting, solid pine and spruce. These bed frames help you to raise the height of your mattress and keep it off the ground.
It is a double bed frame that can easily accommodate two people.
The best part is that it also comes with a three-year warranty from Nectar.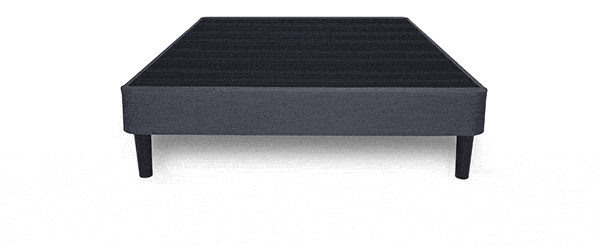 Price
Starting from $225
Adjustable Bed Frames
Adjustable bed frame is the perfect companion, letting you elevate your head and feet while enjoying a Massage or Zero Gravity setting for adjustable comfort.
If you have some physical ailments like pain in your shoulders or lower back, there are different types of adjustable bed frames for you. The ones from Nectar have programmable memory settings. So, they can adapt to the contours of your body very quickly.
Furthermore, you get remote-controlled access to the various functions in the bed. There are also massaging points to help you relax after a tiring day.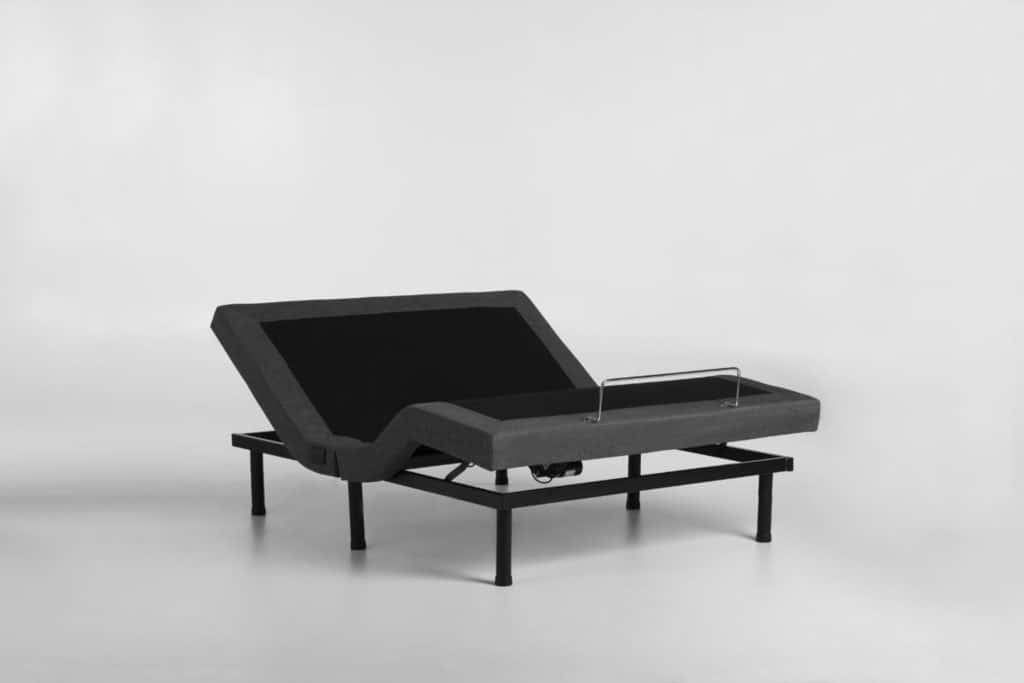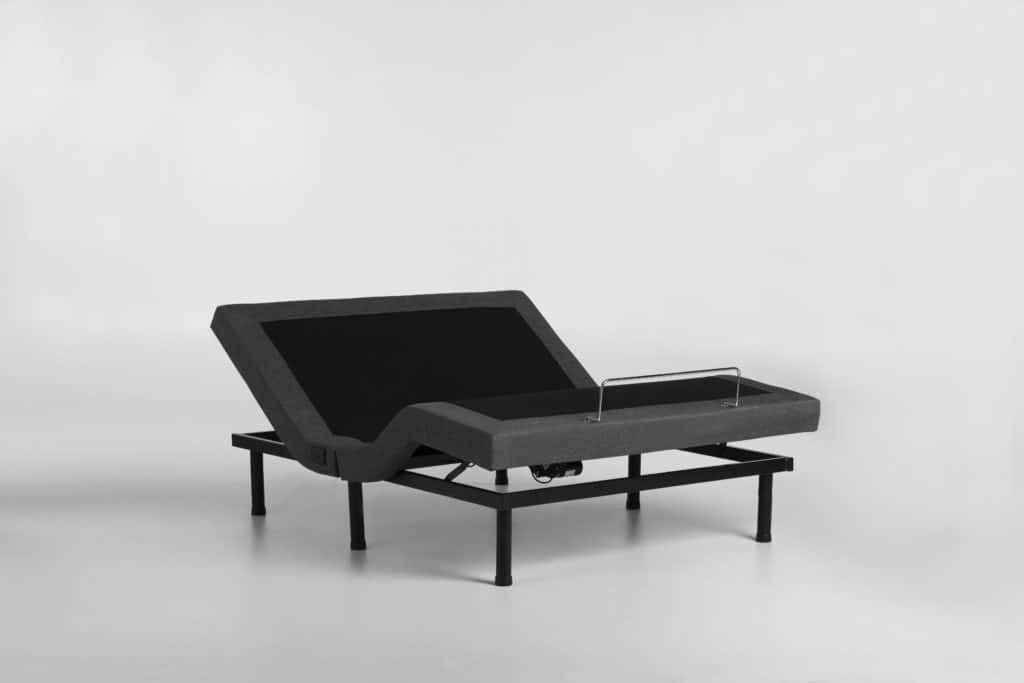 Price
Starting from $649
Metal Bed Frames
This metal platform bed frame is built to last and support your box spring and mattress without allowing them to sag. Nectar's Metal Bed Frame maintains stability and maximum weight support for your mattress set, including interlocking key slot rails with 2 ¼ inch center beam that provides stronger support for heavier mattresses. With a solid black matte powder coated finish it is built to last for years to come and will blend well with any decor.
The Nectar Metal Bed Frame includes a heavy duty steel frame, sturdy locking wheels, and headboard brackets, all adjusting to fit any size bed (from Twin/Twin XL to California King), box spring, or foundation.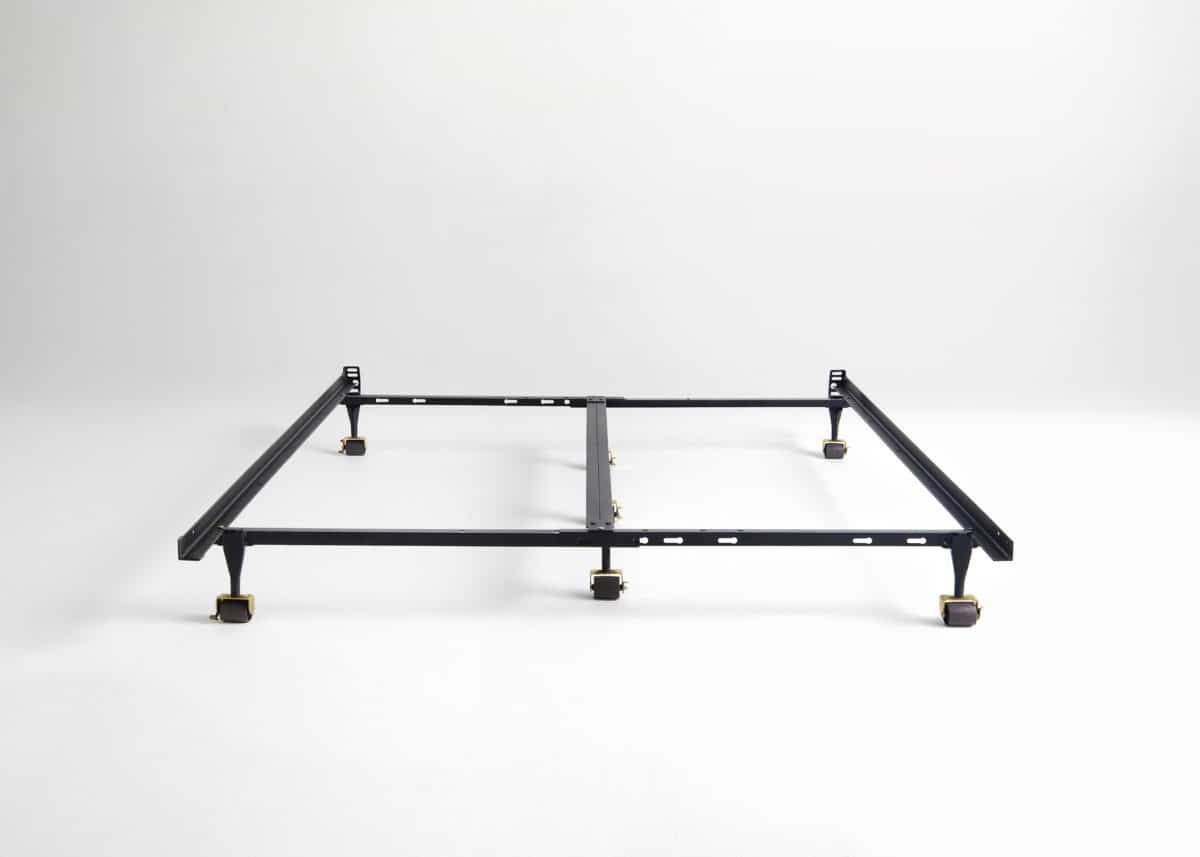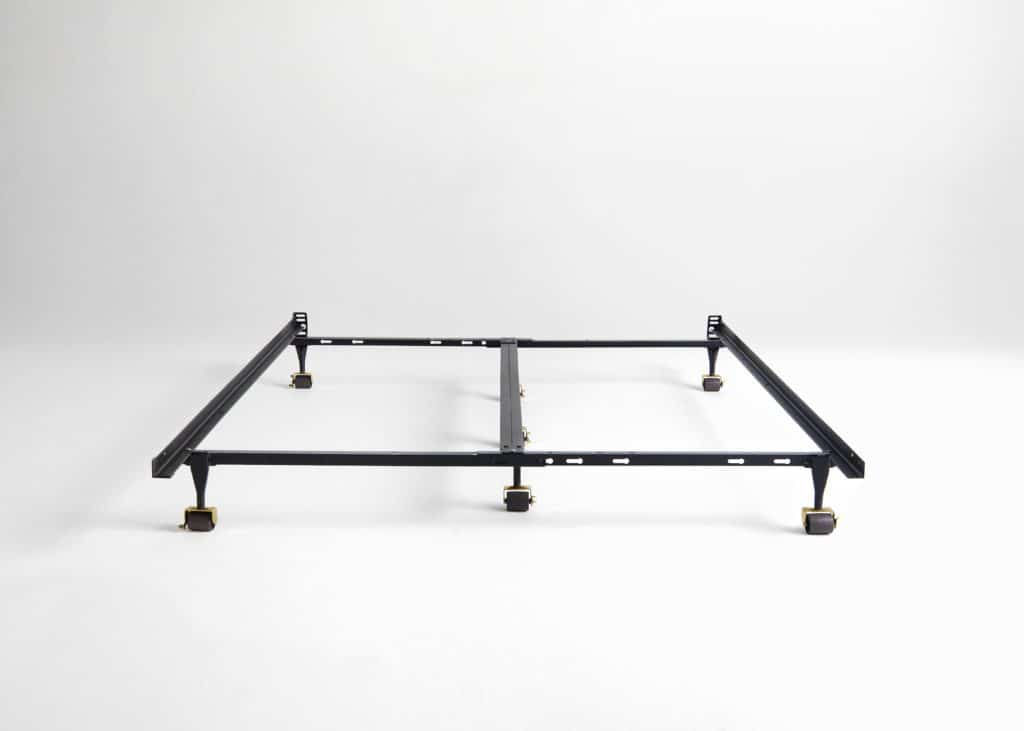 Price
Starting from $95
Bed Frame with Headboard
Featuring a durable construction with modern lines, the Nectar Bed Frame with Headboard offers a solid base for your mattress. It is supported by 8-inch legs that feature a trendy low-profile look while giving you the perfect height to get in and out of bed comfortably.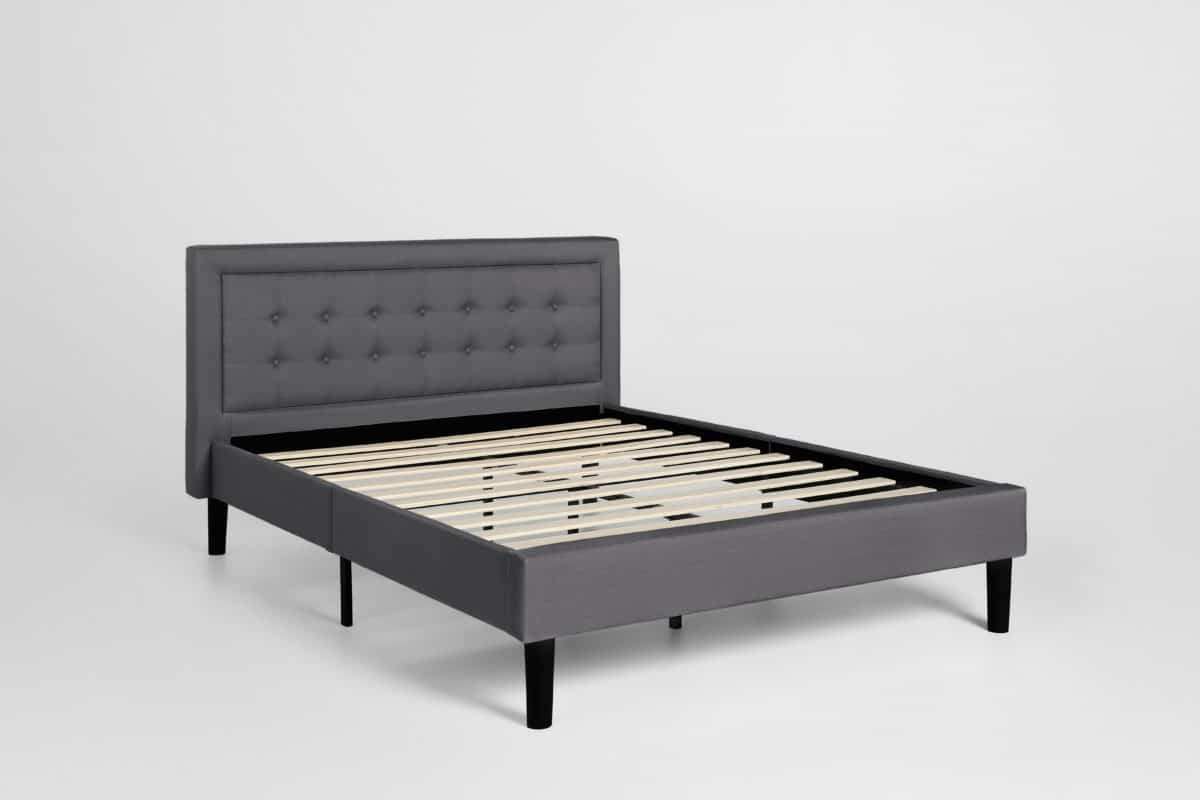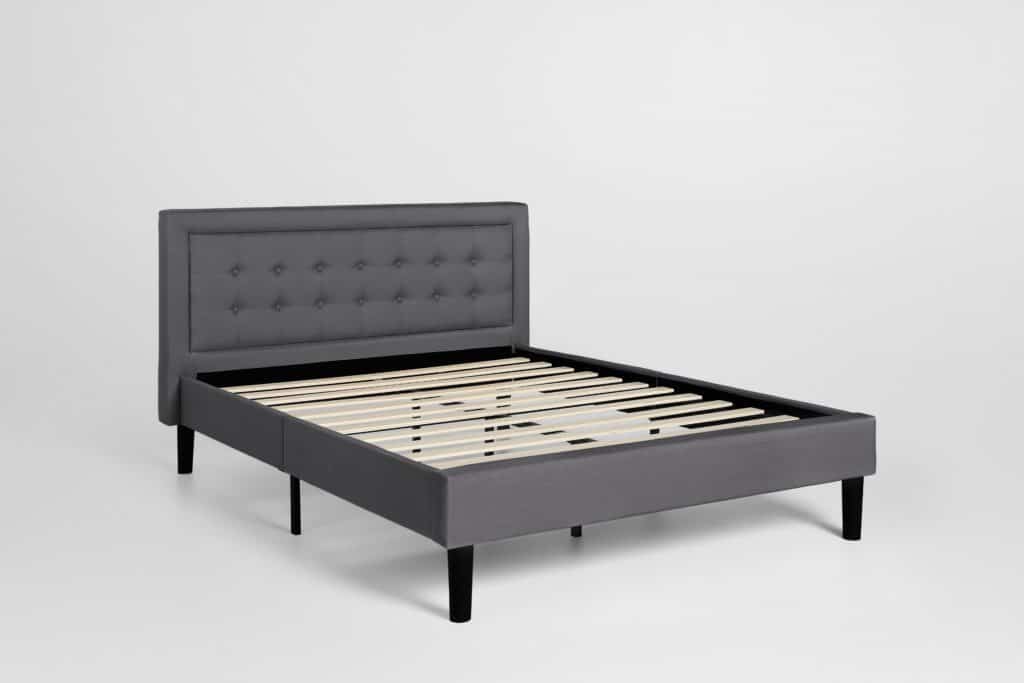 Price
Starting from $300
Things to Consider Before Buying a Bed Frame
A good bed frame must let you get some comfortable sleep at night. You should not wake up with aches all over your body.
Here are some factors to consider while buying a bed frame.
1. Size of Your Room
Your bedroom size plays a vital role in deciding the type of bed frame you need. Most modern-day apartments have small rooms.
You need something small and simple to save space. What can be better than a bed that also functions as a sofa?
If you do have a large, well-lit, and airy bedroom, you can go for larger bed frames. You can also indulge in a bit of luxury if you have a higher budget. A solid wooden frame with a polished finish might be a good way to give that luxurious touch to your room.
2. Bed Size
Depending on the number of people who will sleep on the bed, the size of your mattress will play a key role while choosing your bed frame.
If you live alone, you can look for different types of twin, full or queen bed frames. They are suitable for single sleepers.
If you are a couple living with your kids and pets, you might need a larger bed frame like queen, king or Cal king. You need to make sure that there is enough space for everyone.
Not sure what your mattress or bed size is? Check out this mattress size guide.
3. Height of the Frame
Choose the height of your bed frame depending on your comfort and convenience. A high bed frame might be easier to get in. Though some people might feel more comfortable with a bed frame that is low.
Importantly, consider the height of your ceiling while choosing the bed frame. High bed frames might pose a serious problem if your ceiling is low.
4. Features
Modern bed frames offer several features to make your life smooth. Some might provide you with huge storage space. While others might transform into a sofa during the day.
So, decide which feature you need before heading to the store. If you lack storage space, you might consider getting a divan bed. But, if you do not have space for extra furniture, you might consider getting a day bed. I
Additionally, some bed frames even come equipped with bookshelves. Go for them if you love to keep your face buried in books.
5. Accessories
Yes, your bed frame can come equipped with accessories. An entire TV can be hidden in the footboard of your bed. What can be a better way to watch all your favorite shows while you relax?
You can also get an adjustable bed frame with remote control and other accessories. Use technology to the fullest to make your life easier.
However, make sure whether you need these accessories before purchasing the bed frame. After all, it will cost you.
6. Your Physical Problems
Are you suffering from chronic shoulder or back pain? You might consider getting a bed frame to alleviate these conditions. An adjustable bed frame might suit you well.
You can adjust it according to the position the doctor has advised you to sleep in.
Don't forget to read our bed frame buying guide 2021.
Final Word
Your bed frame can change the appearance of your bedroom. Moreover, it will also determine your sleep quality. So, it is better not to make any decision in haste while buying one.
Choose a frame that is eye-catching and matches the decor of your room. This guide will make your task a lot easier while buying your new bed.
FAQs
Are metal bed frames better than wood?
Wooden bed frames are more expensive and difficult to maintain. But, metal bed frames are easy to clean and comparatively cheaper. Moreover, they are also more durable.
Do wooden bed frames break easily?
There are several types of wooden bed frames. Solid wooden frames are hard to break. But, the thin ones can be of poor quality and may break easily.
How much should a bed frame cost?
Cost is a crucial factor when you buy a bed frame. It depends on the design, the material, and the features offered by the frame. The cost can range anywhere between $50 to $1000 or even more.
Which type of bed frame is the best?
If you speak of the best types of bed frames, there is no single type that suits all. So, the frame that lets you sleep comfortably would be the best for you.
Which bed frame lasts longer?
A wrought iron bed frame is more durable than others. It requires minimum maintenance and can easily last for years. And it is also resistant to rust.
Which bed frame is best for kids?
There are several kids' bed frames that your little ones will love. A bunk bed frame can be perfect for kids. If your kids are very young, a bunk bed might not be safe. In that case, you can opt for a low bed frame.