Most users tend to ask the most common question of whether they should go forth with a split king mattress or a twin XL Mattress. The choice is a bit subjective, and it tends to depend on many factors. The most important factors that have to be considered are:
1. Size Of Bedroom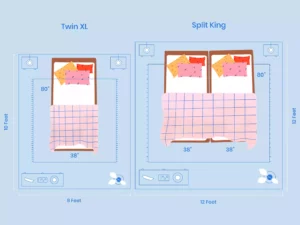 The first thing that has to be considered in this respect is the size of the bedroom. A twin XL size is perfect for those whose room dimensions fall under the dimensions of 7 feet by 10 feet. On the other hand, the split king is fit for those whose bedroom size falls within 12 feet by 12 feet.
2. Budget:
The next thing is the budget. If you can spare a couple of extra bucks, the best thing to do is afford a split king mattress. The twin size XL Mattress is excellent for those who have budget and space constraints.
3. Sleeping Partner:
The adjustable base of the split king mattress makes sure that a couple can sleep in it side by side comfortably. However, the twin XL mattress cannot accommodate more than one sleeper.
4. Your Size and Weight:
A Twin XL size should be fine if you are taller and leaner. But if you are obese and taller, you should go for a split king mattress.
5. Sleeping Position:
Lastly, the traditional king is best for those with a couple of inches to spare; however, the split king is the closest fit. Finally, the twin XL is for those who do not require much space.