We should consider a few other factors before selecting between twin xl and full mattresses.
The differences between the twin xl and full size should be studied to understand which mattress fits your needs. Here are a few points mentioned which you can access and choose a mattress of your kind. 
Price
The mattress that you can choose highly depends on your budget. The twin xl mattress is less expensive and easily fits your budget, while the full-size mattress can be a little expensive. 
The price point also clarifies the quality of the mattress and the filings. It largely depends if the mattress is made from coir or a specialized type of foam.
In some cases, the doctors may recommend soft or hard filling mattresses according to one's sleeping concern. Thus, the mattress's price and your budget play an important role. 
Height
If the sleeper's height is more, then they should consider a twin xl mattress as it provides extra legroom. But if the sleeper is short in stature, they can choose either of the two depending upon their room size, budget, and sleeping partner. 
If a tall person sprawls while sleeping, they should consider a full-size mattress to avoid falling from the bed. The twin xl compared to full provides a bit extra legroom.


Size of the room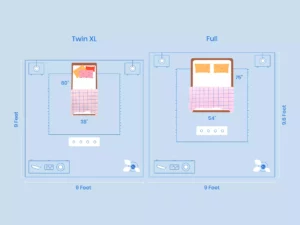 If you have a small room, you need to save up some space for other furniture. In that case,  you should consider buying a twin xl mattress. The difference between twin xl vs. full beds is the bed frame's length and breadth, which will occupy major space in a room. The bed size also determines which size of mattress you should consider.

If you own a medium-sized or large room, it depends on your sleeping preferences. If you sleep straight or on a specialized XL mattress will be perfect, but if you sprawl and twist and turn a lot in your sleep, consider buying a full size bed and mattress. 
Accessories
Accessories are decorative and protective coverings for a mattress. A huge variety of fitted sheets and flat sheets are available in the market. 
Waterproof fitted sheets have become an important necessity if children use the mattress. It helps in extending the longevity of any mattress. We usually layout-designed flat sheets for mattresses to decorate or redecorate our house on occasions. Thus accessories are important. 
The full-size mattress and bed are easily available in the market because they are preferred more over twin xl The full-size mattress can accommodate more than one sleeper; thus, it is widely used in families. At the same time, the twin xl is used only for children's rooms or dormitories. 
The availability of accessories of full size is exclusively available in the market within different price ranges. On the other hand, the twin xl accessories are limited. 
Sleeping Partner
We cannot buy a single-sized mattress for two or three co-sleepers. Thus, it is important to consider whether we buy the mattress for a single sleeper or a couple. 
The width of a full-size mattress can allow more than one sleeper, but the width of a twin xl allows only a single sleeper. Again the length of a full bed is short. Thus, two tall people cannot be accommodated; they will feel cramped. 
On the other hand, the length of twin xl is perfect, but only one sleeper can sleep peacefully. 
It is important to understand the sleeping preference and height of the sleeping partner before getting a mattress. Suppose you do not have a sleeping partner, then you can choose according to mattress type, budget, legroom space, and room size.