Price:
The twin mattress is pocket friendly. However, the price depends on the quality and brand of the product. But if the material is of high quality, the twin mattress still would be of lower cost. Whereas a standard full mattress would be a little pricey. 
Accessories:
Accessories such as bedsheets, pillows, mattress protectors, and mattress frames are easily available for both twin and full mattresses. However, when it comes to buying twin bed sheets, it would be comparatively cheaper than the full bed sheet sets. It is because the dimensions of a twin mattress are smaller than a Full mattress. Other accessories' prices will differ depending on the material, size, and brand. 
Twin mattresses will need fewer pillows than a Full mattress when it comes to pillows. Only one pillow is enough for a single bed Twin mattress. But, two pillows will fit perfectly due to the bigger dimensions of a full mattress. 
Room Size: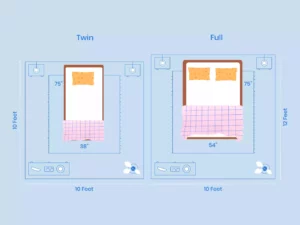 The twin mattress can fit perfectly up to 7 x 10 ft as the mattress measures only 38 x 75 inches. Whereas the full beds are a bit longer with the dimensions of 54 x 75 inches. These are a great fit for comparatively greater space areas around 10 x 10 or 10 x 12 ft. However, you can also fit them in a smaller space if there is no other option. You will get plenty of room to place other decorative items. 
Uses:
On the one hand, a full mattress (54 x 75 inches ) provides extra width for more convenience and comfort with a full stretch of sleeping space. It is an ideal mattress for taller adults and two kids at maximum. On the other hand, a twin mattress (38 x 75 inches) would be great for kids shifting from a crib to a big kid bed. But, small for two sleepers.  Bunk beds are the best places to use twin mattresses.