Full size mattresses, also known as double beds, are bigger than twin size mattresses.
While both sizes are 75 inches long, the main difference between a full and twin mattress is the width. A full bed is 54 inches wide and a twin mattress is 38 inches wide. This makes full size beds popular among adults who sleep alone or share their bed with a child or a pet.
In this post, we discuss the pros and cons of each size while listing all the parameters that can help you make the right choice.
Parameters
Full
Twin
Size
IN: 54" x 75" x 11"
FT: 4.5 X 6.25 X 0.92
CM: 137.16 X 190.5 X 27.94
IN: 38" x 75" x 11"
FT: 3.25 X 6.25 X 0.92
CM: 99 X 190.5 X 27.94
Price
$699
$499
Bed Size
54 in × 75 in
38 in × 75 in
Recommended Room size
10 × 10 ft
7×10 ft
Comfortably Fits
Young adults, Adults with a pet or a child
Single sleepers, Children and teenagers
Twin vs Full Bed and Mattress Dimensions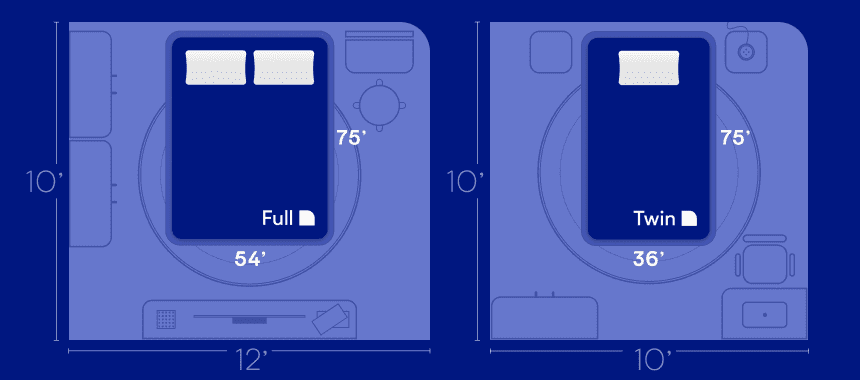 What is a Twin Mattress?
Standard twin mattresses are 38 inches wide and 75-inches long and are the least expensive mattresses available in the market after the crib mattress. Twin mattress, a term coined by Americans in the 1920s for single beds, is best suited for hostellers, single sleepers, and children because they are small and easy to move around. Two twin size mattresses can also be combined to form a large bed if your kids have a sleepover or you have guests visiting.
Pros
Ideal for growing kids
Easy to move around
Can be used on a bunk bed
Cheapest mattress size available
Cons
Cannot accommodate couples
Not comfortable for adults
Also read: Twin bed dimensions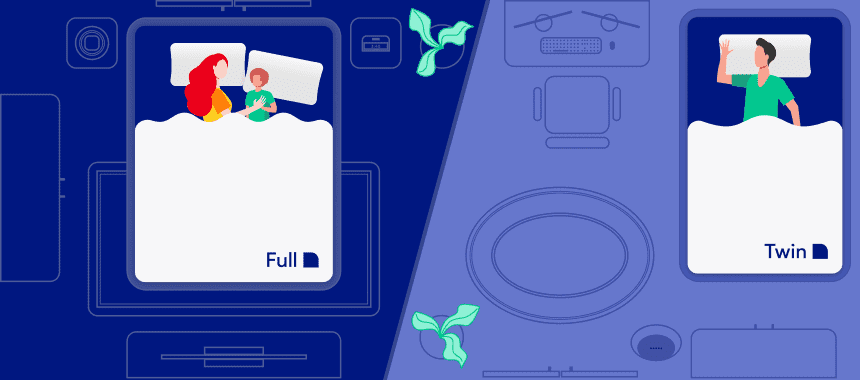 What is a Full Mattress?
Standard full mattresses are 1.5 times or 38 inches wider than twin mattresses. It works well for single adults or single sleepers but can be uncomfortable for couples. A full size mattress allows only about 27 inches for each person, and for many couples that's not enough space. You can share a full size mattress with a child or a pet as it can fit a single adult with some room to spare.
Pros
Recommended for kids or guest bedroom
More space than a twin
Fits well in studio apartments
Cons
Heavier and larger than a twin mattress
Maybe too small for couples
Also read: Full bed dimensions
Things to Consider Before Deciding between Full Bed vs Twin Bed
Room Size
Full size mattresses will fit nicely in rooms that are at least 10 by 10 feet. Because they are bigger than twin beds, they are a great option for guest rooms or a small bedroom (a master bedroom may require a bigger bed). For twin size mattresses, we recommend a room that is at least 7 by 10 feet.
A twin mattress is 6.25 feet in length, making it an excellent fit for a kids room, bunk beds, or shared hostel rooms.
Bed Size
An important consideration before you purchase a mattress is the size of the bed you have. A twin size mattress fits a bunk bed, a single bed, or any bed which is at least 36 by 75 inches. A bigger bed may make lying down and getting up awkward as you may have to scoot over the extra space on the bed.
A full size mattress requires a bed that is at least 54 by 75 inches. Anything smaller and the mattress can hang from the sides and perhaps lead to unwanted falls or accidents. You may search for a double bed or a full bed in the market as they are two different names for the same size.
Accessories
Accessorizing both the beds, whether with pillows or covers and duvets is easy as twin and full beds are both popular sizes.
For a full-size mattress, you will need bigger sheets and at least two pillows which makes it slightly more expensive to accessorize compared to a twin mattress. A twin mattress can be accessorised with a single pillow and a smaller bed cover making it slightly easier on the pocket.
Budget
Naturally, full beds will cost you more than a twin bed because they are bigger. Full beds can cost around $200 more than twin mattresses (depending on the brand you choose). While a twin bed may be ideal for your teen, note that he/she will outgrow a twin mattress very quickly, especially if he/she is tall.
Height
If you are under 6 feet 2 inches, both twin and full mattresses work well. However, Full-size mattresses are broader than twin size mattresses and are more comfortable for taller individuals because they have more surface area and more sleeping space. However, twin and full mattresses are both 75 inches long, so it doesn't solve the problem for people taller than 6 feet 2 inches. Check out other sizes such as queen or king size mattresses for such cases.
Choosing Between Twin vs Full
Single sleepers or adults should opt for the full size mattress as it has ample space to sleep comfortably. If you are looking to buy a bed for your child or growing teen, a twin bed is a least expensive option. Twin size beds are also easier to move around the house and fit well in small rooms.
In the twin vs full bed debate make sure you keep the above factors in mind before making your decision.
What is the best mattress size for me?
Take into consideration the size of your bedroom, how much space you need around the bed and the furniture in your room. Because there are many standard mattress sizes, keep in mind personal comfort and whether you wish to share your space with another person or a pet. A queen size mattress or any size bigger than a queen size such as King or Cal king is good for couples or two people. Anything smaller than 60 x 80 inches, such as a full or twin XL bed is better suited for single sleepers.

What are two twin beds equal to?
Two twin beds put together are 78 inches wide and 75 inches long which is just short of a king bed which is 80 inches long. If you are looking to combine mattresses to form a king bed for your master or primary bedroom then consider combining two Twin XL mattresses. Twin XL mattresses are 5 inches longer than Twin beds giving you that extra few inches of space.

Is a full size bed big enough for two people?
A full size bed is ideal for a parent sleeping with a young child, a pet, or an adult sleeping alone. For two adults, a full bed only allows 27 inches for each person, which is probably not enough for most people to rest comfortably through the night. In the full size vs twin debate, a full size bed is best for single adults and a twin for growing children or young adults.

Does nectar sleep have memory foam mattresses?