Twin Bed Size & Dimensions – Twin Size Mattress Buying guide
Twin Bed Dimensions: As per the International Sleep Products Association (ISPA), in 2018, 41.4 percent of mattresses shipped in the U.S. were queens; 17.8 percent were kings; 17.2 percent were twins and 14.8 were full-size mattresses.
Though the king size mattress is marginally more accessible than a twin-size mattress, no one can deny its hardiness and diversity.
Also known as a single bed, the twin bed is one of the most popular choices among American users. Its versatility and ease of usage, makes it a sought after product in typical households and as a result, you can find this mattress in almost every college dorm or guest room/children room.
What is a twin size bed?
A standard twin mattress size is 75 by 38 inches which makes it ideal for a child or college student. It is not an ideal choice for tall consumers and definitely cannot accommodate a couple. Check out our size chart to understand how long is a twin bed, how wide it is and so on.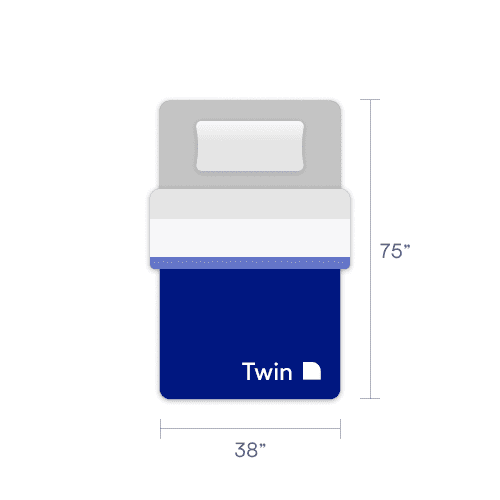 Twin-Size Mattress Properties Chart
Properties
Length
Width
Surface Area
Compatible Room Size
Mobility
Target Audience
Nectar Price
Twin -Size
75 inches
38 inches
2,850 inches
7 by 10 feet
Easy to move around
Teenagers, Growing Children
$399
Are you looking for other mattress sizes? Take a look at our mattress size dimension guide.
Types of Twin Size Mattresses
Youth Twin Mattress: The smallest of the categories, a youth mattress is typically 66 by 33 inches and reserved for young children in their growing age. Unless there are lots of children in your house, this mattress will quickly be outgrown and cast aside. However, this does not cause any dip in its demand and need to be specially ordered.
Standard Twin-Size Mattress: The standard twin-size mattress is the go-to option for many as it is a great fit for teenagers and growing children who can stretch out while asleep. With a dimension of 75 by 38 inches, it is a great option for smaller rooms.
Twin XL Mattress: The extra long version of the standard mattress is often used by those who are slightly taller than the standard height or more on a heavier side. With a dimension of 80 by 38 inches, its length adds up to the XL notion of the mattress.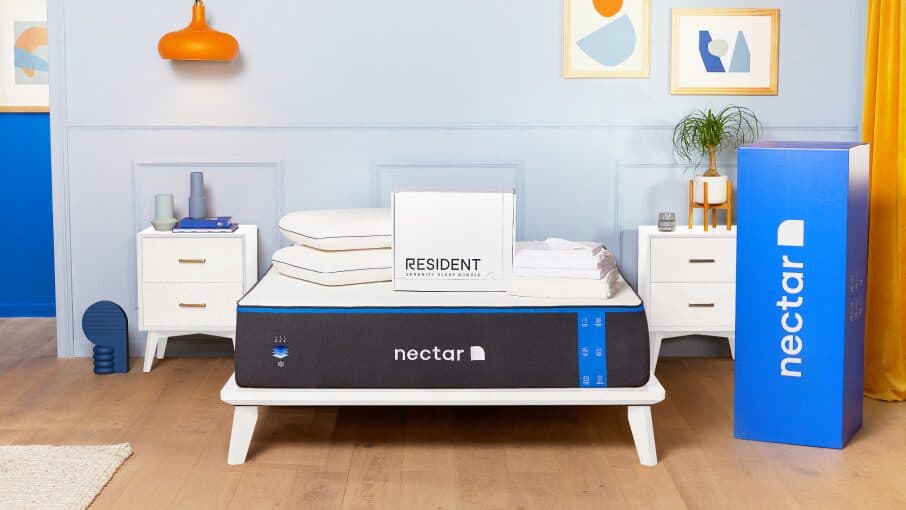 Are you looking to get rid of your old mattress? Check out our responsible mattress disposal methods.
Pros of a Twin-Size Mattress
A twin-size mattress is suitable for a large audience, including growing children, teenagers and standard height couples as well. It is ideal for many homes and is thus, popular among many consumers.
Offers Diversity and Flexibility
As mentioned, a twin bed dimensions mattress can be used for almost all users, in almost any type of room. This makes it a highly diverse and flexible mattress in the market. It can be used as bunk beds, guest beds and much more while it can also be a great choice for children who share room.
Easy Mobility
Thanks to its smaller frame and lightweight structure, it is much easier to carry a twin-size mattress around than most of its contemporaries.
Apt for Growing Children
If your children share a room but have outgrown their crib, then twin-size mattresses are nice options to begin with. So while other mattresses are too big for these young children, a twin size mattress is the right choice as it is neither too big nor it is cramped. It in fact, allows free movement during sleep that leads to quality sleep in children. These mattresses can be used by children well into their teens with an exception of those who suddenly grew extraordinarily tall.
Apt for Single Adults
As long as you are not too tall, a single adult can easily sleep on a twin-size mattress very easily with no space and height restrictions. It is of the right height and width that allows free movement and peaceful sleep.
Economical
Since a twin-size mattress fits almost every room size, caters to adults as well as children, it is the right investment one can make for their sleep. Thanks to its diversity, this mattress can be used for many purposes and that too, for a long time, which cuts down costs of buying new mattress again and again.
Easy to Find Accessories
Since a twin-size mattress is of fairly common size, finding accessories for the same is not exactly an ordeal and customers can easily choose from a wide array of choices available to them at almost all stores.
Does Not Need a Big Room
One of the best things about owning a twin-size mattress is its ability to fit in any standard size room! You do not have to own a mansion to accommodate this mattress and also maintain the much needed space around your room. A twin-size mattress is compatible with a room size of 7 by 10 feet.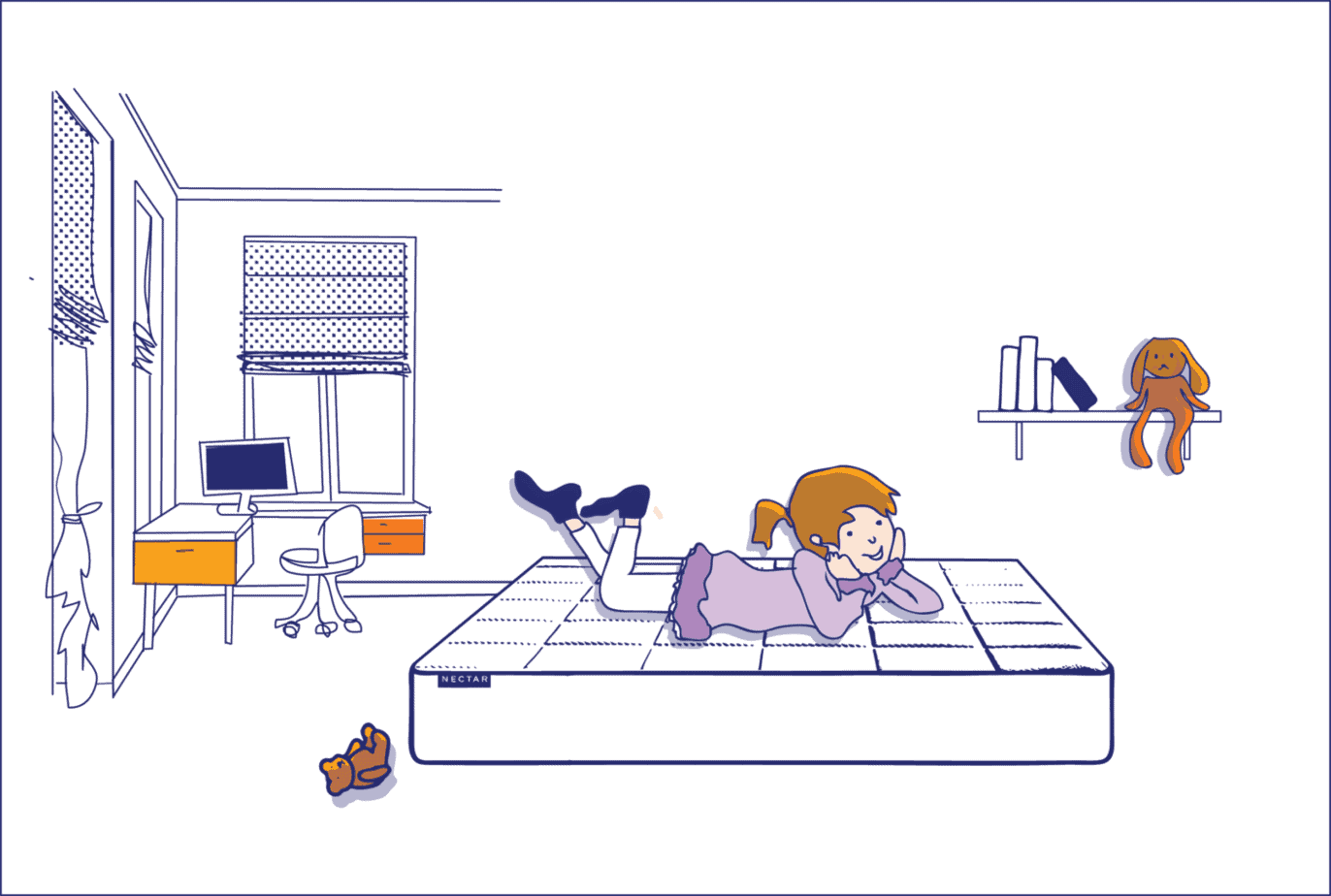 Cons of a Twin- Size Mattress
Here are some cons of a mattress with twin size bed dimensions:
Someone Slightly on the Heavier Side Will Sink
While it is a given that heavyweight sleepers tend to sink in their mattresses, as compared to standard weight sleepers, a twin mattress makes things worse for the former category of sleepers. In addition to the discomfort, this mattress does not support their body, thus straining their pressure points and ruining their quality of sleep.
Too Small for Couples
If you and your partner are looking for a mattress on budget, do not go for a twin size mattress. Hear us out! Though this mattress is great for your wallet, it will be not for you or your partner's sleep quality as it cannot accommodate two full grown adults.
Slightly Taller than the Average Height? Not Suitable
So if you are someone who stands a bit taller than most your friends and family, chances are that a twin bed dimensions mattress would not be an ideal sleeping buddy for you. However, you can go for an upgrade – the twin XL mattress, which has the same width but has extra in.
Pros
Great for single adults and growing children
Offers ample space for single sleepers
Easy to find accessories
Fits in a standard size room
Economical
Cons
Not ideal for co-sleeping
A slightly heavyweight sleeper will sink in.
Not ideal for those taller than average height.
Looks awkward in a big room

What to Look for While Buying a Twin Size Bed?
Mattress shopping should not be considered a light objective. It has the ability to adversely impact your health. How? Simple!
Bad mattress = Bad Quality Sleep = Unhealthy You
While purchasing a twin bed dimensions mattress, you need to do you research, compare it with other types & sellers and get as much information as possible. Ask your retailer to guide you through the process – ask him/her questions about the quality, the material and how it would affect your sleep. This in-depth conversation ensures that your quest is worth the time and effort.
What to look for while selecting that final mattress?
Layers
Layers play a huge role in determining how comfortable or uncomfortable your mattresses will be. However, it is the top few inches that you want to look out for as they carry the comfort sweet spot for our body.
It is the first layers, also known as the comfort layers, take the strain off pressure points like back and the shoulders and contours as per the body shape to accommodate complete support. The comfort layers can either be a single quilted layer or multiple layers of diverse materials.
If you enjoy the soft (comfortable) sinking sensation of your memory mattress, then you must credit Dunlop that is often used in the top layers of the mattress. However, this Dunlop is further mixed with chemicals that helps your mattress remember your body frame and shape up accordingly.
Financing Options
If you are getting financial aid to buy the best quality mattress out there, we say you grab it with both hands. Though many prefer to pay upfront instead of getting in the debt loop but there are many out there who are looking for quality mattresses but cannot invest in it completely.
You now do not have to compromise on quality and comfort as many retailers are offering financing options like EMI options and loans. For loans, you need a good credit score and a co-signer.
Weight Distribution
Weight distribution is THE most important thing that your mattress can do for you and your body. We all come in different shapes in sizes and your mattress should be able to cater to this diversity.
In fact, an average body weight requires 3 inch of comfort layering while those on the heavier side require 4 inches since they are more prone to sinking. This gives rise to the need for firm upper layers in your mattress.
These layers make sure that your body weight is equally distributed across the mattress and you do not end up sinking or waking up with a back ache.
Temperature
The ideal temperature for quality sleep is 60 – 65 Fahrenheit but hitting that optimal temperature for the entire room can be tricky. Since our body temperature falls while we sleep, looking up for the mattress temperature while shopping is a good idea.
Temperature of your mattress depends heavily on the material used. For instance, a water bed is a great option for those sleepers who are constantly hot and sweaty. On the other hand, if you are someone who is always cold, a latex or a memory foam mattress is the ideal option for you.
Motion Isolation
Do you like getting your sleep disturbed by a restless partner or a jumpy kid? We think not. That is why, your next mattress should check the motion isolation box. Motion isolation is your mattresses' property to avoid any movement to travel from one side to the other.
If you have a good quality mattress, then your mattress will adhere to motion isolation where your co-sleeper's movement will be isolated and undetectable to you, giving you the gift of uninterrupted sleep.
If you are confused, ask your retailer to help you select a mattress with high motion isolation property. You can go for a memory foam mattress, or a hybrid mattress and maybe even a latex mattress. Air beds too can do the trick but not as a single chamber bed.
Benefits Offered
There are chances that your retailer might be offering benefits and offers for your mattress. Do not shy away from taking the first step and inquiring about any ongoing offers or benefits like trial offers, discounts and warranty periods.
Also, keep yourself informed of any upcoming sales as you can save a whopping 60% during that time!
Benefits of Buying Nectar Twin-Size Bed
Quality Construction Materials
Your favorite Nectar mattress with twin bed dimensions is made of
High vegetable base super core 5 lb support foam
5-Layer foam construction
Tencel long staple fiber removable cooling cover
Hi core 9.2 grade transition foam
Medical grade visco elastic memory foam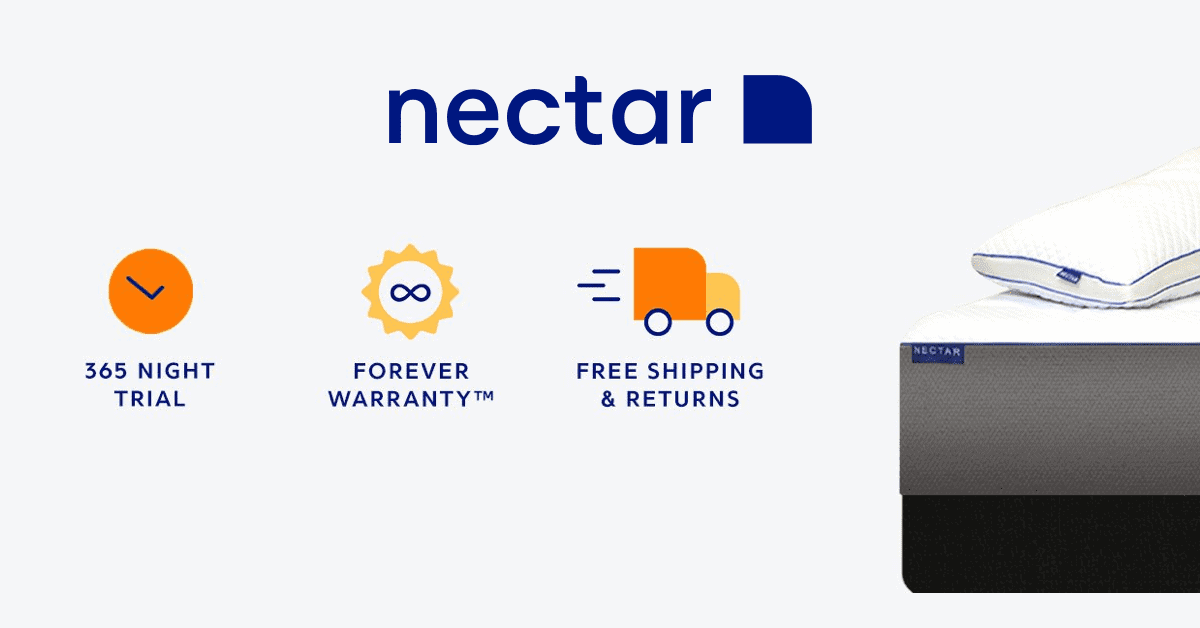 Five Layer Comfort
Made up of 5 foam layers, this mattress gives you that cosy and spongy sensation but without the sinking and back pains. Standing at 11", this 5-layer comfort allows you to climb your bed easily and also cradles your pressure points.
Gel Memory Foam: Evenly distributes your body weight across the mattress, thus avoiding clumping and ensuring there is no pressure in one particular region.
Quilted Memory Foam Mattress Cover: The soft cottony support is for the cosy cocoon sensation.
Adaptive Hi Core Memory Foam: This layer negates any chances of sinking, thus negating those quicksand nightmares.
Base Layer: Provides support and regulates the movement of the foam mattress layers on top.
Bottom Mattress Cover: Ensures that your mattress does not slip either on your bed frame or your floor.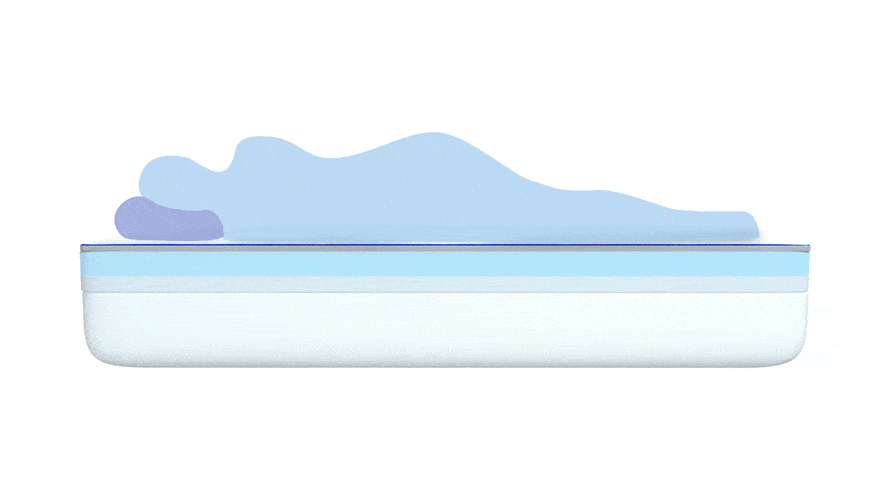 Minimal Motion Transfer
Motion isolation is the need-of-the-hour and nectar has your covered with its minimal motion transfer that helps you sleep in peace despite the disruption a mere inches away.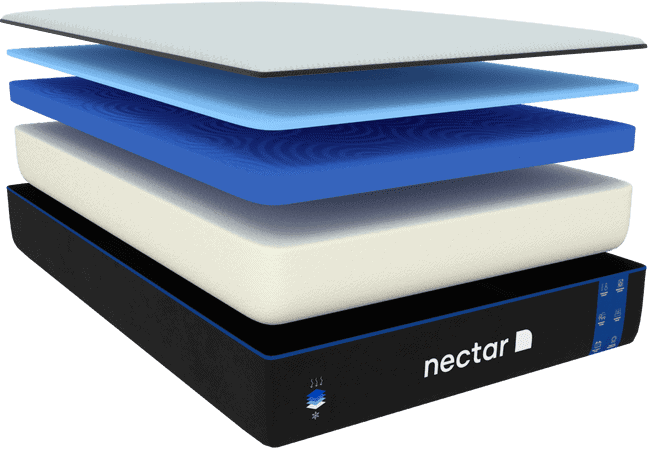 Non-Stop Air Flow
Sleeping on a mattress that does not allow air flow is akin to sleeping on top of a volcano. Apart from temperature regulation for your body, your mattress also needs fresh air circulation to maintain its quality.
Certified Purchase
Nectar mattresses are CertiPUR-US® standards for content, emissions, and durability.
Related Articles on Mattress Sizes
FAQs
Are there any more sizes of mattresses?
Yes, there are other mattress sizes like King, Queen, Twin XL, Full and Cal King. You can check out more details of each of these sizes in
our mattress size guide
.
What's the difference between a twin and a single mattress?
Yes, single and twin mattresses are one and the same. The names are used interchangeably and denote the same dimensions. Single beds or twin mattresses are one of the most popular beds in the US.