Mattress Thickness: How Thick is a Nectar Mattress?
Nectar Mattress Thickness: If waking up with a sore back, neck, or shoulder pain is a normal occurrence to you, you are likely sleeping on the wrong mattress. Using a memory foam mattress is a great way to solve this recurring problem, but you have to choose the right memory foam type.
Just like most people, you spend about a third of your life sleeping. Getting the perfect night of restful sleep depends upon several factors, from your comfort level to an ideal room temperature, how busy and challenging your day was, and the most comfortable mattress. That's where mattress thickness comes in.
Discover: Nectar 11″ mattresses come with a 365 night trial period and a forever warranty. Check out the perfect sleeping choice for you.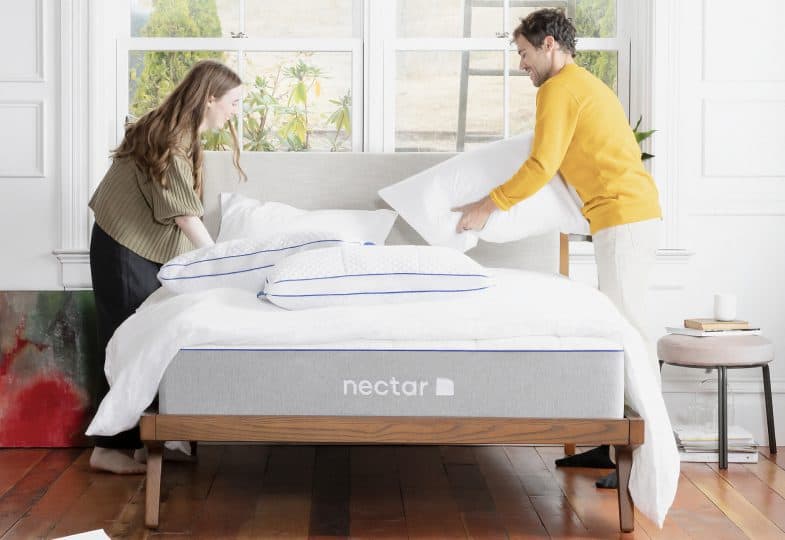 People typically spend countless hours researching mattress thickness, both online and in physical stores. What makes the task challenging is the dizzying lineup of memory foam mattresses on the market. Memory foam mattress types include traditional memory foam, latex foam (as with hybrid designs), or gel memory foam.
Because of the sheer number of mattresses to choose from, an individual who is looking to buy a new mattress often ends up frustrated for failing to find the perfect mattress to suit their sleep requirements. Does mattress thickness affect the quality? Before we discuss Nectar mattress thickness, it's important to understand what mattress thickness is. Find out more details here.
What is the Standard Mattress Thickness?
You might be asking yourself what is the standard mattress thickness? The vast majority of quality memory foam mattresses range from 9 to 12 inches. Thick mattresses are quite durable, but they are also substantially heavier than thin mattresses. A thinner option, however, still retains the natural comfort that memory foam mattresses offer. All memory foam mattresses have a foundational layer or base layer, which is the main support structure, with each additional level of thickness, adding an extra level of comfort.
You may also want to consider whether your mattress is eco-friendly. Is the Nectar mattress eco-friendly? Let's find out!
Comfort Level and Mattress Thickness
Most people love thicker mattresses because of the perception that thicker beds are more supportive, longer-lasting, and more comfortable. When customers shop at a showroom or local retailer, they are usually drawn to the thickest mattress brands on display.
When a Thicker Mattress is Desired:
Sleeper weighs more than 250 lbs
Aesthetics – perceived as more luxurious
Durability -sharing your bed with a person or pets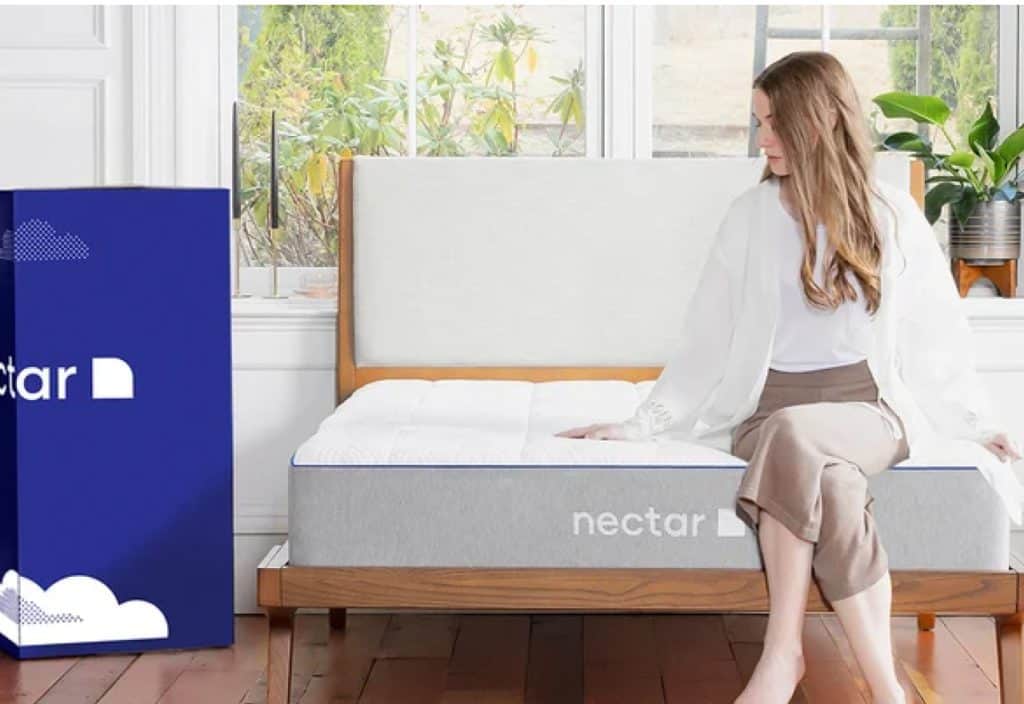 Some beds have a mattress thickness of a whopping 16 inches. However, mattress thickness does not tell the whole story. The quality of the layers and the overall mattress firmness level, bounce, cooling ability, motion isolation, and body contouring all play a role in a person's sleeping experience.
Potential Downsides of a Thick Mattress
Height; difficult to get out of bed
Heavy; weight of mattress
May trap more heat depending on design
Price
Nectar Mattress Thickness
At 11 inches thick, The Nectar Memory Foam Mattress has the right amount of height and support, without being cumbersome. It has a four-layer foam construction that provides cool, comforting support.
Nectar Highlights: Mattress Layers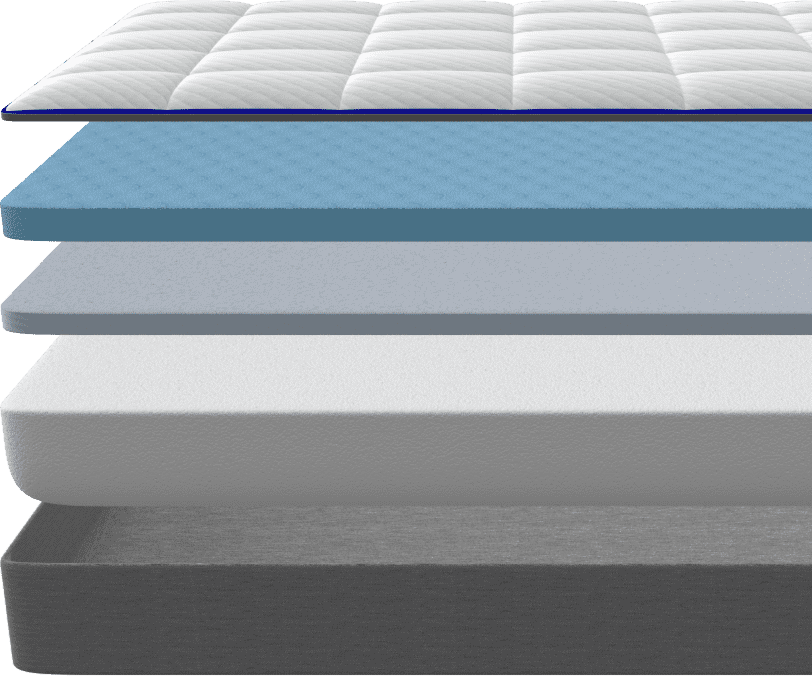 Quilted Cover
What is immediately noticeable in a Nectar mattress is the quilted gel memory foam and cooling cover. The cover of the Nectar mattress uses Tencel fiber, a soft and breathable material. Tencel allows a cooler sleep than cotton while helping to wick moisture away.
Gel Memory Foam
Nectar's gel memory foam is the most premium gel foam available on the market. This layer provides cool contouring support, distributes weight evenly, and recovers to its normal state easily.
Adaptive Hi Core Memory Foam
This layer is a dense foam that is great for pressure relief. It reduces motion transfer, yet provides much-needed rebound and bounce.
Breathable Base Layer
This base layer similar to most memory foam mattresses. It is essential for reinforcing all the layers to provide excellent support. The breathable layer draws in fresh air through the specially-molded channels, while the foam helps you sleep comfortably at night.
No-Slip Bottom Cover
As the name suggests, the bottom mattress cover keeps the mattress in place to prevent it from moving on your bed frame.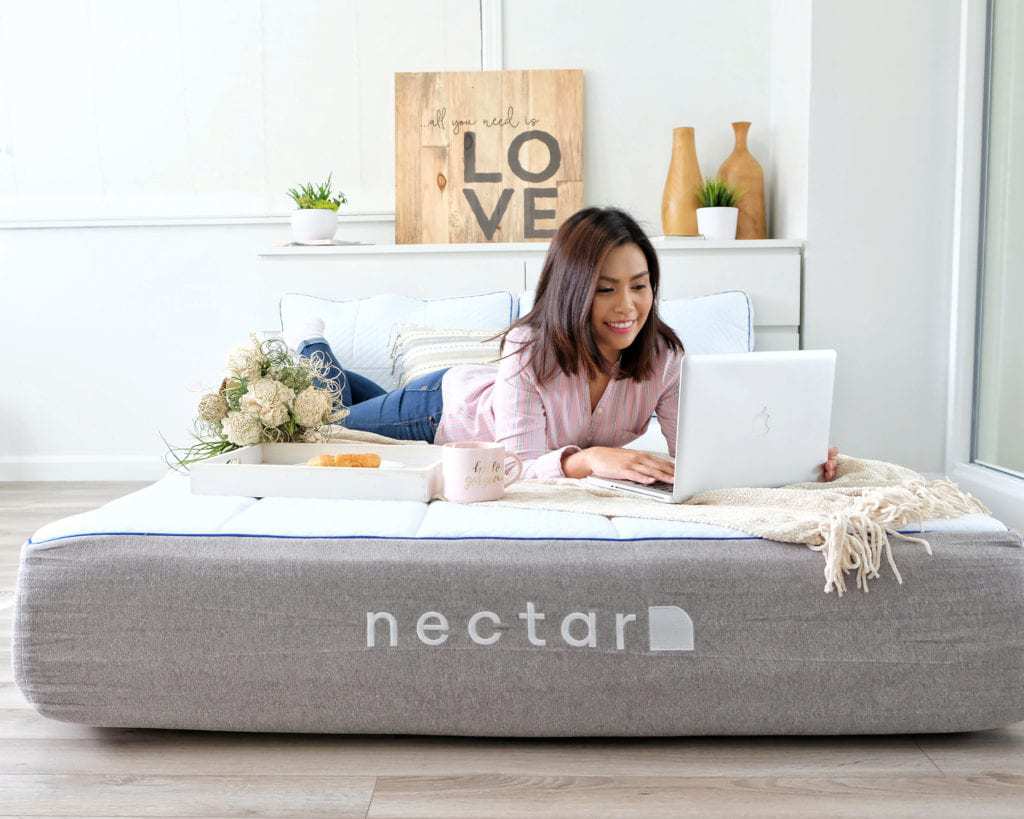 Mattress Thickness Vs Firmness
Firmness should be a primary consideration when buying a mattress. Getting the right firmness setting is crucial in helping to promote a comfortable night's sleep. The wrong firmness setting often results in a night of discomfort or waking up with aches and pains.
Related: Why should you choose a medium-firm mattress? Here are all the benefits of a medium-firm mattress.
The firmness of a mattress refers to its level of softness as perceived by the individual sleeper. Generally speaking, the firmness level depends on the comfort layers of the mattress, which are the top layers. These layers are mostly made from memory foam, later, or polyfoam, which are designed to be the cushion and a buffer for the denser materials of the bed support core.
The firmness level of Nectar is medium-firm, designed to contour and support your entire body. You will get an initial cradling feeling that transitions into the support layers. When you lie on the mattress, you will sink just enough for maximum pressure relief but not too much to the point that it would be hard to change sleep positions.
The Nectar Mattress is the bed for the discriminating sleepers who want restful sleep at night!
Even more, Nectar offers an industry-leading 365 risk-free night trial period, and its flexible foam is CertiPUR-US certified, which means it exceeds safety requirements.
FAQ:
What thickness memory foam mattress is best? The right balance of mattress can be achieved with a mattress of 9 inches and above. The Nectar mattress is 11-inch thick.
What is the average mattress thickness? The standard thickness of a quality mattress is between 9 to 12 inches.
Is Nectar a thick memory foam mattress? Yes. Nectar mattress has an exceptional thickness at 11 inches.
How much does a Nectar mattress cost? Nectar is a competitively priced mattress. Prices typically range from $499 to $999. Sign up to our newsletter and get exclusive offers instantly.
Is there a trial period for Nectar mattress? Nectar mattress has a unique trial period of a full 365 days risk-free.
Before you go: Would you rather check out the Nectar mattress in a store? Use our store locator find the stores that sell Nectar mattress near you.
(edited)