Choosing a mattress size can be a tedious task, and to ease the process, we have listed the factors you should consider before opting between single and twin beds or any other mattress size like twin XL, queen, king, or Cal King. 
Consider your Height 
Taller people tend to incline towards twin mattresses. The reason being, twin XL mattresses offer 5 extra inches in length; measuring 38 inches wide to 80 inches in length. To break it down, a twin size bed is 6 feet 3 inches and can accommodate a height of someone 6 feet or under. A twin XL mattress comprises a height of 6 feet 8 inches and can accommodate tall people. 
There is one thing to add to the height composition, your pillows that mostly measure somewhere between 18 inches by 26 inches. These pillows conquer quite some space and make a taller person find their feet hanging out of the bed. 
Think About the Budget 
If you are concerned about the mattress burning a hole in your pocket, consider opting for twin or twin XL mattresses. You can opt for a single or twin bed since the cost is quite pocket-friendly for a single sleeper or couple. Again, a twin XL mattress would be the go-to option for taller people. Single and twin beds cost around $499, making it an affordable purchase. 
Measure your Room Size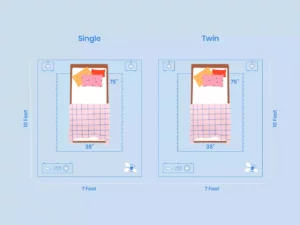 When it comes to single vs twin bed, both are the same and are perfect for single sleepers. If you are someone who has limited space with all the dressing table, wardrobe, bedside table, or dresser in your room, then a single or twin bed seems appropriate. Tiny room sizes measuring 7 by 9 feet will seamlessly accommodate this bed size. 
Though some people might also feel like fitting in a large bed in their small bedroom that touches the wall, and that depends on their preference. 
Note the Thickness 
The average mattress height of diversified products ranges from 9 to 12 inches. It is believed that 11 inches are the most common measurement that provides a palpable amount of plushness and comfort. 
It should be noted that, when you are searching for mattresses, only elevated heights might not be suitable. You might like an inflated mattress, but if you put a mattress protector over it. 
Check the Composition
You don't wish to invest in a mattress with unsustainable materials weaved. You should always be aware of the materials your mattress is made of. 
Is its softness or firmness that you favor? If the former, opt for a memory foam mattress or a traditional innerspring one. Hybrid is also another option you can choose from. 
To understand the different compositions of mattresses, study below: