Percale vs Sateen: Make the Right Choice
Bedding plays a significant role in setting up a cozy sleeping environment for you to unwind and get a sound sleep. For most of us, perfect bedding refers to getting a comfortable mattress. However, according to a study by American Sleep Association, sheets have an equally important role in restful sleep. While shopping for sheets, the two most common words that might echo continuously in your ears are percale and sateen. Let's resolve the tug of war between the two sheets and study Percale vs. Sateen in more detail in the article below.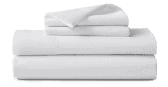 Check Out the Nectar Luxury Cotton Bed Sheet
Designed to help you slip into softness, each and every night.
What Are Percale Sheets?
Percale sheets have a tight weave and come with a one-over-one-under weave that provides a strong, soft, and comfortable feel. The minimum thread count of percale sheets is 180. Percale sheets have a simple tight-knit weave pattern that increases the life span of the sheets. Percale sheets tend to get softer after every wash. They give you a luxurious feel with a smooth matte finish.
One of the most significant advantages of Percale fabric is that it allows smooth airflow and is a boon for sleepers who have breathing issues. Most percale sheets are made of cotton. Cotton is firm and cool, which makes it an automatic choice for hot sleepers. However, they may wrinkle after wash; hence you may need to iron them instead of washing them. Here are some pros and cons to consider before you buy your next percale sheet.
Pros
More lifespan
Easy to care for and maintain
It gets softer with time
Good breathability
Smooth and crunchy feeling
Cons
Prone to wrinkles
Produce loud sound
What Are Sateen Sheets?
Sateen sheets are famously known for their luster and drape. Sateen bed sheets have a single thread under three or four over weave, giving them their unique silky smooth surface. Sateen sheets are soft and usually a little thicker perfect for cuddling into bed during the cold winter months. Percale sheets are crisp, while sateen sheets offer a sheen look with silky smoothness.
The sateen fabric feels very smooth at first but is more prone to pilling. Sateen sheets have a tendency to trap heat that may not be suitable for all users. Satin sheets are available at a wide range of prices in the market, similar to percale sheets. Here are the pros and cons of sateen sheets.
Pros
More wrinkle resistant
Softer feel
Luxurious appearance
Suitable for sleepers with sensitive skin
Cons
Prone to piling
Shine may fade with time
Less breathability
Retains heat
Sateen vs Percale Sheets: What Is the Difference?
Along with the type of weave, sateen and percale sheets have considerable differences in many other features. Percale sheets are known for their crispness, breathability, and lifespan. On the other hand, Sateen sheets offer excellent shine, silky texture, draping, and good wrinkle resistance.
Although percale and sateen are just types of weave and may have some common characteristics, the materials used by the sheets play a significant role and affect the looks, texture, performance, longevity, and feel of the sheets.
Depending on the quality and type of material, percale and sateen sheets are available in various price ranges. However, both sheets have some good affordable options.
Let's understand percale sheets vs. sateen in more detail through the table mentioned below.
| | Sateen | Percale |
| --- | --- | --- |
| Durability | Sateen sheets have an average lifespan. | Percale sheets soften after every wash and get more comfortable. Hence they have a longer lifespan. |
| Comfort & Feel | Sateen sheets give a soft, silky, draping feel that makes them comfortable for sleepers with issues such as skin sensitivity. | Percale sheets offer a thin, crisp, and smooth feel similar to an ironed shirt. |
| Temperature | Sateen sheets are less breathable and more likely to retain heat. It may give sleepers a warm, cozy feeling in winters but may be uncomfortable for sleepers in hot summers. | Percale sheets have excellent temperature regulation properties, and hence sleepers can use them in all seasons. They are suitable for sleepers having breathing issues. |
| Thread count | The thread count of percale sheets is between 200-400. | The thread count of sateen sheets is between 300-500. |
| Maintenance & care | Sateen sheets machine washed using a mild detergent. They can be dried using the air-dry cycle. | Percale sheets can also be machine washed and air-dried. However, they are prone to wrinkling; hence, users iron them for better crispiness. |
| Cost | The cost of sateen sheets ranges between $50 and $550. | The cost of percale sheets begins at around $50 and reaches above $500. |
Sateen or Percale: What Is Best?
Sateen and percale bed sheets have advantages that may be comfortable for some sleepers and disadvantages that may not suit others. It is challenging to decide which is the best type of sheet; however, we recommend you go with the one that suits your sleep requirements.
Percale offers smooth, breathable, and crisp sheets that are more durable; On the contrary, sateen provides shiny-silky sheets that are resistant to wrinkles, and slightly heavier. Percale is wrinkle-prone and makes rustling noise, while sateen is warm, drapes well, and tends to pile.
Let's run through some of the reasons to buy percale and sateen-
You Should Buy Percale If:
You are looking for long-lasting sheets
You have breathing issues
You are not worried about wrinkles in the sheet
You love using the same sheet throughout the year
You Should Buy Sateen If:
You want a shiny, silky, and luxurious feel
You love to sleep warm
You want a wrinkle-resistant sheet
You want a softer feel
The Final Word
By now, you may have understood the difference between percale and sateen. However, you may find it challenging to make the right choice as both percale and sateen sheets have their own set of advantages and disadvantages. We recommend you try both these types of sheets and let your body decide which one suits the best for your sleep requirements. Hopefully, our guide has highlighted the various points you need to consider while buying your next sheet.
Are you looking for a luxurious, sophisticated, and durable bed sheet? Check out Nectar's Luxury Cotton Bed Sheet made of extra-long staple cotton and designed to get softer with every wash.
FAQs
What type of sheets are the coolest?
Generally, sheets made from linen, Tencel, and bamboo sheets are the coolest and offer good breathability.
Do hotels use percale or sateen?
Generally, hotels use sheets with a higher thread count and are softer, breathable, and pile resistant. Most hotels use a percale weave that gives a smooth, crisp feeling similar to a luxury hotel suite.
Are sateen sheets hotter than percale?
Sateen weaves tend to produce thicker, less breathable sheets than a percale weave, and hence they are much warmer than percale sheets.
Is Egyptian cotton percale or sateen?
Egyptian cotton is material, while percale and sateen are types of weave. There cannot be a particular weave for Egyptian cotton. However, both can be combined to form an Egyptian cotton sateen or percale sheet.
What makes sheets soft?
The best way to make sheets softer is by using vinegar and baking soda.
What is the best thread count for sheets?
For best results, the thread count for sheets should be between 200 – 600.