What is an Organic Mattress? – Mattress Types
Organic Mattress: Why do we eucalyptus oil and chamomile tea to help us relax and drift into deep slumber? It is because there has been a lot of emphasis on adopting natural and organic means to improve sleep quality.
While we are using many remedial products to help with our sleep routine, many people are also adopting organic sleeping materials, including mattresses, to sleep better.
In addition to negating the harmful effects of synthetic materials and chemicals, an organic mattress can be your step towards a greener, more sustainable life. Most shoppers today prefer leading environmentally-friendly lifestyles and it's no surprise that more mattress buyers are researching the organic, eco-friendly route.
The quality of your sleep is not just influenced by the number of hours but also your sleeping materials. Here's everything you would need to know about organic mattresses.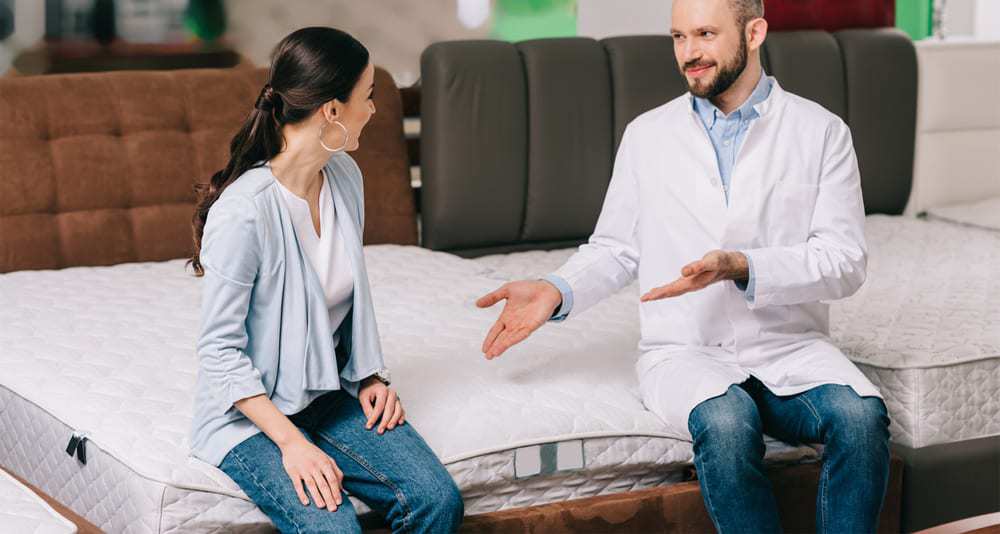 What is an Organic Mattress?
An organic mattress is made of non-toxic, natural materials rather than conventional, synthetic, or chemical materials. It is more breathable, keeps you cool during summers and warm during winters.
In general, organic mattresses are:
Durable
Biodegradable
Hypoallergenic
An organic mattress is ideal if you don't want to expose yourself to harmful toxins or are someone who struggles with asthma, allergies, and respiratory issues. Besides this, an organically-made mattress is a wiser for young kids and babies.
Fact: Organic mattresses keeps you:
Cool in the summers
Warm in the winters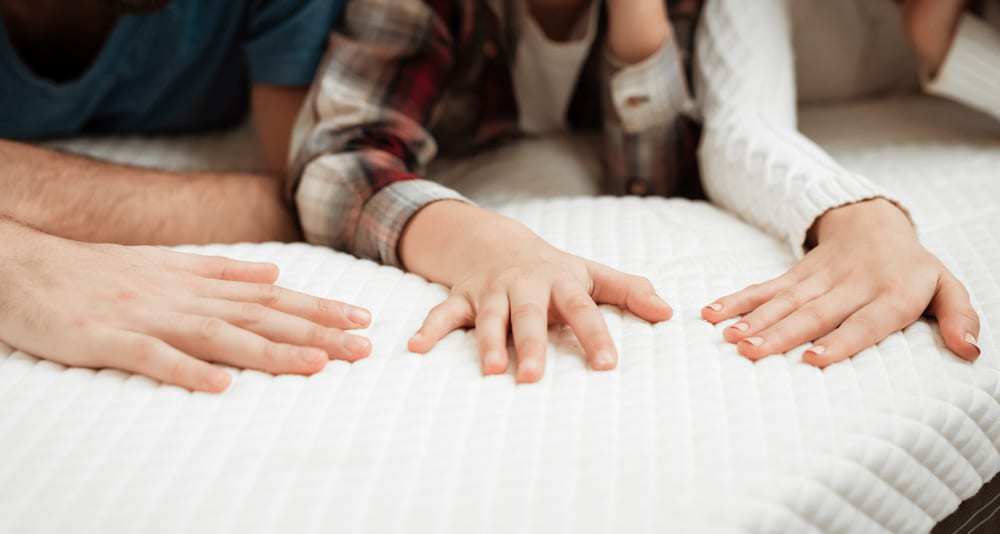 Are you looking for other mattress types? Check out our mattress types guide.
Types of Organic Mattresses
An organic mattress is characterized by its ability to alleviate pressure and support your body, while regulating your body temperature at the same time, ensuring that you stay snuggly warm when you are asleep. Whether you are confused over the number of layers or whether you need a twin vs the twin XL, if you know you need an organic mattress, here is how you proceed.
Having said that, there are different types of organic mattresses, giving you a variety in your choices.
Organic Latex Mattresses
A purely latex or latex-only mattress is a construction that is free from springs. And as the name implies, it is made of organic latex.
Latex is made from the rubber tree's sap, which is then processed. Mattresses that are made of organic latex don't contain synthetics, herbicides, chemicals, pesticides, or any man-made products.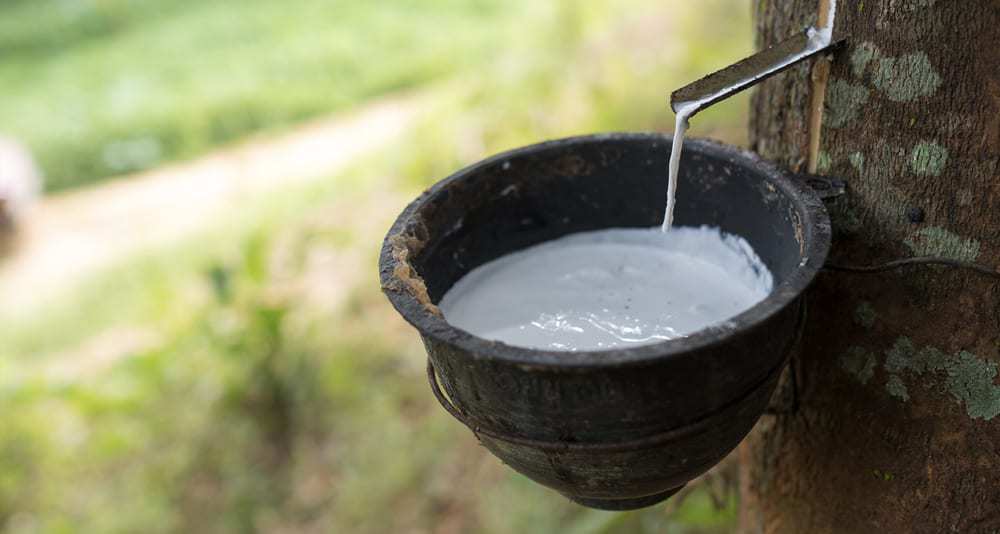 Latex mattresses are natural, durable, and healthy. If you haven't heard of latex mattresses and consider them to be a new mattress innovation, you might be surprised to know that latex mattresses have been around since the 1950s. So why aren't they as popular as their counterparts? These mattresses tend to be on the firmer side, which may not be to the sleeper's ideal comfort. The more all-natural a mattress is, the firmer it tends to be.
Organic Hybrid Mattresses
A hybrid organic mattress is made by combining two or more elements, which is a combination of cotton or wool, spring coils, and latex. Organic hybrid mattresses are a popular choice among eco-conscious customers.
Organic cotton: It is grown without any synthetic chemicals such as pesticides or fertilizers. It is not modified genetically. Be sure to check for an unbleached cotton option as that means it is free from harsh bleaches which is quite often used on cotton.
Organic wool: This is excellent at wicking off moisture and making sure that you stay cool. This is because it contains natural wax known as lanolin. It is a yellow, greasy wax that is produced by sheep. It keeps their hair soft and dry even during harsh weathers.
Typically, it has cotton or wool, coils (usually the pocketed ones), and/or latex at the top. Now, if you are well-versed about mattresses, you might wonder if the usual coil mattresses tend to have memory foam or latex on the top?
The answer is yes.
Hybrid mattresses have taken on what is more of an evolutionary approach than a revolutionary one. Organic hybrid mattresses usually have a few comfort natural materials when compared to traditional innersprings. A great example of this mattress is the Awara mattress, which is a combination of latex and coils.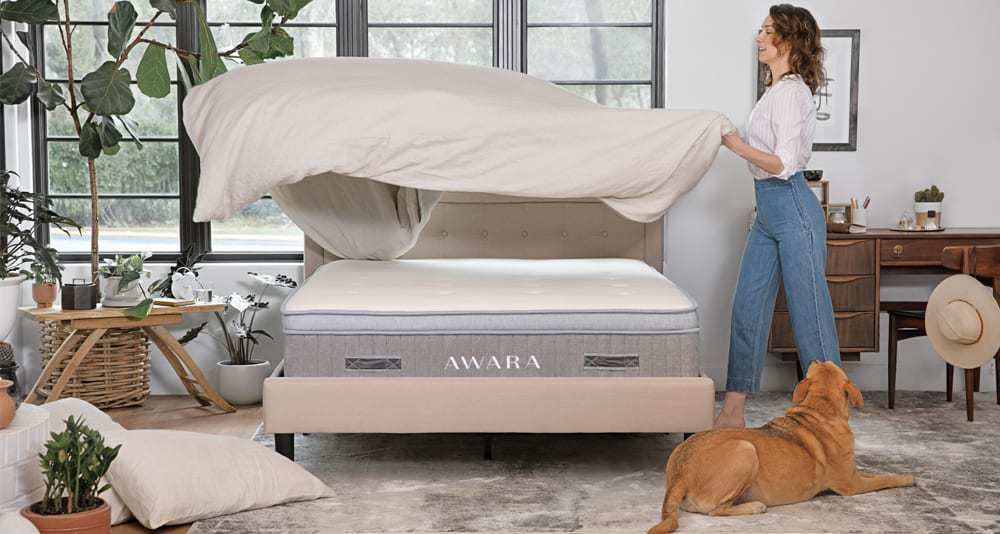 Are your looking for an organic mattress? Check out Awara's latex hybrid mattresses.
Also, the top layer of hybrid mattresses happen to be flatter, much like foam mattresses, than being tufted like traditional innerspring mattresses with certain exceptions.
In simple terms, hybrid mattresses combine comfort and multiple support forms, usually a mix of gel, memory foam, and innerspring coils.
Organic Innerspring Coil Mattresses
An innerspring coil mattress is usually made with different kinds of metal spring coils (individually wrapped), which are embedded into wool or cotton.
Many stores carry various brands of innerspring organic mattresses, especially for people who are looking for organic mattresses made from the purest materials. They are usually made of organic wool or cotton with metal springs in the core. These mattresses are 100% pure and have no added toxins or chemical-flame retardants.
Organic Pillow-top Mattresses
An organic pillow-top mattress is made with natural latex, cotton, wool, latex, PLA layer, and encased coils. Usually, an organic pillow-top mattress has 4-5 three-inch layers of latex on the top to create a luxurious top layer.
These mattresses are ideal if you are a side sleeper or if you are looking for increased pressure relief. It can easily be transformed from firm to ultra-plush, or anything in between.
Vegan Mattresses
Some manufacturers also sell vegan mattresses. As the name implies, a vegan mattress means that there is no wool used for the filling. Everything about it is plant-based.
Since a lot of people practice veganism religiously, having vegan mattresses in the market is not surprising.
There are 3 compelling reasons to use it:
To avoid the mistreatment and slaughter of animals
To eliminate multiple health risks
To reduce carbon footprints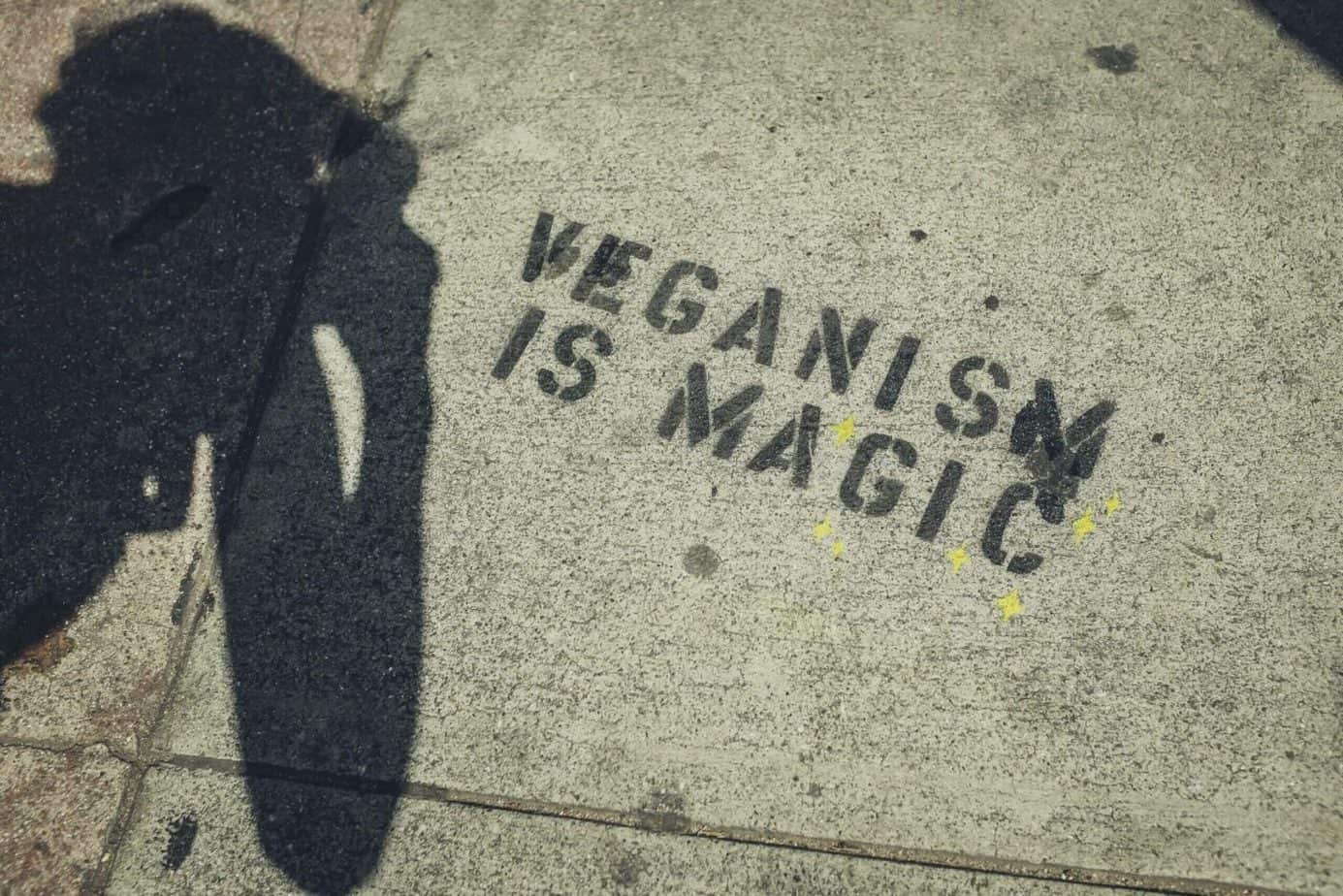 Many mattress firms have stepped up by offering 100% natural and chemical-free mattresses that are free from by-products or animal products.
They are usually handcrafted with premium quality materials like:
Organic cotton
Natural latex
They are wool-free!
Can a Foam Mattress be Organic?
No. Memory foam mattresses are not organic because the making of the foam includes man-made production. However, foam mattresses can be made to the standards of being eco-friendly and non-toxic. A CertiPUR-US® certification means that the foam mattress is free of toxic chemicals and meet their stringent regulations.
Factors to Consider Before Buying an Organic Mattress
Say goodbye to your chemical-based, toxic mattress and hello to organic beds! Buying a good organic mattress is a bit different to your typical shopping experience. You need the basic understanding of organic mattresses and their features and benefits to ensure you pick the right one.
So, here are a few things to consider while buying an organic mattress:
Look for the layers or materials used
Make sure that the material used in the organic mattress is unbleached and is free from chemically-treated materials. Look what the layers are made of. Latex? It's good. Cotton or wool? Good too.
Legitimate labels
Not all labels are created equally. A few of them even come with a third-party certifier, which might raise questions on the latex standards. You need to check for two things to ensure that your mattress is 100% organic.
GOTS (Global Organic Textile Standard): This label guarantees that the materials used are 95% organic. In addition, it bans the use of harmful toxins like polyurethane.
GOLS ( Global Organic Latex Standard): This label is crucial to look for when you are choosing an organic latex mattress. It assures that it is 100% natural latex.
Avoid the flame retardants
One of your main concerns should be the retardant-polyurethane foam, as this releases PBDE components right into the air. When you are sitting on your bed or sleeping, you might inhale these chemicals and may face adverse reactions.
Some of the other harmful flame retardants are chlorinated Iris and firemaster 55. So, choose a good organic mattress that is free from flame retardants. Check the label for this or ask your mattress retailer.

Pros & Cons of Organic Mattresses
| Pros of Organic Mattresses | Cons of Organic Mattresses |
| --- | --- |
| Hypoallergenic in nature | Quite expensive |
| Free from harmful chemicals | Heavy to carry |
| Durable and of high-quality | Risks of fraud with fake labelling |
| Regulates the temperature |   |
| Biodegradable and Sustainable |   |
| Minimal pressure and extreme support |   |
| Excellent comfort and offers elasticity |   |
| Flame-resistant naturally |   |
| Infant-approved and good for allergies patients |   |
Other Types of Mattresses
Other Important FAQs
Should you buy an organic mattress?
Well, that depends on your personal preferences. However, organic mattresses have grown in popularity and demand over recent years for a good reason.
Do organic mattresses give you a healthy sleep?
Organic mattresses definitely reduces your exposure to harmful chemicals, synthetic materials and so on. However, to have a healthier sleep, a lot more factors like good sleep hygiene and sleep schedule should be added to the mix.
Are organic mattresses durable?
Yes. An organic mattress has a better lifespan (much longer when compared to synthetic designs). It reacts better with everyday use. So, you will find excellent warranties too.