Microfiber vs. Cotton Sheets: Know the Difference
Good and comfortable bed sheets are essential for a sound sleep. That doesn't mean you have to buy expensive sheets. Choosing a bed sheet according to your comfort level usually works.
The two most purchased choices of bed sheets would be cotton and microfiber. The two might have similar features, but you should know a little more about them.
It is known that uncomfortable bed sheets do not give you a good night's sleep. You might want to explore some details between the sheets for that!
In this guide, you'll explore comprehensive information about cotton and microfiber sheets, their pluses, and minuses, along with a detailed microfiber vs. cotton sheets comparison chart.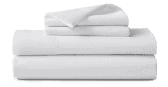 Check Out the Nectar Luxury Cotton Bed Sheet
Designed to help you slip into softness, each and every night.
What Are Microfiber Sheets?
Sheets made from nylon polyester, wood pulp, or polyesters are known as microfiber sheets. As a synthetic fabric, these sheets are more durable and do not wrinkle or shrink after washes. The material is soft on the skin and is quite breathable.
Thicker strands are used in the weaving process to make the sheets stronger and softer. These sheets might also include finely grounded wood pulp or some recycled material.
Let's dive more into the details of sheets like breathability, durability, and comfort of microfiber sheets.
Is microfiber breathable? Yes. Although microfiber sheets aren't made from natural fibers, the sheets are highly breathable. Microfiber repels water and keeps the sheets dry. Because of its moisture-wicking properties, it is used in athletic clothing.
The material is manufactured to regulate body temperature, keep you cool and comfortable, and keep the heat and moisture at bay. Not only heat and sweat, but these sheets also keep allergies at bay. These sheets fight against dust and mostly do not irritate the skin.
Microfiber bed sheets of high quality are extremely soft on the skin and don't cause any irritations. These sheets have a smooth & slippery feeling somewhat similar to satin or silk. A high thread count determines not only the softness but durability of the sheets. The higher the thread count, the softer the sheet.
Microfiber sheets are as durable as cotton sheets. These sheets soften over time with multiple washes. If the type of bed sheets are not of high quality, they might not withstand for a long duration. So, when buying a microfiber sheet, make sure you notice the thread count or go for a quality one.
Microfiber sheets are low maintenance as they can be washed and dried without fabric softeners or any special instructions. These sheets do not shrink after a wash and are mostly wrinkle-free.
Variety in microfiber sheets
Unlike cotton sheets, microfiber sheets are also available in different varieties. These are available because of people's preferences. Some might like a higher thread count, while others might look for a fine appearance. To help you pick the right one, we've outlined the common varieties.
Many brands brush up the sheets to give them a velvety feel. You might have seen a label 'double-brushed in the shop, meaning the material has been brushed on both sides for high comfort.
Some sheets come with grams per square meter instead of thread count. This is related to the sheet's weight. So if you see a sheet with 100 GSM, it is considered as a high-quality sheet with strength and durability.
Most sheets are made with percale or sateen weave. Both of these weaves make the sheets more durable.
Do you know your bedsheet size? Check out our blog to know all about the bed sheets sizes.
Microfiber Sheets Pros and Cons
Although there are benefits of microfiber sheets being affordable and soft, everything has its pros and cons. Let's have a look at those.
Pros
Wrinkle-free and soft on the skin
Anti-allergic sheets
It doesn't irritate the skin
Soft and lightweight
Cons
More likely to generate static
Durability depends on the thread count
Highly absorbent and prone to stains
What Are Cotton Sheets?
Cotton sheets are made from natural cotton plants. The sheets made are mostly breathable and organic. It is one of the most popular fabrics used to make bed sheets. It is a versatile material and extremely comfortable for many reasons.
Cotton sheets are readily available in most of the brick and mortar and online stores. Made from natural fibers, cotton tends to wrinkle often than other fabrics. These sheets are ideal for summers and for people with high body temperatures. Below we'll see some of the plus points of cotton sheets.
Cotton sheets are 100% breathable making it easy for the air to pass through the sheets regardless of the temperature and body heat. The material is soft on the skin and is super absorbent with antibacterial properties. The quick-drying feature of cotton sheets makes it super easy for people with hot temperatures.
Cotton sheets are known for their durability without sacrificing their softness. They can withstand constant washing and do not lose their shape over time. Cotton bed sheets last up to 6 years easily, so it's a good investment if you choose cotton sheets.
It's easy to maintain a cotton sheet they can wash in the washing machine without any special instructions. As you wash the cotton sheets, they soften over time and become smooth. Cotton, unlike any other material, isn't delicate and doesn't require any special maintenance.
Manufacturers use cotton in many different ways. If you shop for cotton sheets, you'll find these below-listed variations for sure.
The threads woven per square inch of the sheet are known as the thread count. Most cotton sheets have a thread count between 300 to 400. Sheets with a higher thread count are usually smoother, softer, and stronger.
There are various types of cotton available in the market. When shopping for cotton bed sheets, you might come across Pima cotton, Egyptian cotton, upland cotton, etc. Upland cotton is common and easily available. Prima and Egyptian cotton are extra-long and are considered of superior quality. See 'extra-long-staple' in the label, which means this sheet is more durable than others.
Cotton sheets are often made with strong Interlocking weaves. These help the sheets to be highly durable and stand the test of time. The most common cotton weaves for sheets would be sateen, flannel, and percale.
Cotton Sheets Pros and Cons
Cotton sheets have many benefits, and no one could think of a downside. But what if there are too many downs? Let's dive into the pros and cons of having a cotton bedsheet!
Pros
Easily available
Made from natural fiber
Pocket-friendly
Low maintenance
Durable
Breathable with moisture-wicking properties
Cons
Wrinkles easily
Can shrink after wash
A little expensive than polyester sheets
Low-quality cotton sheets can wear easily over time
Difference Between Microfiber and Cotton Sheets
Are microfiber sheets good? As you know by now, both microfiber and cotton sheets have many similarities. Let's dive into some details that make them what they are, shall we?
| Features | Cotton | Microfiber |
| --- | --- | --- |
| Breathability | Lightweight and good for air circulation | Keeps the person dry with anti-wicking properties |
| Feel | Soft and crispy for sensitive people | Silky, smooth, and slippery |
| Durability | It lasts 2-3 years | It lasts 2-3 years |
| Variety | Available in organic, long staples, and premium cotton | Available in sateen and percale |
| Price | A bit costly than microfiber sheets | Cheaper than cotton sheets |
Cotton or Microfiber Sheets: How to Choose?
Choosing between microfiber and cotton sheets can be confusing after you know a little more about each of them. We are here with a detailed guide on cotton vs. microfiber sheets, which can help you decide which sheet to choose.
Temperature
If you are thinking, are microfiber sheets hot? Then no. Both cotton and microfiber sheets are cool enough to adjust to the body temperature easily. While cotton sheets are ideal for summers, microfibers can also be used during rainy seasons when the weather goes a bit chilly. Microfiber sheets absorb the body heat easily and keep you warm hence these are perfect for cold climates.
Feel
Both high-quality microfiber and cotton sheets have a good appearance and feel. Microfiber sheets are not made from natural materials but yet they are soft and smoother than cotton sheets. Based on the thread count, a cotton sheet can be soft or hard. The higher thread count of cotton sheets is smoother than the lower thread count.
Comfort
Both the materials have anti-wicking properties and are soft on the skin. These sheets are best for people with sensitive skin as they won't cause any allergies and irritate the skin. The comfort level of these sheets is amazing, and anyone would be satisfied with them. Plus, these sheets get more comfortable with every wash.
Care
Maintaining your microfiber and cotton sheets is super easy. You don't need to worry about washing them in a particular way. So, you can say these are safe to be washed in a washing machine and dryers. These sheets are tough and last for years. The only thing to consider here is microfiber could take some more time than cotton to get rid of the stains.
Summing It Up
Now that you know a bit more about cotton vs. microfiber sheets, you should make a smart choice in picking the right sheets. What we can say here is, choose according to your need and weigh the pros and cons of each before you purchase them.
FAQs
Is microfiber the same as polyester?
Microfiber is a synthetic fiber, and you might say microfiber is a specific type of polyester, but they are not the same.
What is microfiber made of?
Microfiber is made from the polyester-nylon blend and is mostly made from synthetic fibers.
What is the best material for sheets?
Cotton is the best material for sheets. They are strong, flexible, soft, breathable, and have antiallergic properties. They are easy to maintain and are available in stores near you.
What is a good thread count for microfiber sheets?
Microfiber sheets thread count between 200 – 800 is considered a good thread count. The more the thread count, the better the quality of microfiber sheets you'll get.
How often should you replace your sheets?
Sheets should be replaced every 2-3 years. If you see visible signs of wear & tear along with color fading and thinning, then you know it's time to replace them.
How often should you wash your sheets?
Most people should wash their sheets once per week. If you don't sleep on your mattress every day, then you can replace them in 10 days. But to maintain proper hygiene, you should change your sheets in 3-4 days.
Are bamboo sheets better than microfiber?
Yes. High-quality bamboo sheets can give you ultimate comfort and silky smooth texture for sure. Bamboo sheets are also much softer to touch.