Detailed Mattress Comparison
Wondering how to choose between a king vs queen bed? We have just the information that can make this decision easier for you. Although queen size mattresses are the most popular, king size mattresses aren't lagging behind since they both offer space for couples and single sleepers.
A king size mattress is 16 inches wider than a queen size mattress while both the mattresses are 80 inches long.
Deciding between queen size vs king size will come down to various parameters. We are here to help with an overview of the mattresses along with their pros and cons and factors to consider before buying them.
Parameters
King Mattress
Queen Mattress
Size

| | |
| --- | --- |
| IN: | 76″ X 80″ X 11" |
| FT: | 6.33' X 6.67' X 0.92' |
| CM: | 193.04 X 203.2 X 27.94 |

| | |
| --- | --- |
| IN: | 60" x 80" x 11" |
| FT: | 5' X 6.67' X 0.92'2 |
| CM: | 152.4 X 203.2 X 27.94 |

Price
$999
$799
Bed Size
76 in X 80 in
60 in X 80 in
Recommended Room size
13 X 13 ft
10 X 10 ft
Comfortably Fits

Couples who love to stretch out
Families with large bedrooms
Parent sleeping with a pet

Single Sleepers
Couple with no pets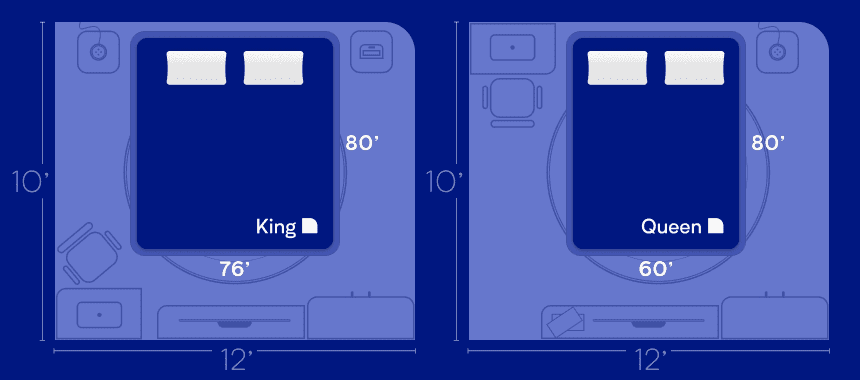 What is a King Size Mattress?
King size mattresses are 76 inches wide and 80 inches long. They are a popular option among couples and they provide 38 inches of elbow space per person. King size mattresses are also a good option for couples who want to share the bed with a young child.
Stores started introducing King-size beds in the early 1940's. It was also the time when it was common to show 2 twin size mattresses (placed closely) as if it was one big bed. Things changed in the 1950s and king-size beds gained immense popularity and became a common choice for master bedrooms.
Pros
Super spacious
Ideal for people who are tall
Great for back and stomach sleepers
Additional 16 inches compared to queen sized beds
Cons
Not ideal for smaller bedrooms
Expensive
Heavy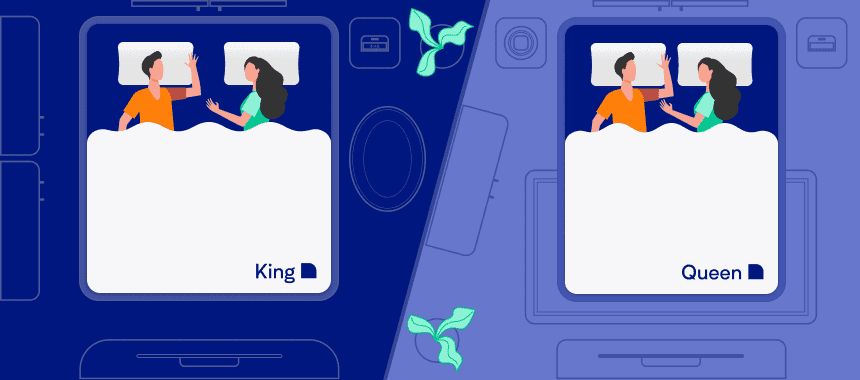 What is a Queen Size Mattress?
Queen size mattresses are 60 inches wide and 80 inches long. They are the most popular and the most purchased size in the US. Almost a half of American adults sleep on a queen size mattress.
Queen size mattresses make for an ideal choice if you are looking for a bed that's comfortable, provides ample sleeping space, and is affordable. It's a good pick for small bedrooms since it is narrow compared to a king but bigger than a full size mattress.
Pros
Cheaper than a king-size mattress
Lighter than king-size
Fits perfectly in small room
Cons
Cannot accommodate kids
Not an ideal option for tall individuals
---
King vs Queen: What Should You Consider Before Buying?
When it comes to choosing a mattress, there are various factors you need to consider. You need to keep your priorities, your personal preferences, and your family's needs in mind. Between king size bed vs queen, both are ideal options for families and couples. Therefore, deciding between the two comes down to a few important considerations. Let's take a look at each of these factors before choosing.
Size of the Bedroom
As a general rule, you should leave 2 feet of space on either side of the bed and 5 feet from the bed's base to the walls.
A standard queen size mattress can fit comfortably in the smaller rooms or rooms that are 10 by 10 feet and a king size bed in a room that is 12 by 12 feet or larger. Both mattresses are ideal for a master suite or the primary bedroom of the house.
Sleeping Position
When it comes to king vs queen bed, you and your partner's body structure and both your sleeping positions matter.Generally, stomach & back sleepers prefer more space around them than side sleepers making king size the better option for them.
Couples that are physically large usually require a king size bed. A queen works well for couples that are average in height. Significantly large or tall individuals can look into buying a California king size mattress, as it provides extra legroom compared to a standard king or a queen.
The Number of People Sleeping on the Mattress
A queen size mattress was built to accommodate only a couple. Queen bed dimensions don't allow for couples to share the bed with a child or a pet. Queens are a popular choice among single sleepers who prefer to stretch out or couples (who love to hug or sleep close).
King size beds compared to a queen size mattress give each sleeper at least 8 inches of additional space. Which gives you the option to share the bed with a child or a pet. The extra space can help you spread out and not get in each other's way while you try to get a good night's sleep.
Your Budget
The price of the mattress depends on two things:
Size: Width and Length of the Mattress
Type: Whether it's made of Innerspring, Latex, Memory Foam, or is a Hybrid
A king size bed will cost more than a queen-size mattress due the size difference. However, between queen vs king bed, high-quality queen size mattresses are still expensive compared to low-quality king size mattresses.
Additionally, bedding accessories for king-size beds cost more than a queen. The bed frame and whether you want an adjustable base or not will also eventually add to the cost.
---
More on Mattress Sizes
---
Which Mattress Size Is Suitable for You – King or Queen?
At the end of the day, choosing between king vs queen bed size is all about your personal choice. You can consider using a queen even as a single sleeper and choose a king if you are sharing the bed with a large pet. The important thing to remember is that a king size mattress is bigger than a queen and will fit better in larger rooms whereas a queen is a great choice for compact spaces.
High-end hotel rooms have mattresses with king size bed dimensions as the standard in most suites. If you happen to be a restless or a back/stomach sleeper, then a king size bed proves to be an excellent pick. If you are a tall individual and feel that king mattresses are too short for you, consider looking at California king beds as they are longer than the standard king.
A queen size mattress can be a fantastic option if your bedroom is small and you don't want to spend too much on a mattress and you prefer to sleep close to your partner. If you are someone who's a single sleeper, then a queen can be a good choice from among mattress sizes available.
We hope this article helps you decide between queen vs king bed size and make the right choice for you.
---
How We Compare to Other Brands?
We offer a 365-day trial period and a warranty that lasts forever! If you don't believe us go ahead and compare our offer to other brands. Apart from being one of the largest mattress sellers in the United States, we give you 9 reasons why nectar may be your best and the last mattress you purchase.
Sleep Trial
Warranty
Free Shipping *
Free Return
2 Free Pillows
Free Sheets
Free Mattress Protector
Price (Queen)
Total Price
Nectar
365 Nights
Forever Warranty™
$799
$799
Shop Mattress
Casper
100 Nights
10 Years
$178
$139
$95
$1,095
*$1,507+
Purple
100 Nights
10 Years
$196
$99
$1,149
*$1,444+
Shop Mattress
*Price reflects the subtotal of mattress protector, sheets and two pillows (Single pillow for twin/twinxl) compared to the current promotion on Nectar. Additional shipping fees may apply in AK and HI. Price may not reflect any current promotions or discounts. Last Updated: Mar 2021.


Get upto $399 in Accessories Today
So long sleepless nights!
FAQs
What size bed do most couples have?
Most couples tend to buy queen beds because they are 7" wider and 5" longer when compared to full-sized beds and are ideal for both individuals and couples, as each of them gets 30-inches of space to themselves. Again, it comes down to personal preferences. If you prefer space while sleeping, then king beds are the best way to go.
What does double king size bed mean?
A double king size bed is certainly the granddad in the mattress world. It is 144-inches in width and 80 inches in length.
What is the difference between a queen and king bed?
Though both mattresses can easily accommodate two people, the difference lies in the size. While a king-size bed is 76 inches (width) X 80 inches (length), the queen-size mattress is of 60 inches (width) X 80 inches (length).
How much bigger is a king than a queen?
A king is bigger than a queen in standard US mattress sizes. The main difference between a king and queen size bed is that king size mattresses are 16 inches wider than queens. A king-size mattress measures 76 inches wide (5 feet) and 80 inches long (6 feet, 8 inches) whereas a queen-size mattress measures 60 inches wide (6 feet, 4 inches) and 80 inches long (6 feet, 8 inches).
How wide is a queen bed?
A queen size mattress is 60 inches wide. This makes a queen size mattress a good option for couples. Between queen size vs king size mattress, king size is bigger and better suited for large bedrooms and couples who prefer a lot of sleeping space.
Do couples need a king size bed?
A king size mattress is one of the options that a couple can choose from. It's big enough for parents to co-sleep with their child or their pet. Other mattress sizes that can comfortably accommodate a couple are queen, olympic queen size, split king, and California kings.
Which bed is bigger- king or queen?
A king is bigger than a queen size mattress. King size mattress dimensions are 16 inches wider than a queen but they both are the same length. If you are looking for extra length in the bed, check out the California king size.
Find Out How Nectar Compare to Other Brands?