You need to ensure that you get the proper mattress size before buying a new bed. The king and California king mattresses are great choices for consumers who want a lot of bed space. 
Be sure to measure the room dimensions before buying your comfort pad. A California King can be the best pick for a narrower room, and for more spacious and broader rooms, you can choose the King size. 
Check out the following factors to analyze California king vs king sizes and choose between these two.
Room Dimensions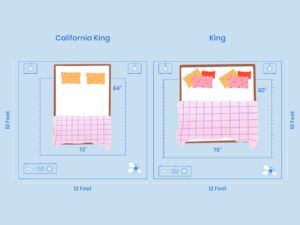 Though they may look similar from a distance, there is a lot of difference between the king and California king bed.
Before you consider Cal king vs king size mattress, you must consider the room dimensions. At least three sides of your bed should have a 24-inch gap from your room's surrounding walls to allow more space to move around in the bedroom.
For your California King mattress requires a minimum of 13 by 12 feet of a room to fit in and the King mattress requires a minimum of 13 by 13 feet of a room to not feel all cluttered. 
Cost
Budget is a prime determinant for many buyers, and depending on your requirement and spending capacity, you can choose your mattress. The California King is rare and is more pricey ranging between $1349 - $2549 than its counterpart king size bed which ranges between $1349 - $2549. The accessories for the California king are also hard to find and often come with a massive price tag. 
But a king size mattress is relatively light on the pocket. It is a commonly found mattress size, and you can also grab it in yearly clearance sales at a much cheaper cost. 
Height
The California King is longer and narrower, making it the perfect choice for tall sleepers. People over 6 feet in height can have a night of sound sleep on a California mattress, but the compact width makes it less suitable for more than two people. 
When comparing the California king vs. king, the King size is not as long as the California king mattress, but it is apt for regular height people. The adequate width also allows enough space for parents and children to sleep together on the same bed.
Sleeping Partner
Are you a single sleeper or a married couple? Do you have a small child or a pet at home who loves to snuggle between you? You must consider the number of sleeping partners to have a regretless buying experience between a California king vs. king. 
So if you are a single person, who loves their space both lengthwise and breadth-wise, you can choose the California size bed. Two people who want to sleep closer in comfort can also select the California mattress. But if you are a couple with a family with kids and a pet, the King size bed should be an ideal choice. 
Mattress Foundation
The last but equally important factor in deciding the size of your mattress is the mattress foundation. You need to analyze the type of foundation where you will lay your bed before considering the dimensions or other factors. 
The mattress warranty specifies the proper foundation for the mattress that can help improve the longevity, and this can go a long way in preserving the mattress's durability. California king vs. king and other mattresses like box spring, platform base, or slatted frames can be laid on adjustable bases.