Detailed Mattress Comparison
If you are someone who needs their space while sleeping, chances are that you are looking for a king size mattress or a California king size mattress. While the age-old king vs California king mattress debate is still alive, it is not surprising for people to make wrong assumptions while mattress shopping.
Follow this guide to understand the difference between these two mattress sizes, which one fits your needs better, and how it fits with your lifestyle.
Nectar Memory Foam Mattress
Premium memory foam mattress hugs your body and keeps you cool. Free shipping and free returns, and a 365-night Home Trial.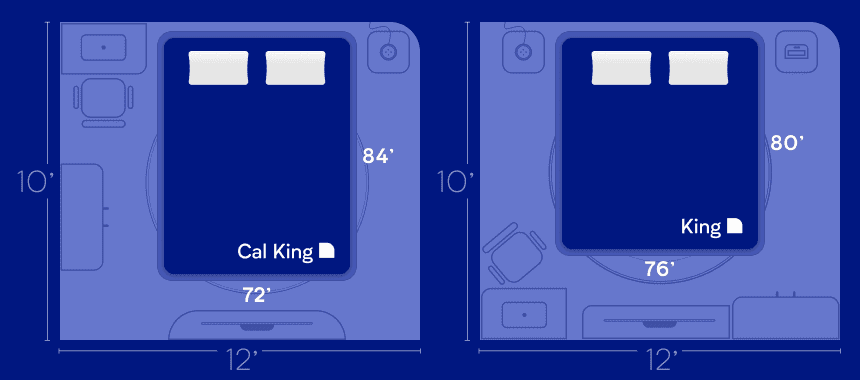 King vs California King Mattress Dimensions
A king size mattress is 76 inches wide and 80 inches long making it more of a square-shaped mattress compared to a California king which is 72 inches wide and 84 inches long. A California king is a rectangle-shaped mattress that is 4 inches longer and 4 inches narrow compared to a king.
A California king bed is the longest mattress available on the market. The size difference between a king and California king is just 4 inches in length and width but it changes the shape and suitability of both the mattresses entirely.
King vs California King Mattress: Pros and Cons
Let's take a look at king vs California King pros and cons to understand which one is better for you.
California King
Pros
An ideal choice for couples taller than 6 feet. With the extra 4 inches in length, there is ample space for a tall person to sleep comfortably without their feet hanging
If we are to talk about aesthetics, the Cal King Mattress is truly the monarch. This mattress easily blends in and also heightens the look and feel of a room that is 10 by 12 feet or larger
Adults can easily accommodate a small child or a pet on their Cal King Mattress
Cons
California king dimensions are large making them heavy and almost impossible to move without an extra pair of hands
Another downside of this mattress is the lack of availability of bed accessories. Since it is a huge mattress with a handful consumer base, finding accessories for it can prove to be difficult
They are long and narrow making them harder to fit in square rooms. Between king vs cal king, kings are better suited for square rooms and cal kings for rectangular rooms.
King
Pros
Space for those who love sleeping luxuriously
Can accommodate two sleepers easily or a couple with children
Great option for a restless sleeper or someone suffering from arthritis (or similar disease). A king size mattress provides you sufficient space to change position without the fear of falling over the edge of the bed
Cons
A king mattress, owing to its size, tends to be on the expensive spectrum and is not the most affordable option out there
A king mattress is heavy and hard to move. If you are someone who tends to shift homes a lot, this might not be the ideal choice
You have to ensure that your room is bigger than 13 by 13 feet since a king mattress needs more space to fit in
A king mattress is wide but shorter than a Cal king. It might prove to be insufficient in length for tall people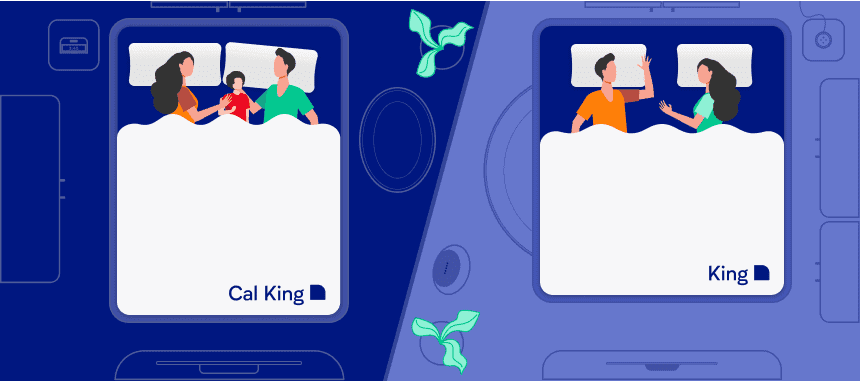 Which Mattress Size Is Suitable for You? King or California King
The king mattress, also known as the eastern king mattress, has dimensions quite similar to a queen size mattress but is much larger. A regular king size mattress is great for two sleepers and can accommodate young children who like to sleep with their parents. A master bedroom with 13 by 13 feet dimension can be considered ideal for king size mattresses as it has a surface area of 6,080 inches.
The California King Mattress, also known as western king, is 7 feet tall and regal but is a comparatively narrow mattress. Owing to its length, the California King mattress is the first choice for NBA players (no shocker there!) and is often customised to suit their bodily requirements.
A California king can accommodate a couple and have space at the foot of the bed for a pet to sleep on. Moreover, this mattress is also a great option for standard height couples with rectangular bedrooms. While choosing between cal king vs king, the height of the couple and the size of the bedroom play an important role.
Other Factors to Consider While Choosing a Mattress Size
Here are some factors to consider before you choose between eastern king bed vs California king bed:
Room Size
When it comes to King vs California King Mattress, room size is important. Too small a room cannot accommodate either of these large mattresses. A room that is at least 10 by 12 feet is recommended for Cal kings and 13 by 13 feet for king size mattresses.
Bed Accessories
While it is pretty easy to get accessories for a King mattress, things are not simple when it comes to a Cal king mattress. Sheets, duvets, and covers are tricky to find because of the length of Cal king mattresses. No other sheet can be used on this bed size.
Comfort
Since the King mattress has an advantage in width over length, this mattress will be more comfortable for individuals with regular height but in need of extra space to spread out. On the other hand, a Cal King mattress is longer (4 inches) but slightly narrow in comparison to King mattress. Between California king vs king, a cal king is more likely to be comfortable for really tall people.
Motion Isolation
Bigger beds tend to be better at motion isolation than smaller beds. The King and Cal King mattresses will both have enough space to accommodate two sleepers without motion being transferred. If you are a particularly sensitive sleeper, consider looking at a split king mattress instead to limit motion transfer further.
More on Mattress Sizes
---
Choosing Between King vs Cal King
While choosing between Cal king vs king comes down to the height and room size, there are other considerations that can affect your decision. We hope this detailed guide helps you choose the perfect size for you. If you want to read about other mattress sizes, visit our detailed mattress size guide.
---
How we compare to other Brands?
We offer a 365-day trial period and a warranty that lasts forever! If you don't believe us go ahead and compare our offer to other brands. Apart from being one of the largest mattress sellers in the United States, we give you 9 reasons why nectar may be your best and the last mattress you purchase.
Sleep Trial
Warranty
Free Shipping *
Free Return
2 Free Pillows
Free Sheets
Free Mattress Protector
Price (Queen)
Total Price
Nectar
365 Nights
Forever Warranty™
$799
$799
Shop Mattress
Casper
100 Nights
10 Years
$178
$139
$95
$1,095
*$1,507+
Purple
100 Nights
10 Years
$196
$99
$1,149
*$1,444+
Shop Mattress
*Price reflects the subtotal of mattress protector, sheets and two pillows (Single pillow for twin/twinxl) compared to the current promotion on Nectar. Additional shipping fees may apply in AK and HI. Price may not reflect any current promotions or discounts. Last Updated: Mar 2021.


Get upto $399 in Accessories Today
So long sleepless nights!
FAQs
Are king-size beds square?
They are not perfect squares but are closest to squares that you can get in mattress sizes. They are longer than they are wider and are one of the larger sizes in mattresses.
Why is it called a California king?
A merchant from Los Angeles, after World War II, felt that Californians had big houses and needed a bigger bed. He called them the California King thereafter.
Which mattress is ideal? King or Cal King?
If you or your partner are exceptionally tall, Cal King is the right fit. On the other hand, if you and your partner have standard height but need space, a King mattress with its extra width is the right choice for you.
Will my room accommodate a King or a Cal King mattress?
If your room measures 12 by 12 feet, then you can fit in either of these mattresses. However, some designers are of the opinion that 13 by 15 feet is the ideal dimension.
Are there cost variations between the King and Cal King mattress?
Yes. Cal King is slightly bigger and uncommon in comparison to King mattress. However, the variation in price purely depends upon the brand you choose.
What two beds make a California King?
No. Two beds make a California king mattress as they are the longest among mattress sizes. However, two twin Xl mattresses make a king size mattress and can be used with an adjustable base to make a split king mattress.