King Size Bed Dimensions – A Comparison Guide
King Size Bed Dimensions: Did you know about a unique concept known as sleep divorce? This is usually the case in couples who are no more compatible with respect to their sleeping habits & activities and would much rather sleep on different beds or rooms.
While there are a few severe causes like sleep apnea, issues like motion isolation or space should not come between the bliss. So before you sign those sleep divorce papers (hypothetically, of course), why not consider a king-size mattress?
Also known as the Eastern bed, the king-size bed dimensions are big enough to accommodate two full-grown adults so that you wont end up kneeing into the other's back or wake up to their hands covering your face.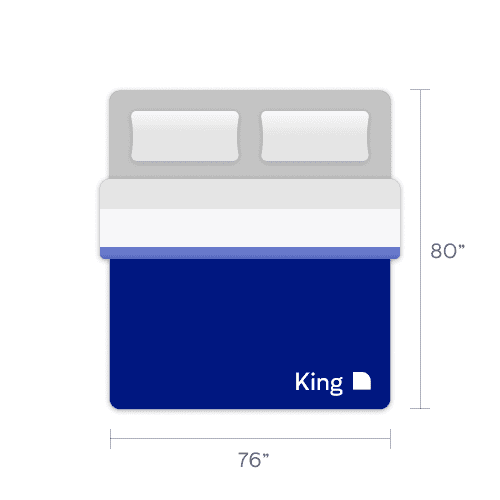 So how big is a king-size mattress?
It measures up to 76 x 80 inches. It is a whopping 16 inches wider than a queen-size mattress and roughly adds to two twin XL mattresses when pushed together.
King size Bed Dimensions Properties Chart
Properties
Length
Width
Surface Area
Compatible Room Size
Mobility
Target Audience
Other Names
King Mattress
80"
76"
6,080 inches
12 by 12 feet
Difficult to move
Couples, adults with a pet
Eastern King
Are you looking for other mattress sizes? Check out our mattress size dimension guide.
Types of King Mattresses
There are three types of king mattresses:
California king-size Mattress
A category on its own, this mattress is 4 inches longer than the standard king mattress but narrower in comparison. It measures up to 72″ x 84″ or 183cm x 212 cm
Split King Mattress
A split king mattress is an adjustable bed with two twin XL beds (and not twin beds) that add up to a conventional king-size. This mattress is 76" x 80″ and perfect for co-sleeping where sleepers prefer their own space.
Texas King Mattress
One of the largest mattresses in the US, it measures 80″ x 98″.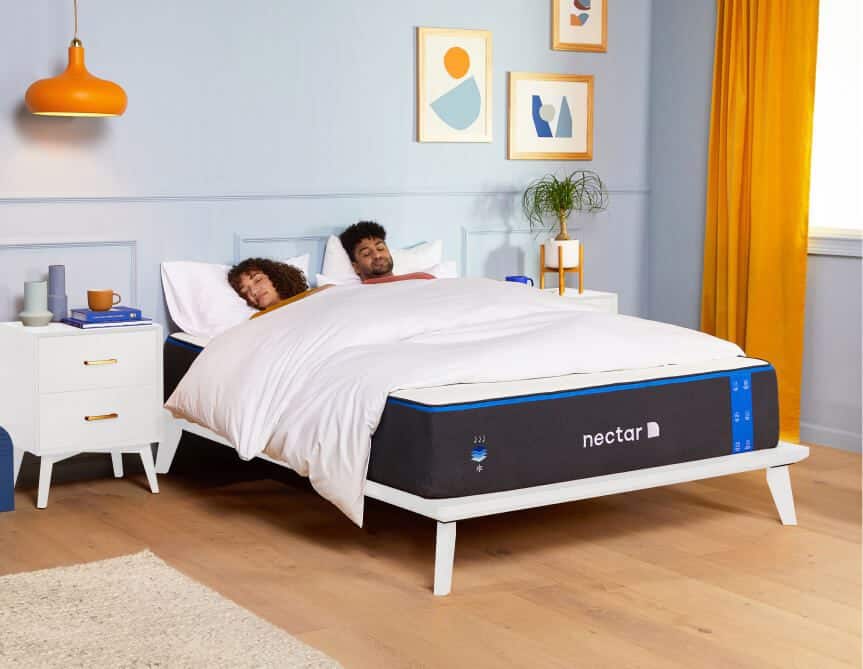 Pros of a King-size Mattress
Thanks to its size, a king-size mattress is also known to offer several health benefits. Most sleep-related issues like insomnia, boil down to the comfort factor, which is hard to find in less space. Even pregnant women can benefit from the space a king size mattress can provide. Oh! Here's a pregnancy sleep guide for you. The king-size mattress works wonders in negating the space crunch and allowing your body to breathe and have a good night's sleep.
Here are some benefits of using a king-size mattress.
Free Body Movement
An uncomfortable angle for your right hand or your feet dangling over the mattress is not exactly the right way to sleep. While sleeping, your body should be more open and relaxed, which is precisely why a king mattress will work like a charm. So spread out and relax in comfort. No compromises.
Boosting Blood Flow
Using a king mattress allows your body to open up. This avoids any awkward positions that obstruct blood flow and give rise to the painful 'pins & needles.'
Motion Isolation
If your partner is a restless sleeper, the chances are that a smaller mattress can transfer that movement onto your side of the bed and disturb your sleep. Instead of missing out on quality sleep, switch to a king mattress that offers motion isolation so that you are spared from your partner's marathon night.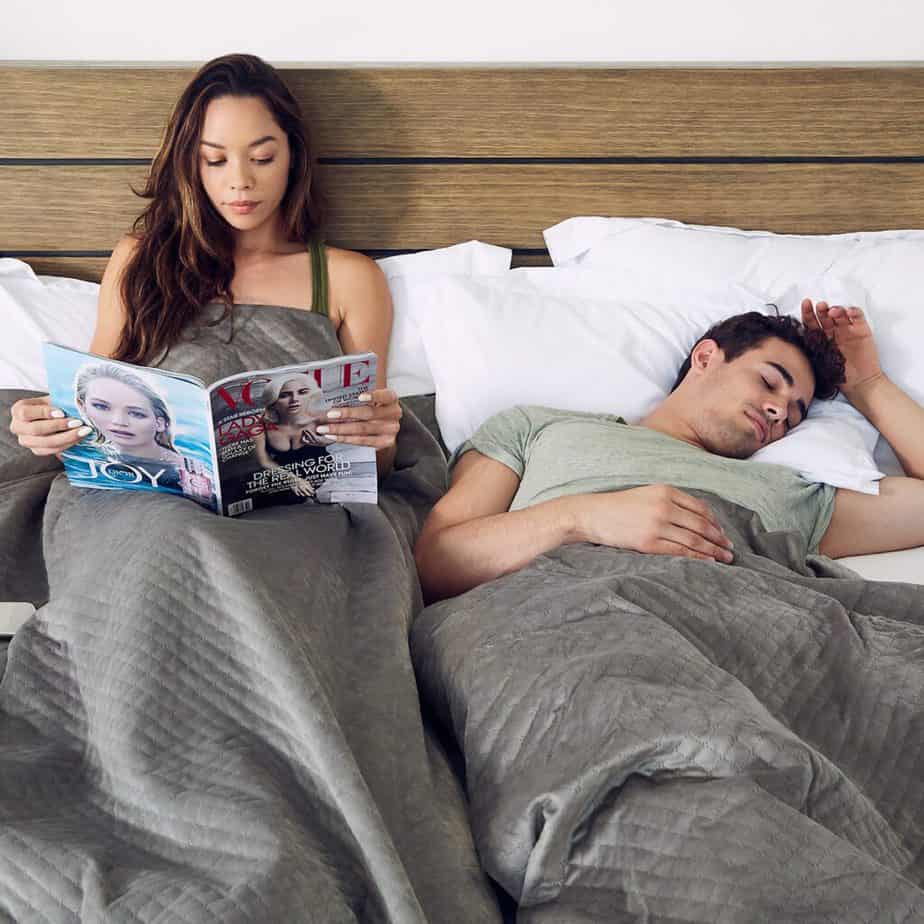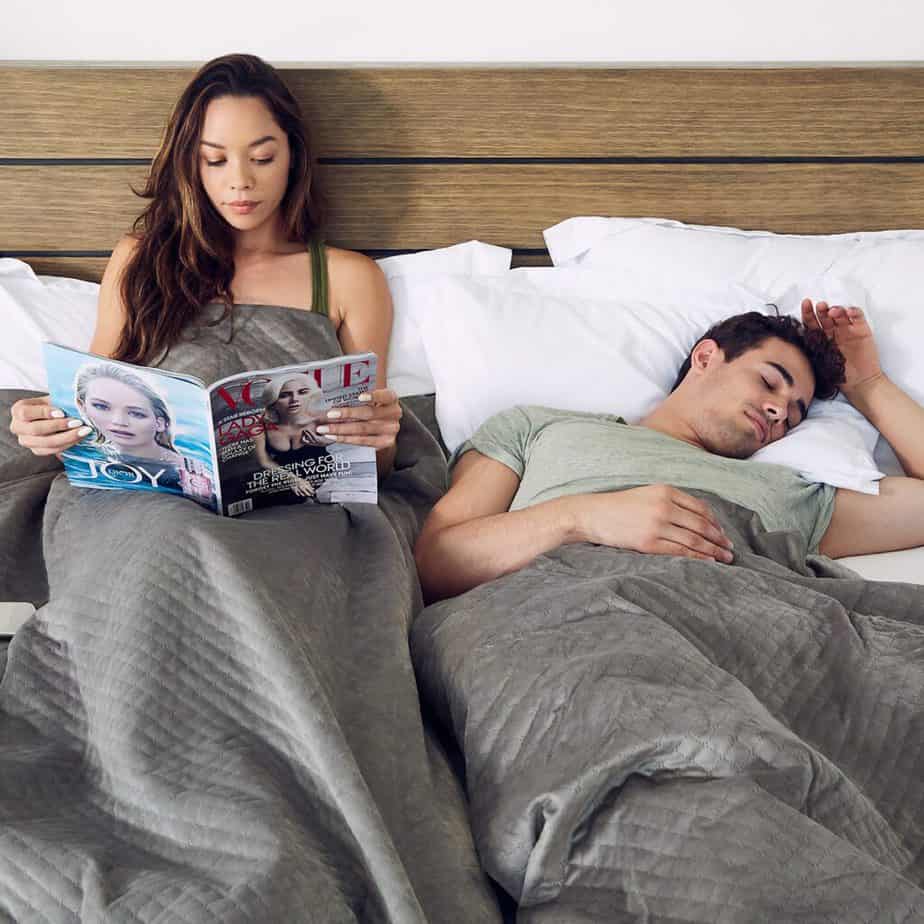 No Pressure
Your shoulders and back are the most significant pressure points, which if not supported, often end up with shooting pains, cramps and discomfort. With a king mattress, you can stretch out and free your pressure points from taking up too much strain.
Is a King Size Mattress the one for you? If so, you can't go wrong with a Nectar King Size mattress.
Cons of a King Mattress
Not all is well in the king mattress paradise and you might find some factors that may not complement your needs.
Here are some drawbacks of a king mattress to look out for.
Needs a Big Room
While we are glad that a king-size bed dimension is impressively large, it also needs an equally large accommodation. So if you are thinking of getting this mattress for your standard size room, you need to take a step back as it will take up the entire space, which is not functional nor aesthetically pleasing. You need a bedroom that is at least 12 feet by 12 feet in size.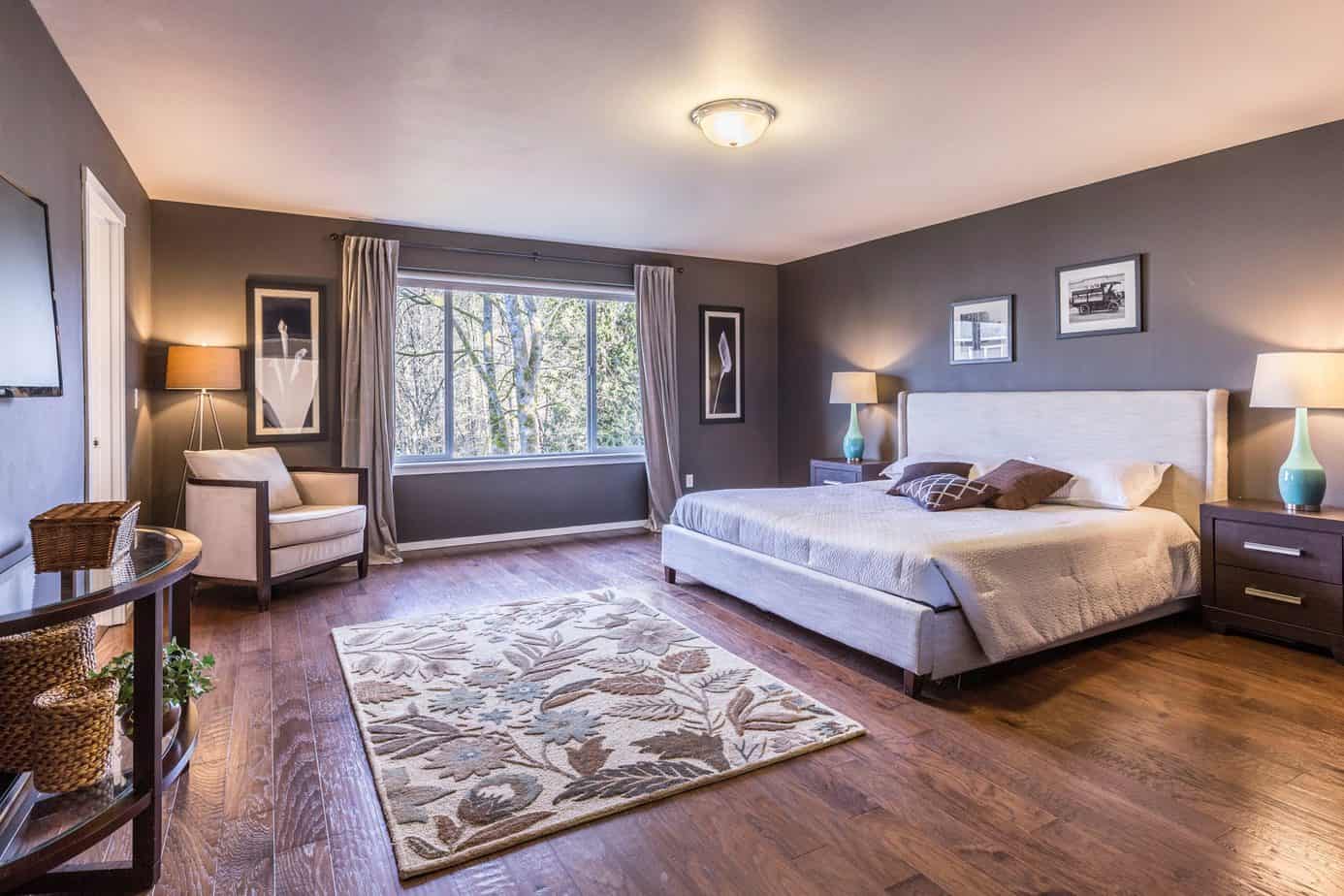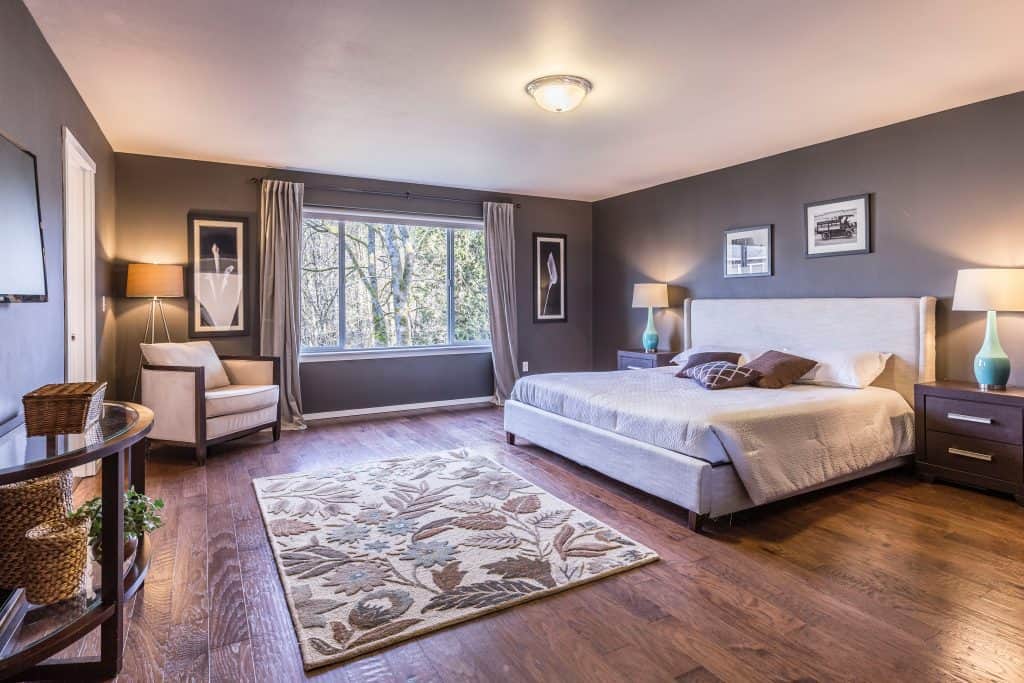 Not Easy to Move
If you are someone who moves around a lot, shifts houses a ton, then going for this mattress might not exactly be a wise idea. It is big and bulky, making it incredibly difficult to move without a bunch of strong arms helping you out.
Hard to Find Accessories
When compared to queen-size mattresses, finding accessories for your king-size bed is a task. Be prepared for some extra scouring and limited options.
A Little Expensive than Usual
A king-size mattress, owing to its size and build, is slightly more expensive than your usual queen or twin mattress. Moreover, since its accessories are hard to acquire, that also adds to the cost factor.
Pros
Allows free body movement
Sleeping on king-size mattress avoids space crunch and enables blood flow.
Thanks to its size, this mattress is pro-motion-isolation.
Sleeping on this mattress does not lead to any strain or pressure on the body.
Cons
It needs a big room
A king mattress is challenging to move around. It can be a hassle during moving day.
Its accessories are hard to find due to low demand.
A king-size mattress costs a little more than popular choices.
Points to Consider While Buying a Mattress with King Size Dimensions
Before you dive deep into your mattress purchase, here are some points you should keep in mind to avoid inconvenience in future:
Consider the Room Size
Before you zero in on a king mattress of your choice, it is essential to measure the room beforehand. Unless it is at least 12 feet by 12 feet, our suggestion is to go for a smaller mattress since a king mattress would take up the entire space. This would mess up the aesthetics as well as the utility of your bedroom.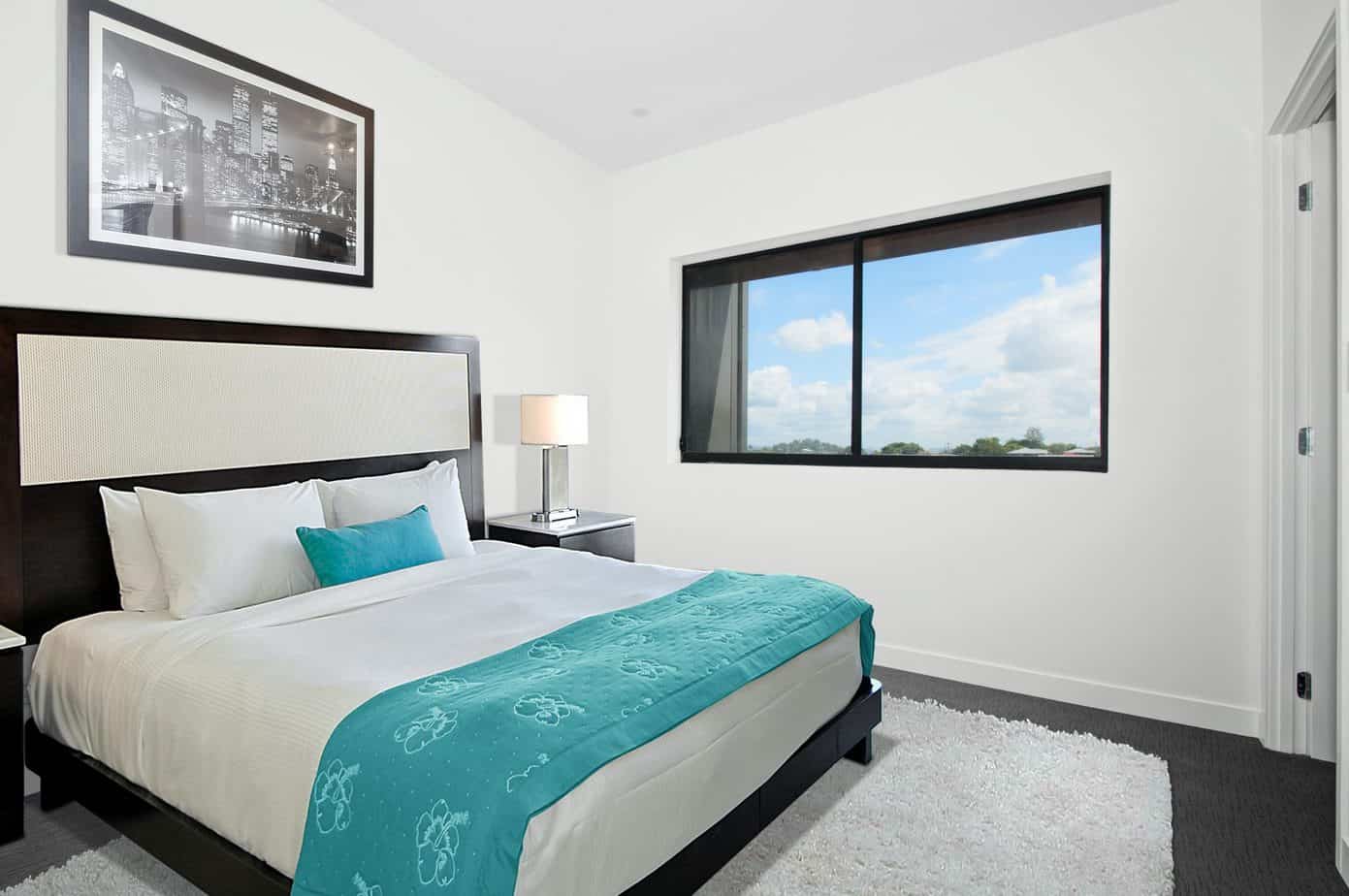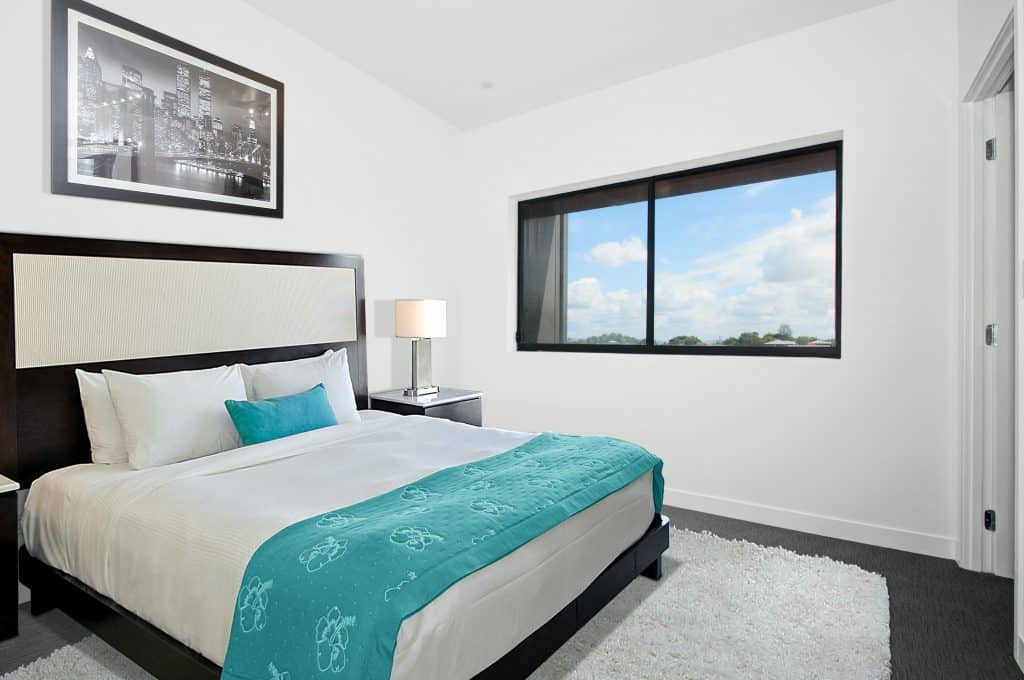 Your Home Shifting Activities
Do you move around a lot? Are you changing homes every year? Then maybe a king-size mattress wouldn't be an ideal fit since its size disrupts its mobility. Hauling this mattress and moving around can weigh heavily on your wallet as well.
Sleeping Activities
Are you someone who sleeps with a restless partner? Maybe they move around a lot or you need your space. If your answer is yes to all these questions, then by all means, go for a king mattress that can help you and your partner get good quality sleep.
What to look for while buying a King-size Mattress?
Warranty
Buying a mattress is by no means a small investment and like any average consumer, you want it to have a long shelf life. However, if you get a curveball, the warranty period can save you the effort and money that goes into buying a new mattress. Therefore, ensure that your new shiny mattress is protected by a sizable warranty period.
Trial Period
Ask your seller for a trial period on the mattress of your choice. This is to ensure that your mattress fits your needs, complements your sleeping habit and is overall good for your body and worth the investment. Do not shy away from asking for your trial period; afterall, you are going to spend at least 8 hours on that mattress every day.
Material
Though a king-size mattress is made of highly durable material, it pays to keep an eye on how the mattress is made and how it would affect you. A trial period should help you determine that.
Benefits of buying Nectar's King-size Mattress
The ultra-comfortable Nectar King Mattress is excellent for cocooning the body and keeping it cool.
The Coolest Mattress in Town
Beat the heat with the comfy Nectar king mattress. With the capability to allow a continuous air flow, this mattress ensures that your body remains cool and ideal for a good quality sleep.
365-Night Home Trial
Ensure that your Nectar king mattress is THE mattress that you want to continue your sleep quest on with a 365-day trial period. Yep! One whole year for you to determine your love for our comfortable mattress. We'll wait.
11" height – 5 Layer Premium Foam
Now, this does not get any comfier than this. Our Nectar king foam mattress is made of premium foam layers, rising up to 11" in height that gives you that soft, bouncy feel as you climb into the bed but does not allow you to sink in. A perfect combination of comfort and support. Here are the 5 layers that make your Nectar king mattress super comfortable.
Adaptive Hi Core Memory Foam: Your mattress knows your body and will adapt to your shape to offer custom support.
Quilted Memory Foam Mattress Cover: The soft and airy top member makes the mattress incredibly soft and snuggly warm.
Base Layer: The bottom layer that holds the mattress and regulates the movement of the sleeper.
Gel Memory Foam: It builds a smooth coating that avoids a lumpy sensation on the mattress and pressure on your back and shoulders.
Bottom Mattress Cover: Ensures that your mattress does not slip either on your bed frame or your floor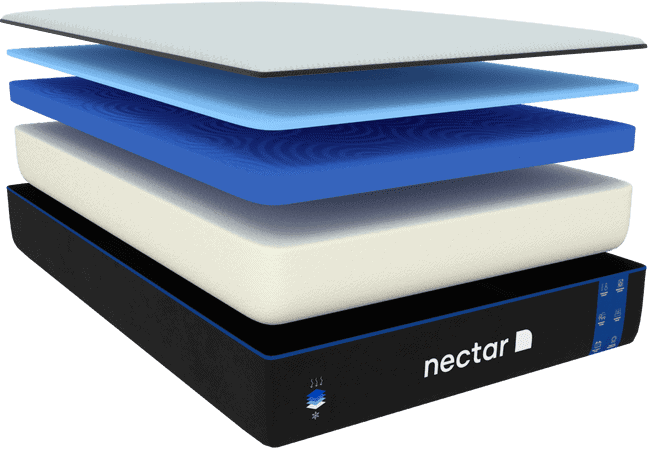 Embrace Motion Isolation
Our Nectar king mattresses are designed to help you sleep peacefully even in the company of a restless co-sleeper.
Quality Construction Materials
Your Nectar king-size bed is made of quality materials that makes it durable without compromising on comfort.
Medical-grade Visco elastic memory foam
Tencel long staple fiber removable cooling cover
5-Layer foam construction
High vegetable base super core 5 lb support foam
Hi core 9.2 grade transition foam
Feels Just Right!
The Nectar king mattress feels neither too soft nor too hard, thanks to its medium-firm memory foam that lies right in the middle of the firmness scale, giving your body the perfect hug and support.
Certified
Our Nectar mattresses are certified and fulfil the CertiPUR-US® standards for, durability, emissions, and contents.
Difference Between a Regular Nectar and Nectar Lush king-size Mattress
The Nectar Lush king mattress is an upgrade over the regular mattress experience and offers the following luxuries not available elsewhere:
12" layer made of premium materials. The top layer is 3" tall comprising phase change material while the subsequent layer is the 2" transition layer. The base layer comprises standard supportive polyfoam.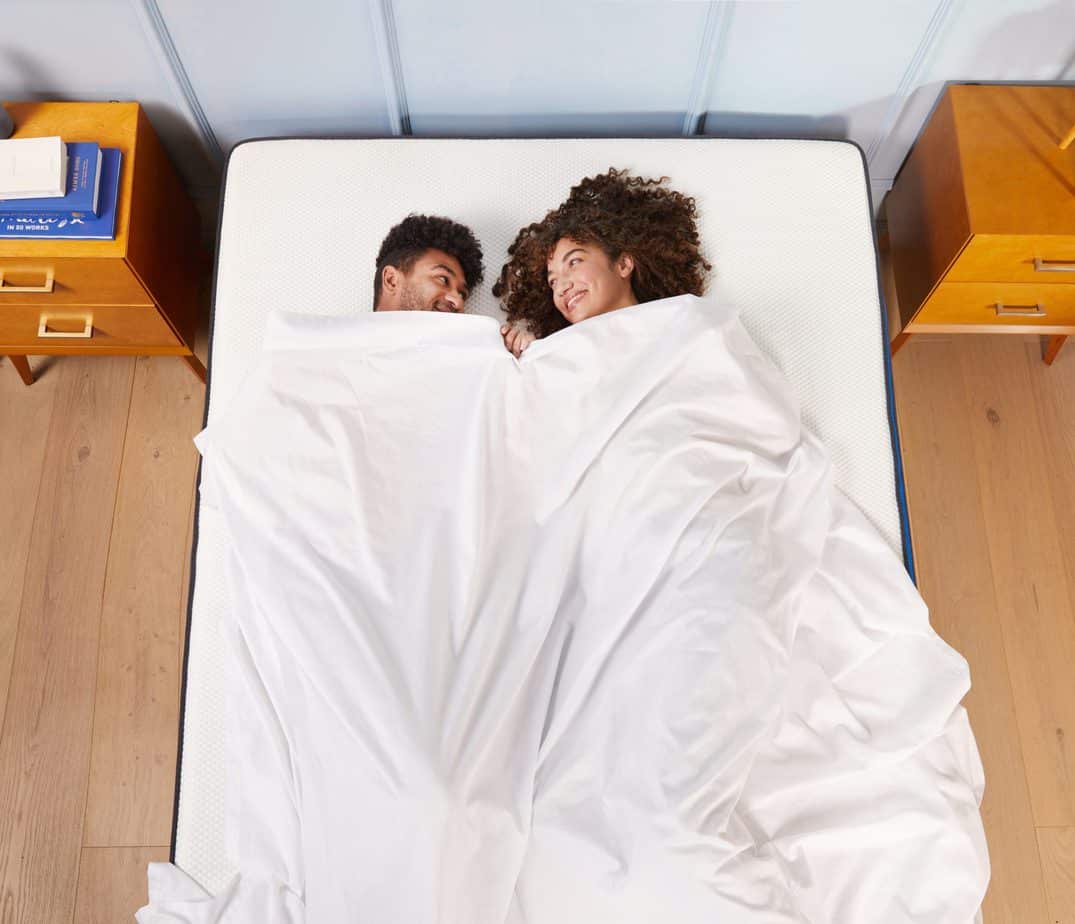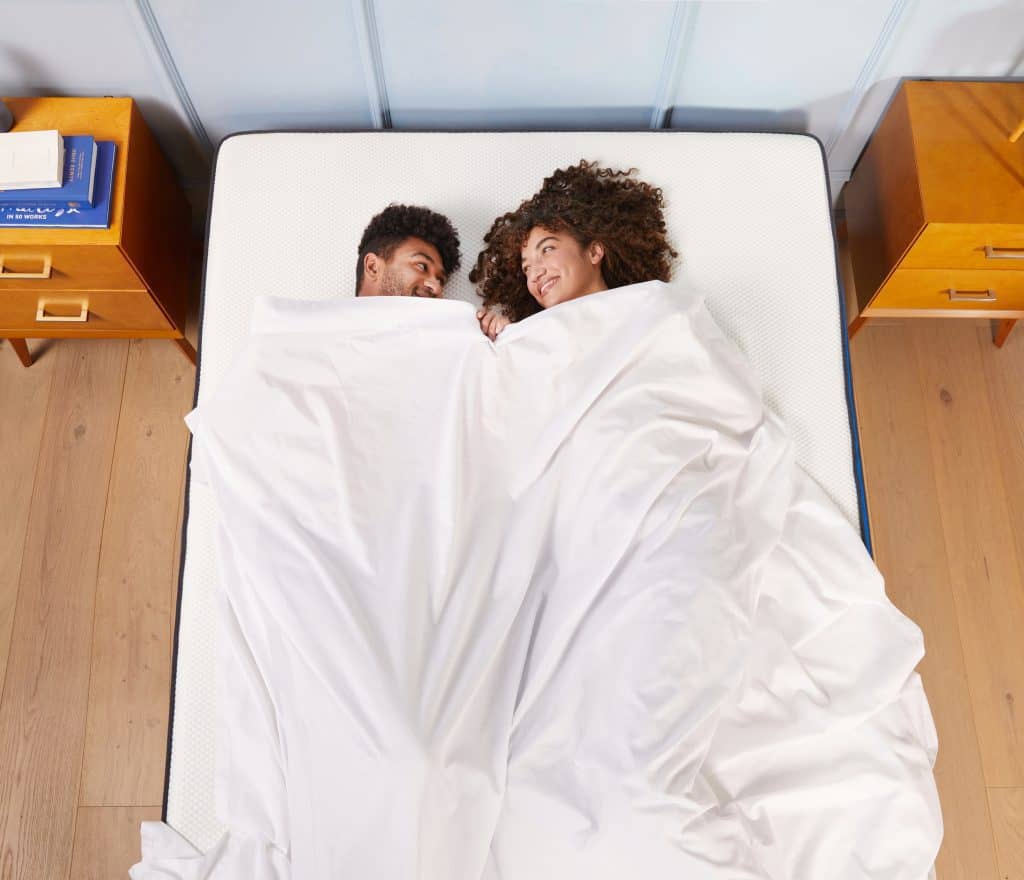 Superior support and pressure-relieving features.
Dual-action cooling, thanks to the phase changing material in the top layer.
Mattress Type
Regular
Luxury
Related Articles on Mattress Sizes:
FAQs
What is the difference between a King-size mattress and a California king-size mattress?
A king-size mattress is shorter than a California King-size mattress but has a greater width than the latter. king-size = 76" x 80" and Cal. king-size = 72" x 84".
What's the difference between a King-size and an Alaskan King-size bed?
The Alaskan king-size is square-shaped and 28 inches longer than a king-size mattress.
Is the King-size mattress worth its price?
Definitely! It offers more space and greater room for your body to breathe easy and rest comfortably. It is also a hardy and durable mattress that is definitely worth your time and investment.