If you have continued reading till this point, your upcoming question would definitely be how to increase deep sleep? Or how to improve sleep quality? Well, we have heard you and therefore offering you the tips on how to get more deep sleep. Deep sleep or slow-wave sleep amounts to only 10 to 15% of an average sleeper's 7 to 9 hours of sleep. It is during this time that the body heals; therefore, the minimum amount of sleep you receive in the deep state needs to be high by following the below tips.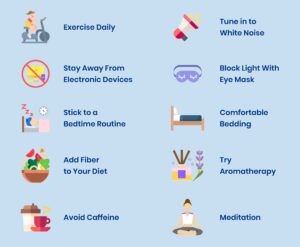 Say No to Electronic Devices
How often have you heard your parents asking you to put your phone or laptop aside at least 30 minutes before sleeping? Numerous times we suppose! The reason is, blue lights prevent melatonin production, the hormone that furthers your body's sleeping. Melatonin hormone is beneficial in balancing the circadian sleep-wake rhythm and reminds the body that it's time to rest. 
You may say that your phone has a screen protector light offering an orange hue, but isn't it best to simply put all tech gadgets off your grasp and have a healthy deep sleep? If you wish to relax, just engage in some reading or drawing, or maybe put on some music for deep sleep - it works!
Make Way For a Chilly and Shady Ambience
One major key to knowing how to sleep deeper is having a shady and cool bedroom as it amps up melatonin production. Sleeping in a cool and calm bedroom will result in the utmost relaxing sleep. To know how to achieve deep sleep, you simply need to put on warm and cozy blankets that will lull you to sleep. Wondering if you will feel chilly? Our bodies have a mechanism known as thermoregulation that helps our body balance temperature. However, you must avoid sleeping in a room owing to extreme heat - 90 degrees Fahrenheit or more. 
Even if you cannot control the temperature, you can opt to wear light clothes during summer, place an extra fan, eat cooling food, and so on.   
Organize Yourself a Bedtime Routine 
How about an aesthetic bedtime routine to help you get some deep sleep? Organizing a bedtime routine that might include a warm shower, meditation, yoga, slow music like jazz, reading your favorite book, or similar activities can be incorporated to gift yourself a deep sleep. In fact, studies have shown that children who were associated with a nighttime routine concluded with a deeper sleep state than the ones who didn't. 
Be Consistent With your Bed Time
One of the answers to how to induce deep sleep is to achieve consistent bedtime. Maintaining a uniform bedtime schedule and rise time, your body's circadian rhythm becomes compatible and stringent. This way, your body automatically reaches a point when you don't have to force yourself to sleep.  
Pick the Comfiest Bedding
Choosing bedding material and pajamas made of cotton, Tencel or bamboo is the most appropriate option. Wearing these materials will ensure long hours of stage 4 sleep or deep sleep. 
Bring On Some Aromatherapy
Start using essential oils like lavender or clary sage - the names themselves release a soothing vibe. To know how to improve sleep quality or get more deep sleep, simply start relaxing more by using aromatherapy. It controls stress, limits tension, diminishes heart rate, and promotes calmness. Simply put 6 to 10 drops of essential oils into a spray bottle (if you don't have a diffuser), and spray it into the air before you doze off. 
Incorporate a Healthy Diet
Wish to know how to get more deep sleep? Avoid those heavy and rich high-carb dinners! Having heavy meals is highly troublesome as it leads to acid reflux once you lay down. Instead, opt for low-carb dinners like cottage cheese, celery, peanut butter, and similar ones. 
Time For Some Exercise
When it comes to knowing how to get more deep sleep, it is time to indulge in some 30 minutes of religious exercise. Exercising thrice a week for around half an hour results in boosted heart rate and working on the muscles. Aerobic exercise is the best way to release endorphins, and this is the chemical that keeps you attentive throughout. Why not spend some time working out in the early morning sunlight as it reduces melatonin production during the day? After a rigorous workout, your body will soothe down, and you will have a decrease in the endorphin level, and you will feel sleepy.
Spend On a New Mattress and New Pillow
Doesn't it feel ultra-comfortable to sleep on a new mattress and new pillow? The freshness that your receive is fantastic! Moreover, if you think you are not receiving the minimum amount of sleep required - 7 to 9 hours for adults, you might as well consider changing your pillows and mattress. This way, you will be able to spend some exclusive time with yourself only shopping.
Consume More Fiber
If you wish to know how to get more deep sleep, it is time you start consuming more fiber. Apart from the superb fact that it will also aid in weight loss (and who doesn't want that??), it also helps with improving sleep quality. Studies have shown that people who consume fiber result in a prolonged time of deep sleep. During the daytime - breakfast or lunch, try incorporating more fiber into your diet, which is one of the keys to inducing deep sleep.