How to Dispose of A Mattress: Complete Mattress Disposal Guide
Is your old mattress causing discomfort? Are you waking up with body aches? Then it is time to get a new one. But how do you get rid of the old one?
Of course, you cannot dump it on the streets. Your neighborhood will not like that, and landfills are overflowing with tonnes of waste. So, what should you do?
Don't worry. We will take you through how to dispose of a mattress and all mattress disposal options so that you can do away with your old mattress without feeling guilty about creating waste.
How to Dispose of a Mattress?
How to get rid of a mattress? It depends on several factors. Some states might have recycling laws that can help you dispose of your mattress, while states don't have any laws or recycling centers. Here are the options you can consider.
Donate It
If your mattress is still in decent condition, you can donate it to those in need. Some local charities and businesses accept mattress donations. Moreover, they can arrange for a free pickup if needed.
Here are some of the places you can donate your used mattress:
You can also contact shelters for the homeless, churches, and rehabilitation centers. They might require an old mattress.
When you donate mattresses, you are helping someone to have a better life. What can be more fulfilling?
Recycle It
Each year about 20 million mattresses end up in landfills in the US. You surely don't want to contribute more. What can you do about it? Call up your nearest mattress recycling service.
Bye-Bye Mattress – They aim to reduce the ever-increasing burden on landfills. You can take their help to locate mattress recycling centers near you.
Earth 911 – Enter your zip code, and they will guide you to the nearest recycling center. Isn't that super simple?
City resources – Get in touch with the municipal offices in your city. They have departments for trash and recycling.
When you recycle mattresses, you are saving the Earth from more waste. That sounds like a good option, right?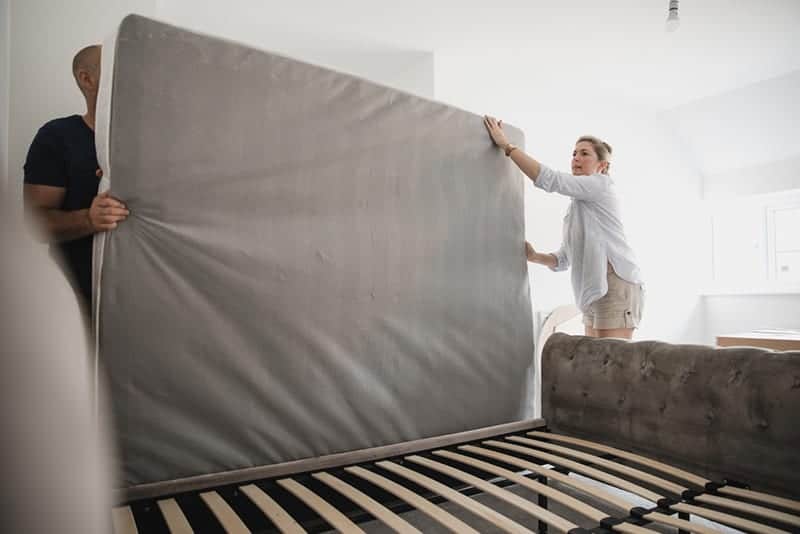 Read our blog to know more about how to recycle a mattress.
Resell Your Mattress
You might be thinking, " Where can I throw away my mattress for free?" Wait. We have better news for you. What if you could earn some money by doing away with your mattress.
Is your mattress in good condition? Then you might not want to donate or recycle it. Selling it off can help you earn some quick money.
Here is how you can go about selling your mattress:
Use Facebook – You can post it on social media platforms like Facebook. Who knows? Someone from your network might be looking for a used mattress. So, sell a used mattress and make a few bucks.
You can also try out Facebook marketplace. There you will be able to reach a wider audience and also list your price. If someone wishes to buy, they'll get in touch with you.
Advertise on Craigslist – You can use this platform all over the world. They let you place a free ad. People interested in buying the mattress can contact you through their site.
You can also put out an advertisement in print or electronic media if you wish.
Repurpose It
Want to get creative with your old mattress? Here is your chance.
Your mattress contains various things: wooden parts, steel, screws, latex, and foam. Let's look at some ways in which you can use them.
Rugs and Carpets – You can use the foam and fibers as padding for your rugs, carpets, or dog bedding. You can also make some decorative pillows and cushions out of them.
Home repair – You can use the padding and foams in your mattress to repair that old blanket or rug. Moreover, you can use them to insulate your furniture while transporting.
Gardening – Your mattress might contain wooden slats. Use them to make a cool compost bin in your garden. You can also break down the wooden parts to use as compost or lawn mulch.
Decorative Items – Mattresses come with a lot of springs and screws. You can transform them into things such as ornaments and candles. Your loved ones will feel elated if you gift them something handcrafted.
You can check out other creative ideas on Pinterest. Don't restrict yourself. Let your juices flow and transform your old mattress into a piece of art.
Throw It
How to throw away a mattress? So, throwing your mattress away is the last option. If you can't donate, sell, or repurpose it, you need to get rid of it somehow.
Different states have regulations on how to discard a mattress. You need to know the rules specific to your area.
The authorities can fine you if you leave your used mattress with the trash. Some places might require you to wrap it in a plastic bag before dumping it.
Here's what you can do if your state doesn't let you dump your mattress with regular waste.
Call Load Up – It offers mattress disposal services in all 50 states in the US. You need to give them a call, and they will pick up your mattress from home. They can also take your mattresses infested with bed bugs.
Apart from their old mattress pick-up service, they can also remove other junk like old furniture.
1-800-Got Junk – It is another junk removal service. They can pick up your mattress on the same day. However, you cannot give them your bed bug-infested mattress. You just need to call their hotline and schedule a time.
JDOG Junk Removal – It is a junk removal company run by the military and war veterans' families. They assess the condition of your mattress. If it is in a decent state, they send it to a recycling center. So, your used mattress won't end up in a landfill.
When you throw out your mattress, make sure it doesn't affect society and the environment.
Things to Consider Before Disposing of A Mattress
1. Check Your Mattress Warranty
Don't discard your mattress without checking if it is within the warranty period. Most manufacturers provide a warranty of 5 to 10 years. So, if it gets damaged within that period, they will replace it.
You also need to check what the warranty covers. For instance, if your warranty doesn't cover mattress removal, you will have to do it yourself.
2. Look Up Your State's Policies
Some states like California, Connecticut, and Rhode Island have mattress recycling laws in place. The law in these states requires the manufacturers to provide you with a reliable solution to discard your mattress.
If you live in Los Gatos or Bay Area, you can get fined for throwing out your mattress with other waste. So, it is better to check your state's regulations before deciding what to do with your old mattress.
3. Consider the Condition of the Mattress
Is your mattress in a miserable state? Or can you use it for some more time? Maybe you can give it away to someone who needs it.
What if the mattress is no longer usable? Then you can recycle it. But, throwing out your mattress should be the last option.
4. Be Socially and Environmentally Responsible
Even if there aren't any laws, can you throw your mattress anywhere? You should be responsible while getting rid of a mattress. Ask yourself if it will cause any harm to the environment or the other members of society.
How to Find a Mattress Disposal Near Me?
If you are confused about where to dispose of a mattress, you can contact your local waste disposal services. Google can help you locate the nearest mattress disposal services for you,
It can cost you around $20 to dispose of your mattress. It is not a hefty sum. So, make sure you take the help of waste disposal services for proper recycling of your mattress.
But, how to dispose of old mattresses for free? You can donate it to a charity. Some of them even have their pickup services.
Signs You Need a New Mattress
Now you know how to dispose of a mattress properly. But, how will you understand it's time to get a new one? Let's take a look.
You see the edges of your mattress getting ripped and worn out.
You can feel the coils of your mattress. It can prevent you from getting some sound sleep.
Your mattress has started sagging, and you wake up with aches all over your body.
If lumps are forming in your mattress, it's time to get that mattress disposal bag.
Creaking sounds wake you up in the middle of the night. It could be because of the nasty springs in your mattress.
Your mattress smells, making it hard for you to sleep.
You are waking up with itches and allergies.
Your mattress is infested with bed bugs. They can suck off all your blood!
You can feel your partner's movements. It can disturb your sleep.
Your mattress doesn't seem cozy and comfortable any longer.
Your mattress is more than ten years old.
Read our blog on how long does a mattress last and how long you can use your mattress before discarding it.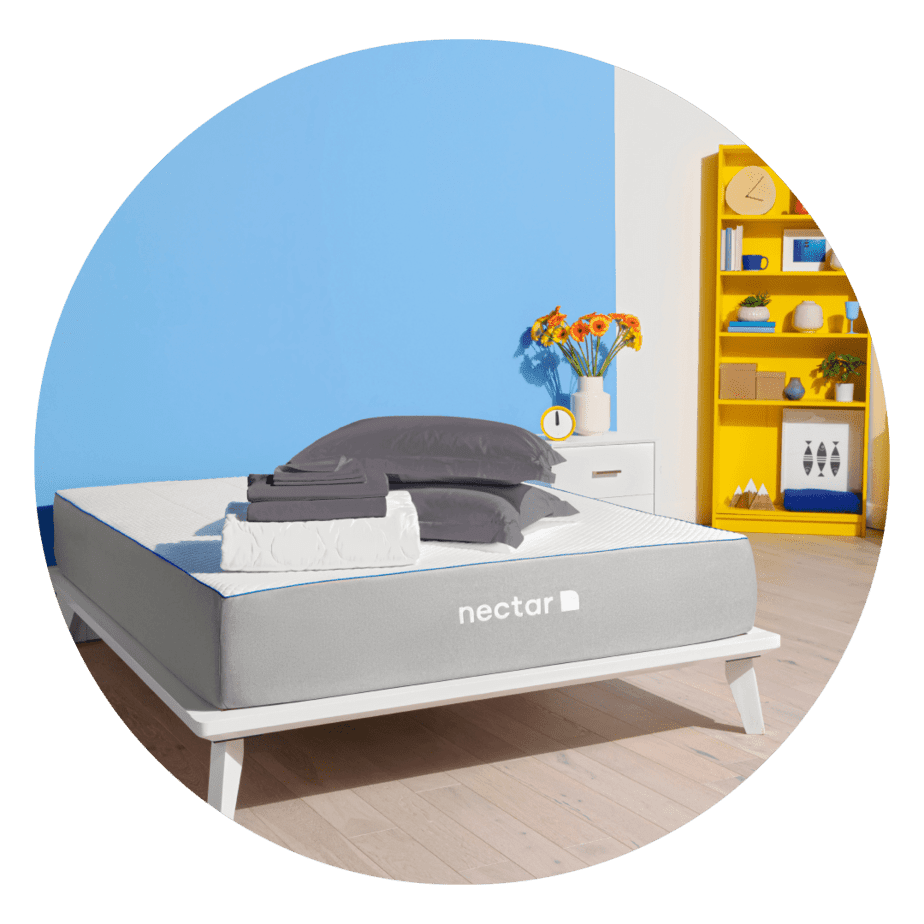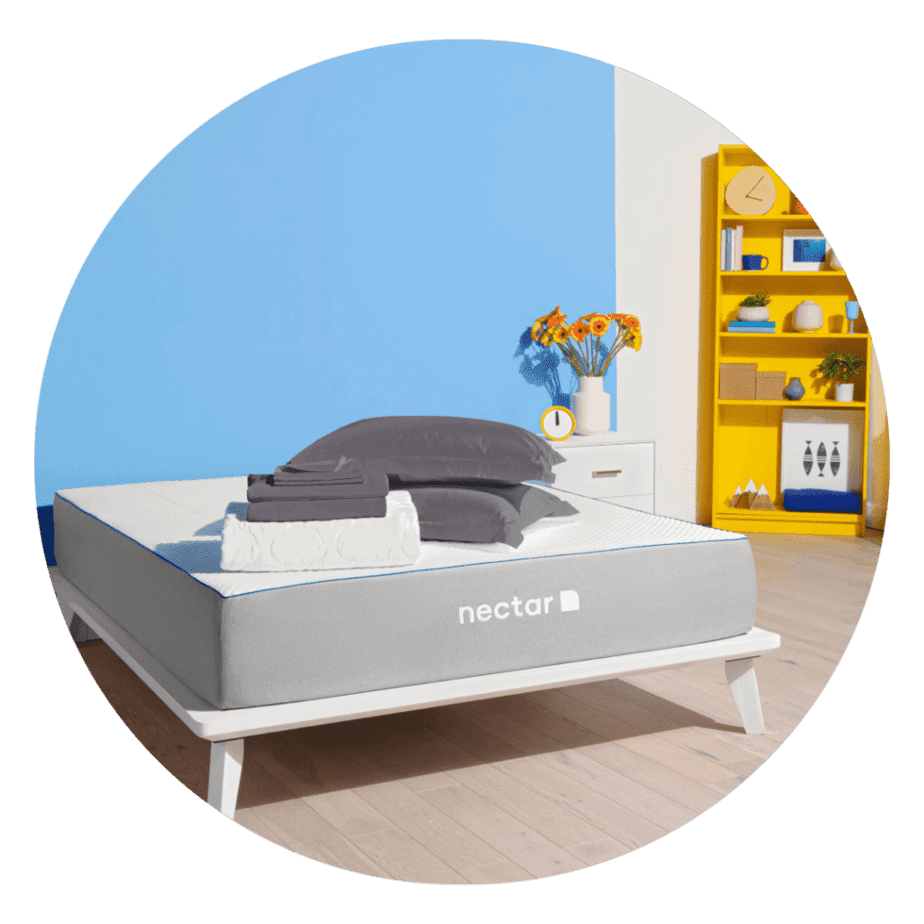 Check Out the Nectar Mattress
Premium memory foam mattress hugs your body and keeps you cool

The Bottom Line
Getting rid of old mattresses is not a cakewalk. You have to keep several things in mind. Following our tips will help you minimize environmental damage. The US discards 18.2 million mattresses each year. And the landfill workers have a tough time. Make sure you don't worsen the problem.
A perfect mattress is one that gives you a good night's sleep. The mattresses from Nectar Sleep come with a lifetime warranty. So, you can close your eyes and rely on the quality. However, You need to replace your mattress every 10 -15 years to ensure the same comfort level.
Before buying your new mattress, you can check out the different mattress types on our blog.
FAQs
How much does it cost to dispose of a mattress?
The cost of mattress disposal depends on the agency whose services you are hiring. It can cost you a maximum of $ 50. However, if you are wondering how to dispose of old mattresses for free or free mattress removal options, you can read the section above on how to donate them.
How to dispose of a mattress with bed bugs?
Some mattresses disposal services like Load Up offer to take your mattress with bed bugs. However, you have to inform them in advance.
How much mattress removal cost?
Mattress removal might cost you around $ 20 to $ 50. For free mattress disposal options, read the article above.
What parts of a mattress can be recycled?
You can recycle almost every part of a mattress. The latex and foam can be used as a filling for rugs and carpets. You can use the springs to make decorative items for your house. Moreover, you can get creative with the fabric and use them in your DIY projects.
Why recycling a mattress is good for the environment?
Landfills in the United States are overflowing. So, throwing out your mattress will only add to the waste. Moreover, it contains several non-biodegradable materials that can harm the environment. Therefore, recycling your mattress is best for the environment.
Can I burn my mattress?
If you are thinking about how to get rid of a mattress for free, there are many ways. But do not burn it. That will release harmful and toxic materials into the air. So, you cannot burn your mattress if you are concerned about the environment.
Do old mattresses cause allergies?
Old mattresses might be home to millions of dust mites. They can cause allergies. You can get sneezes, runny noses, and red eyes.
Do charities take old mattresses?
Yes, there are several charitable organizations that take old mattresses. NGOs like Habitat for Humanity can take your used mattress. However, make sure it is in decent condition. After all, you cannot donate your mattress if no one can use it.
Can I take my mattress to the dump?
You can take your mattress to the dump. But it depends on the laws of your state. You must be wondering, " Where can I dump a mattress?" You can dump it with other waste if the law allows you. But remember to wrap it in a plastic bag and seal it before disposing of it.
How to dispose of a mattress and box spring?
If your mattress comes with a box spring, you need to separate it from the mattress first. Then you can put it in your regular trash can. Alternatively, you can use the box spring to make something out of the box. ( like a plant stand)