Headboard Sizes Chart & Dimensions Guide
Headboards serve a dual purpose. They provide support to your back when you are sitting up in your bed. Moreover, they uplift the appearance of your bedroom with their aesthetic look.
Headboards come in several designs and sizes. You must choose the right size to match your mattress and your room. Our headboard sizes chart will help you make an informed decision while buying your bedding. This blog will also take you through the different types of headboards, helping you understand which is the perfect fit for your bed.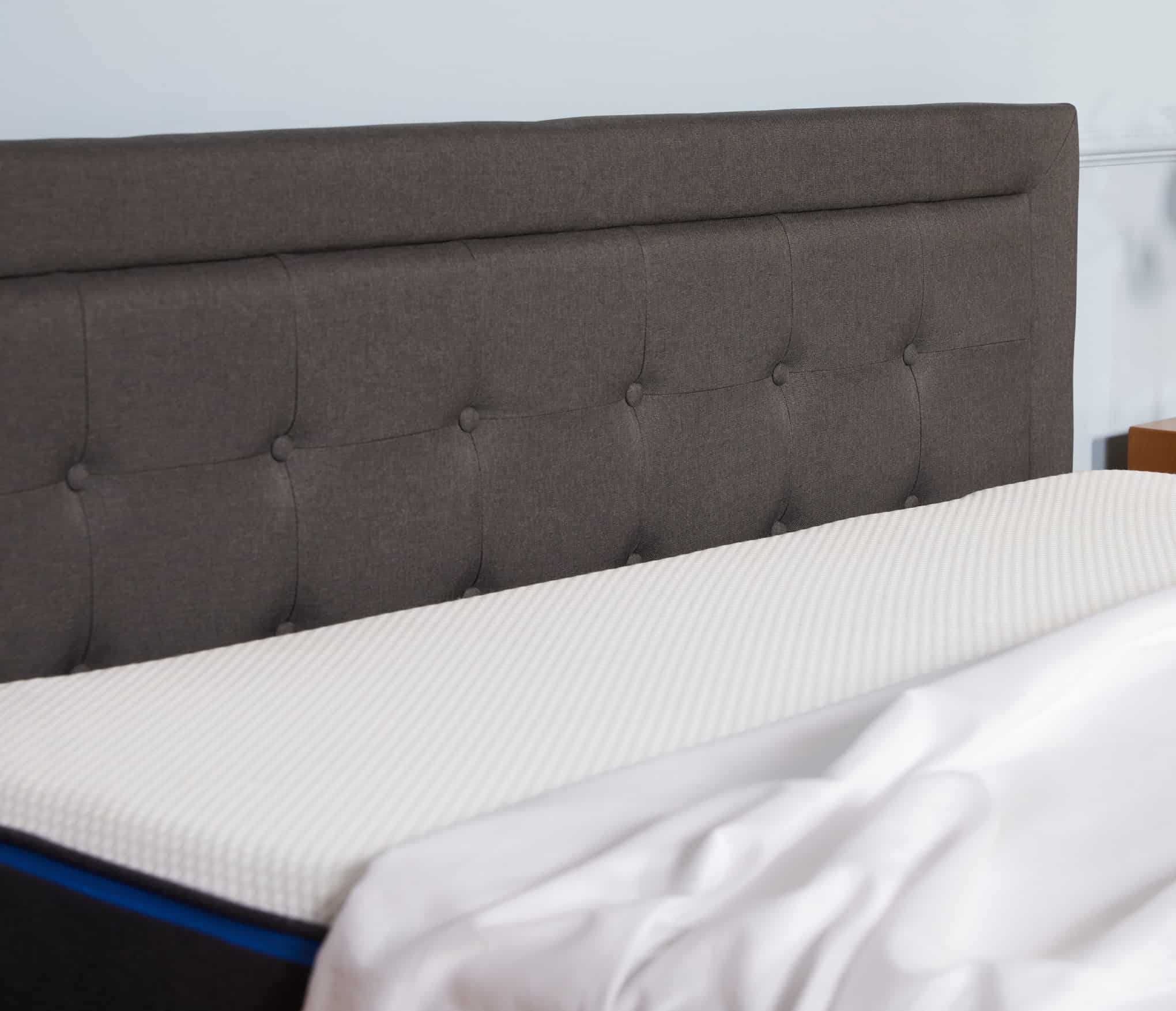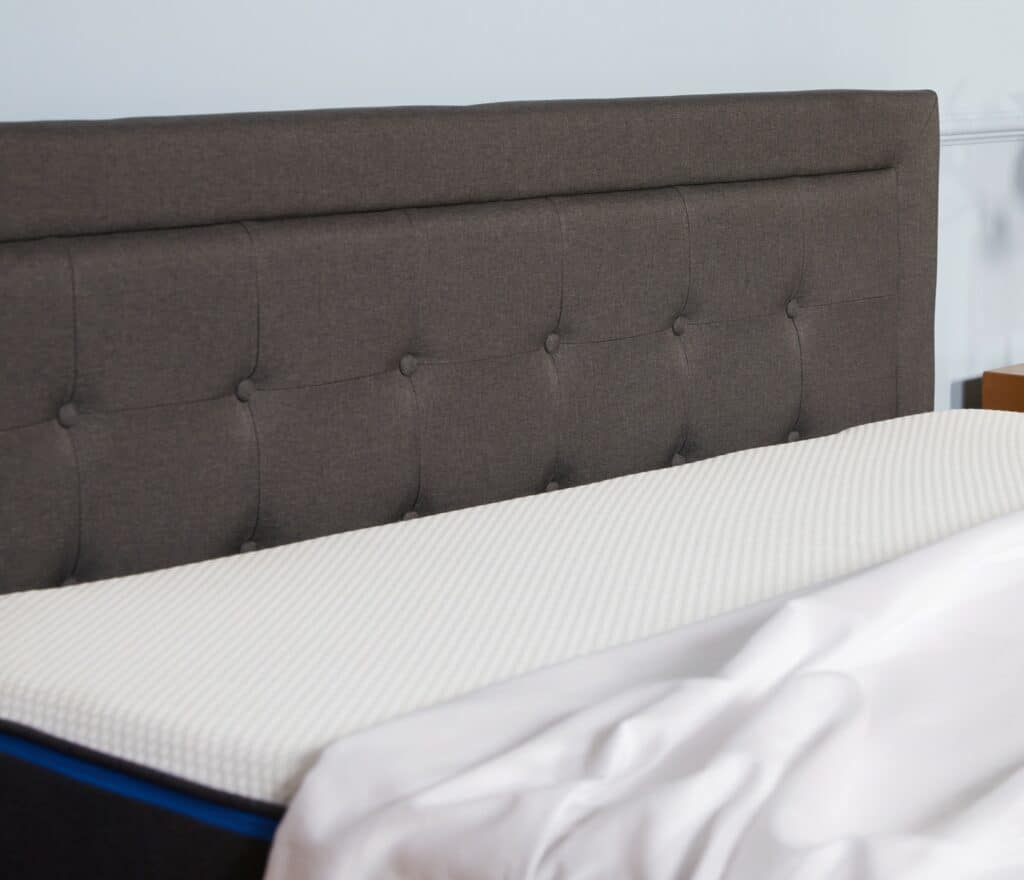 Nectar Platform Bed With Headboard
Perfect for contemporary bedrooms, the Nectar Bed Frame with Headboard is stylish and sturdy.
Headboard Sizes Chart
Bed Size
Headboard width
Mattress dimensions
Recommended Room Size ( in ft)
Recommended Room Size
(in inches)
Twin
41 inches
38 inches by 74 inches
7 feet by 10 feet
84 inches by 120 inches
Full
56 inches
54 inches by 75 inches
10 feet by 10 feet
120 inches by 120 inches
Queen
62 inches
60 inches by 80 inches
10 feet by 10 feet
120 inches by 120 inches
King
80 inches
76 inches by 80 inches
10 feet by 12 feet
144 inches by 144 inches
California King
74 inches
72 inches by 84 inches
12 feet by 12 feet
144 inches by 144 inches
Headboard Widths
The width of the headboard should be compatible with your mattress size. The table above lists the standard mattress sizes and the headboard dimensions suitable for each of them.
You can buy a headboard that is slightly wider than the mattress. Leaving a space of two inches on each side will make your bed look better. Keep this extra space in mind so that you don't end up cluttering your room.
Extra-wide headboards might look magnificent in a large bedroom. However, they will only add to the congestion in small rooms. So, make sure you consider your room size while buying a headboard.
Headboard Heights
You don't measure the height of a headboard from the ground. Rather it is measured from the level of your mattress.
Your headboard looks decent when its height is less than the length of your bed. If it is higher, your room might look dark and congested. However, high headboards look good in large and spacious bedrooms.
Bed headboard heights start from 14 inches above your mattress. And king headboards can be as high as 56 inches.
Tall Headboards
Tall headboards add to your bed height and prevent your head from banging against the wall. So, there's nothing to worry about if you doze off while reading your favorite book on the bed.
A tall headboard can be as high as 56 inches. It goes well with a king or Californian king bed and looks best in a room with high ceilings. Well, a high headboard might not fit in a room with a low ceiling. It might also look out of place.
Low Headboards
Low headboards are short in height, ranging from 10 to 12 inches above your bed. They are best for children's beds. You can also use them with twin and full-sized beds.
Most modern-day apartments have tiny rooms, and a large headboard might clutter your room. Low-profile headboards can make your bedroom look spacious.
Headboards should, however, match with sizes of beds. Make sure it doesn't look too small for your bed.
Adjustable Headboards
Adjustable headboards are a great option if you are unsure about headboard dimensions. They come with metallic legs that you can pull up or down to adjust the height of the headboard.
Suppose you are buying a new mattress or bed frame. Will you buy a new headboard? Having an adjustable headboard will save you precious money. You only need to increase or decrease its height to match your new bed. It will also come in handy when you shift to a new house. That's because you can increase its height if your new room is more spacious.
Sadly, not all headboards are adjustable. But you can increase or decrease the height of your headboard even if it is non-adjustable. How? You can make your mattress thinner to make the headboard look taller. Alternatively, you can lift your headboard from the floor and pin it at a higher level to increase its height.
Types of Headboards
Headboards are made of different materials like wood and metal. Their thickness varies depending on the material.
When you buy a headboard for your bed, you must make sure it matches the size of your bed. Moreover, it should go well with your room decor and not appear odd.
Wooden Headboard
Wooden headboards are the most popular ones because of their classy and majestic look. They can be a perfect fit in any room, whether it has traditional or modern decor.
You can get wooden boards made of pine, oak, or maple. Plywood boards are cheaper but not durable like pine or oak.
Wooden headboards are polished to give them a shiny look. At times, they are also painted in shades of black or grey for a simple and low-profile appearance.
You can use them with all bed types. However, they are most appropriate for poster bed frames for their regal looks.
Upholstered Headboard
If you are looking for a package of comfort and style, upholstered headboards are the best option. They are made of soft and cozy fabrics like velvet or linen to let you rest your head while sitting up in bed.
You will get spoiled with choice as they come in several eye-catching and attractive colors and designs. Some might have beads and buttons engraved on them to give a more cheerful look. While others come in simple printed designs.
The price of upholstered headboards depends on the materials used in the fabric.
Types of Upholstered Headboard
Free Standing: These headboards are standalone, and you can attach them to the wall or bed frame.
Straight: Straight headboards come in a rectangular shape. They might have different floral patterns printed on the fabric covering them.
Tufted: If you buy a tufted headboard for bed, it will have beads and buttons sewn on the upholstery. That gives it an elegant look.
Wood-framed: These upholstered headboards have fabric in between and a wooden border on the perimeter. It adds a decorative touch.
Upholstered headboards are best suited for children's bedrooms due to their bright colors and eye-catching designs.
Metal Headboard
Metal headboards are made of brass, aluminium, stainless steel, or wrought iron. They are quite popular these days for their simple design. Moreover, they are rust-free and durable.
You cannot have too many decorations on them as it would lead to chipping. Metal headboards are perfect for small bedrooms due to their minimalistic look. You can also opt for them if you want your room to be sweet and simple.
Storage Headboard
Storage headboards come with shelves and drawers to accommodate your essentials like clocks, books, etc. You can also keep decorative items on the shelves.
Made of wood, these are big headboards. So, you need a spacious room to accommodate them. A storage headboard will look out of place in small bedrooms, and give a cluttered look to your room.
Do you need a headboard?
The purpose of a headboard is to fill up the gap between bed and wall. It prevents you from bumping your head against the wall. So, if you want to protect your head, you can consider getting a headboard.
Headboards were originally designed to act as an insulating layer. The wall would radiate the cold of the outside environment, and the headboard would keep you warm. However, these days they have taken a decorative role. A headboard of your choice can define the appearance of your bedroom and make it look classy or modern.
Final Word
If you are confused with the different headboard styles, you can bring home the bed frame with a built-in headboard from Nectar Sleep. That will save you time, money, and effort as you will not have to buy a headboard separately.
FAQs
How to fix the gap between the mattress and headboard?
To fix the gap between the mattress and headboard follow the simple steps:
Use decorative pillows to fill the space between the mattress and headboard.
Try lowering the height of the headboard if it is adjustable
Choose a high bed frame or foundation
What are the dimensions of a queen size headboard?
Queen size headboard dimensions range from 60 to 62 inches in width. So, they might be oversized headboards for small rooms.
How do you measure for a headboard?
While taking headboard measurements, measure the width of your mattress first. You can then add 2 inches to it because your headboard should be slightly wider than your mattress.
What is the average headboard height?
The standard headboard height ranges from 14 inches to 58 inches above your mattress. You can choose the height depending on your mattress size, the average height of the bed, and the size of your room.
Does a headboard have to be against the wall?
If your bed doesn't come with a built-in headboard, you have to keep the headboard against the wall.
Can you put a headboard on an adjustable base?
Yes, you can put a headboard on an adjustable base. That will help you adjust the bed height according to your convenience.
What is the average price of a headboard?
The average price of a headboard depends on its size, the materials used, and the decorations on it. Basic headboards can cost you around $150. However, sophisticated and decorative headboards might cost even up to $1000.