Detailed Mattress Comparison
A queen size mattress is bigger than a full size mattress in length as well as width. A queen mattress is 6 inches wider and 5 inches longer than a full size mattress. While a full bed comfortably accommodates a single sleeper, a queen size mattress is better if you share the bed with another person. However, there is a little more to consider before choosing between full vs. queen size mattresses.
We list down the differences between a full and a queen-size mattress along with the pros and cons of each size while to help you make the right choice.
Parameters
Full Mattress
Queen Mattress
Size

| | |
| --- | --- |
| IN: | 54" x 75" x 11" |
| FT: | 4.5 X 6.25 X 0.92 |
| CM: | 137.16 X 190.5 X 27.94 |

| | |
| --- | --- |
| IN: | 60" X 80" X 11" |
| FT: | 5 X 6.67 X 0.92 |
| CM: | 152.4 X 203.2 X 27.94 |

Price
$699
$799
Bed Size
54 × 75 inches
60 × 80 inches
Recommended Room size
9 × 9.6 feet
10 × 10 feet
Comfortably Fits

Single adult with a pet or a child
Growing teens

Couples
Individuals taller than 6 feet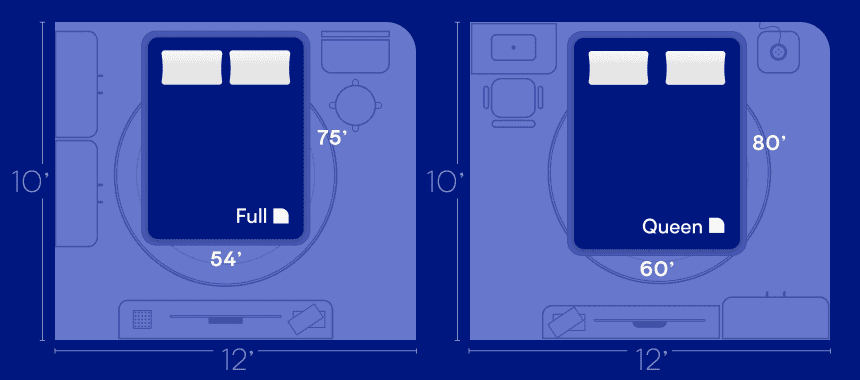 What is a Full Size Mattress?
A full-size mattress or a double bed is 54 inches wide and 75 inches long. It is 16 inches wider than a twin bed but smaller in length and width than a queen bed.
Full-size mattresses are great for teenagers, single sleepers, and adults sharing their bed with a child or a pet. Full-size beds are a great choice for rooms smaller than a master bedroom, like the guest bedroom.
Also Read: Full Size Bed Dimensions – A Comparison Guide
Pros
Ideal for teenagers and single adults
Easy to move
Less expensive than queen
Good option for small rooms
Cons
Too small for couples
Limited space for tall individuals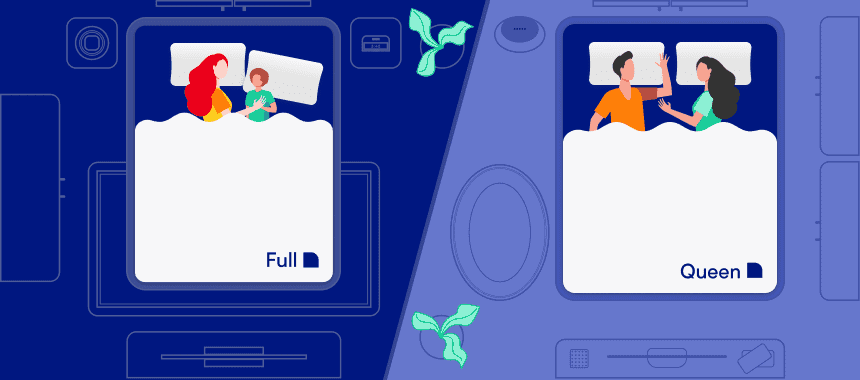 What is a Queen Size Mattress?
A queen-size mattress measures 60 inches by 80 inches. It's seven inches wider and five inches longer than a full mattress. Larger than a double bed but smaller than a king and California king-sized bed, Queen size bed is the most popular mattress size on the market.
Queen-size mattresses are the most preferred option among single adults and couples who like to sleep close to one another.
Also Read: Queen Bed Dimensions – A Buying Guide
Pros
Suited for single adults or couples
Easy to accessorize
Perfect for master or guest bedrooms
Cons
Bulkier than full
Priced higher than a full size mattress
---
Queen vs Full size mattress: What should you consider before buying?
Room Size
For a queen size mattress, a master bedroom or a room that is at least 10 by 10 feet is recommended. Consider it for the larger bedroom in your house because it is bigger than a full size mattress.
A full-sized bed occupies less surface area than queen beds. If your room is 10 by 10 feet or smaller then consider using a full-size bed as it will take less space than a queen bed. This allows you to add furniture and have more freedom to move around in the room.
Accessories
Full and queen mattresses are both popular sizes so you will find multiple accessories that fit the sizes well. Both a full and a queen can be accessorized with two pillows or more, depending on your personal choice.
Naturally, sheets for a queen size mattress will cost more as it is bigger in size than full size mattresses. However, the price difference may not be big considering that the size difference is small.
Budget
Generally, a full bed is less expensive than a queen-size mattress because it is smaller in size. You can expect anything between a hundred or a few hundred dollars difference in price between a full and a queen-sized mattress.
Bed Size
If your bed is smaller than 60 inches in width and 80 inches in length, then consider using a full bed. A full size mattress will fit perfectly on a bed that is 54 by 75 inches (do check the design and the measurement of your bed).
A queen size mattress is better suited for beds closer to 60 by 80 inches as it is bigger than full size mattresses. Anything smaller and it can cause the mattress to hang from the sides. The size and dimensions can change from brand to brand. Take note of the same before you purchase the mattress.
Height
For people over 6 feet, a full-size mattress at 75 inches long may feel cramped. On the other hand, queen beds provide more length for tall individuals as it is longer than a full bed by 5 inches.
---
More on Mattress Sizes
---
Choosing Between Full vs Queen
If you're looking for more space, especially when you sleep with someone else or have pets, a queen size mattress is probably the best choice. However, if you are looking to fill your guest room, a full-sized bed could be the less expensive option here. Full size beds are also easier to move around the house, making them a little more versatile.
In the queen vs full bed debate make sure you keep the above factors in mind before making your decision.
---
How we compare to other Brands?
We offer a 365-day trial period and a warranty that lasts forever! If you don't believe us go ahead and compare our offer to other brands. Apart from being one of the largest mattress sellers in the United States, we give you 9 reasons why nectar may be your best and the last mattress you purchase.
Sleep Trial
Warranty
Free Shipping *
Free Return
2 Free Pillows
Free Sheets
Free Mattress Protector
Price (Queen)
Total Price
Nectar
365 Nights
Forever Warranty™
$799
$799
Shop Mattress
Casper
100 Nights
10 Years
$178
$139
$95
$1,095
*$1,507+
Purple
100 Nights
10 Years
$196
$99
$1,149
*$1,444+
Shop Mattress
*Price reflects the subtotal of mattress protector, sheets and two pillows (Single pillow for twin/twinxl) compared to the current promotion on Nectar. Additional shipping fees may apply in AK and HI. Price may not reflect any current promotions or discounts. Last Updated: Mar 2021.


Get upto $399 in Accessories Today
So long sleepless nights!
FAQ's
What is the difference between a full and double mattress?
Afull mattress is sometimes also called a double bed, but there's no difference between both as such. The offered amount of sleeping space is also the same.
Full size vs. queen size bed- which is better for single adults?
Between full vs queen size bed, both are suitable for single sleepers. The only consideration here is height. If you are taller than 6 feet, prefer a queen size mattress or a twin XL over a full for the extra space.
How much bigger is a queen than a full size mattress?
A queen size mattress is seven inches wider and five inches longer than a full mattress. Full vs queen dimensions vary according to the brand, so it's necessary to check the same.
Does nectar sleep have memory foam mattresses?