Top 5 Folding Beds in 2021 – Including A Guide To Purchase
A folding bed – the minimalist's best friend. Or even for those who love to be efficient with space. Be it a time when there are a lot of people staying at home or your new home in that bustling city where your bedroom and living room are one.
What is common in these vastly different situations? Lack of space.
Cue in, the folding bed.
The right bedding plays a huge role in our physical health as well as mental health. How?
Bad mattress = Low Quality Sleep = Dysfunctional mental and physical health.
Lucky for you, a good night's sleep is not directly linked to the space you have. A folding bed that can be extended and compressed away as you please is the most efficient use of small places.
Have guests over? Unfold this bed and voila! You prefer minimalism and conventional beds are too big for your taste? A folding bed can be spread out when you need.
Perhaps this is why folding beds have climbed the rungs of the popularity ladder in recent times as more and more people are chasing their dreams in the big city.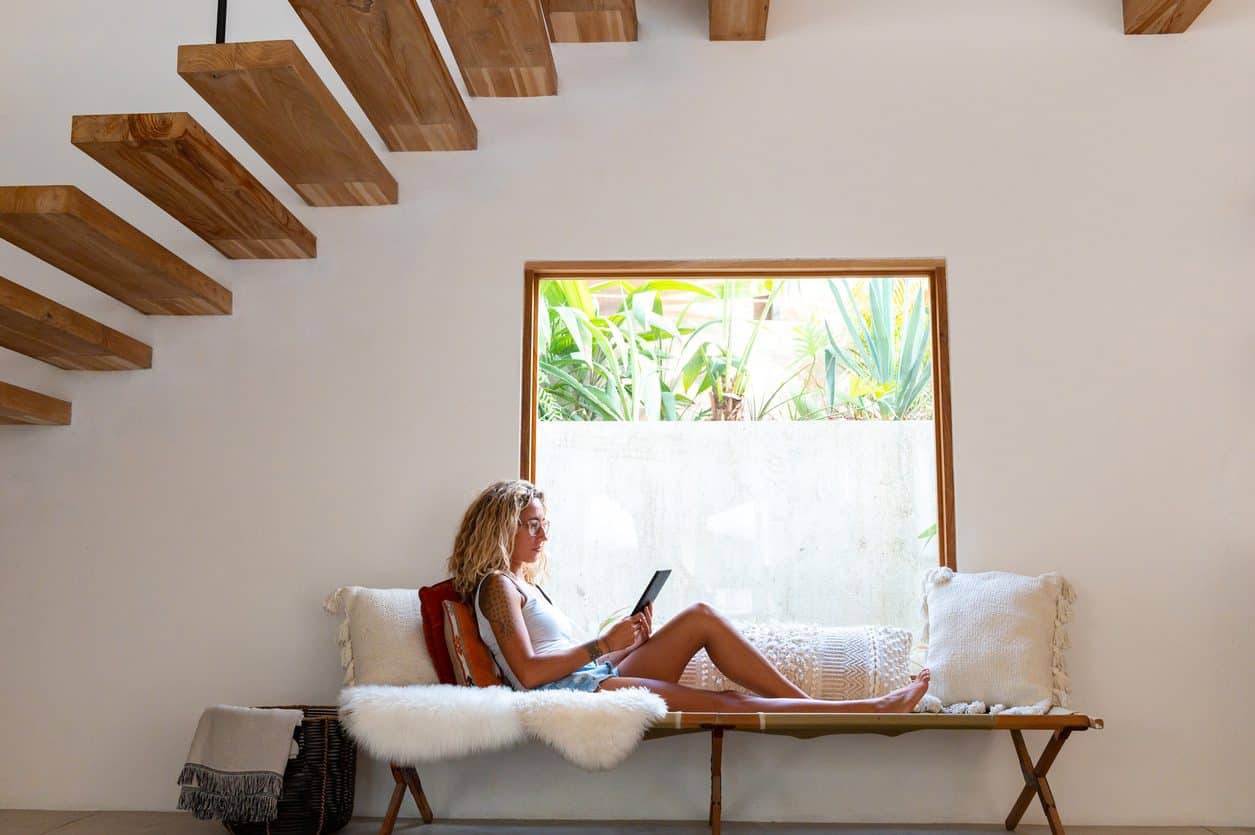 What is a Folding Bed?
A folding bed as the name suggests is a bed that is lightweight and can be folded as needed. It is an innovative bedding solution for those who are short on space, who prefer to lead a minimalist life or play hosts to frequent visitors. These beds are also used in hostels and boarding schools as well.
If you are looking to buy a folding bed, it should be comfortable, durable and compact. They should also be easy to use with an uncomplicated setting.
Are you looking for other types of mattresses? Check out our Mattress Types Guide.
When should you use a folding bed?
A folding bed is a very reliable and flexible furniture that can be used almost everywhere.
Guest Rooms: Since guests are not meant to stay all year round, these mattresses can be spread out in case of company and tucked away again once they are gone.
Children's Room: Some parents prefer a folding bed for their children as they grow rapidly before settling on a more permanent sleeping situation in their teenage years.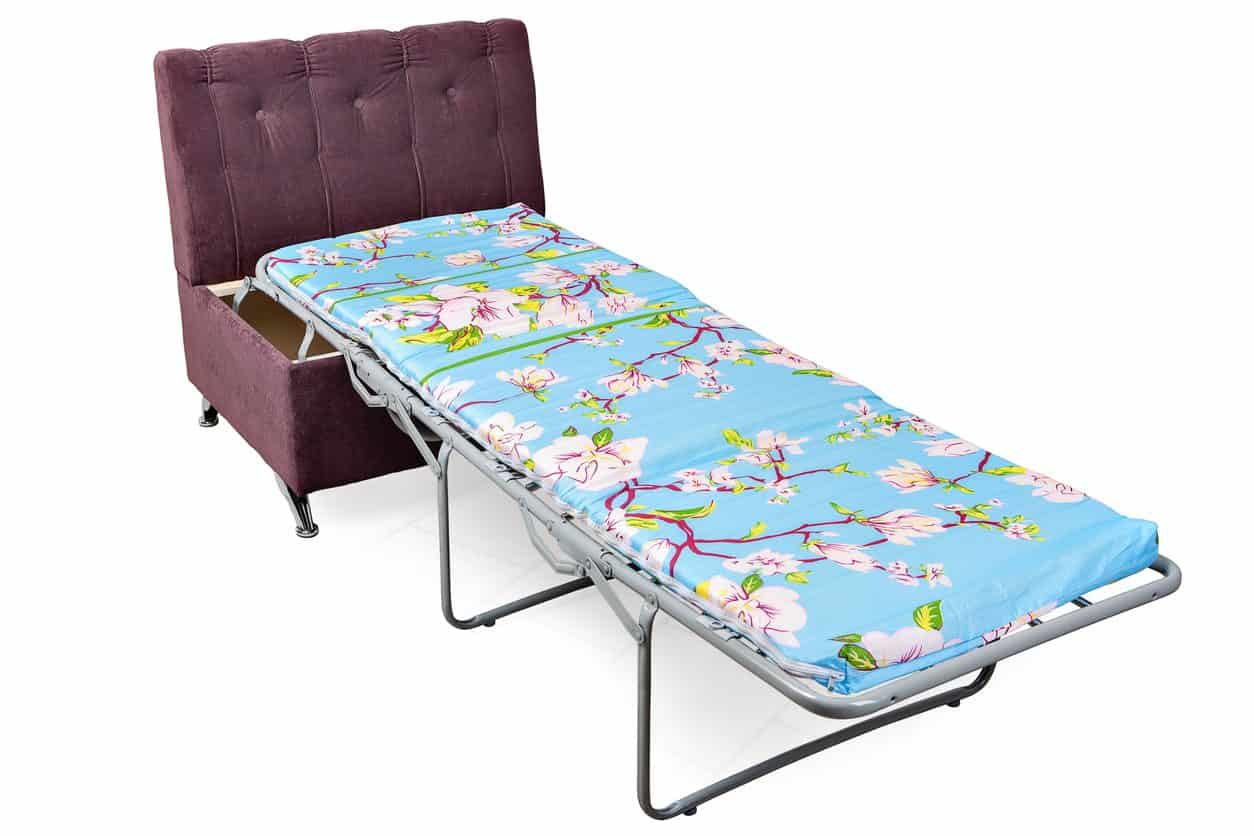 Benefits of a folding bed
Can be Stored Easily
This is perhaps the foremost reason of its popularity. A folding bed can be easily pushed under bed, shoved behind a closet, tucked inside that closet or kept behind a door with no compromise on the regular movement in and around your space. Hence, the first choice for your guest bed.
It is Easy to Transport
Lightweight and durable, a folding bed can easily be transported from one place to another. The agenda of making these foldable beds was to make traveling with a bed easy and non-cumbersome. This is why you can often find hikers and campers taking up foldable mattresses along with them. While some may argue that a futon executes the same function, it is not as comfortable as a foldable mattress.
It is Versatile
Now if you thought a foldable mattress can only be used for a bed frame, think again. This mattress can easily be deployed for your sofa cum bed, an extra seating space (some can be folded up as seats), footrest or even as pillows in some cases.
Easy on Your Wallet
While they are definitely more expensive than a futon, it is still cheaper than most mattresses out there. The price range often depends upon the brand but overall, a folding bed is pocket friendly. This is why it is often used in rather budget conscious households where they can sleep well knowing they have saved a few hundred dollars.
Great for Children
We know that children can make any place their playground. In homes, it is usually the mattress that bears the brunt of their activities. In such cases, using foldable mattresses on ground can help take the pressure off the beds and also offer more space for them to play around without hurting themselves. This is especially helpful when your children are wrestling enthusiasts. Moreover, if you are hosting sleepovers for your children, these foldable beds can be used as substitute beds for other children as well.
Easy to Find Accessories
Owing to their size, it is fairly easy to find accessories for foldable beds. Moreover, you can also take the covers off the mattress and clean them on a regular basis. Most covers can be washed in a washing machine.
Are you looking to get rid of your old mattress? Have a read on mattress disposal methods.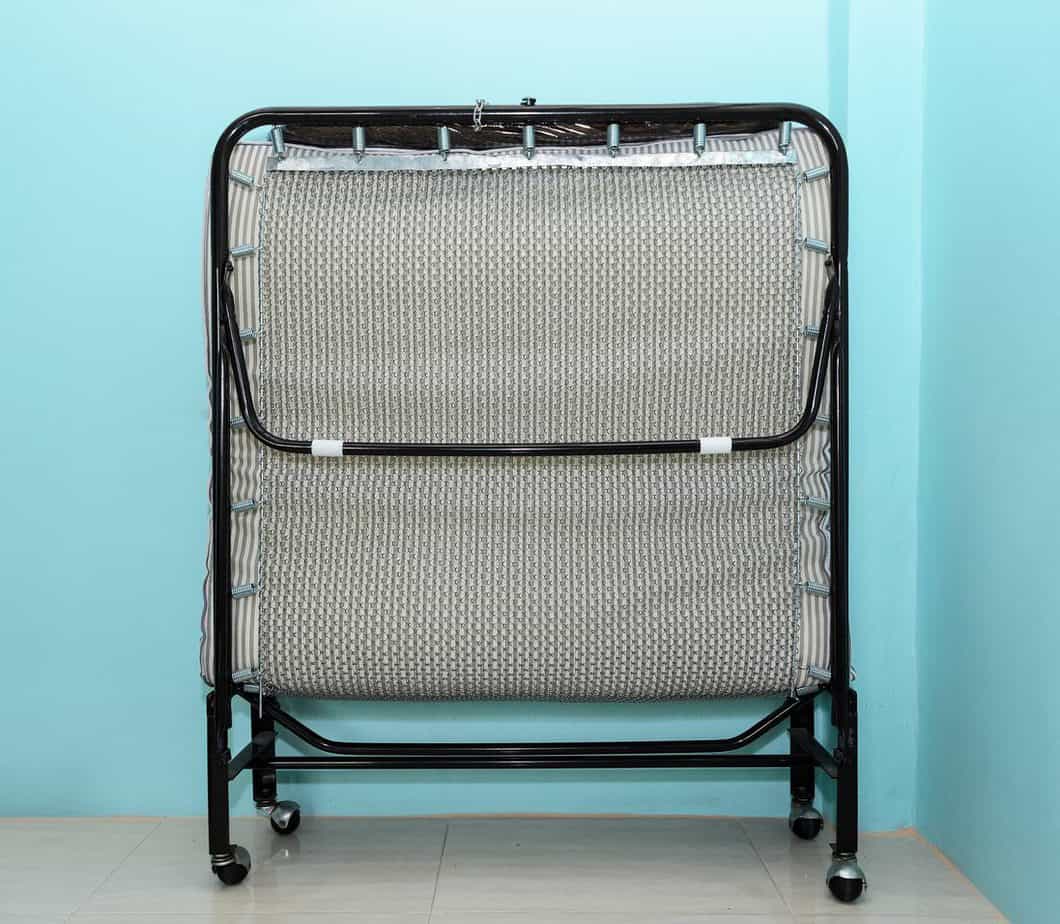 Disadvantages of a Folding Bed
Not Very Comfortable
While foldable mattresses do not compromise on basic quality, they do not offer the comfort similar to a memory foam or latex mattress. For many, a foldable mattress might be too thin which can lead to body aches and subsequently impact the quality sleep. Critical places like hospitals and elderly care do not use these mattresses, despite being easily portable.
Affects Pressure Points
Due to the structure of a foldable bed, its ability to distribute weight is quite low. This leads to strain on pressure points like shoulder blades, neck or lower back. For the side sleepers, this mattress leads to a pressure build up on forearms and hips and is therefore, not the right choice.
Lack of Motion Isolation
If you are sleeping with a restless partner on a foldable bed, its ability to absorb that movement can lead to disturbance on your side, also known as motion transfer. Hence, a foldable mattress is not an ideal choice for couples.
Top 5 Foldable Mattress in US
While selecting the mattresses for this criteria, factors like portability, ease of use and its material for some of the characteristics that were considered.
Zinus Tri-Fold Comfort Mat
This tri-fold bed is a combination of one inch memory foam with two inch thick viscolatex responsive foam and one inch of density rich base support foam. It is plush to use and can be easily rolled up and stored when not in use.
| | |
| --- | --- |
| Customer Rating | 4.9/5 |
| Firmness | 7/10 |
| Trial | NA |
| Plus Points | More supportive than an average foldable mattress |
Cushy Form Tri-Fold Mattress
This too is a 4-inch thick foldable mattress made from polyfoam which is enclosed in a soft & removable zipped case. While it is comfortable to use, it is also easy to carry, thanks to its zippered case.
| | |
| --- | --- |
| Customer Rating | 4.7/5 |
| Firmness | 6/10 |
| Trial | NA |
| Plus Points | The zippered case makes it easily portable. |
Cozzzi Tri-Fold Folding Mattress
This is a triple layer folding bed made from polyfoam with a 4-inch thick profile. It is lightweight and affordable.
| | |
| --- | --- |
| Customer Rating | 4.5/5 |
| Firmness | 6/10 |
| Trial | NA |
| Plus Points | Great budget without any compromise on quality |
Milliard Tri-Folding Memory Foam Mattress
This double layer tri-folding mattress is made from 1.5 inch memory foam placed on top of a 4.5 inch thick supportive base, totalling upto 6 inches of comfort
| | |
| --- | --- |
| Customer Rating | 4.4/5 |
| Firmness | 7/10 |
| Trial | NA |
| Plus Points | Added thickness which is great for heavyweight or tall sleepers. |
Lucid Folding 4 Inch Firm Memory Foam Mattress
Its innovative design enables it to double as a sofa in addition to its traditional role of a mattress. Made from 0.5 inches of memory foam, resting on top a 3.5 inch thick high-density support foam for the extra support. For easy cleaning, it is encased in a zippered outer cover.
| | |
| --- | --- |
| Customer Rating | 4.4/5 |
| Firmness | 4/10 |
| Trial | NA |
| Plus Points | Can be used as a mattress as well as a sofa. |
Would you prefer to own a mattress in a box instead? Explore this new step of mattress packaging and why it makes much more sense.