Duvet vs Comforter: Know the Difference
While both duvets and comforters act as blankets, there is a slight difference between the two. A comforter is a single piece of blanket whereas a duvet has two pieces- a cover and an insert.
Knowing the difference between duvets vs comforters can help you make the right shopping decision. This blog will take you through everything you need to know to be able to make an informed decision before choosing between a duvet or a comforter.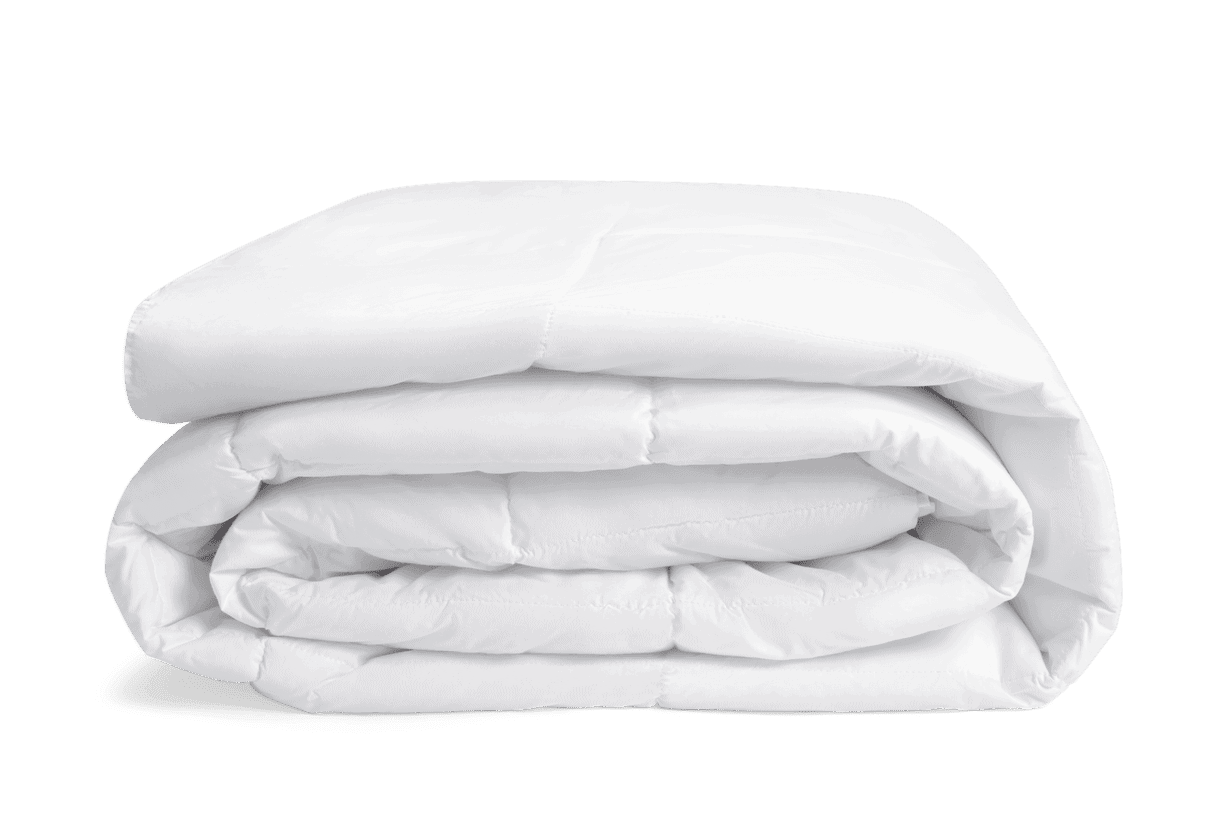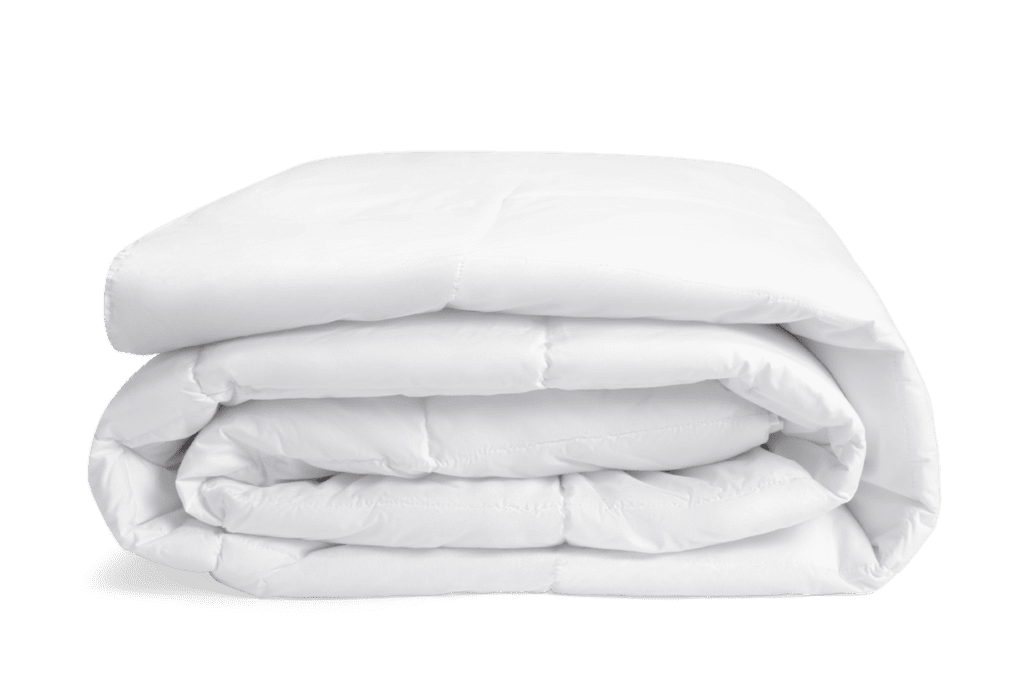 Nectar's Hit the Hay White Duvet
What Is a Duvet?
A duvet is a soft blanket filled with down or feathers. It is not quilted and has a bare look because a duvet is used with a cover. A duvet insert is a soft blanket that you put inside the cover.
A cover is an outer case that protects your duvet insert. The cover is removable and can be washed separately which helps increase the lifespan of your duvet. You also get duvet covers in multiple colors and designs allowing you to customize your bedroom as per your mood.
Pros and Cons of a Duvet
Pros
Super easy to clean
More versatile since the cover comes in different styles
Lightweight and comfortable
Cons
The filling is prone to clumping together
Can be difficult to assemble if the insert doesn't fit well in the cover
Provides less coverage than a comforter
What is a Comforter?
A comforter is a quilted blanket that is usually filled with down, cotton, or down alternatives. A comforter is ready to use as you buy it and doesn't need a cover
Comforters generally come in matching sets that have bedsheets and a pillowcase for the same bed size. So, you do not have to run around to buy each piece of bedding separately.
Pros and Cons of a Comforter
Pros
Cheaper than a duvet
Ready to use as you buy it
Comes with matching bed sheets
The filling is evenly distributed and will not clump.
Cons
Not easy to clean since they are quite heavy
They can flatten over time
Difference Between a Comforter and a Duvet
Though people tend to use the terms interchangeably, there is a difference between duvet and comforter.
A comforter is a single piece of bedding. But a duvet comes in two pieces- a cover and an insert. So, a comforter is much easier to use and assemble. However, maintaining a comforter is more difficult than a duvet since you have to wash the whole blanket.
A comforter is quilted or stitched. That means the filling is evenly distributed. So, the chances of clumping are low. A duvet is not stitched. The duvet insert works as the filling which may get clumped easily.
Duvet Sizes vs Comforter Sizes Comparison
There are several duvet and comforter sizes. This table will guide you while you purchase your bedding.
| Size | Duvet | Comforter |
| --- | --- | --- |
| Twin-size | 66″ x 86″ | 63″ x 87″ |
| Full-size | 80″ x 86″ | 63″ x 92″ |
| Queen-size | 90″ x 90″ | 78″ x 87″ |
| King-size | 104″ x 90″ | 84″ x 92″ |
So much about comforter and duvet sizes. But are you confused about mattress sizes? Check out our mattress sizes dimensions guide.
Things to Consider While Choosing Between a Duvet and a Comforter
Price
A duvet comes in two pieces. You have to buy the insert and the cover separately. So, they can be more expensive. However, comforters are single pieces and will cost you less.
Duvets are made of down or feather and are more expensive compared to comforters that have synthetic alternative fills available. Make sure to consider your budget before shopping for bedding.
Style and Design
If you would like to give a layered look to your bed, comforters are the best option. You can keep them over your top sheet. They will hang on the sides. Moreover, comforters come with matching bedsheets to make your bedroom bright and colorful.
Duvets offer a simple and cozy look to your bed. Duvet sizes are made to fit your mattress perfectly. So, they don't hang from the sides.
Duvets have a cleaner look as most duvet covers are white. Moreover, duvets tend to be fluffier. So, if you want that simple and dreamy bedroom, you can pick a duvet.
Maintenance
A comforter is a single bulky blanket that has to be washed frequently as it does not come with a cover. Washing such a big piece of bedding is difficult and sometimes dry cleaning is the only option for your comforter.
A duvet allows you to easily strip off the cover and put it in the washer. It's as simple as that. You can change the duvet cover if it gets stained or too dirty to use.
Which is Better – a Duvet or a Comforter?
You can choose a duvet if:
You want something easy to maintain.
You have a higher budget.
You want to change the appearance of your bed frequently.
You want to give a fluffy look to your bed.
You can choose a comforter if:
You don't want to go around buying separate pieces of bedding
You want something ready to use
You want to give your bed a layered look
Check out our blog to know the different types of blankets that can keep you warm on a chilly winter night.
FAQs
How to use a duvet cover?
Put your duvet inside the cover. You can either tie the ends, zip it, or button it up depending on the type of duvet cover it is. The cover helps to protect your duvet from dirt and dust. It's machine washable and thus easy to maintain.
Can you put a comforter in a duvet cover?
You can put your comforter in a duvet cover to protect it if you need to.
Can you use a duvet cover without an insert?
No, a duvet cover will not be able to provide you the warmth of a duvet. If you ask how to use a duvet, the best way is to put the insert in the cover and use it together.
Is a duvet cover the same as a comforter?
No. A comforter is a quilted blanket that will keep you warm. A duvet cover is a soft and thin sheet of outer covering for your duvet.
What is the best material for a comforter?
The best material for a comforter depends on your personal preferences. If you are prone to allergies, you can go for cotton filling. However, wool and polyester will keep you warmer as they tend to trap heat.
What type of comforter is best for hot sleepers?
While there are many types of comforters, you can go for one with a cotton filling if you are a hot sleeper. Cotton is super breathable and will prevent your body temperature from rising.