Different Types of Pillows: Which One Is the Best for You?
The ancient Chinese and Egyptians made pillows out of wood and stone. Yes! You heard that right. But, that was back in 7000 BC and their main function was to prevent insects from crawling into the mouth, nose, or the ears of the person sleeping.
Today pillows serve a different purpose, that of providing comfort.
Luckily, we live in an age where we can choose pillows based on our sleeping pattern and our personal preference. Let us walk you through the different types of pillows available in the market and how to choose one based on your lifestyle and sleeping position.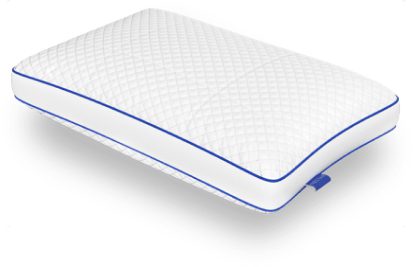 Meet the Best Memory Foam Pillow
Pillow-in-pillow design with quilted memory foam outer shell, plus Tencel cooling fabric and active ventilation so you are always sleeping on the cool side.
7 Types of Pillows for Your Comfort
1. Standard Pillows
Measuring 20 by 26 inches, they are the most common of all pillow types. Visit any store, and you will find this pillow size with multiple stuffing options and in a wide price range. They are average sized and can be used on almost any bed shape or size. They are usually made of cotton or polyester fibre and are the cheapest option available.
Pros
They work for most people
They are affordable and easy to style
Cons
They may not be the best type of pillow for all sleepers
Hard to find design options
2. Cotton Pillows
Cotton is one of the best pillow materials. For a long time, cotton pillows were the only pillow type available. However, they have taken a back seat in the face of stiff competition from synthetic pillows. But if you are old school and want pillows that regulate temperature well, then cotton stuffing is a great option.
Pros
Great option for people allergic to down or feather pillows
You can clean them easily
They are odour free
Cons
You need to dust and clean them regularly
Lumps can appear as the pillow ages
3. Feather Pillows
Feather pillows are made of the feathers of duck and geese. They are soft and fluffy compared to other materials. However, we recommend checking the source of such pillows and make sure that they were made in an ethical way without harming birds.
Pros
These pillows are almost weightless.
Feather pillows retain their shape for a long time
Cons
It is not easy to clean
Feather pillows are not ideal for summers as they retain heat
You have to fluff it to maintain the loft
4. Latex Pillow
Latex pillows are trending these days. Are you looking for some extra support for your head and neck? These pillows will have your back. The honeycomb cell structure provides softness to the pillow while having the ideal firmness.
Pros
Works very well for cervical or spine alignment
They are durable and will last a lifetime
These pillows breathe and are cooling
Latex is biodegradable and also resists dust and mites
Cons
Rubber pillows have a strong odour
It one of the most expensive options available
These pillows can lead to allergic reactions
5. Memory Foam Pillow
Memory foam pillows are growing in popularity. Guess why? They can adapt well to the contours of your body because of the foam bubbles that also help regulate airflow and keep the pillow cool. They are one of the recent trends in pillow material and you will often find doctors prescribing these pillows.
Pros
They can provide respite from neck pain and cervical conditions
Your pillow contours to your body
Cons
Some foams are dense enough to restrict breathability
They can retain body heat and be uncomfortable to sleep on
6. Down Pillows
They are made of soft fibers found underneath the skin of geese and ducks. Sometimes, they also contain a bit of feather. If you buy them, make sure they were made ethically. People often compare memory foam vs down pillow since they are the most popular options.
Pros
They are lightweight
Durable and can last a long time
Super soft and comfortable
Cons
They can get overheated
Can lead to allergic reactions
Cleaning is a task
The biggest challenge is to find ethically sourced down
7. Gel Pillow
Want to cool yourself down after a hot, tiring day? A gel pillow is the best type of pillow for you. It has the cooling properties of gel which is infused with another material to make it into the shape of a pillow. They are a great option to soothe neck aches or migraines and are also hypoallergenic.
Pros
Allergies can be managed well with gel pillows
They will cool you down
These pillows are easy to maintain
Cons
Well, they are one of the most expensive pillow types. They can cost around $50 per pillow
Some sleepers might find them too firm
Different Types Of Sleepers And The Best Pillow Types For Them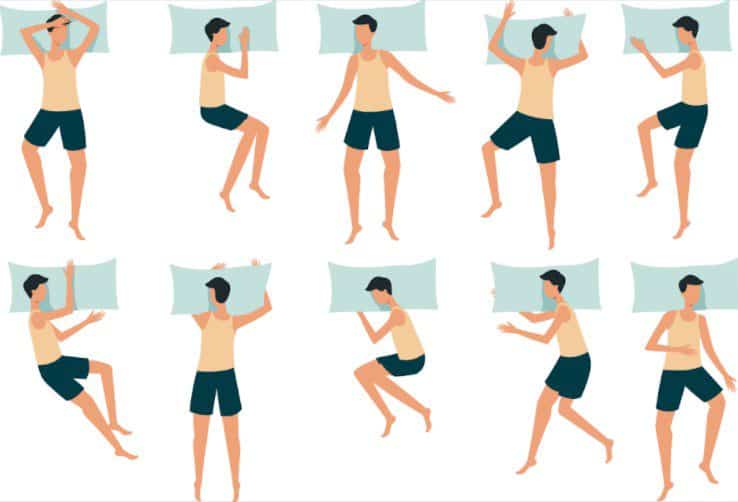 Are you a side sleeper or do you sleep on your back? Well, there are different types of pillows meant for each kind of sleeper. You need to choose yours so that it gives you maximum comfort. Let us look at the types of sleepers and the best pillow styles for them.
Best Pillows For Back Sleepers
Sleeping on your back is a healthy habit. But you need to ensure that there is adequate support for your head and neck.
Choose a thin pillow. It will keep your head at the perfect level. If your head is too high, it will affect your lower back. If it is too low, it will put a strain on your neck.
You can also choose down pillows. However your allergies may act up with down stuffing. If that is the case, cotton pillows are the next best option.

Best Pillows For Side Sleepers
A lot of people sleep on their sides. Sleeping in this posture puts strain on your spine. So, you need a type of pillow that provides some extra support. A pillow that is thicker and prevents your head from falling too far back is a good investment.
Choose a thick cotton pillow which will keep your head in place. You can also go for latex pillows as they provide excellent support to your neck. Apart from providing support, it will also give you that cozy feeling.
Body pillows are also a great option for side sleepers as they are 20 by 54 inches, making them long and narrow. It's almost like hugging a person and sleeping, which apart from being comforting, also supports the whole body.
Best Pillow For Stomach Sleepers
Sleeping on your stomach is an unhealthy habit. However, the right type of pillow will ensure that you don't wake up with an aching body. You need something that is thin and does not raise your head further up than when laying flat.
Thin Memory foam pillows can help you rest your forehead without raising your head further up.
Best Pillow For Combination Sleepers
Are you confused about the type of sleeper you are? Well, it's possible that you are a combination sleeper. You probably love changing your sleeping positions frequently but often feel that your pillow doesn't support you. You need to choose a pillow style that is versatile enough.
A standard cotton pillow might be the safest option for you. However, memory foam can provide you with pillow firmness that can adapt to most positions while being comfortable and durable.
Different Pillow Sizes To Choose From
King Sized
King size pillows measure 20×36 inches and are made for king-sized beds or people who prefer big pillows to sleep on. If you are a tall individual then these pillows will provide you with proper support.
Queen Sized
They are 20×30 inches and are one of the most widely used pillow sizes. You will find them in most houses and they can easily fit in a regular pillowcase.
Euro Pillows
Euros pillows are square shaped pillows that are 26 by 26 inches. There are decorative pillows and can change the appearance of your living room. If you are wondering about pillow sizes for the couch, these are the perfect fit.
Travel Pillows
Travel pillows are 12 by 16 inches and will fit into your handbag or backpack. They can also double up as pillows for your toddler or young one if they need to nap enroute.
Get to Know about more pillow sizes here.
Stuffing Your Pillow: Different Pillow Filling Types
Cotton- It is a traditional filling. You can also find organic cotton options. However, numerous synthetic fillings are giving it stiff competition. Even then, cotton remains an all-time favorite.
Wool- A soft and fluffy option. As it is an animal product, it won't appeal to vegans. Wool stuffing can also come in blended and unblended options.
Down and Feather- While both come from birds, down is different from feather stuffing. Down is the softer part or the underside of the feather of a bird. They are both not great for people with allergies and are sometimes unethically harvested from birds.
Polyfill– A popular filling for pillows, polyfill is made of synthetic material that can mimic down. They are one of the most popular and affordable options and are used in most standard pillows.
There are many other stuffing options available. Read this detailed guide and how each stuffing type can affect your sleep quality.
How To Choose A Pillow For Yourself?
Here are a few things to keep in mind while choosing your pillow:
Consider the size of your bed. Your pillow may look out of place in case the size is too big or small for the bed size in your room.
Identify the type of sleeper you are, stomach, back, side, or combination and choose your pillow based on the kind of support you are looking for.
Check for the pillow stuffing and materials that can trigger your allergies
Check the credibility of the seller. You can go through the reviews of their previous customers to get an idea.
For more on how to choose a pillow you can take a look at our pillow buying guide.
The Bottom Line
Sleep is crucial to rejuvenate your body and prepare it for a new day. The right type of pillow can improve the quality of your sleep. Do not choose your pillow in haste. There are different pillow shapes and designs so take your time to choose the perfect one for you.
FAQs
Should you sleep without a pillow?
A pillow provides the perfect support to your shoulders and neck. It helps to avoid complications in your spine by maintaining the right posture. Sleep without a pillow only if the doctor advises you.
Memory foam vs down pillow. Which one is better?
Down is a traditional option that is soft and comforting but can trigger allergies and can sometimes be unethically sourced. A memory foam pillow provides better support to your neck and shoulders and retains its shape for a long time increasing its durability.
What are the different types of decorative pillows?
Euro pillows, different types of throw pillows and sham pillows can help brighten up your room or your living space. You can look at heart shaped, sequin, and other types of pillow shapes to help you decorate your bedroom.