10 Different Types of Pillow Stuffing Explained
A crucial factor towards achieving a healthy lifestyle is sleeping well. And an important tool to achieve a good night's sleep is to have the right pillow. Buying a good quality pillow depends on a lot of factors, such as the type of pillow stuffing, the volume of stuff, and your budget.
The type of pillow stuffing varies for everyone, while some pillow stuffings are relaxing for a few and could well be a nightmare for others. Given the countless number of options available today, deciding the type of stuffing can be tough.
Our article guides you through the different types of pillow stuffing – their pros, cons, and the cost to help you decide which one suits you the best.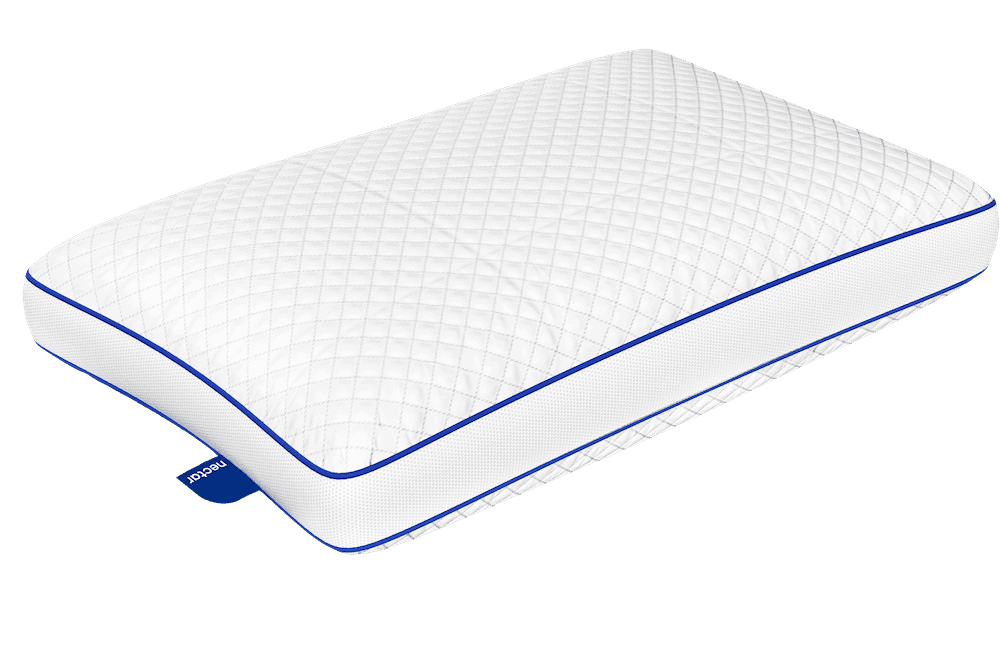 Check Out the Nectar Pillow
50 Night Home Trial
Adjustable Comfort
Free Shipping & Returns
Different Types of Pillow Stuffing
One way to categorize pillows is by the material with which the pillows are filled. The material used for pillow filling determines the comfort you get from the pillow and the cost of the pillow. Take a look at the different types of pillow stuffing that are popular.
Down Pillow Stuffing
Down is the undercoating of the feathers on the chest and underbelly of birds. These are soft and fluffy and are used for a variety of pillows and mattresses. These down fibers are pure white and are softer compared to other pillow fillers.
Pros:
Thanks to the natural softness of the down pillow, they are moldable and adapt very well to your neck and head
They can last for several years if handled with care
Down stuffing can be refilled if the pillow starts to sag
Cons:
They are expensive compared to other stuffing
They might flatten after continuous use
They absorb a lot of heat in summers and hence become uncomfortable to use
Cost: $$$
Polyester Fiberfill Pillow Stuffing
Polyester Fiberfill or Polyfill stuffing is composed of man-made, small, curled polyester fibers. Poly-fill stuffing is the most popular stuffing type owing to its soft, durable, and extremely fluffy nature. This stuffing is one of the best options for outdoor pillow stuffing.
Pros:
Much more affordable than other pillow stuffing
Easy to clean and maintain, machine washable, and can be used as outdoor cushions
Can help control allergies that one can with down or feather stuffed pillows
Cons:
They clump easily and require frequent adjustments for a comfortable feeling
Not very durable
They tend to retain heat and can cause breathing issues, especially in summers
Cost: $
Feather Pillow Stuffing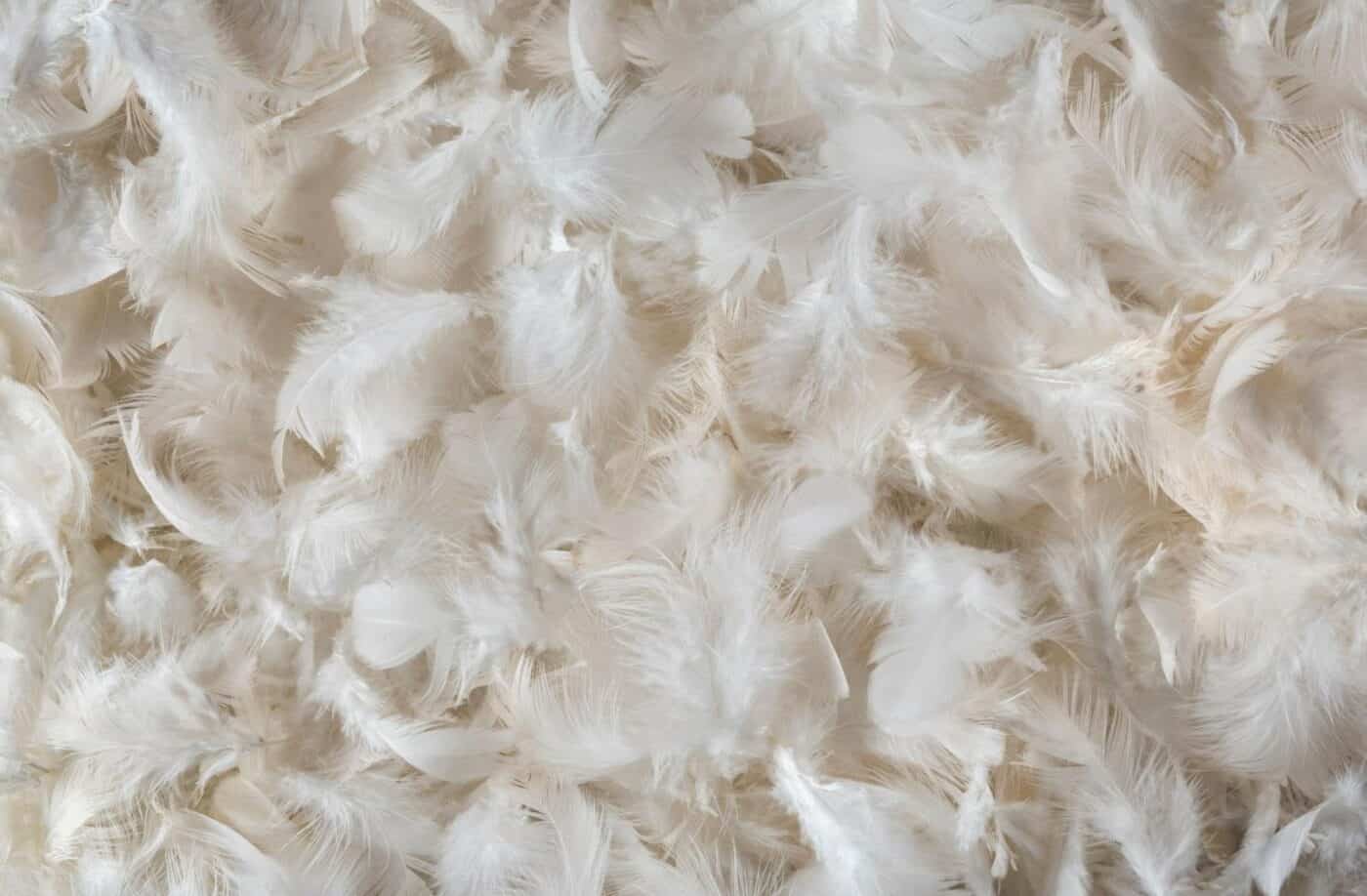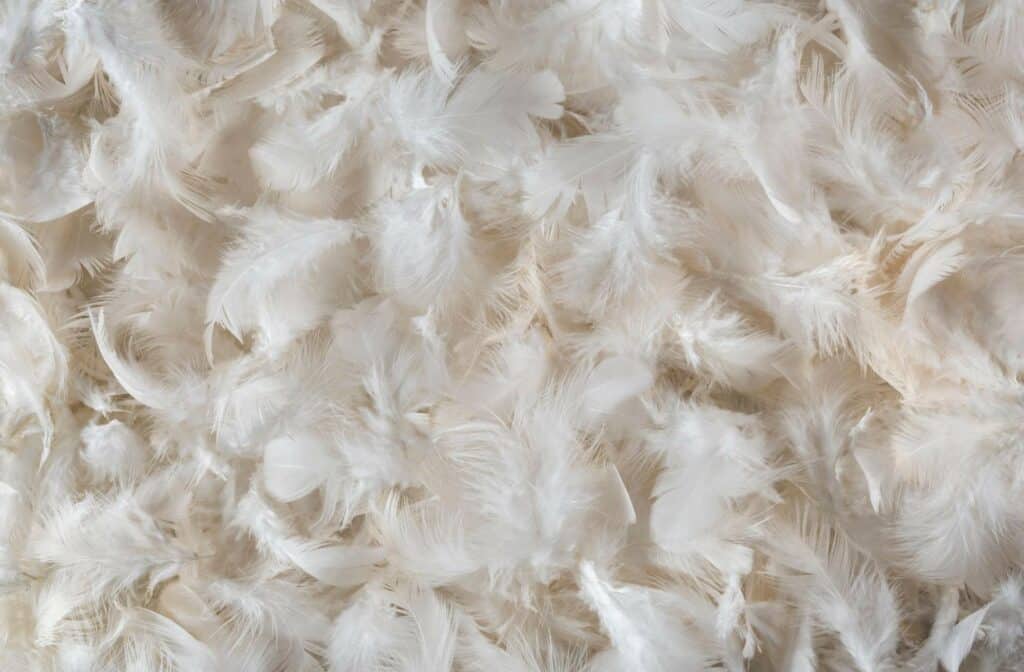 Feather Pillow stuffing consists of soft feathers from the wings and backs of the birds. These are available in large numbers in the market and are one of the most affordable options. The feather pillow loses its shape very fast and the feathers also start to pop out after a while.
They are often combined with the down to give a combination of durability and affordability.
Pros:
They are easily moldable to whatever shape you are comfortable with
One of the most affordable stuffing
They are extremely lightweight
Cons:
They tend to flatten after considerable use, hence they require constant fluffing
Difficult to clean and maintain
They can smell unpleasantly after a few years
They tend to absorb heat and can be warm to sleep on
Cost: $
Memory Foam Pillow Stuffing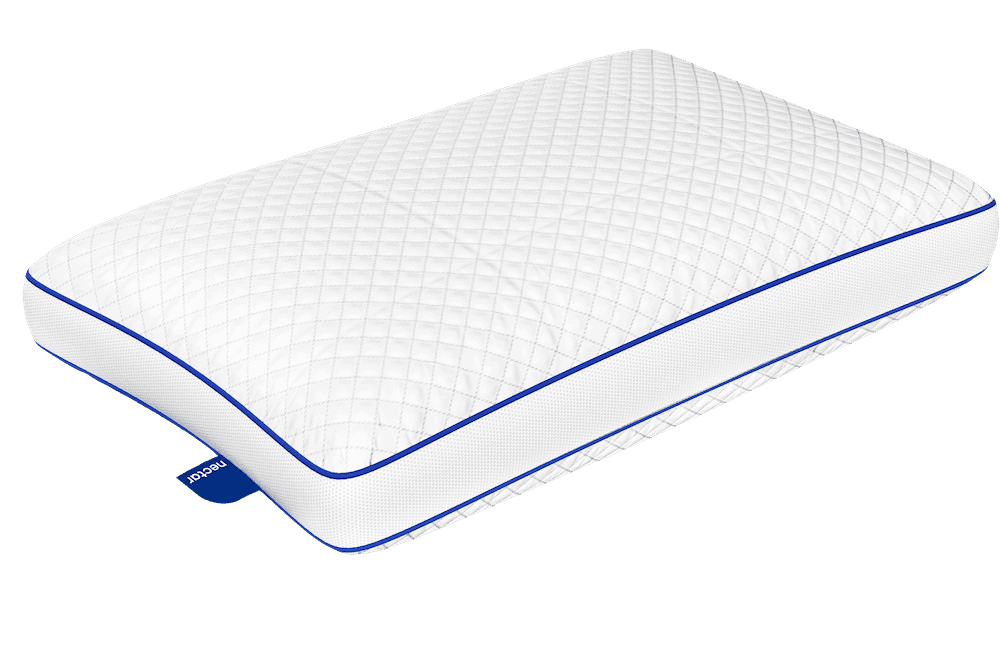 Memory foam pillow is composed of polyurethane as well as other compounds. The memory foam pillow comes in two variants, block memory foam and shredded memory foam. Block memory foam is simply wrapped inside a pillowcase while the shredded memory foam is filled inside the pillow to give a comfortable and fluffy experience.
Memory pillow foam stuffing is one of the latest technologies that conform to the shape of your head and helps you keep your spine aligned with the rest of your body.
Pros:
Scientifically designed to give you maximum comfort and pressure relief
Does not clump like other pillow filling types.
Shapes perfectly for all kinds of sizes, and sleeping styles
Cons:
They often tend to absorb heat which leads to sweating at night
They may stink due to the use of volatile chemicals
Expensive compared to other pillow stuffing
Cost: $$
Buckwheat Hull Pillow Stuffing
Buckwheat hull filling is made up of outer shells of buckwheat seeds. They are known for promoting airflow and temperature regulatory properties. They are much thicker as compared to other pillow stuffing and are also a great option for someone who needs spine alignment.
Pros:
The durability of organic buckwheat hull pillow filling is very high
They naturally conform to any shape of the neck or head
The hull shells allow smooth passage of air which ensures great breathability
Cons:
They are firm and hence are very uncomfortable for some sleepers
Buckwheat hull pillows are heavy compared to other options
They produce a rustling noise when they are shifted and are not a great option for people allergic to house mites
Cost: $$
Kapok Pillow Stuffing
Kapok is a tree found in Mexico that produces flowers with a cotton-like, smooth and fluffy feel. Kapok Pillow stuffing is the best choice for sleepers who look for natural pillow stuffing options. They are also known as Ceiba Pentandra and are a perfect fit for people who have allergy issues and want a 100% organic option.
Pros:
Kapok Pillow is free from all types of toxic materials
They are environment friendly and are easily renewable
They are extremely light and snuggly
Cons:
They are not moldable like foam or down pillow
Availability might be an issue
They are flammable
Cost: $
Cotton Pillow Stuffing
Cotton is perhaps the most available and most widely used as a pillow or cushion filler. It is soft and gives a plush feel to lay on. Additionally, it is slightly more firm as compared to down, polyfill, or foam-filled. Cotton also helps regulate body heat in warm places.
Pros:
Cotton pillow stuffing is easily available
Organic option for people with allergies
It gives a smooth, comfortable, and odorless sleep
It is 100% eco-friendly
Cons:
With use, the cotton filling tends to clump and becomes uncomfortable
Constantly need to replace the filling
Cost: $$
Wool Pillow Stuffing
Wool stuffing for pillows is a traditional stuffing, thanks to its breathability and insulating properties. Wool is synthetic, warm, soft, and fluffy. They are a good fit for people with allergies and can provide great comfort in both summer and winter.
Pros:
It is environment-friendly
Owing to non-toxic components it is a good option for allergic people
Serves as a good insulator in winters
Cons:
It tends to lump, which makes it less durable
It does not hold its shape easily
Cost: $$
Latex Pillow Stuffing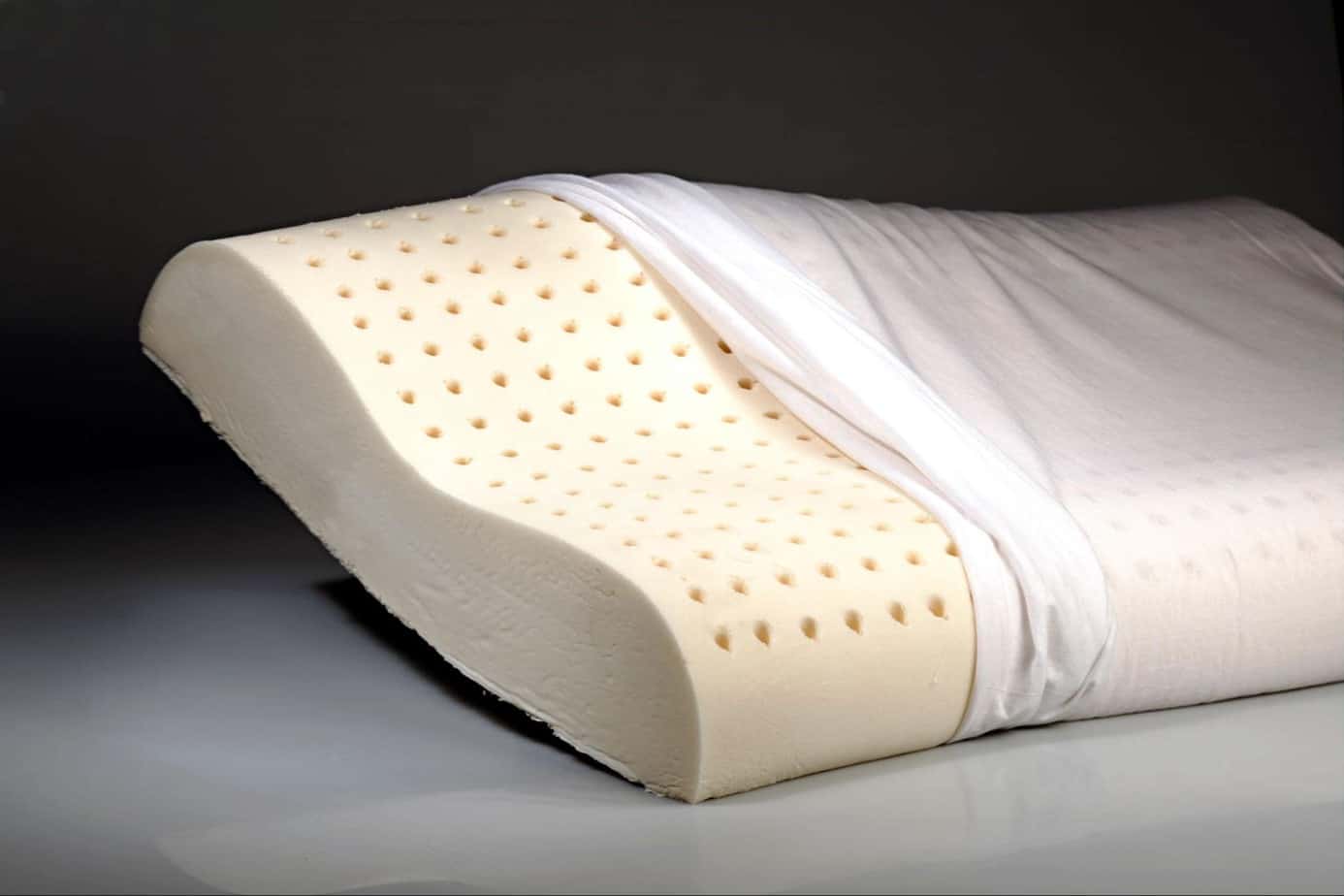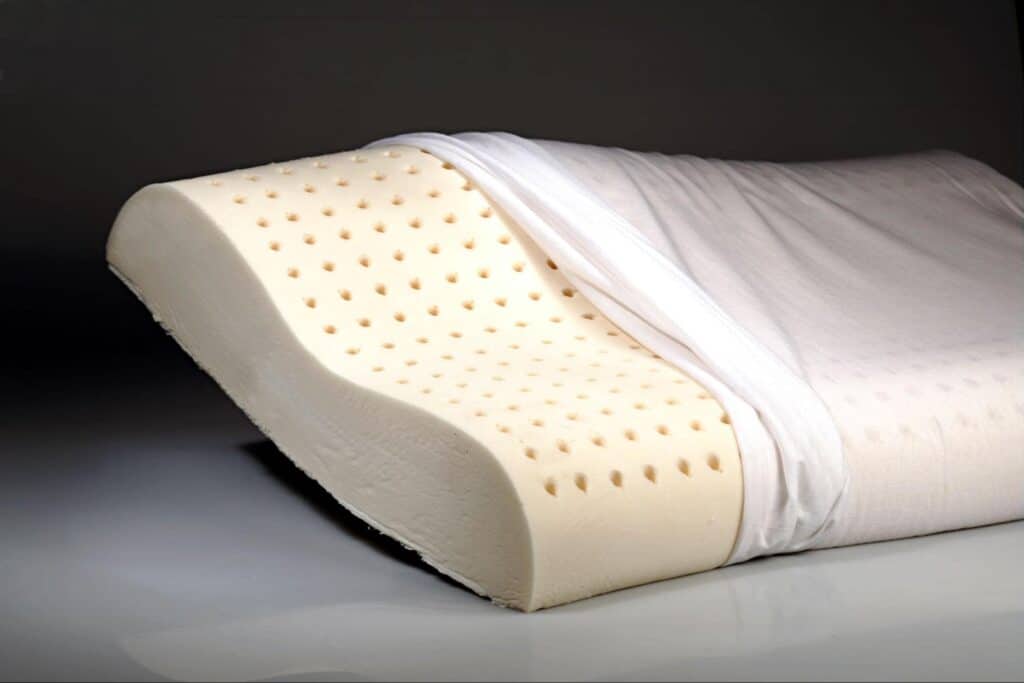 Latex is also known as natural foam; latex is obtained from a specific rubber tree sap. Latex foam is very hard to extract and hence is expensive. Just like memory foam, they also come in a block or shredded form.
The block latex foam is firm and gives good support. The shredded latex foam is moldable and gives you more adjustability.
Pros:
It is environmentally friendly
It has good breathability owing to its open cell structure
It helps in reducing migraines, thanks to its firm nature. However, it is also moldable (Shredded latex foam) to help you adjust the pillow.
Cons:
It is very expensive
It is not ideal for side sleepers
Cost: $$$
Microbead Pillow Stuffing
Microbead pillow stuffing is a synthetic alternative to buckwheat hulls. Microbeads are small, polystyrene beads. It is not available readily in the market compared to other pillow or cushion stuffing.
They allow smooth passage of air and are moldable as well. However, they tend to lump and lose their shape and are not eco-friendly.
Pros:
Affordable alternative to buckwheat hull
They have good breathability
They are moldable and provide good support to the neck and body
Cons:
They are less durable
They are not firm enough for some sleepers
They produce a chemical odor and are notorious for "off-gassing"
Cost: $$
Are you a side sleeper or a back sleeper? If you're wondering which pillow would best support your sleeping position, check out this guide on different types of pillows meant for certain sleeping positions.
Conclusion
Memory foam, latex, and cotton are some of the most popular options and they offer comfort and spine support while being affordable. If you are constrained by tight budgets, then feather pillow stuffing will do the job. If you can extend your budget, then down pillow stuffing can work well for you.
We hope this guide helped you understand that pillow stuffing is an essential component in how well you sleep at the end of a long day. You can check out our range of memory foam stuffed pillows if you are looking to buy a memory foam pillow.
Wondering what size is perfect for you? Check out a detailed pillow size guide.
FAQs
Is pillow stuffing toxic?
The toxicity of pillow stuffing depends on the stuffing material which is used. While some materials like polyurethane or memory foam pillow and polyester fill might be toxic, others like latex, cotton, wool, down stuffing are non-toxic and eco-friendly.
Do feather pillows get dust mites?
Yes, feather pillows do get dust mites, and the common type of dust mites are dermatophagoides pteronyssinus or der p dust mites. These dust mites feed on the dead skin cells of humans, which may trigger them for months, causing asthma and allergies.
What is the least toxic pillow?
There are countless pillows in the market, and it is difficult to choose the least toxic one. However, you can consider a pillow made up of non-toxic materials like cotton, latex, and kapok or a combination of these materials with a memory foam pillow padding.
Is it good to sleep on a memory foam pillow?
Memory foam pillow gives you support that helps you sleep in the best position for your spine. It supports the natural curve of your spine and is scientifically designed to give you maximum comfort and pressure relief.
Memory foam pillows do not clump and come in a variety of shapes and sizes, from the traditional puffy rectangles to a curved model designed for back and side sleepers. Try out the Nectar Memory foam pillow for the best comfort and sleeping experience.
What is a natural pillow?
Natural pillows are stuffed with Organic or non-toxic materials, like chemical-free cotton or chemical-free latex, so you don't have to worry about safety while sleeping. You can also find a variant of flaxseed and lavender-filled pillows.
Natural Pillow gives you a smooth and comforting sleeping experience besides allowing free circulation of the air. Natural pillows are Hypoallergenic Pillows and are perfectly tailored for vegans, and can be used as outdoor pillow inserts or couch cushions.
How to wash pillow stuffing?
The most common way of washing a pillow stuffing is to rinse it through the washing machine by using either cold or warm water and adding only a small amount of detergent. If you fear that your stuffing has gone off white, then you can add 1/2 cup of white vinegar for whiteness and wash and rinse on a normal cycle in a washing machine.
Want to get rid of washing pillow stuffing while it retains its shape? Try Nectar Memory foam pillow. Nectar Memory foam pillow allows you to spot dirt or soil and clean with mild soap and water, pat gently, squeeze water out and let air dry. No washing machine or dry cleaning is required!