A twin and twin XL size mattress is both 38 inches wide and cannot accommodate more than a single sleeper. A Twin XL is 5 inches longer, and while it can accommodate only a single sleeper, it is also suitable for adults and tall teenagers. If you are still wondering between twin or twin XL mattress, take a look at the other factors that will help you choose the right one. 
Purpose and Usage 
A Twin mattress is suitable for a growing teenager. While a Twin XL mattress is ideal for tall teens and single young adults. 
Budget
While comparing twin and twin XL beds, price is also a significant difference. A twin XL mattress will cost you slightly more than a twin mattress. You can get a Twin mattress for $599 - $1799 and a Twin XL for $849 - $1949. 
Room Size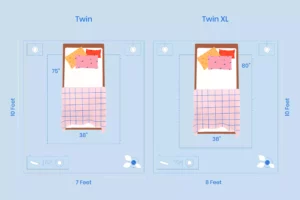 The ideal room size for a twin mattress should be at least 7 feet by 10 feet. For a twin XL mattress, it is 8 feet by 10 feet minimum. Hence, depending upon your room space, choose the one that won't make your room feel cramped up. 
Bed Size
A Twin size mattress requires a bed that is 37 inches wide by 75 inches long.  A Twin Xl mattress needs a slightly larger bed, at least 37 inches by 80 inches and might not be readily available. Get in touch with a manufacturer to get it customized for yourself. 
Space Required 
A twin-size bed will be more compact when comparing twin or twin XL beds. With a twin XL bed, you may need more space in the room. If space is a constraint, then choose a twin-size mattress.