Detailed Mattress Comparison
You can easily get confused between a Twin size mattress and a Twin XL size mattress. Afterall, the difference is just 5 inches. With this comparison guide between Twin vs. Twin XL, you'll uncover the difference between the two mattresses.
Parameters
Twin Mattress
Twin XL Mattress
Size

| | |
| --- | --- |
| IN: | 38" x 75" x 11" |
| FT: | 3.25 X 6.25 X 0.92 |
| CM: | 99.06 X 190.5 X 27.94 |

| | |
| --- | --- |
| IN: | 38" x 80" x 11" |
| FT: | 3.25 X 6.67 X 0.92 |
| CM: | 99.06 X 203.2 X 27.94 |

Price
$499
$569
Bed Size
38 in × 75 in
38 in × 80 in
Recommended Room size
7 × 10
8 × 10
Comfortably Fits

Children 2-12 years old
Growing Teens

Teenagers
College Students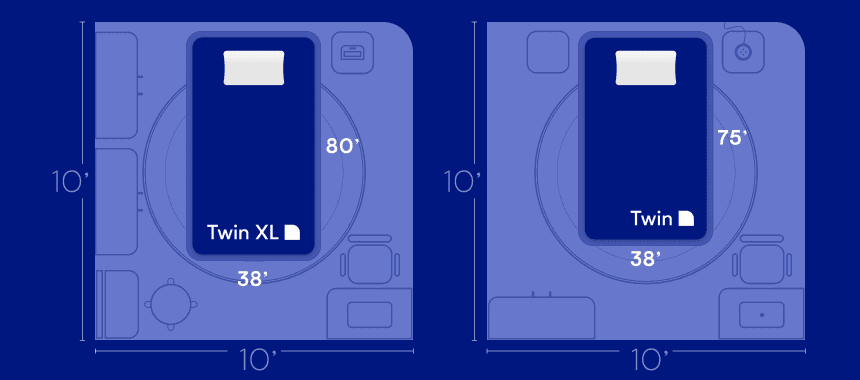 What is a Twin Size Mattress?
The twin bed dimensions are 38 inches wide and 75 inches long. This makes it perfect for teenagers or growing children. Twin mattresses are a great choice for children's rooms and dorm rooms.
A twin size bed is 5 inches short compared to a Twin XL mattress. This gives you extra space to move around in the room or to set up the space.
Pros
Affordable
Fits in almost any room
Lightweight
Ideal for kids
Cons
Limited category of use
Can be too small for tall teens
Limited space
Not ideal for adults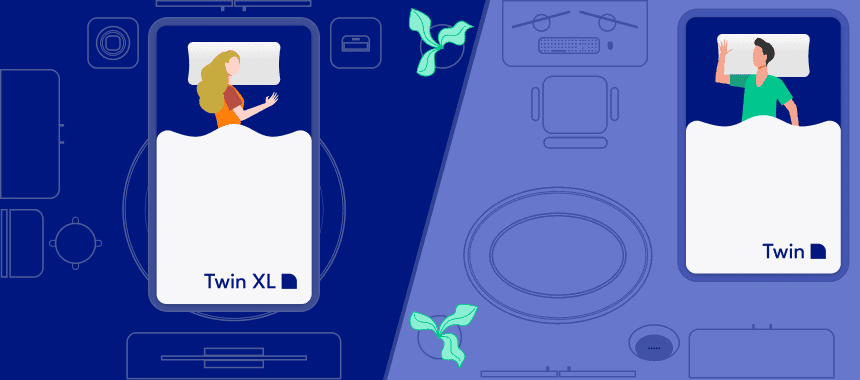 What is a Twin XL Mattress?
Twin XL dimensions are 38 inches wide and 80 inches long. It is 5 inches longer than a twin size mattress which gives you extra leg space. If you have a tall child then this mattress is the perfect size for them. Another plus side of buying this mattress is that young adults can use it in college dorm rooms.
Pros
Suitable for children and young adults
More legroom
Easy to transport
5 inches longer than a twin mattress
Cons
Not ideal for tall or big people
Bed accessories are hard to find
Requires more space
---
Things to Consider Before Deciding Between Twin vs Twin XL Mattress
Purpose and Usage
A Twin mattress is suitable for a growing teenager. While a Twin XL mattress suitable for tall teens and single young adults.
Budget
A twin XL mattress will cost you slightly more than a Twin mattress. You can get a Twin mattress for $499 and a Twin XL for $569 at Nectarsleep.
Room Size
The ideal room size for a Twin mattress should be at least 7 feet by 10 feet. For a twin XL mattress, it is 8 feet by 10 feet minimum.
Bed Size
A Twin size mattress requires a bed that is 37 inches wide by 75 inches long. A Twin Xl mattress requires a slightly larger bed that is at least 37 inches by 80 inches.
Space Required
A Twin size bed will be more compact as it is 5 inches shorter than a Twin XL bed. With a Twin XL bed, you may need more space in the room. If space is a constraint then go choose a Twin size mattress.
Other Mattress Sizes Available
The US mattress sizes are made according to your needs. For a detailed guide on sizes you can check out our detailed mattress size guide.
For couples, mattress sizes that work are California king, king, split king, or queen size.
For children, you can choose from one the following sizes- small, twin, or twin XL size.
For toddlers, the ideal mattress size is a crib mattress.
For single sleepers, a full mattress or a queen size mattress would work very well.
---
More on Mattress Sizes
---
Choosing Between Twin vs Twin XL
A twin and twin XL are both 38 inches wide and cannot accommodate more than a single sleeper. A twin XL is 5 inches longer and is the better option for single sleepers, young adults, or for your guest room.
Different sizes of mattresses can confuse you easily. Your needs define the purpose of purchasing a mattress. So always remember to identify your needs.
---
How we compare to other Brands?
We offer a 365-day trial period and a warranty that lasts forever! If you don't believe us go ahead and compare our offer to other brands. Apart from being one of the largest mattress sellers in the United States, we give you 9 reasons why nectar may be your best and the last mattress you purchase.
Sleep Trial
Warranty
Free Shipping *
Free Return
2 Free Pillows
Free Sheets
Free Mattress Protector
Price (Queen)
Total Price
Nectar
365 Nights
Forever Warranty™
$799
$799
Shop Mattress
Casper
100 Nights
10 Years
$178
$139
$95
$1,095
*$1,507+
Purple
100 Nights
10 Years
$196
$99
$1,149
*$1,444+
Shop Mattress
*Price reflects the subtotal of mattress protector, sheets and two pillows (Single pillow for twin/twinxl) compared to the current promotion on Nectar. Additional shipping fees may apply in AK and HI. Price may not reflect any current promotions or discounts. Last Updated: Mar 2021.


Get upto $399 in Accessories Today
So long sleepless nights!
FAQs
How much does a twin mattress cost?
Although the difference between the two isn't huge, a twin XL mattress is slightly on the more expensive side. A twin xl memory foam mattress can cost anywhere between $150 or more than a twin size mattress.
Can I use twin sheets for twin XL mattresses?
No. A twin XL mattress is 5 inches longer than a twin mattress. The twin vs twin xl size difference doesn't allow sheets to be used interchangeably.
Can I buy a twin XL mattress for my child?
Although a Twin XL may be big for a child, parents do buy it for children as children outgrow cribs very quickly. Between a toddler bed versus twin bed, a twin bed is the better investment for the longer run whereas a toddler bed or crib mattress may be the safer option as it restricts movement and can help avoid incidents.
Can a twin XL foundation accommodate a twin mattress?
No. A Twin XL foundation is longer and is designed to accommodate the larger frame of a twin XL mattress.
Are two twins a king?
No. Two regular twins do not make a king. Twin mattresses have the same width but are 5 inches shorter in length than a king. You can combine two Twin XL mattresses together to form a king size mattress.
How thick is a Twin mattress?
The standard thickness of a Twin mattress is 8-13 inches, or about 20-33 cm thick.
How much does a Twin mattress weigh?
A standard Twin mattress weighs about 45 lbs when unpacked or 50lbs when packed in a box.
Find Out How We Compare to Other Brands?