A California king or the Cal king mattress is 72 inches wide and 84 inches long. It is 6 inches longer and 4 inches wider than a queen-size mattress.
While a California king is the perfect fit for couples who are tall and like space, the queen size is more popular among couples who like to sleep close to one another.
There are many other factors you should consider before choosing between queen vs. California king. In this article, we discuss which one is best for you, along with the pros and cons of each mattress.
Parameter
California King
Queen
Size
IN: 72" x 84" x 11"
FT: 6 X 7 X 0.92
CM: 182.88 X 213.36 X 27.94
IN: 60" X 80" X 11"
FT: 5 X 6.67 X 0.92
CM: 152.4 X 203.2 X 27.94
Price
$999
$799
Bed Size
74 × 84 inches
60 × 80 inches
Recommended Room size
10 × 12 feet
10 × 10 feet
Comfortably fits
2 tall people or couples
Couples with a kid or a pet
Difference between California King vs Queen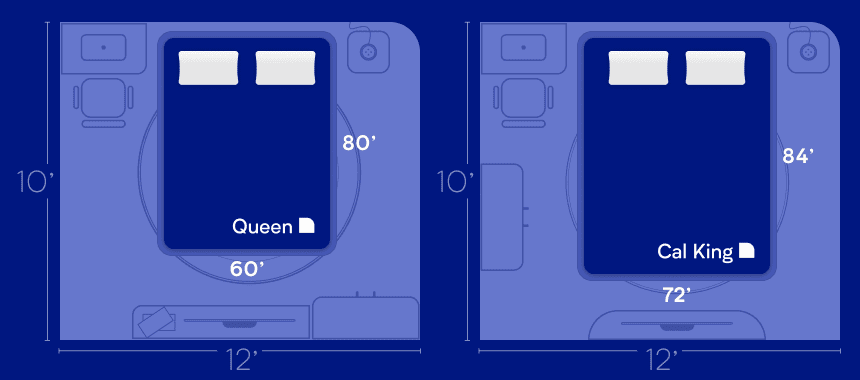 What is a California King Mattress?
A California king or Cal king mattress (also known as a western king) measures 72 inches by 84 inches and is one of the largest mattress sizes available on the market. The surface area for a California king and a standard king is the same, except a Cal king mattress is longer and narrower. Due to the extra length, it's preferred by taller individuals (over 6 feet tall).
A California king fits well in a spacious master bedroom or living room measuring at least 12 x 12 feet. Couples with children or pets also enjoy sleeping on a California king better.
Also Read: California King Size Bed Dimensions – A Buying Guide
Pros
Offers plenty of sleeping space
Ideal for taller individuals or couples
Suitable for large bedrooms
Cons
Difficult to move
Not readily available
Expensive compared to a queen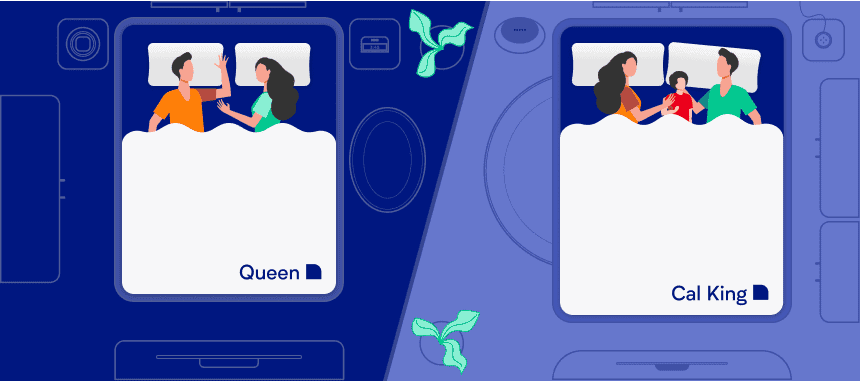 What is a Queen Size Mattress?
A queen-size mattress is a popular mattress size among single sleepers and couples. Measuring 60 inches by 80 inches, it offers ample space to move around for single adults or individuals who share the bed with their partners.
A queen-size mattress is larger than a double bed but smaller than a king and Cal king bed and works well for rooms that are 10 by 10 feet or larger.
Also Read: Queen Bed Dimensions – A Buying Guide
Pros
Best for single adults or couples
Offers ample space to stretch out
Easy to accessorize
Ideal for master or guest bedrooms
Cons
Bulky and difficult to move
Not the best option for tall individuals or couples
Queen vs Cal king Size Mattress: What Should You Consider Before Buying?
Room Size
Queen-size beds can fit in the master bedroom or any room measuring 10 feet by 10 feet.
But as a Cal king mattress is longer and wider than a Queen size mattress, it would feel cramped into any room measuring less than 12 feet by 12 feet. So, it would help if you considered Cal king for the larger bedroom in your house. That would give you enough space to navigate on the side to avoid crowding.
Bed size
If your bed is a queens size bed which is 60 inches wide and 80 inches long, you should prefer a queen bed. Cal king mattresses are 12 inches wider and 4 inches longer than a queen, so it would fit perfectly on a bed that is 74 inches wide and 84 inches long.
The size and dimensions may vary from brand to brand. Consider the same before you purchase the mattress.
Height
Tall sleepers or couples over 6 feet often choose California king due to the 4 extra inches of legroom as queen beds may feel a little cramped for them. Cal king's extra length can also be utilized by couples who are pet parents so that their pets can sleep in the extra space at the foot of the bed.
Queen-size mattresses are a great choice for couples who love to stretch out and need a wider area to sleep comfortably.
Budget
Generally, a queen bed is cheaper than a Cal king size mattress because of its popularity and availability on the market. You can expect anything between a hundred or two hundred dollars of price difference between a California king and a queen-sized mattress. So, if you're on a tight budget, queen size mattresses should likely be your first choice.
Accessories
Both Cal king and a queen can be accessorized with two pillows or more, depending on your personal choice.
A queen mattress is a common choice for buyers so its accessories are readily available. However, the accessories for Cal king aren't as easily available as the queen mattress.
Also Read: Mattresses: A Comparison Guide
Choosing Between Queen vs Cal King
While a queen-size is wider and shorter, a California king size is longer and narrower. They are both great choices for couples and can fit into bigger rooms depending on the bedroom design.
Make the right choice for yourself keeping all the factors in mind.
Why is it called California king?
California king size mattress was first developed as a big bed choice in Los Angeles for master bedrooms. Soon after, the beds became an alternative to the traditional king mattress. California king is sometimes called "Western King," while an Eastern King is another name for a standard king.
How much bigger is Cal king than a queen?
A king size mattress is 12 inches wider and 4 inches longer than a Queen mattress. Although the area of a queen mattress is 4800 square inches, the area of a Cal king corresponds to 6048 square inches. However, the surface area of a Cal King is a touch smaller by about 32 square inches than that of the standard King.
Is Split king bed bigger than a California king bed?
California king mattress has slightly smaller mattress dimensions than split king mattresses. But the standard king size has extra width than the California king.
Do two twin xl size mattresses make a California king?
No – one twin xl mattress is 38 inches by 80 inches, while one King of California is 72 inches by 84 inches. But two twin XL beds can make a divided king size bed.
Are California king beds the same as full size beds?
No – the California king, measuring 74 inches by 80 inches is the longest of all standard size mattresses. While the full mattress measuring 53 inches by 75 inches is one of the shortest.
Does nectar sleep have memory foam mattresses?