Price
Depending on the material used to make a queen-size mattress, its cost may lie between $500 to $3000. On the other hand, a California king bed may cost between $700 and $4000. A queen mattress containing organic material will cost more, and the same feature goes for a California king bed. Smaller beds are less expensive due to the usage of fewer materials. In the California king vs queen debate, queen-size beds take the cake for being less expensive. 
Room Size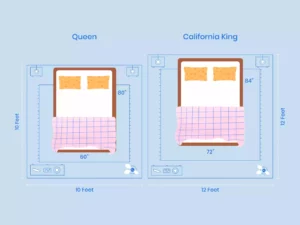 A room of at least 10 feet by 10 feet is recommended for a queen bed. It allows more walking space and the furniture to fit properly. On the other hand, the bed sizes of California mattresses are better for a bedroom of at least 10 feet by 12 feet. If the room measures 13 feet by 13 feet, it would be cherry on the cake. The presence of extra space around the bedroom and the bed provides an aesthetically pleasing look. It reduces tighter spaces that help in getting a good night's sleep. 
Sleeping Partner
Other than the difference between a queen and a California king mattress, whether you sleep with a partner or alone can affect your decision in the California king vs queen argument. The oversized mattresses like the cal king beds are better at accommodating two adults than a queen bed. The area on the cal king bed allows you to sleep peacefully with your partner.