The choice between an Alsakan king and a California king is not an easy one to make. Hence, the buyers should consider the following pointers about the Alaskan king bed vs California king bed. The information would help the prospective buyers to choose the best mattress that matches their needs.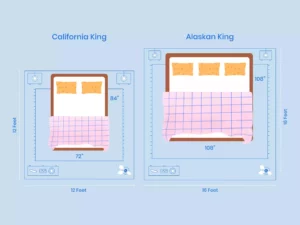 The first and the most crucial factor to consider before choosing between Alaska and California king mattresses is the size of the bedroom. A California king mattress can easily fit in a standard size bedroom while leaving enough space to move around. 
On the other hand, Alaskan King mattresses are suitable only for bedrooms that are at least 16 feet by 16 feet in size. Even though Alaskan king bed dimensions make it difficult to fit in a standard size bedroom, they will leave little room to move around. This would make the bedroom seem too crowded and less comfortable. 
The cost of oversized mattresses is essential to be considered while purchasing one. Due to their bigger size, all extra-large mattresses cost more than regular ones. California king mattresses are still the least expensive of all king-size mattresses. 
The average cost of a California king mattress is between $1349 - $2549. An Alaskan King mattress is the largest mattress available and is also the most expensive one. Its average price ranges between $2,000 and $6,000. In addition to the type of mattress and the materials used, the shipping cost, lack of supply, and higher demand can also cause a price variation. 
A California King mattress is spacious enough to accommodate two adults and one kid or a pet. It is also a good bedding choice for people whose sleeping partners have entirely different sleeping habits than their own. The extra space minimizes the chances of disturbance due to such patterns of their partners. 
An Alaskan king mattress can accommodate families with more than two kids. It is an excellent choice for people who want to share a bed with their partner while also enjoying the luxury of their independent sleeping space. The mattress size is also a good choice for people who like to sleep with their one or two children and a pet on the same bed. 
The size and weight of the users are other essential things to consider while choosing between California king vs Alaskan king mattresses. The California king mattresses are best suited for tall people who need the extra legroom to prevent their feet from dangling. They are also suitable for plus-sized sleepers who like to spread out to maximize their comfort while sleeping. 
Alaskan king mattresses are an excellent choice for plus-sized people who are also quite tall. They are preferred by professional NBA players with above-average body types. The mattresses are big enough to provide them enough comfort and adequate space to relax while supporting their weight and size.
The sleeping position of the users also plays an essential role in the choice of the mattress. Choosing a California King mattress is advisable for couples who like to sleep close together. 
For couples who prefer to have some personal space while sleeping near their partners, buying an Alaskan king bed is better. Side sleepers are also better off buying a California king mattress, while Alaskan king mattresses are a more suitable option for stomach or back sleepers.