A perfect sized mattress plays a significant role in your relationship. Let's understand these benefits in detail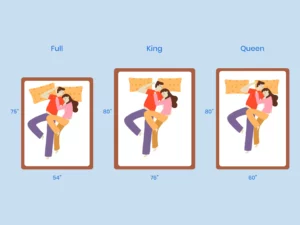 Comfortable Deep Sleep
A perfect-sized mattress with a motion isolation feature will help you sleep deeply. It helps you sleep without any stress and wake up fresh in the morning. Overall a perfect-sized mattress is an ideal place for you and your partner to unwind and wake up, setting new couple goals.
Reduce Back Pain
Imagine sleeping on a small bed and having to compromise your sleeping position, which may ultimately lead to health issues such as back and neck pain. A perfect-sized mattress prevents such uncomfortable situations and reduces the risk of back and neck pain.
Great Sex
Good sex before bedtime sets your mood right and helps you get deep sleep. However, sleeping on a bed with insufficient space due to size constraints can frustrate you. A perfect-sized bed will instead promote great sex by providing you with enough space to experiment and make love.