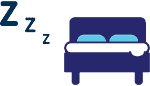 How long is a REM Cycle?
The REM stage of sleep is unique because it's when you have your most vivid dreams. During your first cycle of sleep, it starts about 90 minutes after you fall asleep and last only 10 minutes. Each cycle after that, your REM sleep gets longer and longer. In the final cycle is may last up to an hour.
During your REM sleep cycle, your eyes are darting around and "seeing" different things. Your brain is also converting experiences into memories. Furthermore, it enhances your ability for creative problem-solving. These are all important reasons to make sure your alarm doesn't wake you up during this crucial stage of sleep.