Why have 5,500,000+ people chosen Nectar?
While Helix has spent their time making mattress shopping so
difficult Einstein would have struggled, Nectar's focus has been on
engineering a perfect night's sleep (gaining many awards in that pursuit).
Plus, you get 365-nights to test it out (compared to just 100 for Helix).
And a Forever Warranty™ (which is quite a bit longer than Helix's 10 years).
Oh, and the Nectar is $100 cheaper!
Price (Queen)
Firmness
Warranty
Trial
Free returns
Free Shipping
Height (inch)
Nectar
6.5
Forever
365 nights
12''
Helix
$999*
Hybrid: 8" coil & memory foam
10 years
100 nights
✔️
✔️
12
Finally I've found my mattress!!
Finally I've found my mattress!! I sent back my Helix but it looks like I'm keeping my Nectar!!!!!!!! Sleeping so well on my side!!
Parth S.
Verified Buyer
The Nectar works for both of us
"We had purchased a Helix Plus mattress and it was way too soft. Hubby likes firm. I like it a little softer. Somehow the Nectar works for both of us. For the first time in 38 years we watched TV in bed on a Saturday morning cause we were so comfy!"
Jimmy.
Verified Buyer
Forbes
Best overall Mattress
2021
Forbes
best back pain mattress
2021
Architectural Digest
USA Today
Best Mattress Of The Year
2021
popsugar pick
The Sleep Judge
Best Memory Foam Mattress
2021
Slumber Search
Best Foam Mattress
for the Money
2021
Health
Best memory foam Mattress
In A Box
2021
Mattress clarity
Best memory foam mattress
2021
Mattress clarity
Best cooling memory
foam mattress
2021
Mattress Advisor
Best memory foam mattress
2021
*Nectar has certain affiliate advertising relationships with the above publications. Nectar has no editorial influence over such reviews or awards.
Helix: Spend more. Get less. .

You'll usually spend an extra $100 to get the Helix mattress. So what do you get for that kind of cash? Well, it's not all that clear. And the Nectar comes with $399 worth of extras from luxury pillows, to quality bed sheets and a mattress protector. Helix just throws in a couple pillows.
All Nectar mattresses come with specially designed cooling technology (from single action to triple action, as you upgrade). Helix wants you to pay even more ($850 to be precise) to upgrade to their Luxe option to get just one cooling feature. The Nectar comes with polyethylene threads woven into its cover to help keep you cool while you sleep, at no extra cost.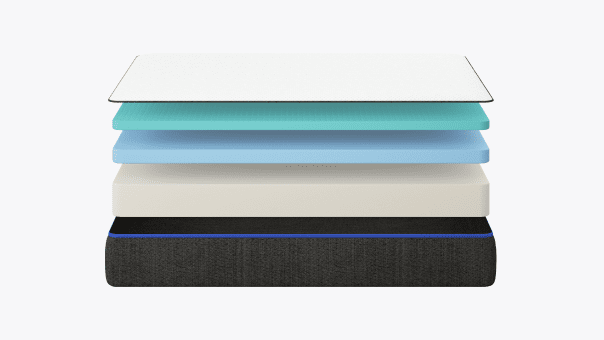 Our signature cover is designed with innovative cooling technology for a refreshing rest. It features heat-absorbent polyethylene fibers that help wick excess body heat away to promote cool sleep.
Therapeutic Gel-Infused Memory Foam
Two inches of CertiPUR-US® Certified gel memory foam contours to your every curve. Plush gel memory foam offers pressure-relieving support and sleeps cooler than traditional memory foam.
Three inches of conventional CertiPUR-US® Certified foam provides support while allowing airflow, plus crucial rebound and bounce. This responsive layer helps minimize motion transfer and promotes better spinal alignment.
ActiveSupport Stability Base Layer
Seven inches of conventional CertiPUR-US® Certified foam ensures structure, so the layers above it perform at their peak. This durable layer is the foundation for better sleep.
Shift-Resistant Lower Cover
The soft stitchbond polyester cover helps the inner core of your mattress stay in place, and prevents each of the layers from shifting on top of each other.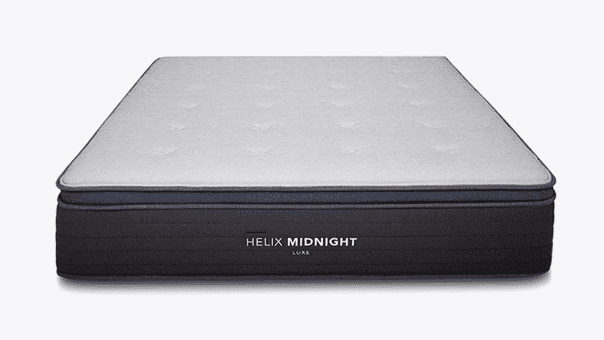 Light stretch, breathable. But no cooling properties.
Helix says it's "uniquely pressure-relieving" but we're pretty sure that's exactly what our layer does. Not so unique
Polyfoam transition layer
Tries to stabilize the motion of the springs below. So you don't feel like you're trampolining.
This layer is meant to cradle your body. But good luck trying not to bounce each other awake at night.
Another layer of standard foam to try and counteract the bounce of the springs.
There are so many Helix options, you won't know what time of day it is
Choosing the right mattress can be tricky. So why are Helix making it more confusing for you? Helix's whole schtick is that you get to tailor your mattress to your needs. Sounds reasonable. In theory. 
But what really happens is you have to be a sleep expert to make the right choice. 

And what if you get it wrong? Well, that means the pain of returning it and re-ordering a different model. Ain't nobody got time for that…
Try not to lose the will to live.

You can choose the Moonlight, the Dawn, the Dusk, the Sunset, the Twilight and the Midnight. Oh and do you need a soft feel or a luxury soft feel? Or a soft feel for side sleepers? Or a luxury soft feel for side sleepers? Because there's also the Moonlight Luxe, the Dawn Luxe, the Dusk Luxe… you get the idea. A good night's sleep shouldn't be so complicated – which is why Nectar keeps it simple.

Good luck trying to find the right firmness.

Take the Helix Midnight, for example. This states it's between 4-7 on the firmness scale. So what is it, a 4 or a 5? Or a 6? Or a 7? That's like saying your steak comes rare

and

well done! Nectar makes it easy for you with a simple range of mattresses that hit the sweet spot for the vast majority of sleepers (whether you're big or small, and whatever position you sleep in).

You're too smart for that.

Helix uses the oldest marketing trick in the book. That is, when you need to sell something, wheel out the doctor in a white coat for a testimonial. So a doctor slept on it and liked it. That's the same as saying, "Another human slept on it and liked it". Only

you

know what works best for you – which is why we offer the best at-home trial in the industry: 365 nights, so there's no rush to decide. Helix limits you to just 100 nights. 

Time to join the trampoline club?

Mixing springs and foam can work. But for many people, it means there's just too much bounce. So when one person moves, so does the other. If one of you goes to bed later, or gets up earlier, you're more likely to be woken up sleeping on a Helix. With Nectar, there's minimal motion transfer, so your sleep is less disturbed. 

 
Sounds like these Helix customers would have been better off with a Nectar.
Helix is pretty on the surface
They have changed the design of their mattresses, and while pretty on the surface, are garbage inside. I would not buy another one and I cannot recommend their product line at this time.
Verified Buyer
Suzanne
Radio silence from customer service
"They had shipped me a Cal king topper instead of the queen I ordered. 15 days later, the topper is still "in production", and I have 3 unanswered emails and 4 tweets asking for a status update (not to mention a giant box still in my living room and a sore back, since the mattress without the topper is uncomfortable). I would not recommend this company."
Verified Buyer
Alysa B
Such a disappointment.
"Uncomfortable. While my wife and I liked the feel of this bed, we both developed significant back pain that did not subside during the sleep trial, and led to us not being able to sleep on the bed at all. Took a break, back pain went away; tried to sleep on again, back pain came back. Had to return the mattress."
Verified Buyer
Matt T
You'll be 'blown away' by Nectar
"it works great for all sleep positions."
And it's not just us saying so! Health Magazine called Nectar the Best Memory Foam Mattress In a Box (2022)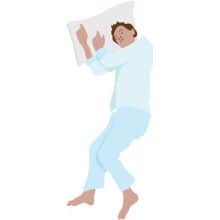 Nectar's comfy cradle layer cuddles all your angles so you stay put comfortably on your side.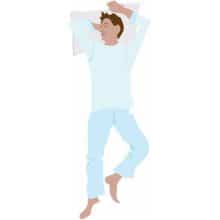 Nectar's comfy cradle layer pulls you into deep sleep mode, however you sprawl.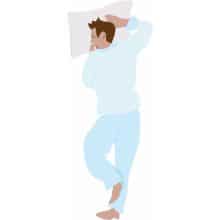 Nectar's adaptive response transition layer cradles your body to keep your chest, stomach and thighs supported and your spine aligned.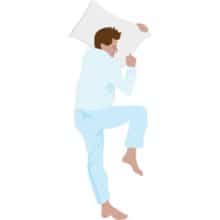 If you go to sleep on your front, roll onto your side, and wake up on your back, Nectar's layers work together to ensure you're supported and comfortable in every position.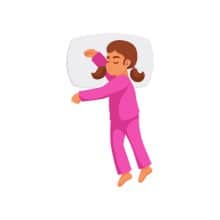 Nectar's just-right layer dynamically adjusts to support all bodies, whether you're 110lbs or 240lbs.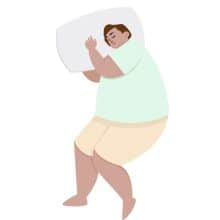 Nectar's just-right layer dynamically adjusts to support all bodies, whether you're 110lbs or 240lbs.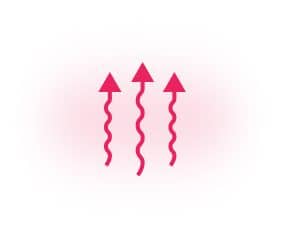 Nectar is engineered to help you sleep cool with its Cool-to-the-Touch Quilted Cover and gel memory foam.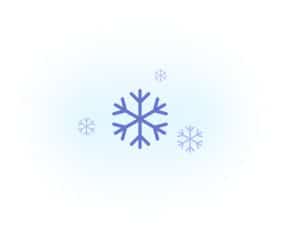 Nectar's gel memory foam adjusts to your unique body, dynamically giving you what you need - so you never sleep too hot or cold.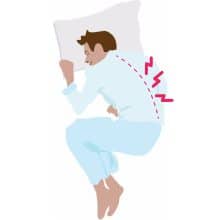 The Sleeper with Back Pain
Nectar's adaptive memory foam layer is designed to help relieve common pressure points beneath your shoulders, hips and legs for better spinal alignment on any body type.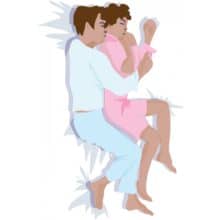 The Sleeper with Co-sleepers
Nectar's adaptive response transition layer and supportive memory foam ensure you keep sleeping when your partner, pets or kids hop into bed.
"These customers did their research. Nectar's their best fit."
Every bed in my house will be a nectar.
"Wow! The nectar is so comfortable! My roommates have the Leesa and the Helix, but they do not compare to my Nectar! Every bed in my house will be Nectar in the future! Also my dog LOVES it!"
Kennedy
Verified Buyer
RIght for the whole family
"I did my research before I purchased my mattress and narrowed it down to a foam mattress. So after I did the Helix quiz about my sleeping choices they recommended the Helix Midnight and that option was way out of the price point I put in place. So I wound up with the Nectar and am very happy with it and so is my wife, and we also bought one for my son and he loves it. So Nectar is 3 for 3 within my family."
Kieth W.
Verified Buyer
Nectar's top of the list!
"We bought this for our guest bedroom, and our guests loved it! So far we've bought a Mint, Helix, and Nectar and the Nectar is in the running for top of the list!"
Jesse W.
Verified Buyer
Buying a mattress shouldn't give you a headache. At Nectar, it's simple. Get a great mattress at a better price.
*Single pillow for twin/twinxl. Price May Not Reflect Any Current Promotions Or Discounts (As Of 08/01/2021)
"Nectar is the perfect combination of firm and soft. I had a Tempur-pedic, it's overpriced and overrated!"
Corey W.
Verified Buyer
"I was very skeptical about purchasing a mattress online, but Nectar made the process seem safe and reliable, and with very little risk."
Christopher F.
Verified Buyer