365-Night Home Trial

Forever Warranty™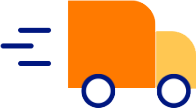 Free Shipping & Returns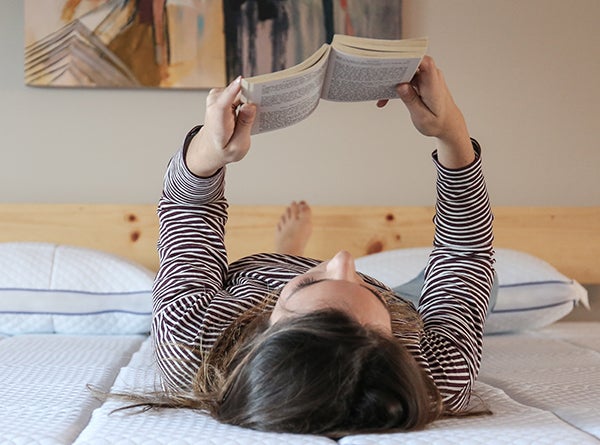 See What Makes Nectar Different
| | | TEMPUR-PEDIC | Online brands | In store brands |
| --- | --- | --- | --- | --- |
| Ultra Dense Foam | | | Few | |
| Sleep trial | 365 Nights | 90 Nights | 77-110 Nights | None |
| Warranty | Forever | 10 Years | 10-15 Years | 10-15 Years |
| Perfect Firmness Guarantee | | | | |
| No Bed Bug Guarantee | | 90 Nights | | |
| 11" or More | | | Some | Some |
| Free Shipping | | | Some | |
| Free Returns | | | Few | |
| Mattress Setup/Removal | | | Some | |
| Price (Queen) | $850 $725 | $1,799-$7,499 | $850-$2,800 | $1,500+ |
* Nectar may compensate third-parties for purchases made through the links in their reviews
When Compared to Other Leading Online Brands, There's a Reason Popular Review Sites Chose Nectar
Buy Mattress
Slip into the bed of your dreams. Nectar believes when it comes to your sleep, you should never compromise. Guided by innovative sleep technology.
Nectar is designed with a Tencel Cooling cover, 5 layers of premium memory foam, and contouring gel layers for the ideal combination of softness and support. It's our mission to deliver one simple promise: The best sleep of your life, guaranteed.
See How Nectar Stacks Up as the Best memory Foam Mattress
STAY COOL
Nectar Tencel cooling cover compared to other brands that use cotton and polyester covers.
EXTRA THICK
11" thick Nectar mattress which is 10% more compared to the average 10" mattress.
CERTIFIED PURE
Certified Pure means Nectar is has no ozone depleters, PBDEs, TDCPP, mercury or lead compared to other memory foam brands that use harmful chemicals.
FOREVER WARRANTY™
It's our belief the best sleep should last a lifetime. Nectar has the leading warranty in the industry - guaranteed to last Forever.
2X GEL MEMORY FOAM
Nectar has two layers of Gel Memory Foam to circulate air, distribute weight and contour compared to other brands that do not use any gel memory foam at all.
DIRECT TO YOU
Easy delivery in a rolled-compressed Nectar mattress ships to your door compared to other brands that deliver in hard-to-maneuver boxes.
WHAT OTHERS ARE SAYING
Sleep experts have reviewed Nectar and compared it with the other top brands. The results are in.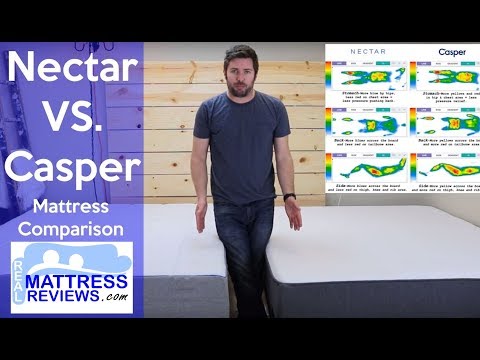 Nectar vs Casper
Real Mattress Reviews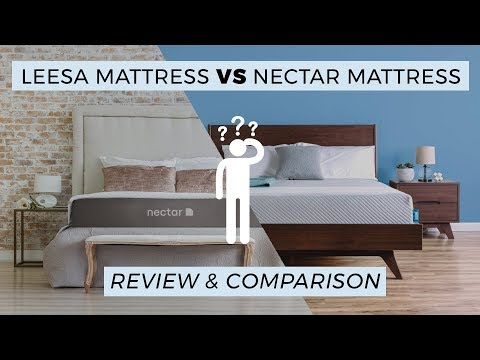 Leesa vs. Nectar
Sleep Sherpa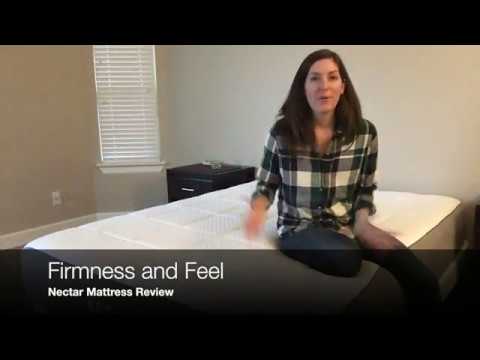 Nectar Firmness and Feel
Mattressclarity
* Nectar may compensate third-parties for purchases made through the links in their reviews
It's Like Sleeping On A Cloud
We've taken the recent advances in mattress and fabric technology and run with them. Having figured out the optimal levels of firmness, coolness, breathability, and comfort, we put them all into one mattress, making it the best mattress you`ve ever slept on. Period.
11 Inches of Sleep Perfection
Absolutely no other rolled and compressed mattress product, delivered right to your door, has the 11" thickness and 5 layers of of premium memory foam topped off with a Tencel cover comparable to Nectar. Shipped straight to your door, Nectar makes it easy to start enjoying the best sleep of your life without lifting a finger.
CERTIPUR-US® CERTIFIED
Nectar is made with the very best materials. That means no ozone depleters, PBDEs, TDCPP, mercury or lead. Nectar is crafted using certified pure, hypoallergenic foams and only the highest quality materials. Rest assured that you and your loved ones will sleep better with Nectar.
TENCEL COOLING COVER
Nectar's Tencel cover is more breathable, softer, and better at absorbing moisture than any premium cotton used by other mattress companies. While other memory foam beds sleep hot, our Tencel Cooling Cover ensures you'll sleep cool night after night, for all four seasons.
GEL MEMORY FOAM
Two layers of Gel Memory Foam help Nectar circulate air, distribute weight and contour to your body. The layers work together with the supportive foundation layer and the softer top memory foam layer to provide the perfection balance of soft and supportive rest.
AN EXTRA INCH MAKES ALL THE DIFFERENCE:
Nectar's 11" memory foam mattress gives it an additional layer of comfort and support, which makes it much more comfortable than other mattresses with less height. For example, Purple's mattress is only 9.5" which is one of the lowest in the industry, below the average 10" height. While 1.5" might not sound like much, we think it makes a world of difference. Why? because it allows us to incorporate all five layers, including our pulsh memory foams, contouring gel foams, and cooling Tencel cover. Nectar's 11" mattress is able to be the most comfortable mattress that popular review sites and customers love due to our considered design and 11.5" of premium materials.
Read the full review of Nectar vs. Purple here.


Start Sleeping Right With Our Forever Warranty™
At Nectar, we've aligned all our efforts around one simple promise: The best sleep of your life, for life. We believe that the best products will last a lifetime. That's why we have Forever Warranty™ so you can rest assured that Nectar is the last mattress you will ever have to buy. At Nectar, our premium memory foams are built to last and won't compress or sag over time like other mattresses. For example, Lull only has a 10 year Warranty, which means it will likely break down in 8-10 years and you will have to replace the mattress.
Read the full review on Nectar vs. Lull here.

365 Night Trial to Test the Best Memory Foam Mattress Through All Four Seasons
What is the most recommended mattress? Nectar is up there with the most recommended mattress by popular third party review sites, and one of the reasons is that Nectar offers an unheard of 365 day risk-free trial period, with free shipping and returns. You can even select our White Glove Service to help with setup of your mattress and removal of your old mattress. Casper mattress only gives you 100 days to try the mattress,which isn't enough to experience your sleep through all four seasons. When you look at Nectar vs. the most popular mattress brands, Nectar is consistently ranked higher.
For example, find out how popular review sites ranked Nectar when compared to Casper in the full review here.
NO MORE TOSSING AND TURNING
One of the best things about Nectar is that it is firm enough to support you but soft enough to be sensitive so your body can fully relax. Wake up rested with Nectar!
NO MORE MOTION TRANSFER
With Nectar, your sleep is protected from being disturbed by restless partners, kids, and pets. Our premium memory foams and considered design including powerful edge support means that the mattress absorbs movement throughout the night so you sleep soundly.
NO MORE SLEEPING HOT
The combination of a Tencel cooling cover and 2 layers of gel memory foam means that heat is diffused from the mattress. Breathable foams allow air flow through the mattress for an additional cooling system so you'll never sleep hot again.
EXPLORE THE NECTAR LAYERS
Nectar makes the time you spend in bed the most comfortable and restful possible. Besides our moisture wicking Tencel Cover, we use the following layers so that you can get your best sleep while keeping your body supported throughout the night.
Try Nectar At Home
TENCEL COOLING COVER
Helps circulate air and wick away heat while you sleep. It's also bedbug resistant!
QUILTED GEL MEMORY FOAM
Contouring perfectly to your body, this quilted foam also improves circulation and breathability within the mattress. Quilted gel also provides Nectar with the loftiness that our customers love.
GEL MEMORY FOAM
The gel memory foam distributes your weight evenly, which can promote better circulation while you sleep. It also cradles your body, making it the perfect mattress to help you optimize your wellness with deep rest.
ADAPTIVE HI-CORE MEMORY FOAM
This hi-core memory foam is the key to reducing motion transfer. Known as a "Recovery Foam," it provides crucial rebound and bounce. If you sleep with a partner or a pet, you'll notice that you won't feel as much movement throughout the night so you can get into deep sleep.
BREATHABLE BASE LAYER
This breathable layer provides a base to allow for cool contouring, while giving the additional layers of memory foam a supportive foundation. Nectar guarantees a lifetime warranty because we have confidence in our premium base layer which holds the foundation and edge support.

365 NIGHT TRIAL
Trying a mattress in a store for a few minutes can't help you determine if a mattress is right for the rest of your life. That's why you need to try it in the comfort of your own home. We believe you should sleep on a mattress all four seasons to decide if it's right for you. We give you 365 risk-free nights on Nectar.

Forever Warranty™
We stand by our product. That's why we guarantee that Nectar will be the most comfortable mattress for as long as you own and use Nectar. When compared to other mattress companies, our Forever Warranty™ is the strongest in the industry - it lasts Forever. We like to think of it like your sleep's happily ever after.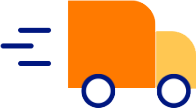 FREE SHIPPING AND RETURNS
Nectar offers free shipping and returns right to your door. If you're not 100% satisfied after your 365 night sleep trial, we'll give you a full refund and come pick up your bed. With free shipping and returns and a risk-free sleep trial, you have nothing to lose - and the best night's sleep of your life to gain.
WHITE GLOVE DELIVERY
Nectar provides an optional white glove service which offers an easy set up of Nectar in the bedroom of your choice, as well as removal of your existing mattress so you don't have to lift a finger. Compared to other mattress companies, our customer service is ranked as fast and helpful and friendly to help you solve all your sleep needs.
FREQUENTLY ASKED QUESTIONS
Tell me more about the Nectar mattress
Nectar makes the most comfortable mattress available, and sells the Nectar directly to you cutting out middlemen and markups. You enjoy the best mattress at a much better price. Nectar is designed for every type of sleeper and arrives backed by our Full Comfort Guarantee and Forever Warranty, plus a full year sleep trial so you can make sure Nectar is right for you, at no risk. Nectar arrives straight to your door. If you like, we can setup your Nectar and remove your old mattress. Thousands of Nectar customers and over 20 mattress review sites think Nectar is the most comfortable mattress you can purchase. And if you don't agree, we'll take Nectar back and refund your full purchase.
What is the 365 night sleep trial?
Nectar provides you with a full year, 365 nights to enjoy Nectar and figure out if Nectar is right for you. If you decide for any reason that Nectar is not your ideal mattress, we'll remove the mattress from your home and refund your payment 100%. Our risk free trial is 3 times longer than any other we have seen. Fewer than 3% of Nectar sleepers return their Nectar.
What setup do you recommend for the Nectar?
Nectar will be the most comfortable mattress you ever owned if setup on a suitable basic frame, box spring or flat floor. Our Forever Guarantee remains in force as long as your Nectar is not setup in a really unusual way for a mattress you would sleep on, like suspending it from three trees or placing Nectar on two floating pontoons. Still, if you like to sleep this way do send us a photo and we will probably ask you to be a product tester.
Do you offer financing?
Nectar's financing plan is easy and requires no credit check. If you have a bank account, credit or debit card and a source of income you can buy Nectar with 6 months of low, interest free payments. Applying is a snap and you do not need to share your information with third parties or worry about credit bureau checks. We make it easy to own Nectar.
When can I expect to receive my Nectar?
Nectar ships to you by FedEx ground. Please allow 1 - 5 days for arrival once your order ships. If you request full setup of your Nectar, please allow an extra couple of days for our local Nectar team to schedule your setup.
How does the Nectar feel?
After sleeping on Nectar the words customers use in their 30 day feedback surveys are "love" or "need". Nectar is semi-firm to firm and covered with our Lush foam, memory wrap and special breathing removable cover. Nectar is amazing to sleep on and Nectar sleepers actually fall asleep 20% faster than people who sleep on other mattresses (we actually ran a study).
What is the Forever Warranty?
Forever is a long, long time… and that's how long we guarantee the construction, materials, quality and durability of Nectar for the original purchaser. If you own a Nectar and sleep on a Nectar we believe Nectar should be the only mattress you ever need. We back up Nectar's quality in absolute terms, with no wishy washy legal speak, Nectar will last longer than you do if you treat Nectar right.
How do I return my Nectar?
It's rare, but when it happens, we make it easy. We work with you to arrange pickup and refund your money the day we pick up your mattress. Just give us a call or send us an email, and a Nectar support representative will make the process painless and fast. Finance order returns are subject to the purchase agreement completed at checkout.