Euro Top Mattress: A Layer of Comfort
What is a Euro Top Mattress?
Strengthened by a woven layer sewn into the bottom, a Euro top mattress is the key to sweet dreams. If you are searching for an incredibly comfortable sleeping surface that lasts for years, say yes to the Euro-Top. Aside from promoting deep and restorative sleep, Euro-top mattresses are the ideal palate to snuggle with your favourite movie, read, or cuddle with a loved one.
A Euro top mattress is a sheet of fiberfill and foam padding. Here, a traditional pillow top is stitched on top of the mattress as an additional layer, creating optimal space between the bed and pillow top. Moreover, the materials are denser and more made of higher-quality than those found in a conventional pillow top.
When are Euro Tops Best Used?
Euro tops have extra support, padding, and comfort. It can be a real benefit for those with orthopedic conditions, back pain, or who have extra padding on their mattress.
The Euro Top mattress is the best choice for you if:
You can sleep, whether it's hot or cold.
You like sleeping on a medium-soft surface.
You don't like to turn the mattress every now and then.
You want strong edge support.
You're sharing your bed and need a larger sleeping area
You want a softer sleep are with great support functions
You are suffering from aches and pains, though a medical intervention is recommended.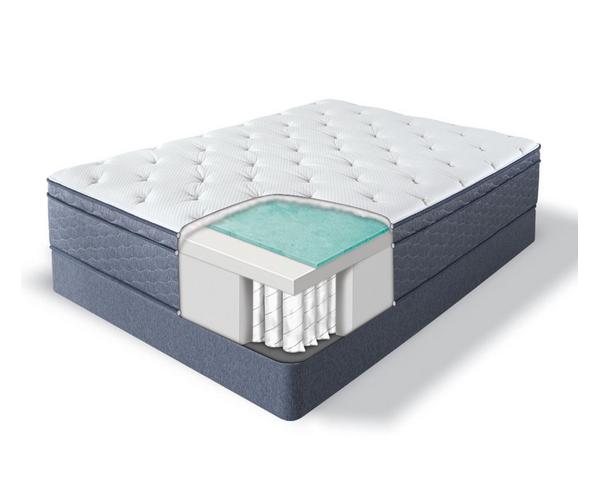 Want to read about other mattress types? Go back to our guide.
Where to buy?
Brick & Mortar Store
If you are someone who likes getting the real feel before making a purchase, going to a physical store for mattress shopping is ideal for you. Here you can test the mattress in real-time and understand, without speculations whether the mattress is ideal for your lifestyle and sleep requirement.
Online
Often, you can find Euro top mattress online, and it can be challenging to find in local stores. While in the brick-and-mortar store, it's much easier to look for those Euro Tops. You can expect that there will be variations in price.
Moreover, you can differentiate various retailers when buying online, depending on the number of available stocks, a range of mattress options, customer reviews and reasonable prices
How to Use a Euro Top?
There are a few things to bear in mind as you want to choose between a Euro top and pillow top mattress:
Your Bed Frame
Your mattress size will affect how it fits into your existing bed frame. The Euro-top beds provide you with added convenience. But a pillow top mattress would need much larger sheets to compensate for the additional height from the extra space between.
Make sure you're getting sheets that are adequately thick to withstand this extra height, and your bed frame is also the correct size for it.
Mattress Durability
Due to the distance between the pillow top and the top surface of the bed, pillow-top mattresses tend to have a shorter life expectancy than Euro-top mattresses.
As the topmost layer sinks, the distance will decrease, increasing the comfort level as well. Since its tops are sewn on the edges, the Euro top will last longer than the pillow top. Although the euro top may come to an end when the edges start to shrink even though the cushioning effect in the center won't go away.
In comparison, this cushioning effect usually appears to last longer with a Euro-top. As a Euro top bed reaches the end of its lifetime, the edges will begin to shrink while the middle maintains its level of comfort further.
Sleep Temperature
Sleeping temperature is a critical factor in the quality of rest that you get every night. While you sleep, hot air can build up in your bed, causing the temperature of your body to rise and interrupt your rest. Mattress companies usually involve cooling technology in their products to address this common problem.A Euro-top has lesser cooling requirements in comparison to a pillow top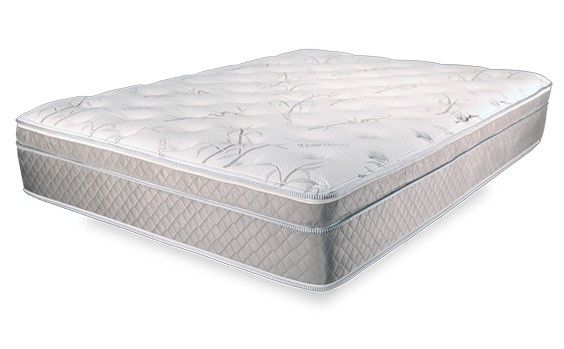 Cost and Purchase Guide for Euro Top Mattress
Though, there is not much difference when it comes to the price between pillow top and euro top mattress. While the cost and the value of the inner material may vary from one mattress company to another, the average selling price range is about the same.
Lifespan of a Euro Top
Euro-tops have a longer shelf life, but the edges tend to drop prematurely. Investing in a Euro top mattress is best if you are searching for a foam mattress that will definitely last for years. Euro tops provide a protective layer to the surface of your bed and can help prolong your mattress life.
Pros and Cons
Pros
Value-Added Price Tag – A Euro top mattress is the best choice for those who want a mattress that has a medium soft feel and provides total-body support.
Provides Ample Edge Support – The Euro-top mattress guarantees ample edge support i.e, does not allow the mattress to sag at the ends and disrupt its authentic softness.
Retains shape – The Euro top mattress is an excellent choice for consumers who need a medium soft feel and full-body support.
Cons
Need Extra Care – Adding an extra layer on top of bed means you're going to have to take a lot of care while cleaning.
Retains Heat – The extra layer above the mattress, however, ensures that the bed absorbs more warmth. It can cause people to sleep better even if they don't use any cover at night
If you are looking for comfort and support while you sleep, Nectar's memory foam mattress could be the perfect choice for you.
Other Types of Mattresses