What is a Sham and How to Style It
Your bedroom says a lot about you. A sneak peek from an interior decorator at your bedspread, pillowcase, duvet, or sham can spill out your preferred color, your choice of fabric, and everything in between. By the way, what's a sham?
Sham is a decorative pillowcase that adds style and elegance to your bedroom. Or if you fancy dictionary definitions, 'shams are ornamental covers laid over a bed pillow.'
Shams are slightly different from pillowcases. Pillowcases are meant to protect the pillow and generally have side slits from which the pillow can be slid out when it's time to wash the covers. A sham is made of fabric that adds texture and color to your bed and is generally not meant to be slept on (it can be used for sleeping if needed).
In this piece, our focus is on the sizes and the basic difference between pillow shams and pillowcases. We tell you how you can bring your bedding to life with the eye-catchy and symmetrical designs pillow shams are known for.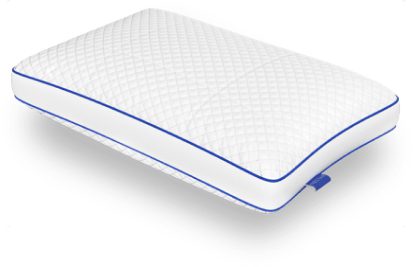 Check out the Nectar Pillows
Best Memory Foam Pillow
Why Use a Pillow Sham?
Most people buy pillow shams for decorating their bedrooms or bedding sets.
You can use pillow shams to illuminate colorful designs or to hide your pillow behind a more decorative façade. It can add a pop of color, texture, or depth to an otherwise plain bedroom.
Pillow shams might not be as comfortable as pillowcases and in some instances, are not ideal for sleep. However, when the shape and size are right they can also be used for back support when sitting on the bed.
Pillow shams also serve as the perfect bedding staple for lovers of interior decor. You can use colorful shams to light up a room, ignite the creative spark within, and on special occasions, portray heartfelt messages to loved ones.
Pillow Sham Sizes
Standard Sham
The standard pillow sham is 20 inches by 26 inches and is available in multiple variants and shapes. These pillow shams are compatible with small pillows and are generally found on twin, twin XL, or full-size beds.
Queen Sham
Queen shams are 20 inches by 30 inches, about four inches longer than a standard sham. Compared to the standard size, queen shams are not easily found due to their size. They are also big and are hard to fit on smaller beds or find covers for.
King Sham
A King sham is about 20 inches by 36 inches. They are 10 inches wider than the standard size. These shams serve as the perfect fit for a Cal king or king-size bed. While king size is not as scarce as the queen, you might have to invest time in finding the right king sham for your bedroom.
Euro Sham
Euro pillow shams are square pillows that are 26 inches by 26 inches and are perfect for individuals who need extra support when sitting upright on a bed or couch.
Want to know more about pillow sizes? Read our guide on standard pillow sizes and how to use them.
Difference Between Pillow Sham and Pillowcase
| | |
| --- | --- |
| Pillow Sham | Pillowcase |
| Meant for decorative purposes | Designed for the comfort and ease of sleep |
| Opens at the middle with an overlapping fabric or zipper closure and has a false front | Opens at one edge with an envelope closure |
| Made with luxurious fabrics or silk, meant to brighten the room and provide a sense of style | Made with cotton or polyester |
| It comes with 2 to 3-inch-wide flanges on all four sides | No flanges |
| Dry-cleaning with a washing machine can damage shams | Pillowcases can be machine washed and dried |
How to Style Your Bed with Pillow Shams
The best and perhaps the easiest way to style your bed is by placing the pillows according to shapes and sizes. You can put the larger pillows first – most likely the ones in pillowcases – before using smaller pillows to decorate the front and add some pop to your bedroom. You can use longer or bigger shams for spine support while sitting in bed.
Do keep in mind that bigger pillows look better on king size or queen size beds and smaller ones look great on full, twin, or twin XL.
If you love embroidery, hemstitching, or coordinating fabrics for the decorative flair it provides, you can use shams and throw pillows in combination with your usual pillow covers.
When looking to style your bed with pillow shams, it's best you make use of memory foam pillows – however, there are many types of stuffing that you can use for any pillow depending on your budget and comfort.
Ultimately, there is no precise way to use pillow shams. Your sense of style, desire for luxury, or choice of color can take center stage. Don't be afraid to mix it up as you build your sleeping space.
Conclusion
Not all pillow shams will provide you with the home décor you desire. Every pillow sham is unique in its way and is meant to blend with your taste and your home decor. We hope this guide helped you understand the difference between a pillow sham vs case and how to use them.
FAQs
What is a bed sham and do I need it?
Shams are decorative pillows that transform normal pillows into accessories. If you are looking to spruce up your bedroom on a small budget, pillow shams can do the trick for you.
What is a euro sham?
A euro sham is a pillow sham size used to cover euro pillows. They are square shaped pillows that are 26 inches by 26 inches and are perfect for individuals in need of extra support when sitting upright on a bed or couch.
How many pillows can I fit on my bed?
It really depends on the size of your bed, bedroom, and your personal preference. Generally, two pillows to sleep on is where we start for a queen or larger size. You can use two queen size shams and then some throw pillows stacked in front of each other to add multiple colors or to add texture to your bed set.
What size shams will look great in my bedroom?
There are a few sizes available for you to choose from: Standard, King, Queen, and Euro. Each size is meant for a different bed size or aesthetic. If you do end up ordering a size too big or small, you can always use it on your longing chair, your sofa, workstation, or as floor seating.