Why Mayim Bialik Is Sleeping With Nectar
Celebrities are just like us: they grocery shop; they struggle with their pets; and at times even struggle to get good sleep. Mayim Bialik, who stars as Amy on "The Big Bang Theory," is no different. On top of her hectic work schedule, she's also a divorced mother of two with a Ph.D. in neuroscience, and most recently, a couple of unruly cats wreaking havoc on her mattress — and sleep.
"...My cats - have started a dominance war that involves urine and feces. Long story short my bed is not able to be slept in and I'm sleeping on my couch."
Of course, with Mayim starring in our latest ad spot, we got her squared away with a new mattress…
The result of our union? A smart, funny YouTube baby that went viral. Check out Mayim delivering some #realsleepscience:
"I remember when I was sleep deprived when I was a new mom," Bialik recently told Us Weekly. "You feel completely out of it. I realized that even though I don't have kids who are tiny (anymore) and lead to you being sleep-deprived, it looks exactly the same. I've taken to napping in the day…because I get really grumpy."
We can relate, and we knew everyone else could, too. So, we decided to launch a nationwide campaign with Mayim to spread the word about how critical it is to get quality, restful sleep every night.
"We wanted a partner who really understood our message that better sleep is important," our CMO Gil Efrati told us. "Mayim isn't JUST an actress, she also happens to be a real-life, brilliant neuroscientist. She's the perfect person to explain why getting a Nectar is the smart choice for people who want better sleep."
With Nectar's 365-day risk-free trial, free returns, and Forever Warranty, you don't need to have a Ph.D. in neuroscience to know that this is the best deal ever. Mayim says it best: "Millennials, put down your avocado toast and listen—I'm a neuroscientist, and I say follow your brain. Give it the rest it needs on a Nectar."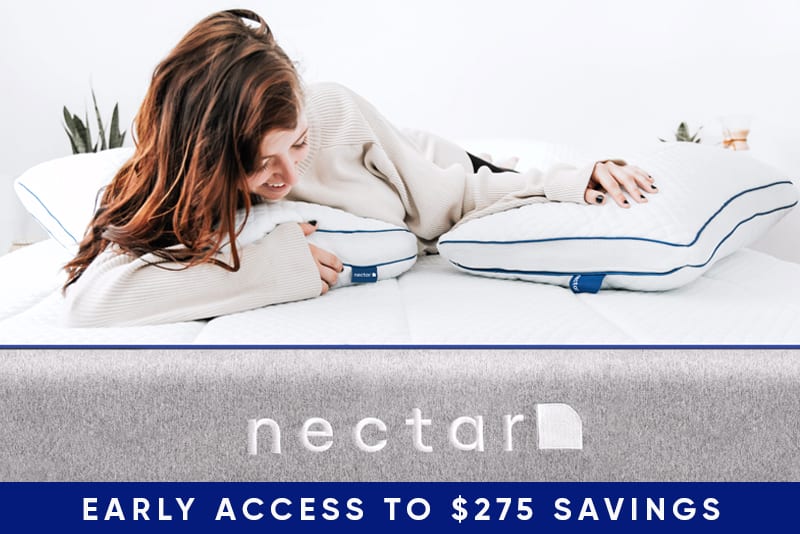 Take $125 off any mattress purchase PLUS we'll include two free Nectar pillows ($275 value).

Try Nectar risk free for a full year. If you are not 100% happy, we will pick up the mattress for free.Learn more ›

We guarantee Nectar for as long as you own the mattress. Forever means Forever.Learn more ›

Your Nectar mattress will be delivered free of charge in a reusable bag with handy straps.Learn more ›
Waking Up Pain-Free!
I wake up pain-free! I love my new mattress! Setup was easy – I was able to do it myself. From Day 1 I've been waking pain-free for the first time in years! And I'm able to sleep on my back – something I've been unable to do on other mattresses (including Sleep Number) due to a herniated lumbar disc. I couldn't be happier
Stephanie A.St. Paul, MN, 23899
My Back Quit Aching
Great support. My back quit aching the first night on my Nectar mattress. It has only been a few days and I give it 5 stars. The mattress conforms well to my body position and I find that I am not rolling from side to side as often as I did with my old mattress.
Kevin W.Utah, 20933