Waterbeds – A Guide to This Mattress Type
What is a Waterbed?
Waterbeds are vinyl beds filled with water. Most waterbeds frame designs are either called hard side waterbeds or soft-side waterbeds. Newer models usually use a self-contained soft-side case. Though both frame designs have both pros and cons, soft side waterbeds have become more favored among modern consumers.
Types of Waterbeds
Hard side waterbeds have a heavy external frame, typically made from hardwoods like oak or pine-grade furniture. The frame is basically a huge box where there is a one-piece bed or a series of smaller tubes. There may also be a headboard or footer in the hard side frame, plus storage drawers.
The massive box frame has recently been replaced by a soft side waterbed with a lighter but durable outer shell, similar to a conventional box spring. The mattress is tightly kept in the frame but can be mounted on a traditional system of support. A waterbed mattress on the soft side also uses standard size bed linens, which is a clear benefit over hard side waterbeds.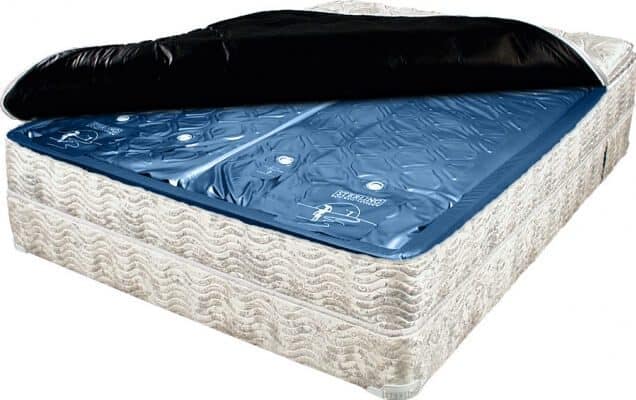 Want to read about other mattress types? Go back to our Mattress Types Guide!
When is a Waterbed Best Used?
A waterbed is particularly beneficial for those with spinal and back pain as it dramatically reduces the strain on the spine and provides you with relief. Waterbeds are also known to distribute the weight evening, leading to a comfortable night's sleep.
Moreover, waterbeds have been recommended for those who are paralyzed or bed-ridden because these beds do not create bed sores.
When was it First Introduced?
The waterbed was first introduced in California in the late sixties. It happened when Charlie Hall, a design student at San Francisco State University, devised the concept of a water-filled mattress after playing around with seats filled with cornstarch and even Jell-O.
One lovely evening in 1968, Hall introduced the water-filled mattress as his master's thesis. This is how the waterbed came into being.
How to Use a Waterbed?
Setting up and removal has been one of the major concerns for new waterbed owners. A King-size full wave mattress can weigh up to 2000 pounds with a solid wooden side frame and need 250 gallons of water. Your floor joists must be strong enough to accommodate such a massive bed frame.
Another factor you might consider is the mattress. To keep the water clear of pollutants such as algae, you should use a special conditioner to treat the water. A cleaning solution can be handy to treat the exterior of a vinyl mattress. Small leaks should be easily repaired with a standard vinyl repair kit, which is also commonly used to seal air mattress leaks.
How Much Does a Waterbed Cost?
If you're new to the world of waterbeds, here is a pricing guide that you can use:
A. Entry-level: Under $150
The low-end price range free-flow or full-wave comes under $150. These are basically large vinyl bladders that will need some kind of hard frame to support them. At this price range, there are a few models with baffles or lumbar support. Also, you'll most likely have to purchase a water heater, liner, or pump separately.
B. Mid-range: From $150 to $300
In the mid-price points, waterbed mattresses may have semi-waveless or perhaps waveless motion baffles. Soft side models that are self-supporting are more common, i.e. you don't need to use unique bed frames. Several mattress sets have smaller, more compact tubes that can be filled in a bathroom and taken into your bedroom.
In this price range, you can also find full-wave mattresses and Hard side wooden frames, together with necessary heaters and pillow tops.
C. High-end: From $150 to $300
Generally speaking, the premium waterbeds have the whole waterbed systems, not just the mattress and simple frame. If you buy one, you can have a portable water heater, water conditioners, pillow top, a vinyl bed liner, an electric pump, and a vinyl repair kit. If you want to have a larger waterbed, you have to set aside $500 or more for California King and Queen sizes.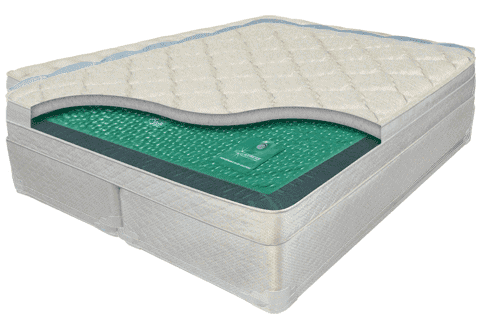 What is a Waterbed's Lifespan?
A vinyl waterbed mattress has an average lifespan of about 10-15 years. As vinyl gets older, it eventually dries off, becomes brittle, and produces too many leaks. Old hard side waterbed mattresses and frames are often found in thrift stores or on sale from private individuals.
Pros and Cons
Pros
Form-fitting for comfort – Waterbed mattress shapes around your body as you lie down and provide a comfortable sleeping experience.
Benefits Your Joints and Muscles – Waterbed provides your back and spine with complete contour protection. It reduces the pressure on your muscles and joints.
Easy Heating – Comes with an integrated heater for quick water heating to make sure a good night's rest, including in freezing weather.
Easy to Clean – Since dust and dead skin cells can't reach the sheet, all you have to do is scrub the surface of the bed with a vinyl cleaner to maintain its shiny exterior.
Cons
Requires Care and Maintenance – Waterbeds have some maintenance requirements, such as daily use of a water or vinyl outer cover conditioner, fix and patch the bladders in the event of leakage.
Needs Special Bedding and Accessories – Your current bed sheets and clothes might not fit with your new waterbed; it will slip off the sides as you step into the bed.
Difficult to Move Around – If you get bored with the decor of your bedroom and go for a fresh look, you'll need extra effort with your waterbed.
May Cause Accidental leakage – Every so often, your bed can unintentionally get pierced. If the perforation is too small, you won't notice at first, and it will still slowly leak water that can destroy your floor and anything else surrounds it.
Want a good night's sleep? It doesn't need to be so hard. Buy Nectar's memory foam mattress and sleep your worries away.
Other Types of Mattresses
FAQs
Do waterbed still exist?
Though the demand for waterbeds have dwindled considerably, waterbeds are still available for sale. Most furnishing retailers have moved on to the beds that have demand, like memory foam or hybrid.
Should you change the water in waterbed?
If you have followed instructions such as adding conditioner to the water the first time you have filled it up, then there is absolutely no need to change the water in the waterbed till you have to move it.
Why are waterbeds not allowed in apartments?
You can expect that landlords don't want to shell out huge amounts of money in case a waterbed breaks. The damage caused by that much water and the expenses that follow can be why many apartments forbid the use of waterbeds.
Can waterbeds pop?
Yes, waterbeds are prone to popping, leaking or bursting. The one time it pops, you'll be cleaning up for weeks.