Quick Tips To Make Your Move a Speedy One
Moving is possibly one of the most stressful times in a person's life, unless you're among the lucky few who can hire someone else to do all of the heavy lifting and planning. For the rest of us, moving tends to mean a few arguments, a lot of headaches, and many many cardboard boxes. To help you make moving less of a pain in the you-know-what, we've compiled a little list to help you make the moving process much more painless and maybe even, dare we say it, fun!
Use An App That Helps Organize Your Stuff
There are so many apps that exist in the world today that do some pretty incredible things. Apps to track sleep, apps to track the stars, and now there's even an app that keeps track of all of your stuff called Sortly. Sortly is an app that makes moving so easy it'll make you want to cry tears of sheer relief. Sortly helps you make an entire visual inventory of your items, decide what you're keeping and what you're not, and even has a spot for you to keep detailed notes of everything. This app makes it a piece of cake to categorize things in whatever way makes the most sense to you and even allows you to print barcodes you can stick on your boxes that you can easily scan when you need to know what's in what. Forget duct tape and sharpies. Sortly is the packing of the future.
Keep Only The Essentials and Sell, Donate, Or Toss the Rest
One of the most difficult parts about moving can be the sheer amount of things you have that you didn't even realize you owned until you attempt to put it all in boxes. This makes moving the perfect time to take a moment to really consider everything you own and whether or not it has a place in your new home. A good way to test whether or not you should keep an item you're unsure about is to ask yourself whether or not you've used it within the past year. This works great for clothes especially. If you haven't used an item of clothing with the past year, meaning that you had a chance to wear it through every season, then it's probably not something you need in your closet. The same thing goes for household items such as camping tents, cast iron skillets, or any number of things that get stored away in a house and forgotten about. By taking time now to clear out things that you no longer use consistently, it will make the actual moving process much easier overall.
Use Waterproof, Reusable, Plastic Boxes
The days of cardboard and duct tape are in the past. If you're making a move, make a small investment (whose returns will be invaluable) into some large plastic boxes instead of the typical cardboard boxes. With plastic boxes you are giving your things added protection because of the sturdiness of the plastic and because plastic is waterproof. Imagine planning a moving day when, out of nowhere, a rainstorm crops up and suddenly your entire collection of vintage books are compromised because they are in cardboard boxes. Not cool, dude. Ditch the classic cardboard and invest in some sturdy plastic moving boxes.
Ditch Your Old Mattress and Upgrade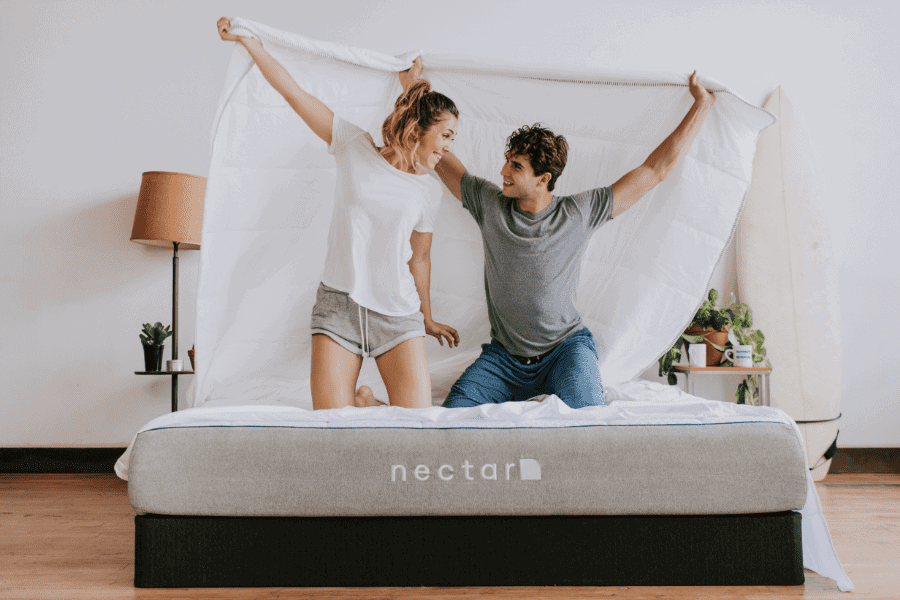 So you've got a hold on the small things. You've downloaded Sortly, organized everything, and put it all into your nice new plastic boxes, but what in the world are you going to do with all of your big, awkwardly sized furniture? Moving the big stuff is always one of the most annoying and stress-inducing parts of making a move, especially if it's a big move. Mattresses fall into this headache category, especially because they are flimsy and difficult to fit into (or on top of) a car or truck. Why not save some space in your moving truck for only the items you really need, and make the choice to upgrade? Nectar makes the whole mattress purchasing process crazy easy because we hand deliver it in a box straight to your door. Not to mention our unbeatable year-long trial period, meaning that if you decide that Nectar isn't for you, you can return it after sleeping on it for an entire year with zero risk. Forget about the hassle of moving an old, chunky, lumpy mattress to your new digs.
Moving is the perfect time for all sorts of upgrades, and choosing a Nectar is the best upgrade of all. Receive $125 off a Nectar Mattress and we'll throw in two pillows to make your move easier.