Look What's Inside the Most Comfortable Mattress
They say that good things don't happen by chance, and nowhere is this truer than inside a good mattress. Here's the thing: when the most comfortable mattress is doing it's job, you're probably not thinking about it.  All you care about is the soft, supportive feeling of a good night's sleep. Here's the thing, what's inside is what makes this mattress so special. It's a mixture of tech,  So while you may not be someone who initially cares about what goes on inside the mattress (as long as it feels good lying on top), we thought 
With that in mind, we thought we'd use this space to take a deep dive on each section of our mattress, exploring the scientific reasons for the heavenly sleep you're enjoying.  So here goes nothing, the secrets revealed about what happens inside our most comfortable mattress.
Why the Tencel Cooling Cover is So Important
Just like a great sports team, every layer of a memory foam mattress is equally important, but the tencel cooling cover nevertheless represents the quarterback: the cool, calm and collected gunslinger that makes sure your night ends in beautiful sleep. This is because our tencel cooling cover is custom milled to both wick heat away (giving you supreme temperature control), and prevent little critters like dust mites and bed bugs from making their home in your mattress.
Haven't heard of tencel? That's probably because it's so new. A brand new microfiber, tencel is made using sustainably sourced forest and tree farms, produced from wood pulp, and refined by cutting edge technology. It represents the holy trinity of comfort, tech, and green. We searched long and hard before finding the perfect material to go into our cooling cover, but once we found tencel, we know it was a perfect fit for the most comfortable mattress. While some companies skimp on the production of their cooling cover, we make this a priority, and indeed a focus point as to what elevates our mattress comfort game above the rest.
Quilted Gel Memory Foam: The Perfect Mix of Support and Comfort
Let's dive a little deeper inside the mattress, where we experience the luxury of quilted gel memory foam. Our mattress prizes breathability and comfort as much as support. Where traditional memory foams were all about support, some couldn't cut the mustard when it came to creating a temperature-regulated environment. That's why our quilted gel memory is the first layer to contour to your body, which offers a superior design so that it doesn't overheat like other memory foams. This greater temperature regulation means that you'll stay soothingly cool in the summer and pleasantly warm in the winter. It's a key ingredient that goes into making a Nectar the most comfortable mattress.
Gel Memory Foam Makes the World Feel Softer (in Bed)
Gel memory foam is the key to what makes you sleep right every night, for as long as you own a Nectar. This gel is the workman-like backbone of the most comfortable mattress, contouring to your body while offering support that can't be found in an old-fashioned coil spring mattress. Not only that, it's never going to warp the way a spring coil does, thanks to a totally different design.
This is an expensive material that is typically only used in the medical field. It allows for the absorption and redistribution of heat so that you won't have to worry about waking up feeling overheated. Our gel memory foam is the perfect synthesis of support and comfort, but it's the consistency that's going to have you sleeping like a baby night after night.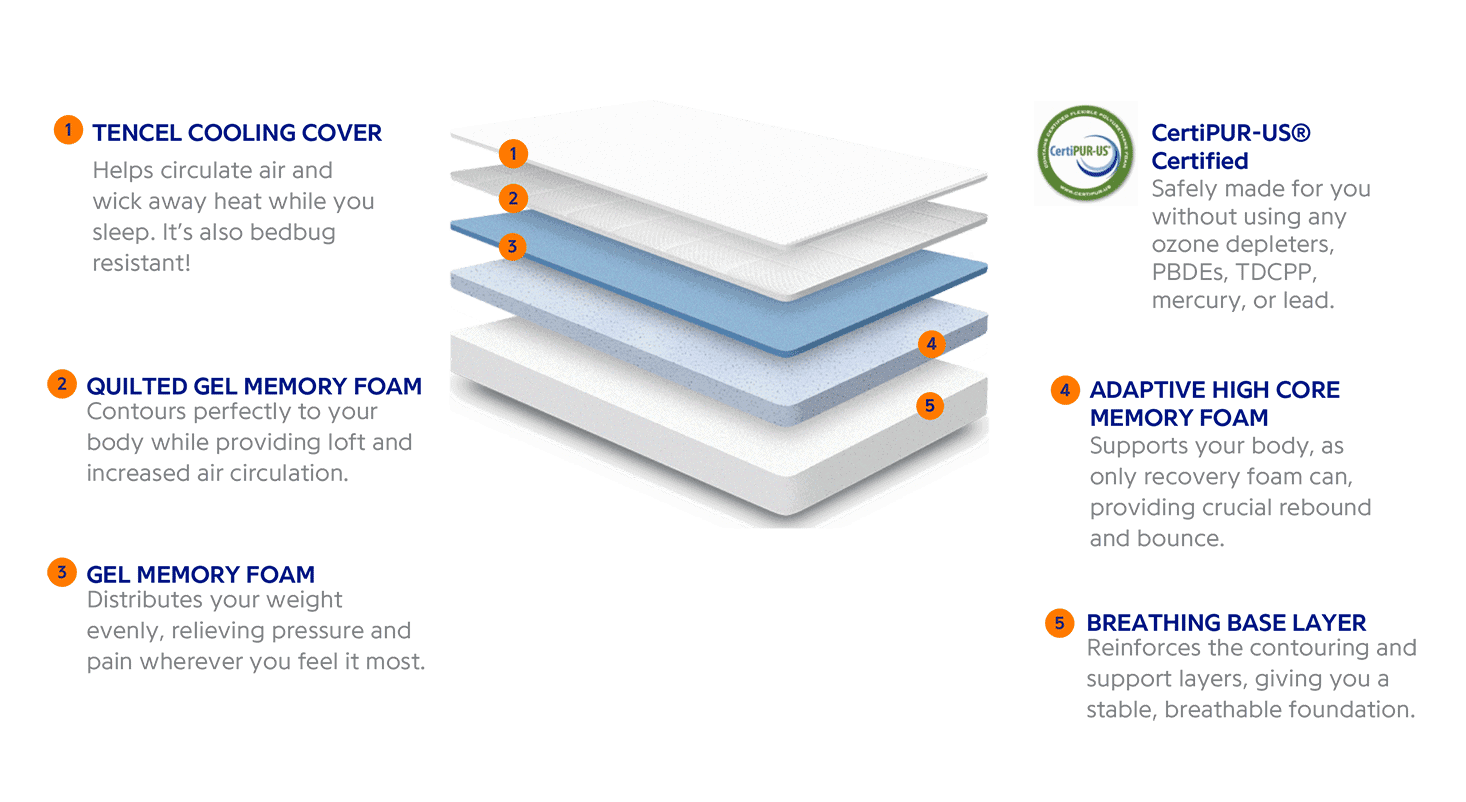 Adaptive Hi Core Memory Foam
This is the straw that stirs the drink. Adaptive Hi-Core Memory foam is heavy and supportive. It's space-age tech, but we're lucky to live in the future because it's not found in space, it's found inside the mattress. Yes, the one you're sleeping on RIGHT NOW. Jokes aside, our team of engineers picked this material out specifically because it was the best solution to figuring out a way to contour our bed to your pressure points. No longer do you have to worry about waking up in the middle of the night to mattress-induced back pain, this is the support that you've been craving in a mattress your whole life.
We're proud of each layer of our memory foam, but what we're really proud of is how they work together. Like any good super team, each member brings something a little bit different to the group, making it even better than the some of its parts. It's the only way to design the most comfortable mattress. Enjoy it! These designs ensure that every night your back is getting the support that it deserves.
The Breathable Base Layer
The breathable base layer is equivalent to the bass player in a band — you don't notice when they're doing a good job, but you sure as heck notice when they aren't. Luckily for us, we use a base layer that is consistently denser than our competitors. It's built to withstand some real weight and can hold its support better than traditional spring mattresses, whose coils can often unravel after just a few short years.
When you're looking for the most comfortable mattress, you don't just want it to last for a couple years, you want it to last a lifetime. That's why we picked out materials that could stand the test of time. It's not only because we value a good night's rest, it's because we value a good deal too. That means that you're getting more bang for your buck AND a stable, breathable foundation. 
So there you have it, from top to bottom a superior built mattress.