The Innerspring Mattress – Traditions in the Mattress Universe
What is an Innerspring Mattress?
By far, the most well-known type of mattress is the innerspring mattress. It is what people have used for years and fit into what we consider 'traditional' mattresses. This type of mattress consists of a steel coil support system and supportive comfort surface to provide proper alignment of the spinal cord while you're sleeping soundly at night. The shapes, styles, coil gauge, and the number of coils may differ depending on the manufacturer of the mattress.
If you're on a budget, you can buy one of these mattresses at a good quality and lower cost than other modern beds in the market.
When are Innerspring Mattresses Best Used For?
Although innerspring mattresses are not suitable for relieving pressure points, some people prefer to sleep on them. Medium-firm innerspring beds can ease mild back pain and provide sufficient back and stomach support for individuals who weigh more than 230 pounds.
The latest innerspring mattress models usually have comfort layers to support and release the pain points. If you're one of those who love sleeping on their side, you'll definitely love these innerspring models.
Want to know more about other mattress types? Go back to our guide!
When was the First Innerspring Mattress Introduced?
In 1860, the first steel coil spring was patented for chair seats. Not until the 1870s that the German-born Heinrich Westphal used the coil and developed the very first innerspring mattress.
As the sales in both the U.S. and Canada spiked, it led to further advancement in this innovation and pocketed coils were introduced. From then on, innovative companies have tirelessly worked towards giving their customers the best sleeping experiences.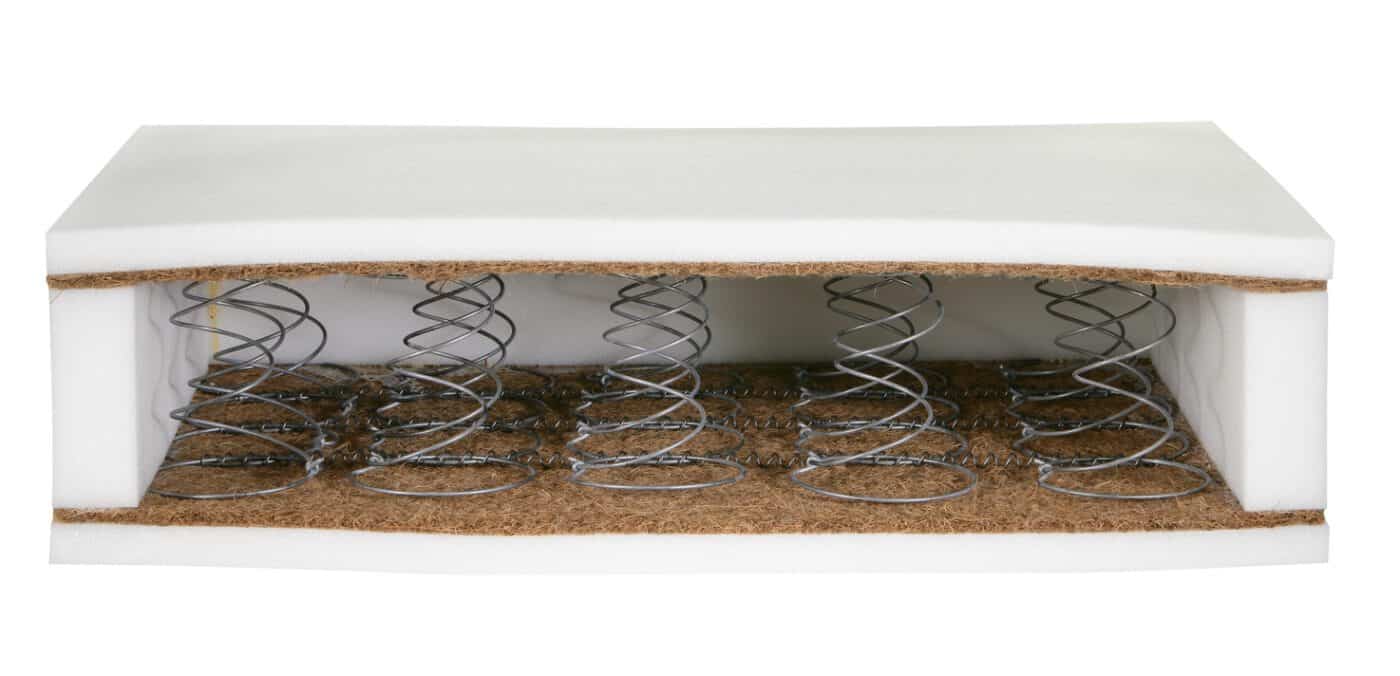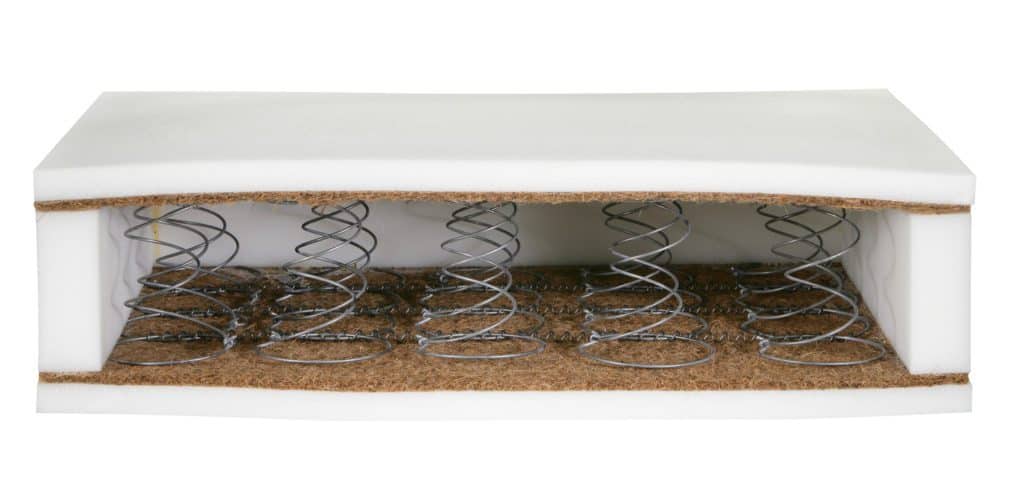 Where to Buy an Innerspring Mattress?
A. Shop In-store: If you're a person who wants to lay down on a mattress before purchasing it, then you can go with the traditional route, the brick-and-mortar style. In fact, some stores may even offer the removal of your old mattress. However, the drawback is that it can create anxiety with the sheer number of brands boasting different features, and it is more difficult to compare rates to see if you get a sweet deal. Take a moment to rest for at least 10 minutes if you are planning to invest in an innerspring mattress. While on the bed, be sure you don't feel any pain or strain. However, we strongly believe that trial periods should be more than 10 minutes. Online brands have much longer trial periods, often extending up to a year.
B. Shop Online: This new route offers an excellent option for people who dislike mattress buying in retail stores, either because of the fewer choices or because of pushy salespeople. Online brands even offer a free trial for minimal risk. After ordering, these innerspring mattresses usually arrive at your doorstep in a few days. Also, the prices on the Internet doesn't include markups that is common in physical stores.
How to Use an Innerspring Mattress?
While innerspring mattresses have been the traditional choice, with all the new innovations in the mattress industry, it may not be the best choice. Even with regular flipping, the coils generally last about 4-5 years, turning your mattress into a lumpy mess.
Generally, a good option is to consider purchasing a memory foam mattress topper to help provide a more comfortable sleeping option.
How Much Does it Cost?
Usually, innerspring mattresses are the most affordable choice in the market, with prices starting at $200. A quality innerspring Queen mattress would typically cost between $500 to $800, which is significantly cheaper than many other types of mattresses.
The cost of the mattress can vary depending on the materials used in the comfort layer, and the type of coil used in the support base. The most affordable are Bonnell and continuous wire coils, while the costliest are more innovative pocket coils. Innersprings with more advanced comfort systems often come with a premium price.
What is its Lifespan?
The standard innerspring mattress usually lasts around five years, which is 2-3 years shorter than other forms of the bed.
The coil gauge will affect an innerspring bed's durability. Low-gauge wire and tempered steel coils last longer than non-tempered steel high-gauge wire and coils. Pocketed coil support coils give the best contour, but they may not last as long as Bonnell and offset coils.
Pros and Cons
Pros
Widely available – An innerspring mattress is the most popular mattress type. Most people have it in their houses because it is widely available in the market.
Most affordable – Because of the large demand, innerspring mattress models' global popularity ensures that they are valued at a budget range.
Durable – Innerspring assembly systems are generally considered durable and are capable of holding over time.
Cool sleeping surface – Premium innerspring mattresses offer the best combination of support, padding, and distribution of weight across a mattress's entire surface area.
Cons
Shorter lifespan – In time, innerspring mattresses tend to shrink. The coils seem to give way and the mattress tends to become lumpy.
Limited contour ability and pressure point relief – As the wear-and-tear of age continues, it's common for the metal springs to reach through and cause body pain.
Prone to sagging – Unfortunately, just like everything else, innerspring mattresses decline. For the bed, the worst is uneven sagging.
Noise Levels – Because of the internal steel structure, you might end up with a squeaky mattress after a few years.
Making the right mattress choice can be quite hard given all the information out there. But one thing is for sure – Nectar's memory foam mattress will help you sleep easy.