There's a reason why we're the only company to offer a 365 Night Trial... Find out why
365 nights home trial
Forever Warranty
Free Shipping & Returns
Disclosure: We pay a commission to the review sites listed below when visitors click on a Nectar affiliate link on their sites and make a purchase.
OVERVIEW
Review sites love Nectar for its premium materials, lush comfort, and unmatched trial-period.  One popular site, www.memoryfoamtalk.com, says that "the Nectar mattress is quite comfortable, with the sumptuous top layer with the Tencel cover material providing a soft and supple sleeping environment, while the various foam layers below work to support and contour the body during sleep." Not only does it provide an ideal balance of hugging comfort and body support, but its price point won't put a dent in your pocket. Www.memoryfoamtalk.com also says that "the Nectar mattress is our top rated mattress, and for a good reason – it is extremely reasonably priced, coming in at $799 for a Queen, which is a great price given the quality materials and construction used." We couldn't have said it better ourselves.
OVERALL SCORE
9.4 Nectar / 9.1 Allswell
*sleepsherpa.com
Popular review site, www.sleepsherpa.com, gives Nectar a stellar overall rating of 9.4 out of 10, compared to its rating for Allswell, which landed an overall rating of 9.1. Nectar actually scores better in every overlapping category they were rated on when compared side by side, including affordability, motion transfer, off-gassing, and trial period. We love Nectar and all it has to offer, and it's clear that reviewers do too.
try nectar
risk-free
for a full year
| | | Allswell |
| --- | --- | --- |
| Queen Price | $799 | $855* |
| Warranty | Lifetime | 10 years |
| Home Trial | 365 Nights | 100 days |
| Thickness | 11" | 12" |
| Overall Score* | 9.4 | 9.1 |
| Motion Transfer* | 9.7 | 9.5 |
| Affordability* | 9.6 | 9 |
| Trial Period* | 9.7 | 9 |
*Price may not reflect any current promotions or discounts. Last Updated: 08/2019
*Reference (www.memoryfoamtalk.com, www.getbestmattress.com)
+NECTAR may compensate third-parties for purchases made through the links in their reviews
Construction / Materials
If you're in the market for top quality comfort, unbeatable materials, and careful construction, Nectar is your perfect match. Our aim is to find the best balance between comfort and support in each one of our premium lush memory foam layers – a balance that is hard to find in other mattresses. Nectar is made of 5, high performance memory foam layers as opposed to Allswell 3 layers. We've chosen each layer for a specific purpose with the overall aim to give you the best possible night of sleep.
"With this construction the mattress has a focus on pressure relief that should give the feeling of sinking into the mattress and be a plus for side sleepers."

– www.sleepopolis.com
Customer Service
With round-the-clock customer service reps available to chat online or over the phone, Nectar is always ready to answer your mattress questions. If you're wondering about things like off-gassing, delivery options, or whether or not we have memory foam
pillows
to go with your new mattress, we want to help you through every part of the process. Allswell does not have the same online chat support that pops up when you visit their website like Nectar does and does not have a phone number you can call. With Allswell, queries need to be emailed to their customer support team, instead of talking to a real human who can answer your questions then and there when it is most convenient for you. Additionally, Nectar's world class customer support team offers an optional
White Glove Removal
service at checkout, where we bring your mattress up to your bedroom, unbox it, and take your old mattress off your hands. It's out with the old and in with the new, so take a load off and let us do the heavy lifting for you.
TRIAL PERIOD
9.7/10 Nectar vs 9/10 Allswell
*sleepsherpa.com
"Nectar Mattress is a new memory foam mattress company that is upping the free trial ante with a 365 day free trial period. This more than triples the length of many of the online mattress company trial periods. Amazingly, you get to sleep on it for a whole year before deciding if it's right for you" (www.sleepsherpa.com). Earning a near perfect score for our trial period from widely read review site www.sleepsherpa.com, it's clear that reviewers love Nectar. Our high quality materials, reasonable price, and unmatched trial period is taking the mattress industry by storm because you're able to test out Nectar for an entire year. Allswell only offers a 100 night trial period, which is little more than one season. With Nectar, you can test it out on every single season, a whole year round, to see if it's the right fit for you.
You may wonder why we are so confident in offering Nectar to test out for an entire year. Well, the answer is easy. It's because fewer than 3% of customers return Nectar after buying. We know that once you try it, you're not going to want to give it back. Restful, rejuvenative nights of sleep cost a pretty penny with other mattress companies, but at Nectar that's not the case with our approachable price for a premium mattress. Try it out (for a whole year if you want!) and see for yourself.
Warranty
Generally, mattress companies offer a warranty that only lasts 10 years because this is typically how long a decent mattress is meant to last. Allswell offers this standard 10 year warranty but Nectar does not. In fact, Nectar offers something that is basically unheard of in the mattress industry, with its Forever Warranty, which, as the name suggests, lasts as long as you do. Forever is a long time, but we want Nectar to be the last mattress you ever need to buy. We guarantee the construction, materials, quality, and durability of the Nectar mattress for the original purchaser. There's no confusing legal speak, with us, it's black and white. If you treat Nectar right, it should last a lifetime.
no more tossing
and turning
PRICE / AFFORDABILITY
9.6/10 Nectar vs 9/10 Allswell
*sleepsherpa.com
Compared to its competitors, Nectar costs significantly less, and you may be wondering why. The truth is, many mattress companies in the industry charge expensive mark-ups. With Nectar, we sell directly to you in order to cut out the pricey middlemen and distributors. Instead, we are able to focus our efforts and resources on using the best possible material, construction, perks, and customer service. This is why we can sell a Nectar mattress for less than others . Popular review site, www.sleepsherpa.com, gives Nectar a 9.6/10 in terms of affordability. A queen-sized Allswell mattress comes in at $855 and lands only a 9/10 rating from www.sleepsherpa.com. Even though Allswell ships direct to your door like Nectar, it still costs more and is rated lower than Nectar on multiple categories.
Firmness + Support
Plush but highly supportive, Nectar is about a 6 on a scale of 1-10, landing that perfect, "just right" feeling. Leading review site, www.memoryfoamtalk.com, says that, "with many mattresses, since I am a heavier sleeper, I tend to press through the top comfort layers and feel more of the support layers which are often harder and not as comfortable. This isn't the case with the Nectar, as I don't immediately compress through the comfort layers and come to rest on base support layers." If you want to feel like you're floating when you sleep, you've got to try Nectar.
Memory Foam Comfort
The Allswell mattress only has 3 layers of memory foam compared to Nectar's 5 foam layers that bring you the ultimate comfort experience. With our unbeatable year long trial period and forever warranty, we remain confident that you're going to love Nectar for a lifetime.
Below is a breakdown of each luscious layer: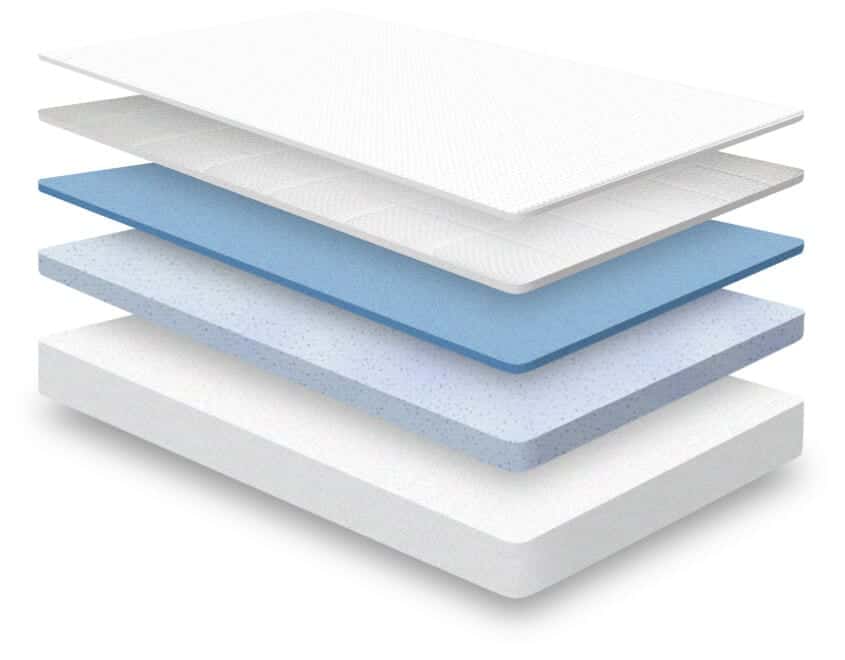 Long Staple Cotton & Tencel Cooling Cover: Designed to wick away moisture with its breathable cotton material, this cover will ensure that you're always the right temperature.
Quilted Gel Memory Foam: Many companies often forgo this quilting process because it's pricey and adds time to the production process, but at Nectar we've spared no expense to bring you ultimate comfort. With quilted gel memory foam, you're getting the lush, lofted, contouring magic of memory foam with an added level of loftiness and breathability.
Gel Memory Foam: One of the most notable problems with typical memory foam mattresses is that they trap in heat, which is why we've taken special care to counteract this problem with our layers of gel-infused foam. The use of gel is meant to soak up and distribute heat to help you remain comfortably cool throughout the night.
Adaptive High Core Memory Foam: This layer is crucial to the bounce back you feel with Nectar, so you're not sinking down too far. This is where you get the perfect support to relieve points of pressure in your body.
Breathable Base Layer: The ultimate layer in terms of support, the base layer not only supports your spine, but it was also created with specific channels that draw in fresh air with every move you make to keep you cool the whole night through.
Sleeping Hot
The Allswell mattress uses breathable memory foam to attempt to maintain temperature neutrality, but it does not use the same layers of breathable, temperature distributing gel foam technology that Nectar does. Because memory foam mattresses tend to trap in heat, making for an uncomfortable night of sleep, Nectar really focused on ways to combat this issue, to bring you a mattress that keeps you comfortably cool each and every night.
"The Nectar does a good job of not sleeping hot due to the various gel-infused foam layers and the quilted foam within the cover that aids in air circulation. As a couple who has tested over 75 different mattresses, this is a big deal for us and something that the Nectar does a great job at – preventing body heat buildup or causing sweating during the night. Taken together, all of this technology does a great job of keeping this mattress quite cool. We did not experience the sticky feeling that we often do with foam mattresses in the least bit which was something we really were thankful for."

– www.memoryfoamtalk.com
See for yourself and try a Nectar mattress through every season with our 365 night, risk-free trial period.
MOTION TRANSFER
9.7/10 Nectar vs 9.5/10 Allswell
*sleepsherpa.com
If you sleep with a partner, you know how important low motion transfer is, even if you're not exactly sure what that means. Low motion transferability is when movement on the other side of the bed is difficult to detect. According to www.sleepsherpa.com, Nectar was the best mattress for low motion transferability that they found saying that "…[their] engineering team found this to be the best for isolating motion of all the mattresses they have tested. Sleep disturbances from your partner is a leading cause of poor sleep and Nectar addresses this head on." Compared to Allswell on a scale of 1-10, Nectar takes the cake here. If you are interested in a mattress that won't be disturbed when your partner tosses and turns or gets up in the morning, look no further than Nectar.
Nectar is unmatched in comfort, support and perfect sleep.
3 Years of Development, Premier Hypoallergenic Materials, Certified Healthier, 10,000+ Customer Tests